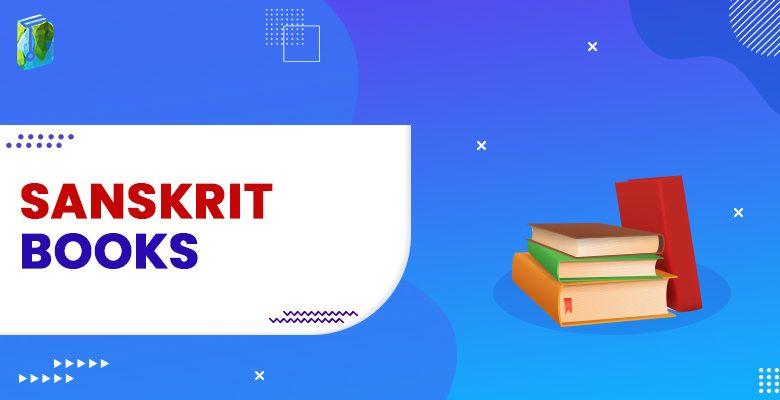 History of Sanskrit
Sanskrit originally came into existence as Vedic Sanskrit dating back to 1700-1200 BCE. Before that too, it was preserved orally. Sanskrit was used in the Vedic chanting tradition.
In 500 BCE, scholar Panini transformed Vedic Sanskrit into Classical Sanskrit. It is simply the language and essence of Vedas. At the time of the Vedic period and even after, people who knew Sanskrit were considered high in social class.
Plenty of texts and practices in the Hindu religion contained Sanskrit as its core language. Moreover, it is the core language of Hinduism. Not just Hinduism, but it has been an important language for Buddhism and Jainism as well.
Sanskrit is still used in various Hindu rituals, hymns, and texts.
Importance of Sanskrit
As mentioned above, Sanskrit is a vital language in Indian culture. Plenty of languages have been derived or are influenced by it.
Earlier, this language was taught to the so-called high class and was a sign of educational attainment. In medieval times, Brahmins spoke Sanskrit the most. Even at present, this language is used widely. After India got independence, 3000 words have been composed in Sanskrit.
This language is a vital part of the academic linguistic field. It is also studied in various universities all across the world.
How to Learn Sanskrit?
There are various sources to learn Sanskrit from. You can opt for online or offline mediums. If you are an offline person, then this article will benefit you immensely.
We are here with the 10 best Sanskrit books available for you.
Let's get started!
Best Sanskrit Books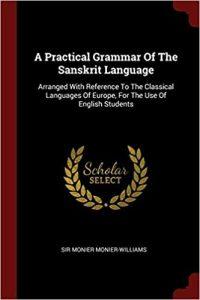 Author: Sir Monier-Williams
Last Published: 2017
Publisher: Andesite Press
Description
This book is culturally vital as it has ample resources of the civilization. The work has been collected from the original artifact and reworked in this book. You will witness several library stamps along with copyright references. Moreover, there are ample resources that keep the knowledge of the language alive.
The book contains interesting facts about the usage of Sanskrit and early civilizations.
The collection of important artifacts is greatly preserved and reproduced in this book. If you wish to explore more about this rich resource book that is a gateway to knowledge regarding Sanskrit, then you must purchase your copy now!
You can buy this book here.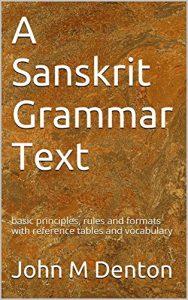 Author: John M Denton
Last Published: 2015
Description
If you wish to learn the language from scratch, then this is the book for you. Sanskrit is translated into English script for better understanding for the readers.
For imparting a decent knowledge from the beginning, the book contains various tables describing nouns and verbs. It is a comprehensive resource book that helps you to learn the basics of this language. The explanation regarding the Devanagari script is remarkable.
Furthermore, there is a good collection of the vocabulary of the words mentioned in secondary school examinations. It further enhances your grip over the words used regularly that would help you to gain expertise in this subject.
Overall this is an extremely handy reference book that will help students as well as teachers to study Sanskrit in detail.
You can buy this book here.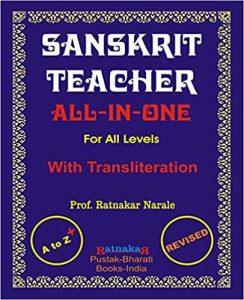 Author: Ratnakar Narale
Last Published: 2014
Publisher: Zaccheus Entertainment
Description
This book contains both the Sanskrit as well as English scripts. It is a hefty book with 700 pages in total. There are 37 chapters that help you to understand all levels of Sanskrit. The writer has compiled this book in such a way that the chapters become your Sanskrit tutor. There is a provision of a reference manual that helps both the beginner as well as the expert.
Initially, the chapter is about the basic Sanskrit alphabet and entails other chapters of Sanskrit grammar in a step-by-step fashion.
There are ample techniques, ideas, reference material, and information compiled in this book. All of this will help you to enhance your knowledge and learn Sanskrit. In addition, there are several examples and exercises for you to practice to polish your skills.
Although this is a hefty book, the vast knowledge base included in the Sanskrit lessons will help you to hold a good grasp of the language in no time. If you are interested in learning the language or are already an expert, this book would be highly beneficial for you.
You can buy this book here.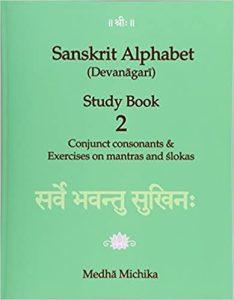 Author: Medha Michika
Last Published: 2015
Description
Sanskrit Alphabet Devanagari Study Book is a compilation of two books in a series. If you have zero knowledge about the language, then this book will help you to reach the expertise level. After completing the book, you will comfortably read as well as write Sanskrit.
There is detailed information about consonants, conjunctions, verbs, and their usages. Coupled with various exercises, you can practice them and understand them better. Both the books are designed in such a way that you gain systematic learning about Devanagari. Devanagari is the alphabet script used to write Sanskrit.
The exercise also comprises various Slokas and Mantras. Both of them are used in prayers and enchanted for ages.
This book is highly recommended for both a novice learner as well as an expert in this field.
You can buy this book here.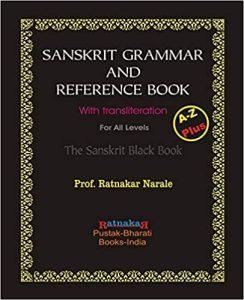 Author: Ratnakar Narale
Last Published: 2013
Publisher: Zaccheus Entertainment
Description
Sanskrit Grammar and Reference book is written by Professor Ratnakar Narain. It consists of various important information regarding the language. You will witness the usage of both English and Sanskrit scripts. There are various levels to learning the language from the basics.
It is a remarkable manual to understand Sanskrit grammar from scratch. The book comprises nouns, verbs, flowcharts, Golden rules, conjugations, and much more. All of this compiled together gives a deep understanding of Sanskrit.
In addition, there are all chhand-sutras of Pingala along with the yoga sutras of Anjali. Overall, it is a rich resource book that helps you to gain deep knowledge regarding Sanskrit and helps you to learn it.
You can buy this book here.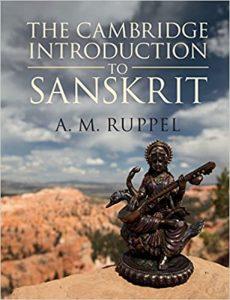 Author: A.M. Ruppel
Last Published: 2017
Publisher: Cambridge University Press
Description
The Cambridge Introduction to Sanskrit is an introductory yet remarkable scholarly book. It is comprehensive but offers a concise compilation. The novice learners can expect an easy-to-understand style of writing from this book.
As obvious, western learners will find it challenging to understand a language like Sanskrit. However, the writer has meticulously gathered information and molded it in such a way that will help the readers quickly understand the chapters.
There are some remarkable support materials that help in easy understanding. You will find this the most helpful self-study book with Sanskrit basics. All the chapters mentioned in the book are well delineated.
In addition, there are various texts and excerpts mentioned from Bhagavad Gita and Mahabharata. It further helps you to know where you stand.
The inclusion of various tables that have consonants, conjunctions, paradigms, etc. makes it convenient for the readers to learn the language.
You can buy this book here.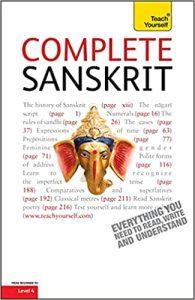 Author: Michael Coulson
Last Published: 2010
Publisher: Teach Yourself
Description
If you are completely new in the Sanskrit world and wish to learn this language with a deep understanding, then this is the book for you.
The writer has explained the grammar from scratch along with the vocabulary required to learn the language. The inscriptions and texts are translated into Sanskrit as well.
The major key chapters inclusive in the book are:
Teaches the key skills
Provision of authentic materials
Updated resources
Understanding of Devanagari script
Learning exercises
Self-tests for practice
This book is highly informative and provides English transliteration. Additionally, a pronunciation guide is also given to help the learners.
You can buy this book here.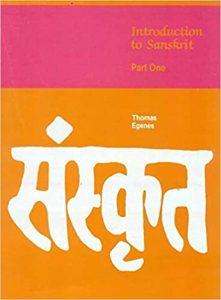 Author: Thomas Egenes
Last Published: 2015
Publisher: Motilal Banarsidass Publishers
Description
Introduction to Sanskrit is compiled in two volumes. It gives a deep knowledge of India's richest spiritual literature, Sanskrit. There are tonnes of information and resources available in this book.
The chapters contain grammar, pronunciation, vocabulary, and basic fundamentals of this language. Every concept is taught in a step-by-step way. The concise explanations help the novice learner to understand in bits and pieces. Each chapter has an instruction set about the topics that lead to practice exercises.
Introduction to Sanskrit also contains several quotations picked up from Bhagavad Gita, Upanishads, Yoga Sutras, Brahma sutras, and much more.
The style of writing is remarkable and impacts the learner positively.
You can buy this book here.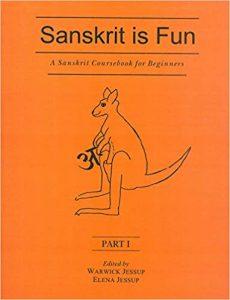 Author: Warwick Jessup
Last Published: 2015
Publisher: Motilal Banarsidass
Description
This book consists of three parts that give the basic introduction to the learners about Devanagari alphabets initially. With each passing chapter, the knowledge widens and you understand more about Sanskrit. The learners are shown the method to draw the letters first. To make the learning part fun, letters are transformed into the shape of animal figures.
A detailed explanation of vowels, consonants, words, and sentences is provided in the book.
There are ample practice exercises for the learners to polish their skills. The teachers can also reap abundant benefits from this resource book.
You can buy this book here.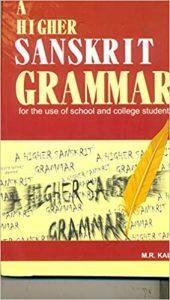 Author: M.R. Kale
Last Published: 2010
Publisher: Bhartiya Kala Prakashan
Description
This book has an updated curriculum according to the educational needs of students. The author MR Kale has meticulously followed the teachings and learnings of Panini and implemented them in this book. The sutras are also mentioned by the writer. The first 20 chapters will help you compose sentences in Sanskrit very easily.
A special section with the title 'conjugation of verbs' is enlisted that talks about the features of present grammar. Various examples are presented at the end of every chapter that helps you to practice more and more.
The writer has collected the resources meticulously and carved them into this book.
You can buy this book here.
Conclusion
Sanskrit is one of the oldest languages in the world and a rich spiritual language for India. Several sacred texts and practices involve the Sanskrit language. In ancient times, the so-called high class was taught Sanskrit. It was a sign of high status in society. However, the time passed, such irrelevant beliefs changed.
Slowly people started learning this language to understand various sacred texts such as Vedas, Upanishads, Bhagavad Gita, and many more.
If you are curious to know more about this language and learn it, then we recommend you to choose any of the above-mentioned books.
We hope that this article helped you to make an informed decision.
Keep reading, keep learning!
People are also reading: