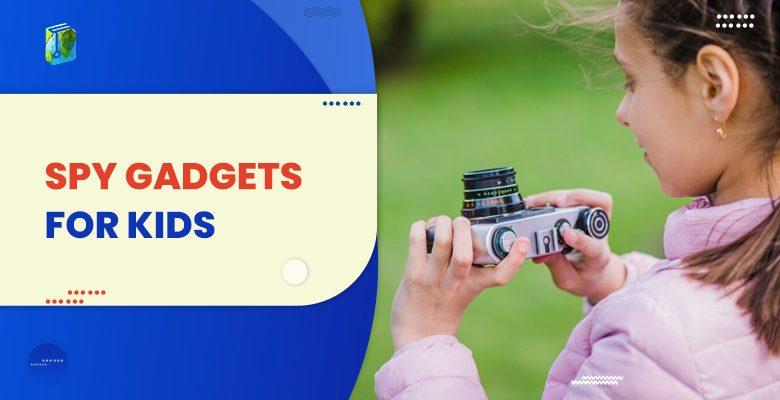 Does your child love watch spy movies? Or does your child love sleuthing or sneaking? If yes, you must consider getting them a set of spy gadgets or toys.
Spy gadgets for kids are toys that simulate devices used by investigators, spies, and secret agents. Some typical spy toys for kids include binoculars, night-vision goggles, walkie-talkies, code-breaking games, and listening devices.
Well, these gadgets are not only for fun but also help children develop imagination, curiosity, and willingness to learn. More importantly, children will imbibe essential spy skills – sharp sight, keen hearing, and quick thinning. In addition, they help kids learn a few concepts of technology and develop reasoning and problem-solving skills.
So, if you plan to introduce your little one to spy gadgets, you will undoubtedly get overwhelmed as many options are available. But don't worry! This article lists some of the best spy gadgets for kids that help them develop different skills while being enjoyable, durable, and age-appropriate.
Let us now dive into our list of gadgets!
How to Choose the Best Spy Gadgets for Kids?
There are two factors to consider – Age and Interest.
1. Age
It is beneficial to choose the gadget that is age appropriate for your kid. If you don't do this, they find the gadgets difficult to play with or extremely easy. Age-inappropriate gadgets won't benefit your little one.
2. Interest
Ensure that kids find the gadget interesting yet funny to play with. Also, it should spark your kid's imagination and creativity.
10 Best Spy Gadgets for Kids
Before we move on to the list, let us first discuss how to choose spy gadgets for young spies.
1. Kidwinz Original Compact Kids Binoculars Set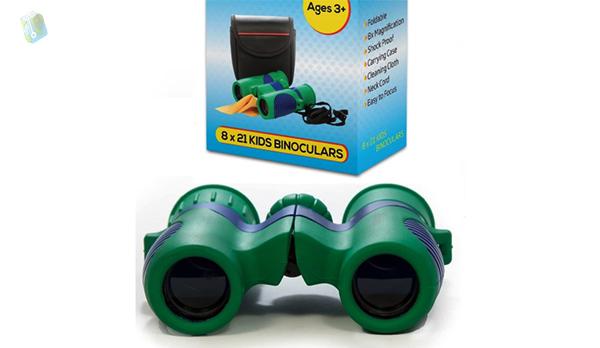 Product Ratings: 4.6/5
Pricing: $29.9
A binoculars set is a must-watch tool for spying from a long distance. It provides a clear view of the target even from a distance. Binoculars from Kidwinz are the earliest models suitable for kids. They ensure the highest quality and the best value.
The rubber-surrounded eyepieces ensure high safety for children, preventing them from hurting their eyes or face. Besides, the whole body is rubber-surrounded to withstand falls and drops on the floor. But, eyepieces have an extra coating to protect the lens during drops.
These binoculars provide accurate and sharp images and colors, as they use a high-quality prism. The multilayer film enhances the viewing experience. Hence, these binoculars foster outdoor activities.
You can buy this from here.
2. Alex Super Sleuth Kit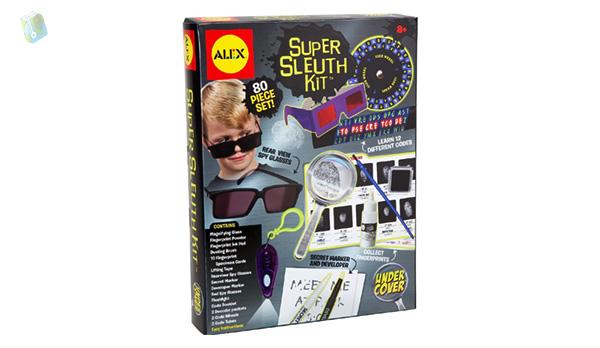 Product Ratings: 4.3/5
Pricing: NA
Spies should be able to solve the mysteries of their missions. For this, they need various tools and equipment. This sleuth kit contains everything kids need to solve mysteries in their missions and help them become a detective. It helps children develop keen observation, curiosity, imagination, and creative reasoning.
The kit is ideal for children aged 8 and above. It consists of rearview glasses, composite drawing materials, code wheels, a fingerprint ink pad, a magnifying glass, fingerprint powder, a dusting brush, a developer marker, a lifting tape, and a secret marker.
In addition, it includes a colorful spy guide consisting of easy-to-follow instructions. Some other elements packed inside the kit are 2 code wheels, 2 decoder packets, 2 code tubes, and spy glasses flashlight with 3 LR41 batteries.
You can buy this from here.
3. Invisible Ink Pens With Two Notepads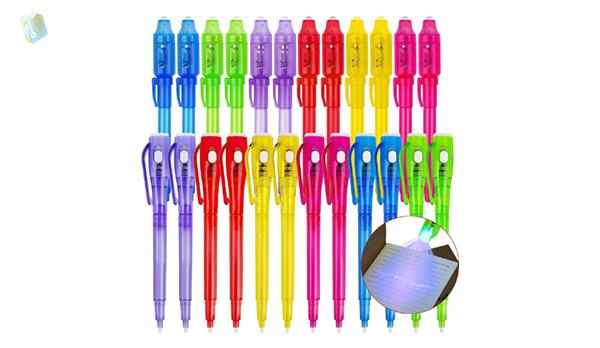 Product Ratings: 4.7/5
Pricing: $13.99
Any secret mission requires the transfer of message secretly by taking care it does not fall into the wrong hands. This set of invisible ink pens with notepads is a must-have spy gadget that will help your little super spy hide secret messages.
The kit includes 24 ink pens, 2 notepads, and a UV light installed with each pen. It is a perfect birthday or Christmas Thanksgiving gift for your little one.
Children can use these invisible ink pens and the notepad to write secret messages. A UV light comes in handy to read those written messages. The pens have a bright and lovely appearance, appealing to kids. It is important to note that the ink in all pens is the same – purple; just the outer part of pens is crafted with different colors to make them attractive.
You do not have to worry about the ink; it is harmless and odorless. Children can use ink pens on smooth surfaces like clothes, paper, skin, or T-shirts.
You can buy this from here.
4. Alex Undercover Spy Case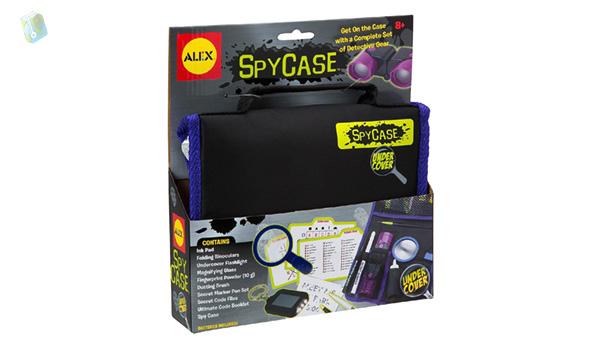 Product Ratings: 4.4/5
Pricing: $19.95
Recommended for little spies aged 8 to 12, this Spy Case has everything a super sleuth requires. Specially designed for pretend play that improves children's imagination, creativity, and social skills, this spy gadget helps your young one experience the joy of becoming a secret agent. It has won Dr. Toy's Best Vacation Toys Award.
This spy toolkit contains folding binoculars, an ink pad, an undercover flashlight, secret code files, batteries, a dusting brush, fingerprint powder, a magnifying glass, a secret market pen set, and an ultimate code booklet. More interestingly, the toolkit is portable and easy to carry while traveling.
You can buy this from here.
5. Project MC2 Pretend Play Super Spy Gear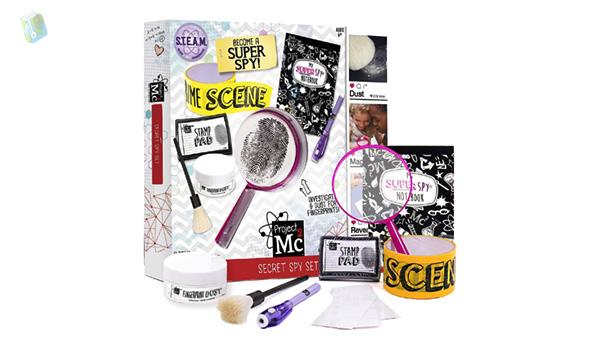 Product Ratings: 4.4/5
Pricing: $15.14
It perfectly blends a spy gadget and a STEM kit for kids aged 6 and above. The kit provides everything your young ones need to start their first investigation. It contains a black light pen, a fingerprint brush, a magnifying glass, an ink pad, cornstarch, a crime scene tape, and peel & stick acetate stickers. Additionally, you get a handbook containing easy-to-follow instructions.
From the beginning of an investigation to the end, this kit helps children in every possible way and step. They can use caution tape to seal or secure the scene, dush powder for fingerprints, and use a magnifying glass to detect fingerprints.
Processing a crime scene and identifying fingertips and secret messages with Project MC2 assists children in improving their imagination, creative thinking, observation, and problem-solving skills.
You can buy this from here.
6. SpyX / Night Mission Goggles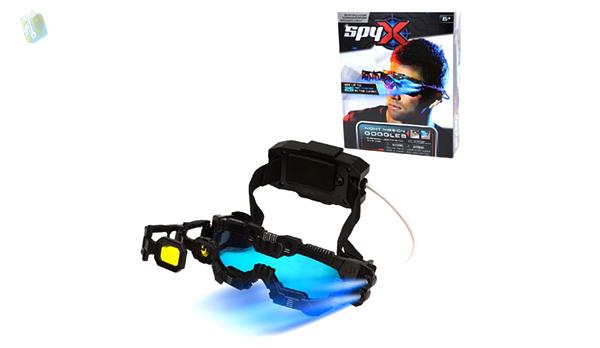 Product Ratings: 4.2/5
Pricing: $24.99
Night vision goggles are the perfect spy gadgets for night missions. SpyX's night mission goggles for kids won the TILLYWIG Top Fun Award for comfort, high quality, and durability. They are perfect for little ones aged 6 and above.
With these high-tech goggles, young spies can keep their eyes on areas up to 25 feet far in the dark. They are equipped with bright twin LED lights, a comfortable headset, an adjustable head strap, and a battery, helping little spies carry on their missions for a long time.
More interestingly, the magnified flip-out scope enables spies to snoop in the daytime.
You can buy this from here.
7. PlayMonster Chrono Bomb Spy Mission Game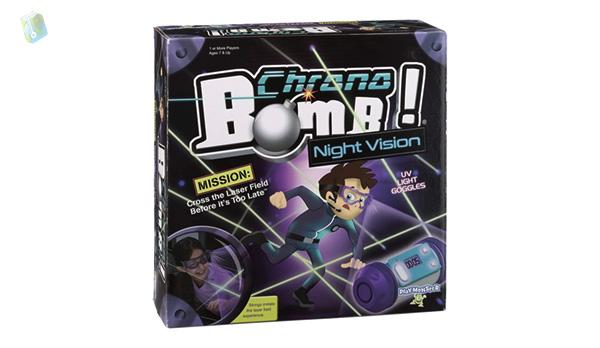 Product Ratings: 4.2/5
Pricing: $19.95
Ideal for young spies ages 7 to 14, Chrono Bomb is a perfect kit for a super secret spy mission. It comes with 4 standard clamps and a long 37 feet string. Spies use them to create a 'laser' field to crawl through. The end of the field has a bomb that keeps counting. As a result, kids have to hurry and carefully reach the end of the field to defuse the bomb.
What is important in the game is spies do not have to bang the string as sensors will detect movement and make the countdown of the bomb faster.
Besides, the kit includes UV light goggles and 10 cards for gameplay. Children can use different cards to set different gameplay. Also, they can use UV light goggles to light up the string in the dark.
Remember you need 6 AAA batteries to make everything work – 3 in bombs and 3 in goggles. The kit does not provide them.
You can buy this from here.
8. SpyX / Micro Gear Set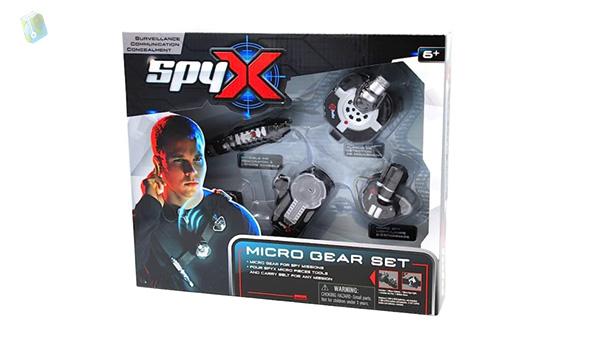 Product Ratings: 4.4/5
Pricing: $62.99
The micro gear set from SpyX contains everything your junior needs to become a spy agent. It comprises an invisible ink pen, micro ear light, micro motion alarm, micro listener, and an adjustable utility belt, making it easy for kids to war and carry all toys easily.
Additionally, the includes one more essential spy gadget – night mission goggles. Equipped with twin LED light beams, these goggles allow children to see up to 25 feet afar at night.
Micro Gear Set from SpyX is a two-time award winner toolkit – 2015 Award Winner from Creative Child Magazine and 2016 TILLYWIG Top Fun Award.
You can buy this from here.
9. Aikimi Walkie-Talkies for Kids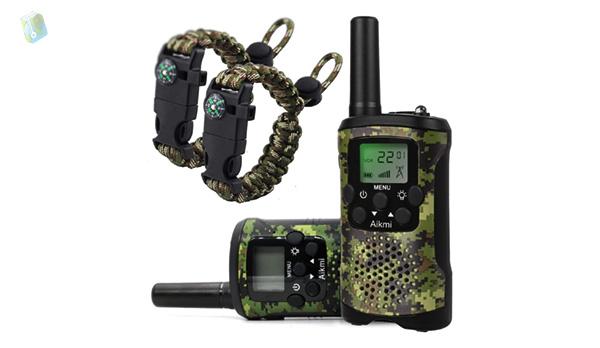 Product Ratings: 4.4/5
Pricing: $32.98
Walkie-talkies are another must-have spy gadget for communication. Especially recommended for boys aged 4 to 12, Aikimi walkie-talkies help children play soldier and accept missions. Parents can stay in touch with their young ones when they are away and ensure they are safe.
The walkie-talkie has 22 channels, a flashlight, a 3-mile transmission distance, and VOX lock-screen function. Children can choose a private communication channel, keeping their talks secret whenever required.
Furthermore, young spies get durable survival bracelets with a compass, an adjustable strap, and an SOS whistle, making them perfect equipment for outdoor adventures.
Parents can send their children safely on camping, hunting, hiking, biking, and trips.
You can buy this from here.
10. Melissa & Doug Spy Role Play Set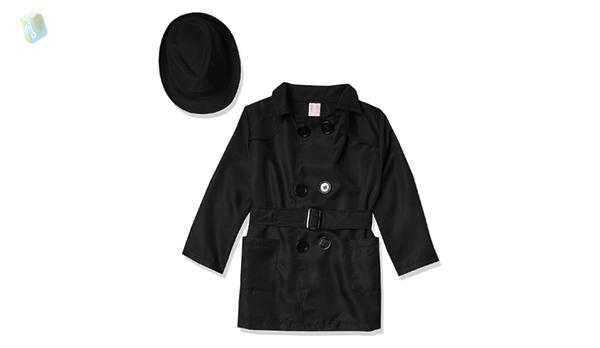 Product Ratings: 4.6/5
Pricing: $32.49
Kids will definitely love to disguise themselves as real spies; this product perfectly fits them. It is a complete outfit to dress up as a detective or spy for children edges 5 to 8.
The kit includes a black spy jacket, rearview mirrored sunglasses, a round black hat, a secret coded message card, a decoder lens, and a spy guide. This entire costume is made up of high-quality fabric to make it durable.
You can buy this from here.
Conclusion
Here ends our list of the best spy gadgets for kids. It contains different types of spy toys to choose from.
Introducing young ones to spy gear toys is one of the ways to help them learn to tackle difficulties. While being fun and playful, they spark curiosity, creativity, and imagination in kids. As they learn how to play with these toys, they develop exploratory, problem-solving, and social skills. In short, these spy gadgets nurture creativity in young spies.
We have chosen these gadgets by considering children's safety, ratings, and reviews. You can choose any of these above gadgets and help your little one enjoy being a spy.
People are also reading:
Frequently Asked Questions
1. What are the ideal spy gadgets for kids?
Some ideal spy gadgets for kids include night vision goggles, video walkie-talkies, binoculars, invisible ink pens, and action cameras.
2. How should I choose a spy toy for my child?
The foremost factor to consider while choosing a spy toy for a child is age. Choose an age-appropriate toy that sparks your child's creativity, imagination, and curiosity.
3. Who is the youngest spy ever?
Aldrich Ames from the United States is the youngest spy ever.