Seeking out the best Unity Books? Our list of top 10 Unity books for game development learning can help.
The gaming industry is one of the most lucrative career options. After all, it's a billion-dollar industry and growing. If you are trying to make inroads into game development, there are many big gaming engines from where you can start your journey. Unity is the most popular choice in that category. 
There is no shortage of books on Unity. But which one would suit your unique requirements? To help you with your endeavour, here's a compilation of the top 10 books on Unity and Game development.       
Best Unity Books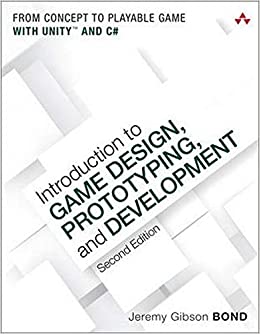 Description- Jeremy Gibson, the author of Introduction to Game Design and Development, is an independent game developer and professor with over a decade of experience. 
This is an excellent book for beginners looking to learn Unity. The chapters are concise and explained in a beginner-friendly tone. As a game designer enthusiast, you can find it to be a handy book. 
The book does an exceptional job of introducing a novice to the use of prototypes in game design. It revolves around making something playable as speedily as possible.
The book is divided into three parts;
Part I: Game Design and Paper Prototyping   

Part II: Digital Prototyping with Unity and C#

Part III: Game Prototype Examples and Tutorials 

Originally Published-

2014

Author –

Jeremy Gibson Bond

Level-

Beginner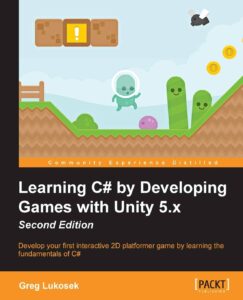 Description- This short read is a great way to start developing your first 2D game. As the name indicates, it uses C# to develop games. The latest edition includes the newest version of Unity and explains intermediate C# collection types like Stacks, Queues, and HashSets. That makes it one of the best Unity books currently on the market. 
A complete beginner might not find this an easy read but it's ideal for those with elementary knowledge. As the book is relatively short, it doesn't explain everything but does an excellent job explaining the fundamentals. While the book is mainly about the basics, it ends the last two chapters discussing higher-level topics.   
Originally Published-

2016

Author-

Greg Lukosek

Level-

Beginner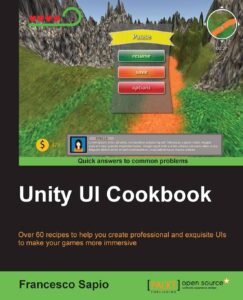 Description- If you want to study UI design for Unity game, "Unity UI Cookbook" would exceed your expectations. It takes you through the nitty-gritty of how to program in Unity. But what makes it so endearing is its presentation.
The book provides 60 ready-made solutions that are termed 'recipes.' With 'cookbook' right in the name, that's understandable. Francesco Sapio, the author, gives a rundown on interface elements like health bars, item indicators, power up gauges, etc. in 3D.
It even teaches you to make a minimap of your gaming world. Think of the book as a 280-page guide to making your game more immersive.
Originally published-

2015

Author-

Francesco Sapio

Level-

Intermediate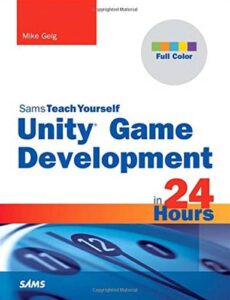 Description- Your hunt for the best Unity books might end with "Unity Game Development in 24 Hours." This book is a comprehensive guide to Unity. It is a beginner-friendly book, so no prior knowledge is needed to gain the most out of it.
The book gives an insight into Unity by asking you to build four games. It is easy to follow and covers various topics like game deployment, game interface, Unity game objects, etc.
The book also highlights common gaming development pitfalls, avoiding the same, and tips for performing specific tasks efficiently.
Originally Published-

2013

Author-

Mike Geig

Level-

Beginner to Intermediate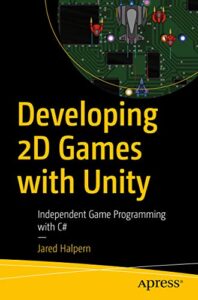 Description- Author, Jared Halpern starts with a brief history of the gaming industry and its present state. It then introduces the basics of Unity programming and builds a foundation to develop games in further chapters.
Ample exercises are provided in the subsequent chapters to practice the concepts taught in the previous chapters. The book ends with a chapter guiding readers on progressing further with the knowledge imparted.
This book is a complete guide to developing 2D games from scratch. It is beginner-friendly but even readers with intermediate knowledge of the subject would find it handy.    
Originally Published-

2018

Author-

Jared Halpern

Level-

Beginner to intermediate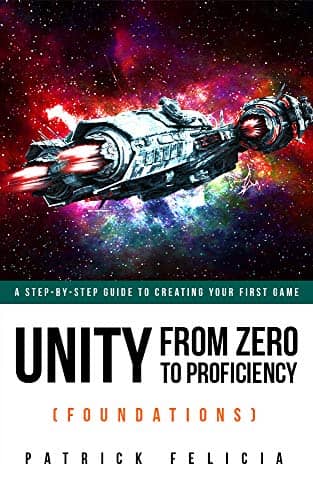 Description- For the book, the name says it all. It starts from the zero of Unity and guides the reader to proficiency. Easy to read, this beginner-level book requires no prior knowledge of Unity.  
It covers topics like the basics of Unity, core features of Unity, Unity interface, and more. The book features six chapters that progress in difficulty level as we move forward.
"Unity From Zero to Proficiency" is an excellent pick for anyone trying to introduce themselves to Unity. some even go to the extent of calling it the Unity beginner tutorial.
This book is part of a series. So, if you like the book and find it helpful, other books can build on the foundations provided by this one.
Originally Published-

2017

Author-

Patrick Felicia 

Level-

Beginner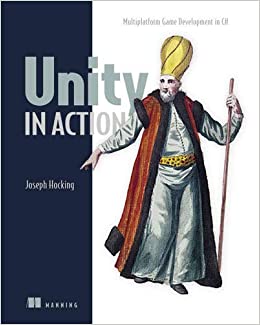 Description- Unity in Action, written by Joe Hacking, is an excellent introduction to Unity and one of the coveted Unity books, Wellington. It is perfect for newbies or app developers switching to game development.
The book is written with a certain level of clarity which makes it an easy read. You get a free Kindle or PDF version along with the book. Make sure to download the same as it will help you search the keywords.
The book consists of 12 chapters which are divided into three segments each of four chapters. 
The first part is an introduction to Unity, adding enemies and projectiles.

The second part is about making newbies comfortable with Unity and adding interactive devices and items within the game.

The third and final part is about making your game complete with sound effects and music.

Originally Published-

2018

Author-

Joe Hocking

Level-

Beginner to intermediate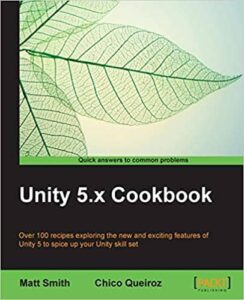 Description- Unlike other Unity books on the list, this book by Matt Smith and Chico Queiroz is helpful to everyone, from newbies trying their hand in game development to professional coders shifting to gaming designs.
But if you are someone who's already built games with Unity, you'll find this book particularly useful. It propels your game development to the next level. The author's fun approach to teaching Unity makes the 570 pages book an easy read.
Originally Published-

2015

Author-

Matt Smith, Chico Queiroz

Level-

Beginner to intermediate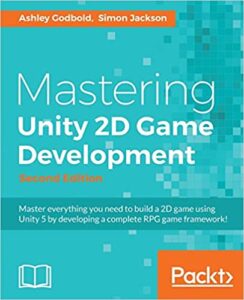 Description-  Living up to its name, the book's prime focus is to help readers master Unity 2D game development. Note that, before starting with this book, it would be beneficial to understand C# and some fundamentals of game development.
While you don't have to be an expert on the subject, a basic understanding of the Unity programming language is required. Also, make sure to get the second edition of the book, as the first one covers Unity 4.6
Originally Published- 

2014

Author-

Simon Jackson

Level-

Intermediate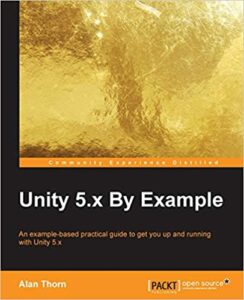 Description- It's a beginner-friendly book written by Alan Thorn. It teaches Unity with the help of examples, which is why we rank it among the top 10 Unity books, Auckland. 
You get to learn components and game objects with the Unity interface. Also, expect to learn how to construct a game from scratch. It is an excellent book provided you have elementary knowledge of Unity.
Reading this book would feel like someone is walking you through game development step by step. 
Originally Published-

2016

Author-

Alan Thorn

Level-

Beginner
Conclusion
Game development is an enormous subject in itself with Unity being a part of it. Even in Unity, there's a lot to learn, and no single book can teach you all that. You are better off choosing Unity books based on your skillset and learner level. Advanced programmers would love Unity in Action, whereas someone completely new would prefer a step-by-step guide like Teach Yourself Unity in 24 Hours.
People are also reading: