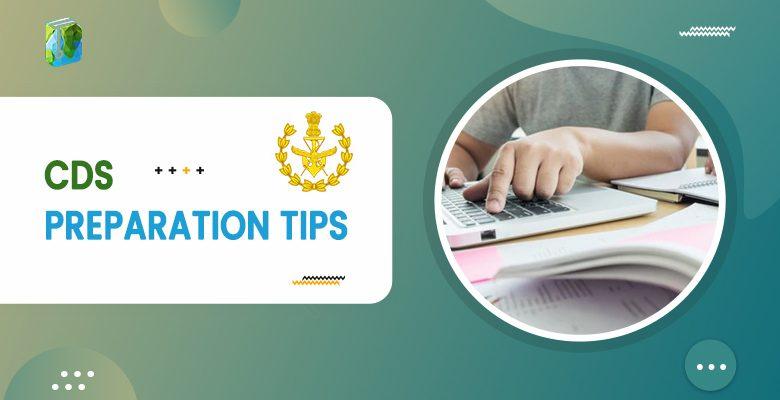 In this article, you will get complete CDS Preparation Tips and prepare for the CDS Examination.
What is CDS?
Combined Defence Services (CDS) is an exam organized by the Union Public Service Commission (UPSC). It is conducted twice a year (CDS1 & CDS2). This exam enables candidates to get recruited into the following:
Indian Military Academy (IMA) in Dehradun for permanent commission in the Indian Army
Officers Training Academy (OTA) in Chennai for the short-service commission in the Indian Army
Naval Academy Goa, for Commission in the General Services in the Indian Navy
Air Force Academy, Begumpet, Hyderabad for the Indian Air Force Commission.
The UPSC CDS exam 2022 will be conducted on September 4th, 2022.
CDS Preparation Tips 2022
How to Prepare for UPSC CDS Exam?
Here are some quick tips to clear the CDS exam in 2022.
For the study plan, create your timetable and follow it properly.
Time Management.
Analyze the CDS syllabus of the Exam.
Collect the previous year's question papers and mock papers and solve them.
Prepare the notes yourself and collect relevant books.
Check the complete guide to prepare for the CDS Exam subject-wise.
Divide the time for all subjects and work harder on areas you feel you lack.
Consider various preparation sources like books, e-books, online preparation, online groups, blogs, etc.
Always solve 15-20 previous year question papers and find out where you are lacking, focus on topics you are unsure about, and succeed.
If a candidate follows this plan, they can surely crack the CDS exam on the first attempt.
How to Prepare English for CDS Exam?
Some of the CDS Preparation tips for English are:
English question paper includes 100 questions of 100 marks with a time duration of 2 hours. Through this paper, the examiner tests your necessary English skills in many ways with different types of Grammar and Vocabulary questions. Let us check the CDS Exam English preparation tips :
Check the complete CDS English syllabus first.
To prepare for English,  you can improve your reading habit via many sources like English Newspapers, Magazines, Notes, books, etc. You can also improve your English writing, speaking, and listening habits.
Create a comprehensive list of all the CDS important topics.
Search new word lists daily and try to use them in sentences.
Prepare a timetable for all grammar and vocabulary sections. Give more time to parts you are weak in.
Check and try to solve UPSC CDS previous year's English question papers.
Divide all sections and prepare them all one by one.
One can refer to basic grammar books to clear the concept.
How to Prepare General Knowledge (GK) for CDS Exam?
CDS General Knowledge paper is an objective type paper of 100 marks with 100 questions. The General Knowledge section mainly includes topics from Constitution, History, Economy, Geography, Politics, Navy & Military, and the latest current affairs.
You can easily prepare for the GK section by following the tips given below:
Check CDS GK Syllabus First.
Read Newspapers daily and watch television for the latest happenings in and around the world. This habit increases your overall General knowledge.
Collect magazines and notes covering various topics ranging from economy to business to trade policies to the latest awardees in sports, art, literature, etc.
Do more practice with the Online GK test for CDS Exam via CDS mock tests, CDS speed tests, and CDS practice papers.
Collect the last year's question papers and solve them. It will give you an idea of which topics to concentrate on.
How to Prepare Mathematics for CDS Exam?
UPSC CDS Elementary Mathematics paper contains 100 objective-type questions with 100 marks. This paper standard is almost similar to matriculation. It includes questions from Arithmetic, Algebra, Geometry, Trigonometry, etc.
Check the Complete CDS Maths syllabus first.
Speed Distance and Time-related questions, Math Formula For Area & surface area, Math Formula For Volume, Maths Formulas of Number System, etc., to prepare for CDS. Collect essential formulas, theorems, and tips. Check some Geometry formulas for circles, rectangles, squares, tangents, etc.
Practice more and more to get success in maths. Try more questions to solve.
Learn Maths essential formulas and write them down all in one place for last-minute preparation.
Collect the previous question paper and then solve it. Try last year's paper to solve.
Buy CDS Maths question syllabus books for a better understanding of the concept.
How to Prepare for UPSC CDS Physical & Medical Exam?
Those students participating in CDS must be physically and mentally fit and fine with no mental breakdown record in the past.
The physical and medical test also plays a vital role in this exam, so you should be prepared for it.
Must put your weight and height on a standard scale. So regular exercise and running are a must.
Must check up your whole body before examining any type of disease.
Medical Interview
All participants must undergo a medical test only when they clear the SSB interview, and there may be different criteria for all forces Army, Navy, and Air Force.
Regular exercise keeps you fit and fine with proper weight. Take a full checkup of your whole body to clear the doubt of any type of hidden disease so that you can cure it at the right time.
Do yoga and meditation regularly.
Eat healthily and include fresh vegetables and fruits in your diet.
Have yourself medically examined before you take the exam, just to avoid any surprises
Personal Interview – Intelligence and Personality Test
Those candidates who successfully qualify for the written test are called for the Intelligence and Personality test, conducted by the Services Selection Board (SSB).
Train your mind to think clearly, rationally, and logically.
Train yourself to respect your seniors and juniors
These test judges a candidate's intelligence, personality, and ability to be chosen as an officer in the Defence Forces. Several components are included in the test: Psychological Tests, Group Discussion, Intelligence Tests, Outdoor activities, Opinions on issues, Physical Fitness, etc.
Here are a few tips /tricks to help you clear this test.
Develop your confidence. You should have the ability to express yourself beautifully with positive energy.
Sharp your communication skills.
Improve and increase General awareness all around the country and world.
Present a charming personality in front of the panel. You should be able to impress them by talking and other activities you do there.
Try to conceive yourself as a team leader who will help successfully carry out teamwork.
Think before behaving like an officer (proper manner and respectfully).
Conclusion
Combined Defence Services or CDS is an exam organized by the Union Public Service Commission (UPSC). It is conducted twice a year (CDS1 & CDS2). It is conducted to recruit for various posts in the Indian Military Academy, Officers Training Academy, Indian Naval Academy, and Indian Air Force Academy.
This post explains some of the tried and tested subject-wise CDS preparation tips 2022 to help you clear the exam.
All the best for your examinations!
People are also reading: