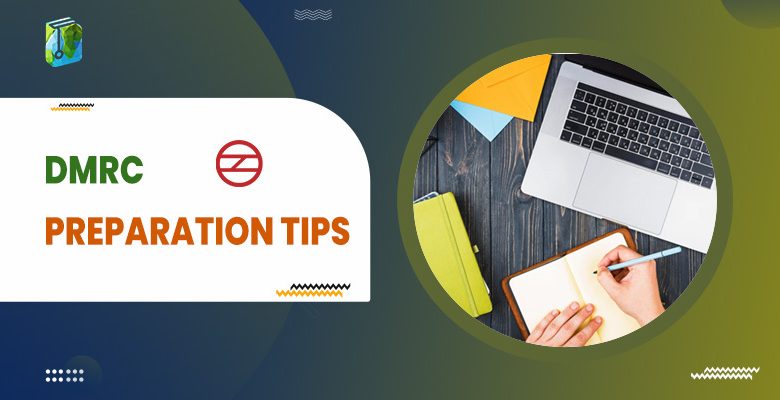 There is no official notification for the DMRC exam 2022 yet. However, the authorities will release the schedule shortly. 
DMRC stands for Delhi Metro Rail Corporation. DMRC exams are held for recruiting people for the various vacant positions. These exams are held annually and recruitment is done based on vacancies. The authorities have to announce their recruitment schedule for technical and other non-technical posts.
In this article, you will get complete information about DMRC Preparation Tips to ace this examination.
DMRC Preparation Tips 2023
1. Study Plan
Create your own timetable for DMRC Exam and follow it diligently.
Analyze the subject-wise topics and go through the syllabus.
Collect information about the complete DMRC Exam Syllabus and divide them equally as per your time so that every minor topic gets covered in your study plans.
Gather the mock papers and previous question papers and solve them.
2. Time Management
Students must give equal weightage to all the subjects and prepare for them as per the prepared timetable.
Include short breaks of 15 minutes between long hours of study.
Maintain a proper schedule for every task.
Divide appropriate time for all subjects (General Awareness, Quantitative Aptitude, Reasoning, and English Language ).
3. Study Material
Preparation tips for General Awareness
Syllabus of General awareness
National & International Current Affairs
Indian Geography
History- India and World
Indian Polity
Indian Culture and Heritage
Preparation Tips
Read general awareness magazines such as Pratiyogita Darpan or other current affairs magazines like CST, Chronicle, or Wizard.
Candidates must follow a national newspaper to stay updated about the current affairs of the world as general awareness plays a crucial role in the exam.
General Awareness is a very scoring section and is not time-consuming too.
Concentrate on topics like Current Affairs (National and International), Major Financial/ Economic News, Budget and Five Year Plans, Who is who?, Sports, Book, and Authors, Awards and Honors, Science – Inventions and Discoveries, Abbreviations & Important Days, etc.
You can practice questions on apps while traveling, read the magazines before going to bed, and revise them in the early morning.
Preparation tips for Quantitative Aptitude
Syllabus of Quantitative Aptitude
Percentage
average
Simple Interest / Compound Interest
Profit Loss
Ratio and Proportion
Time and Work
 Time Speed and Distance
Data Interpretation
Data Sufficiency
Sequence and Series
Simplifications
Mensuration
Quadratic Equations
Preparation Tips
Quantitative aptitude is one of the most time-consuming sections of the exam.
Data Interpretation is the most important part and should be your preference.
Try to learn shortcut tricks to save time in bulky calculations.
Focus on important topics only.
Spend more time with these topics- Simplification, interest, percentages, ratio and proportion, and age problems. These are easy-scoring topics.
Some topics are scoring but take more time to solve. These topics are- Profit and loss, number series, mensuration, number systems, speed, distance, etc.
Learn all the important formulas and time yourself while practicing.
Preparation Tips for Logical Reasoning
Syllabus of logical reasoning
Sitting Arrangement
Puzzle Test
Syllogism
Data Sufficiency Problems
Blood Relationship Problems
Series Problems
Input-Output/ Sequential Output Tracing
Direction Sense Problems
Statement Assumption/Conclusion/Argument/Course of Action
Ordering and Ranking
Preparation Tips
It is a logic-based question, and there is no formula to be used.
Devote some time to a question and read it carefully.
Regular practice is the most important for DMRC Exam as it improves your speed.
The candidate must try to solve 4-50 questions on each topic and practice reasoning questions to polish their problem-solving skills.
The candidate needs to pay special attention to words like ALL, SOME, NONE, OTHER THAN, UNLESS, or ONLY. These words can play a critical role in the false assumption.
Preparation tips for General English
Syllabus
Reading Comprehension
Fill in the blanks (based on Vocabulary)
Sentence Correction / Spotting error (Tenses, Part of Speech, Active and Passive Voice, Subject-Verb Agreement).
Para jumbles
Antonyms/Synonyms based problems
Preparation Tips
Try to quickly attempt reading comprehension at the beginning.
To increase your vocabulary, you should read more and more books and follow a dictionary.
Read newspapers, magazines, and articles daily.
Candidates should work on improving their grammar part and practice reading a lot.
Collect mock papers and solve them.
Practice at least 10-20 comprehension passages every day.
Read English newspapers and watch the English News channel daily.
Vocabulary- Search for new words daily and check the meaning and make the sentences with the antonym.
Vocabulary-based questions like synonyms, and antonyms, are knowledge-based questions and can be answered correctly if and only if the meaning of the words is known.
4. Maintain Health
During preparation, never ignore your health as only a healthy candidate can work hard and prepare efficiently.
Take fresh fruits and vegetables.
Avoid junk food and a heavy diet.
At the time of preparation, do yoga and meditation. It will help you to calm your mind, and increase inner peace, confidence, and power of concentration.
Never over-stress yourself and try to get at least six to eight hours of sleep.
5. Revision
Make sure you revise every topic thoroughly and prepare well by revising time and again.
Prepare a separate revision plan for last-minute preparation to revise all main topics and formulas.
Conclusion
DMRC is an important exam and is taken by lakhs of candidates every year to hold positions in the Delhi Metro Rail Corporation. Every year, the competition is rising and the exam is getting tougher. Therefore, it is necessary to follow an efficient preparation plan to achieve a good rank.
In this article, we provided you with the preparation tips for the DMRC exam. We hope that the information helps you in the best way possible.
Good luck!
People are also reading: