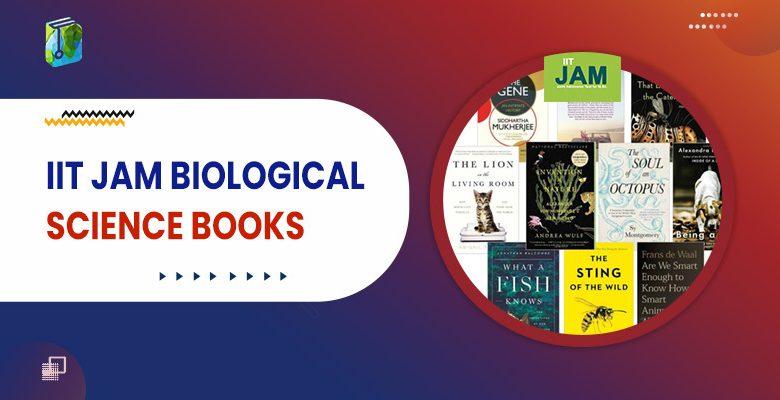 Getting admission into master's programs at IITs, NITs, GFTIs, and other national institutions is the dream of every engineering aspirant. To be eligible for the same, the candidates need to clear the IIT JAM Biological Science Paper, part of IIT JAM 2023. Success in this paper depends on various factors like the syllabus, exam pattern, previous year's question papers, and what study material you select for preparation. To begin with, the students must have a reliable and high-quality study guide so that they can crack the IIT JAM Examination. To make it easier for you, we are listing the top 10 best books for IIT JAM Biological Science Preparation 2023, which can greatly help you in acing this exam.
Best Books for IIT JAM Biological Science Preparation
Before beginning their preparations for the IIT JAM 2023, every student faces many decisions. The following are the most frequently asked questions:
Which are the best books for Biological section preparation?
How can I prepare for IIT JAM Biological Section?
The answer to the same is:
Selecting the best books for theoretical parts.
Solve several practice papers.
Stay updated with the IIT JAM exam pattern and exam syllabus.
The best books have been listed below for your easy reference:
| Name of the book | Author |
| --- | --- |
| Life Sciences: Fundamentals and Practice – I | Pranav Kumar, Usha Mina |
| Life Sciences: Fundamentals and Practice – II | Pranav Kumar, Usha Mina |
| Molecular Biology of the Cell | Bruce Alberts |
| Lehninger Principles of Biochemistry | David L. Nelson |
| Cell and Molecular Biology | Karp |
| Genetics (Benjamin/Cummings Series in the Life Sciences) | Peter J. Russell |
| Genetics: A Conceptual Approach | Benjamin A. Pierce |
| Principles of Genetics | Gardner, Simmons, Snustad |
| Biochemistry | Jeremy M. Berg, Lubert Stryer, John L. Tymoczko |
| Kuby Immunology | Thomas J. Kindt, Barbara A. Osborne, Richard Goldsby |
| Immunobiology: The Immune System in Health and Disease | Charles Janeway, Paul Travers, Mark Walport, Mark Shlomchik |
| Developmental Biology | Scott F. Gilbert, Susan R. Singer |
| Essentials of Physiology | Lauralee Sherwood |
| Guyton & Hall Textbook of Medical Physiology | John E. Hall, Mario Vaz, Anura Kurpad, Tony Raj |
| Campbell Biology | Jane B. Reece, Martha R. Taylor, Eric J. Simon, Jean L. Dickey |
| Lehninger Principles of Biochemistry | David L. Nelson, Michael M. Cox |
| Cell And Molecular Biology | Roberts De |
| Microbiology | Lansing Prescott, John P. Harley, Donald Klein |
IIT JAM Biological Science Syllabus
The syllabus comprises the below-given topics:
General Biology
Basics of Biochemistry, Molecular Biology, Biophysics
Microbiology, Cell Biology, and Immunology
Mathematical Sciences
Preparation Tips:
Start planning for every day while you are preparing for your exams. Try to create a standard timetable for preparation where you will solve the previous year's question papers, mock tests, test series, etc. Try to solve these papers in the same amount of time as you get at the examination time. In this manner, you will get to know the level of preparation you have done.

While preparing, keep a notebook with you and try to create your notes. Whenever you face any issue related to any study material, try to make a short note on the topics for revision purposes. It will help you to understand the topics better.
If you find that you have a lot of topics to cover in any given chapter, divide your topics into smaller parts and prepare separate notes on these topics.
Once you are done with the preparations, start revising the topics. In this time, you need to do a quick revision of those topics you have already prepared. A day before the examination, make sure that you revise and not start new topics.
It is advised to the candidates that they don't leave any topics unattended because each topic has its own importance in terms of the scoring criteria.
People are also reading: