JEE Advanced
JEE Advanced Eligibility Criteria 2023 [Qualification, & Age Limit]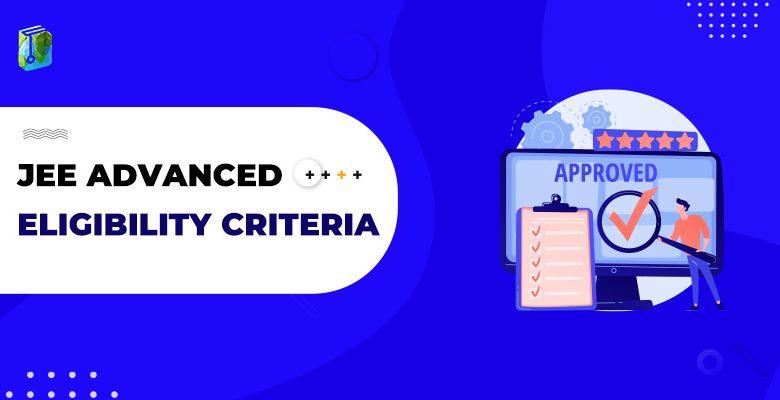 There are certain eligibility criteria that candidates need to match before applying for JEE Advanced examination. The official authorities release a document every year before releasing the application forms. If a candidate doesn't fulfill these criteria, they can't appear for the JEE Advanced exam.
Furthermore, IIT Bombay has released the JEE Advanced eligibility criteria 2023 on the official website. Candidates must fulfill the conditions and requirements of eligibility criteria to appear for the JEE Advanced 2023.
We are here with complete details regarding the JEE Advanced Eligibility Criteria 2023.
Let's begin!
JEE Advanced Eligibility 2023
Aspirants who have cleared JEE Main Examination and are eligible or have checked their eligibility criteria can fill JEE Advanced Application Form 2023. Here we have listed major criteria for applying for JEE Advanced Examination:
Nationality
Candidates who are Indian citizens and OCI & PIO candidates can apply.
Number of Attempts
Candidates can take this exam a maximum of two times in consecutive years.
Age Criteria
Candidates who were born on or after 1st October 1997(for general candidates) and 1st October 1982(for SC/ST & PwD candidates).
JEE Main Performance
Candidates who secured a position in the top 2,24,000 (including all categories) in JEE Main 2023 Paper-1, can apply for JEE Advanced 2023
The category-wise percentage is: 27% for OBC-NCL, 15% for SC, 7.5% for ST, and the remaining 50.5% is OPEN for all. Within each of these four categories, 5% more horizontal reservation is available for PwD candidates
The authority will follow the following order for selecting the top 2,24,000 candidates in various categories:
Order
Category
Number of "Top" Candidates
Total
1
OPEN
1,07,464
1,13,120
2
OPEN-PwD
5,656
3
OBC-NCL
57,456
60,480
4
OBC-NCL-PwD
3,024
5
SC
31,920
33,600
6
SC-PwD
1,680
7
ST
15,960
16,800
8
ST-PwD
840
Performance in Class XII (or Equivalent)
Candidates must appear in class XII or equivalent examination for the first time in the year 2021 or 2022
Like previous years, 75% of the criteria has been curbed off and the JEE Mains marks will be considered.
If candidates get grading marks (grading format) in their qualifying examination, then they need to obtain a certificate from the respective board which will specify the equivalent marks. Candidates need to carry or submit this certification at the time of acceptance of the allocated seat. If such a board or university does not provide these certificates, then the final decision will be taken by the Joint Implementation Committee of JEE (Advanced) 2023
For those who have passed their qualifying examination in 2021 but appear for improvement in 2022, their best performance will be calculated out of both these exams
In the case of a 3-year diploma or equivalent courses, marks scored in the final year will be considered. Similarly, for boards that follow a semester system, the marks scored in the final two semesters will be considered
Candidates who are appearing for improvement in any subjects of the 12th class which he/she already passed in the 2021 session, then their percentage will be evaluated by considering the maximum marks obtained in the required subjects
Earlier Admission at IITs
Candidates who already enrolled somewhere in an IIT/ISM in their previous session, are not eligible to appear in the JEE Advanced. Or, candidates who already accepted any seat in IIT/ISM by reporting at the reporting center.
Any candidate who got disqualified from the IIT and ISM, cannot apply for JEE Advanced 2023
Those who attempted earlier in 2021, JEE Advanced can apply for JEE Advanced 2022 as well
Candidates who have not accepted the seats or paid the acceptance fee can also apply for JEE Advanced 2022
Qualification Exams which will be considered as Equivalent to XII
Here, aspirants can get complete information about qualification exams which will be considered as equivalent to XII:
Senior Secondary or 12th Standard examination which is conducted by a Central or State Board recognized by the Association of Indian Universities (AIU).
Two-year Pre-University examination or Intermediate Examination which is conducted by a Board or University recognized by the AIUs.
Joint Services Wing of the National Defence Academy's 12th Standard Examination.
NIOS (National Institute of Open Schooling) 12th certification or exam with a minimum of five subjects.
Institute which is associated with the AIU system, i.e. Any Public School, Board, or University examination in India or in a foreign country recognized as equivalent to the qualifying examination.
All India Council for Technical Education (AICTE) or a State Board of Technical Education's 3 Year Diploma Course is also equivalent to the qualifying examination.
In London, Cambridge, and Sri Lanka's Advanced Level (A) General Certificate Education (GCE) examination is also equivalent to the qualifying examination.
Cambridge University's Higher Secondary Degree or International Baccalaureate Diploma of the International Baccalaureate Office, Geneva.
If in case candidates passed their qualifying examination outside India then, in that case, they need to show their passing certification from the AIU subjects which are equivalent to the 12th standard.
If a candidate who passed earlier his board or pre-university level examination from the recognized board or university or 12th standard is not a public examination, then it will work.
Conclusion
This article helps you to learn about the JEE Advanced 2023 eligibility criteria.
We hope that this information helped you in the best way possible.
Good luck with your future endeavors!
People are also reading: