SBI PO
SBI PO Preparation 2023: How to Prepare for SBI PO Exam?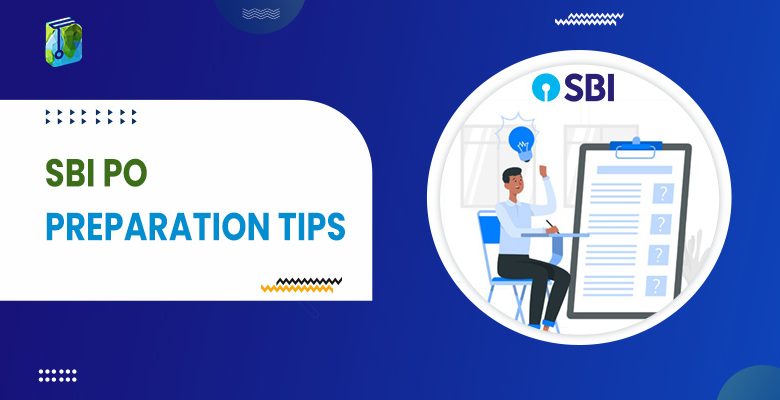 The State Bank of India (SBI) conducts the SBI PO exam to select eligible applicants for Probationary Officers (PO) positions in various State Bank of India branch offices. SBI PO is among the most prestigious jobs in the banking sector. Millions of aspirants all over India aspire to work there. SBI PO is a high-paying job opportunity in the banking industry.
Candidates who wish to get admission as a banking professional need to prepare very well and need to go through with a structured studying strategy or planned preparation tips. The preparation tips will help students score perfect marks in the SBI PO 2023 Examination. SBI PO is organized for providing admission into the banking industry. Through this article, candidates will get detailed SBI PO Preparation Tips, how to prepare for it, and how to cover the complete syllabus.
SBI PO Preparation Tips 2023
SBI PO Exam is not based on completing the SBI PO syllabus for preparation; it is based on completing and understanding the basic concepts.
If you found a problem that is taking too much time, then you need to move forward to a new solution.
Candidates need to keep a balance between speed & accuracy.
Candidates need to divide their preparation time according to the topics/section they need to prepare like aptitude, fundamentals, attitude, concentration level, etc.
Always try to track your own performance so that you are prepared for the examination.
Whenever you are studying and preparing a topic, then you need to keep your own goal in your mind. Always try to keep your goal in mind and think about the goal of how you can achieve that.
In preparation time, if you have any doubts regarding any previous topics, then clear your doubts and then go for the preparation of the next topics.
In the end, go only for revision. Once your revision process is over, then evaluate yourself by attempting a mock test and the previous year's question papers.
SBI PO Exam Dates 2023
SBI will release the official notification for the post of SBI PO soon. The tentative Exam Dates have been tabulated below:
Activity
Tentative Dates
Online Application Form Date
May 2023
Application Form of SBI PO Last date
May 2023
E-Admit Card Start Date for Preliminary Exam
June 2023
SBI PO 2023 Exam Date (Preliminary)
2nd week of June 2023
Preliminary Exam Result
1st week of July 2023
Release of Admit Card for Main Exam
2nd week of July 2023
SBI PO Exam Date 2023 (Main)
August 2023
Main Exam Result Date of SBI PO
3rd week of August2023
SBI PO Admit Card Release Date for Interview
4th week of August 2023
Conduct of Group Exercises & Interview
September 2023
Declaration of Final Result
2nd week of October 2023
Pre-Examination Training for SC/ST/Religious Minority Community candidates
The download of call letters for Pre-Examination Training
2nd week of May 2023
onwards
Conduct of Pre- Examination Training
4th week of May 2023
SBI PO Exam Pattern 2023
SBI has changed the Exam pattern for the PO Exam. Exam pattern plays an important role in every exam preparation. By analyzing the exam pattern and syllabus the students get to know about the important topics for the respective exam which will make the preparation easier. The SBI PO exam consists of 3 stages namely Phase-1: SBI PO Preliminary Examination, Phase-2: SBI PO Mains Examination, Phase-3: Group Exercises & Interview.
The Exam Pattern for SBI PO is as given below:
Stage 1: Prelims Exam
S.NO.
SEGMENT
NO. OF QUESTIONS
MAXIMUM MARKS
DURATION
1
English Language
30
30
20 Minutes
2
Numerical Ability
35
35
20 Minutes
3
Reasoning Ability
35
35
20 Minutes
Total
100
100
1 Hour
SBI PO is conducted online as a computer-based test (CBT). It comprises of a total of 100 questions of one mark each. The total time allotted to the students to solve the paper is 1 hour. The test consists of 3 sections and candidates must clear the cut-off for each section in order to qualify for the main examination.
Stage 2: Mains Exam
Subject
Number of Questions
Marks
Duration
Objective Test
Reasoning & Computer Aptitude
45
60
60 Minutes
Data Analysis & Interpretation
35
60
45 Minutes
General/ Economy/ Banking Awareness
40
40
35 Minutes
English Language
35
40
40 Minutes
Subjective/ Descriptive Test
English Language (Letter Writing & Essay)
2
50
30 Minutes
Total
157
250
3.5 Hours
The SBI PO Main Exam comprises 157 questions in total which consist of two segments, one is objective and the other is subjective. The objective segment consists of 4 segments which are Reasoning & Computer Aptitude, Data Analysis & Interpretation, General/ Economy/ Banking Awareness, and English Language. The maximum marks for this segment are 200. Similarly, the subjective segment comprises Essay and Letter writing(two questions) and the total marks for this section are 50. The candidates are allotted 3 hours for the objective section and 30 minutes for the subjective section. The total duration of the paper is 3.5 hours and the total marks are 250.
Stage-3: GD & Interview.
The candidates who qualify in both prelims and mains will be eligible to appear for this stage. The selected candidates will be called for GD and PI by the authorities. The qualifying marks for these rounds will be decided by the authority itself. The group discussion consists of 20 marks and the personal interview round is of 30marks.
Steps for Preparing SBI PO Exam
Study Plan
Create your own timetable for the SBI PO Exam and follow it properly.
Analyze the subject-wise topics and collect the syllabus.
Collect the mock papers and solve them.
Time Management
Utilize your time effectively, and you shall certainly score good grades in your SBI PO examination.
You can study for a short duration when you wake up in the morning.
Treat all sections with the same weightage and prepare them as per your scheduled timetable.
Between long study hours, always include short breaks of 15 minutes.
Maintain Health
If you start to study for the exam, never ignore your health. To maintain your health and take proper diet to stay fit and healthy.
Take fresh fruits and vegetables.
Avoid junk food and a heavy diet.
At the time of preparation do yoga and meditation, it will help you to calm your mind, increasing inner peace, confidence, and power of concentration.
Never overstress yourself and try to get sleep for at least six to eight hours.
Revision
Make sure you revise every topic thoroughly and prepare well for every topic by revising time and again.
Prepare a separate revision plan for last-minute preparation.
Lastly, revise all the main topics.
Understanding the SBI PO 2023 Exam Pattern
Before going to prepare for SBI PO 2023 Examination, candidates need to review the exam pattern of the SBI PO Examination.
With the help of the exam pattern, candidates will know about:
Difficulty Level of the examination
The total number of questions asked in the SBI PO Examination
Available time duration
Marking scheme
Solving Sample Papers
Candidates need to attempt a lot of previous year's question papers.
After solving the previous year's questions, you will get an idea about the difficulty level of the examination.
By doing this, you will know which topics have more weightage.
Short Notes
Try to make your own notes while preparing any topics.
Whenever you are reading, make your own notes.
These notes will help you at the time of revision.
Attempt Mock Tests
Through the SBI PO Mock Test, candidates can find their preparation level.
Candidates can evaluate their speed and accuracy.
With the help of mock tests, candidates will know the medium of question papers.
Conclusion
We have provided you with the preparation tips along with other vital information for SBI PO 2023 examination. For more information, you can directly go to the official website – www.sbi.co.in/careers.
People are also reading: