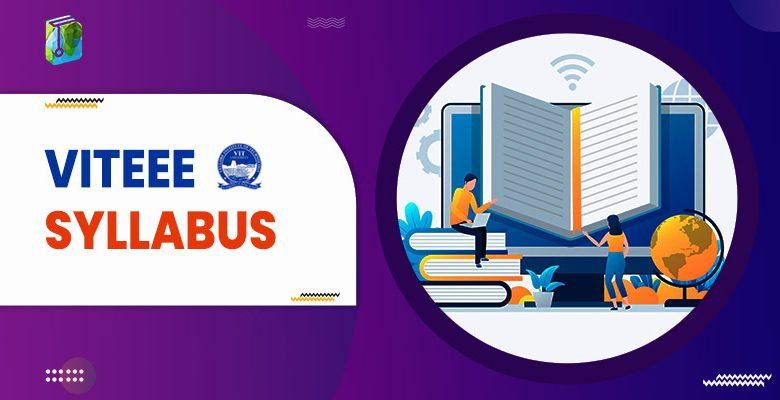 Introduction
VITEEE is a university-level engineering entrance for admission into the VIT University's Campuses.
Candidates can download VITEEE Syllabus from the official website. VITEEE Syllabus has been updated and consists of five sections- Physics, Chemistry, Mathematics/Biology, Aptitude, and English. Aptitude is a new subject that has been introduced. It is important to analyze the syllabus before commencing preparations, as we all know that if we understand the syllabus, then it becomes easier to formulate a structured plan.
This article will give you detailed information regarding the VITEEE Syllabus 2022.
Get the latest news & updates about VITEEE via SMS and e-mail, by entering your details below:
[ninja_form id=6]
VITEEE Syllabus 2022
The syllabus of VITEEE 2022 comprises topics from Class XI and XII. 45% Syllabus is from the XI, and the remaining is from XII. Take a look:
Topics
For Detailed Syllabus

Laws of Motion & Work, Energy, and Power
Properties of Matter
Electro-statistics
Current Electricity
Magnetic Effects of Electric Current
Electromagnetic Induction and Alternating Current
Optics
Dual Nature of Radiation and Atomic Physics
Nuclear Physics
Semiconductor Devices and their Applications

Syllabus of Physics

Atomic Structure
p,d, and f – Block Elements
Coordination Chemistry and Solid State Chemistry
Thermodynamics, Chemical Equilibrium, and Chemical Kinetics
Electro-chemistry
Isomerism in Organic Compounds
Alcohols and Ethers
Carbonyl Compounds
Carboxylic Acids and their Derivatives
Organic Nitrogen Compounds and Biomolecules

Syllabus of Physics

Taxonomy
Cell and Molecular Biology
Reproduction
Genetics and Evolution
Human Health and Diseases
Biochemistry
Plant Physiology
Human Physiology
Biotechnology and its Applications
Biodiversity, Ecology, and Environment

Syllabus of Biology

Matrices and their Applications
Trigonometry and Complex Numbers
Analytical Geometry of Two Dimensions
Vector Algebra
Analytical Geometry of Three Dimensions
Differential Calculus
Integral Calculus and its Applications
Differential Equations
Probability Distributions
Discrete Mathematics

Syllabus of Mathematics

Comprehension Questions
English Grammar and Pronunciation

Syllabus of English

Data Interpretation
Data Sufficiency
Syllogism
Number Series, Coding and Decoding
Clocks, Calendars, and Directions

Syllabus of Aptitude
Conclusion
VITEEE is a challenging exam taken by lakhs of students every year. It is essential to understand the syllabus before beginning the preparation for the exam. The students must figure out their weak and strong areas and work accordingly and formulate an efficient plan.
Candidates are suggested to appear for the mock tests frequently to analyze their preparation. Along with the studies, do not neglect your health.
Good luck with all your future endeavors! 

People are also reading: