VITEEE
VITEEE Preparation Tips 2023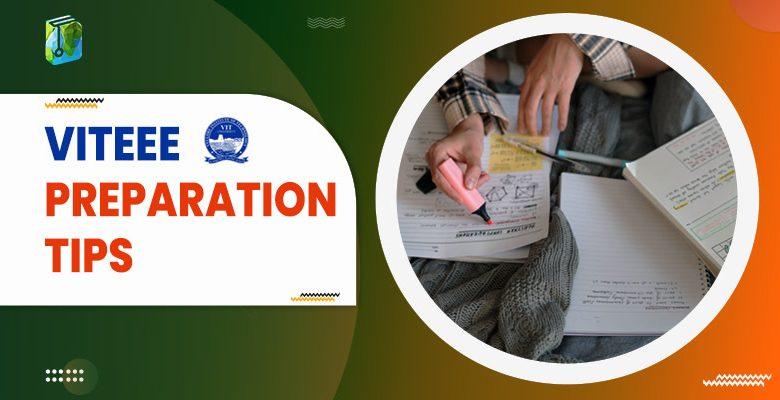 Introduction
VITEEE(Vellore Institute Engineering Entrance Exam) is a difficult and challenging exam that needs hard work during its preparation. With hard work, it Is essential to know some tips and tricks that can benefit your preparation.
Vellore Institute of Technology is going to organize Engineering Entrance Exam for providing admission to the willing applicants. So here are the best VITEEE Preparation Tips.
VITEEE Preparation Tips 2022
It is crucial to know about the syllabus before drafting an exam strategy. The main subjects of the VITEEE Exam are:
Physics
Chemistry
Mathematics
Biology
English
There is no negative marking for wrong answers. All the questions are Multiple Choice Questions(MCQs).
Get the latest news & updates about VITEEE via SMS and e-mail, by entering your details below:
[ninja_form id=6]
Study Plan
Create a proper timetable and follow it religiously
Before starting the preparation, analyze the syllabus diligently
Create short notes for preparation
Gather the previous questions papers and mock papers and solve them
Prepare a study plan dividing all the topics
Work on your weak points
Time Management
Students must give equal weightage to all the subjects and prepare for them as per your prepared timetable
Include short breaks of  15 minutes between long hours of study
Maintaining a proper schedule for every task that you do can lead you to success
Divide your time for all subjects efficiently (Physics, Chemistry, Mathematics, Biology, and English).
Study Material
Collect previous questions papers of all subjects as well as mock papers
How to prepare for Physics
Before starting the preparation for physics, you should know the important topic of physics. The important topics are:-
Magnetic effects of electrostatics
Current
Electric current and magnetism
Electromagnetic induction and alternative current
Electromagnetic waves and wave optics
How to prepare for Chemistry
To prepare for chemistry, you need to study different theories and concepts. Important topics are mentioned as below:
Atomic Structure
p,d, and f – Block Elements
Electrochemistry
Biomolecules
Isomerism in Organic Compounds
Alcohols and Ethers, Organic Nitrogen Compounds
Carbonyl
How to prepare for Mathematics
Mathematics is a fundamental subject, and if you want to prepare for it properly, then you have to practice it on a regular basis. The main topics are-
Applications of Matrices and Determinants
Complex Numbers
Integral Calculus and its Applications
Differential Equations
Probability Distributions
Discrete Mathematics etc
Practice as much as you can.
How to prepare for Biology
To prepare for Biology, you should mark topics of this subject in your notebook. Highlight all the main topics. Important topics are:-
Taxonomy
Evolution
Cell and Molecular Biology
Reproduction
Genetics
Microbiology and Immunology etc.
Study each topic and give a specific time to them according to your timetable. Since there are so many diagrams in biology, so you must draw and practice them.
How to prepare for English
Read English newspapers and current affairs articles on a daily basis
Focus on English grammar and pronunciation which is helpful to prepare for the exam
Improve your vocabulary
Try to attempt the reading comprehension at the beginning
On a daily basis, search for a new word and make sentences
Candidates should work on improving their grammar and practice reading a lot
Collect mock papers and solve them
Practice at least 10-20 comprehension passages every day
Which Books are Important to Prepare for VITEEE 2022?
Subjects
Books
Physics

Arihant Series by DC Pandey1. Books on Mechanics – Part 12. Waves and Thermodynamics3. Electricity and Magnetism 4. Optics and Modern Physics

Concepts of Physics by HC Verma
MCQ Question Bank by D Mukherjee

Chemistry

Inorganic Chemistry (NCERT)
Organic Chemistry (Khan Academy)

Mathematics

Arihant Series by Dr SK Goyal
Arihant Past Year AIEEE papers
VITEEE Solved Papers and Mock Tests from Arihant
Objective Mathematics Part 1 and Part 2 (NCERT difficulty) by RD Sharma
Maintain Health
During preparation, never ignore your health
Take fresh fruits and vegetables
Avoid junk food and a heavy diet
At the time of preparation do yoga and meditation, it will help you to calm your mind, increasing inner peace, confidence, and power of concentration
Never over-stress yourself and try to get sleep for at least six to eight hours
Revision
Make sure you revise every topic thoroughly and prepare well for every topic by revising time and again
Prepare a separate revision plan for last-minute preparation
At last, revise all the main topics and formulas
Conclusion
Every competitive examination needs a diligent analysis of its syllabus. In the VITEEE examination too, we advise you to focus on the syllabus and prepare a strategy accordingly.
Additionally, it is important to follow a credible and reliable set of study material for your preparation. Do not build a stack of books and create unnecessary pressure. Instead, keep relevant books and revise them repeatedly.
Lastly, appear for as many mock tests as possible. It helps you to understand your weak and strong areas.
Maintain consistency and follow a healthy routine.
Good luck!
People are also reading: