SSC CGL
SSC CGL Admit Card 2021-22: Dates And How To Download The Admit Card [Updated]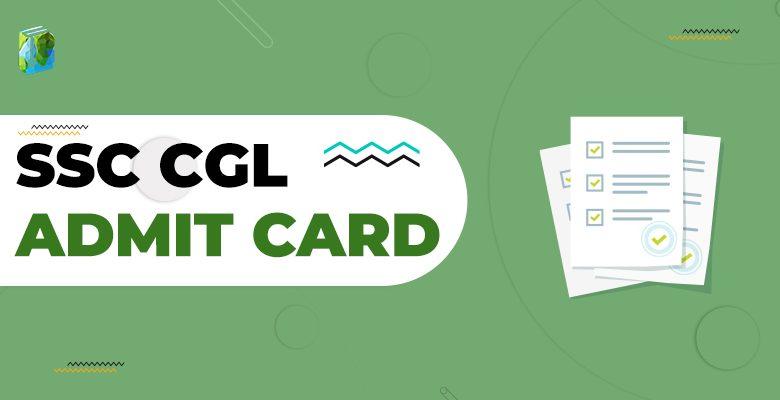 The Admit Card will be released for various posts on the official website after the candidates have filled the SSC CGL application form. Here in this post, we have mentioned everything you need to know about
SSC CGL Admit Card 2021-22
A separate admit card is released for each tier. The candidates can download the admit cards as they qualify for the previous tier. The hall tickets for all 4 tiers are yet to be released.
SSC CGL Admit Card Dates 2021-22
SSC CGL 2021-22 Admit Card Important Dates

SSC CGL Activity
SSC CGL Dates
SSC CGL 2021 Tier-I Exam Date
April 11 – April 21, 2022
SSC CGL Tier 2 Application Status
July 22, 2022
SSC CGL Admit Card 2021
Will be notified soon
SSC CGL Tier-II Exam
August 8 and August 10, 2022
SSC CGL Tier-III Exam (Des)
August 21, 2022
How to download the Admit Card?
The candidates can follow the steps given below to download  the admit card:
Visit the official website of SSC CGL.
Click on the admit card tab on the main screen.
Click on the relevant regional website link choose the respective link from the table given below.
Click on the admit card link
Enter the required credentials and log in to the website.
Download the admit card and take its printout.
Details on the Admit Card
The following details are present on the admit card:
Name
Roll number
Date of birth
Category
Gender
Photograph
Signature
Exam date
Exam time
Reporting time at the center
Exam center name
Exam center address
Exam Day guidelines
Documents to be Carried
The candidates must carry any of the following ID proofs along with the admit card on the exam day:
Driving License
Voter Card
Aadhaar Card
PAN Card
Ration Card
Passport
SSC CGL Exam Centers
SSC CGL Exam will be held in online mode in various cities in India. Candidates can check the SSC CGL exam center list below:
SSC CGL Exam Centres & Codes
SSC Region and States/ UTs under the Jurisdiction of the Region
Address of the Regional Offices/ Website

Agra (3001)
Gorakhpur (3007)
Jhansi (3008)
Kanpur (3009)
Lucknow (3010)
Meerut (3011)
Prayagraj (3003)
Varanasi(3013)
Bhagalpur (3201)
Darbhanga (3202)
Muzaffarpur(3205)
Patna(3206)
Purnea (3209)

Central Region (CR)/ Bihar and Uttar Pradesh

Regional Director (CR),
Staff Selection Commission,
34-A,    Mahatma Gandhi Marg,  Civil lines, Kendriya Sadan, Prayagraj – 211001
(http://www.ssc-cr.org)

Port Blair (4802)
Ranchi (4205)
Balasore (4601)
Berhampore (Odisha) (4602)
Bhubaneshwar (4604)
Cuttack(4605)
Dhenkenal (4611)
Rourkela (4610)
Sambalpur(4609)
Gangtok (4001)
Hooghly (4418)
Kolkata (4410)
Siliguri (4415)

Eastern Region (ER)/ Andaman & Nicobar Islands, Jharkhand, Odisha, Sikkim, and West Bengal
Regional Director (ER),
Staff Selection Commission,
1st     MSO Building, (8th Floor), 234/4, Acharya Jagadish Chandra Bose Road, Kolkata, West Bengal-700020 (www.sscer.org)

Belagavi (9002)
Bengaluru (9001)
Hubballi (9011)
Kalaburagi (Gulbarga) (9005)
Mangaluru (9008)
Mysuru (9009)
Shivamogga (9010)
Udupi (9012)
Ernakulam (9213)
Kannur (9202)
Kollam (9210)
Kottayam (9205)
Kozhikode (9206)
Thrissur (9212)
Thiruvananthapuram (9211)
Kavaratti (9401)

Karnataka, Kerala Region (KKR)/ Lakshadweep, Karnataka and Kerala
Regional Director (KKR),
Staff Selection Commission,
1st Floor, "E" Wing, Kendriya Sadan,  Koramangala, Bengaluru, Karnataka-560034(www.ssckkr.kar.nic.in)

Bhopal (6001)
Gwalior (6005)
Indore(6006)
Jabalpur (6007)
Satna (6014)
Sagar (6015)
Ujjain (6016)
Bilaspur (6202)
Raipur (6204)
Durg-Bhilai (6205)

Madhya Pradesh

Sub-Region (MPR)/ Chhattisgarh and Madhya Pradesh

Dy. Director (MPR),

Staff Selection Commission,

J-5, Anupam Nagar, Raipur, Chhattisgarh-492007 (www.sscmpr.org)

Itanagar (5001)
Dibrugarh (5102)

North Eastern
Regional Director (NER)
Conclusion
Once you have applied for the SSC CGL Examination, you will be provided with an SSC CGL Admit Card which you need to carry with you during the examination. The hall ticket will be made available on the official website and will include your name, Roll number, Date of birth, Category, Gender, Photograph, Signature, Exam date, Exam time, Reporting time at the center, Exam center name, Exam center address, and Exam Day guidelines.
SSC CGL Admit Card FAQs
Q: How to download SSC CGL Admit Card?
A: Candidates visit the official website of the SSC to download the admit card.
Q: When Will SSC CGL Exam be conducted?
A: SSC CGL Tier-1 exam will be held on April 2022.
Q: When is the SSC CGL Admit Card available?
A: SSC releases the Admit Card 15 days prior to the examination.
Q: What details required to download the admit card?
A: To download the admit card candidates needs to enter registration number/name, Date of Birth.
Q: Can we get the SSC CGL Admit Card in offline mode?
A: No, the authority will not send the admit card in offline mode.
Q: If I Forget my registration number, then how I download my Admit Card?
A: Candidates can download their admit card by their Name or by entering the Date of Birth.
Q: Can I change my exam center after issuing the admit card?
A: No, Candidates can not change their exam center.
People are also reading: