SSC CGL
SSC CGL Exam Centers 2023-24: Check Region & State-Wise Centers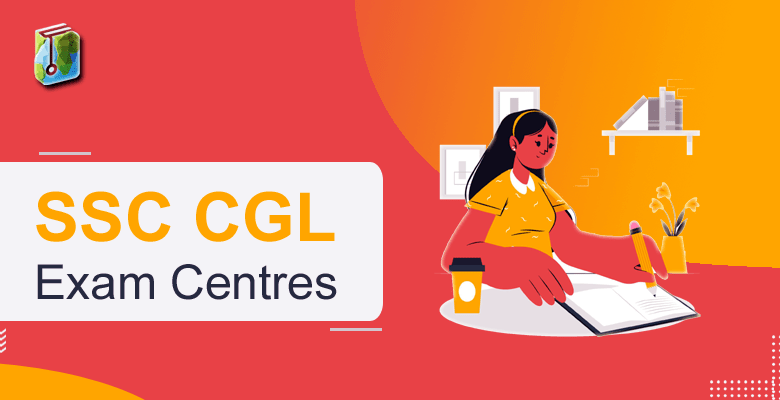 SSC CGL Exam Centers for the exam have been released now with the official notification on  September 2023.
The SSC CGL Exam 2023-24 will be held at 130 exam centers in 9 SSC CGL Regions. The candidates can choose any 3 preferred exam centers from the list at their convenience and based on their preference. The SSC CGL Tier-1 Exam will be held in December 2024 via online mode. Once the SSC CGL Application Form is submitted, the candidates cannot change their exam center preference.
This article will give you complete information regarding the SSC CGL Exam Centers 2023-24.
SSC CGL Exam Centers 2023-24
The complete list of SSC CGL Exam Centers 2023-24 is given below:
SSC CGL Exam Centres & Center Codes
SSC Region and States/ UTs under the Jurisdiction of the Region
Address of the Regional Offices/ Website

Agra (3001)

Gorakhpur (3007)

Jhansi (3008)

Kanpur (3009)

Lucknow (3010)

Meerut (3011)

Prayagraj (3003)

Varanasi(3013)

Bhagalpur (3201)

Darbhanga (3202)

Muzaffarpur(3205)

Patna(3206)

Purnea (3209)

SSC Central Region (CR)/ Bihar and Uttar Pradesh

 

 

Regional Director (CR),
Staff Selection Commission,


34-A,    Mahatma

Gandhi Marg,  Civil lines, Kendriya Sadan, Prayagraj – 211001


(http://www.ssc-cr.org)

Port Blair (4802)

Ranchi (4205)

Balasore (4601)

Berhampore (Odisha) (4602)

Bhubaneshwar (4604)

Cuttack(4605)

Dhenkenal (4611)

Rourkela (4610)

Sambalpur(4609)

Gangtok (4001)

Hooghly (4418)

Kolkata (4410)

Siliguri (4415)

Eastern Region (ER)/ Andaman & Nicobar Islands, Jharkhand, Odisha, Sikkim, and West Bengal

Regional Director (ER),
Staff Selection Commission,


1st     MSO

Building,

(8

th

Floor), 234/4, Acharya Jagadish Chandra Bose Road, Kolkata, West Bengal-700020 (

www.sscer.org

)

Belagavi (9002)

Bengaluru (9001)

Hubballi (9011)

Kalaburagi (Gulbarga) (9005)

Mangaluru (9008)

Mysuru (9009)

Shivamogga (9010)

Udupi (9012)

Ernakulam (9213)

Kannur (9202)

Kollam (9210)

Kottayam (9205)

Kozhikode (9206)

Thrissur (9212)

Thiruvananthapuram (9211)

Kavaratti (9401)

Karnataka, Kerala Region (KKR)/ Lakshadweep, Karnataka, and Kerala

Regional Director (KKR),
Staff Selection Commission,


1st Floor, "E" Wing, Kendriya Sadan,  Koramangala, Bengaluru, Karnataka-560034

(

www.ssckkr.kar.nic.in

)

Bhopal (6001)

Gwalior (6005)

Indore(6006)

Jabalpur (6007)

Satna (6014)

Sagar (6015)

Ujjain (6016)

Bilaspur (6202)

Raipur (6204)

Durg-Bhilai (6205)

Madhya Pradesh

Sub-Region (MPR)/ Chhattisgarh and Madhya Pradesh

Dy. Director (MPR),

Staff Selection Commission,

J-5, Anupam Nagar, Raipur, Chhattisgarh-492007 (www.sscmpr.org)

Itanagar (5001)

Dibrugarh (5102)

SSC North Eastern

Regional Director (NER)

Guwahati (Dispur) (5105)

Jorhat (5107)

Silchar (5111)

Kohima (5302)

Shillong (5401)

Imphal (5501)

Churachandpur (5502)

Ukhrul (5503)

Agartala(5601)

Aizwal (5701)

SSC Region (NER)/ Arunachal Pradesh, Assam, Manipur, Meghalaya, Mizoram, Nagaland, and Tripura

Staff Selection Commission,

Housed Complex, Last  Gate, Beltola-Basistha Road, PO Assam Sachivalaya, Dispur, Guwahati, Assam-781006

Dehradun (2002)

Haldwani (2003)

Haridwar (2005)

Roorkee (2006)

Delhi (2201)

Ajmer (2401)

Alwar (2402)

Bharatpur (2403)

Bikaner (2404)

Jaipur (2405)

Jodhpur (2406)

Kota (2407)

Sriganganagar (2408)

Udaipur (2409)

Sikar (2411)

SSC Northern Region (NR)/  NCT of Delhi, Rajasthan, and Uttarakhand

Regional Director (NR),

Staff Selection Commission,

Block No. 12, CGO Complex, Lodhi Road,  New Delhi-110003 (www.sscnr.net.in)

Chandigarh/ Mohali (1601)

Hamirpur (1202)

Shimla (1203)

Jammu (1004)

Leh (1005)

Samba (1010)

Srinagar (J&K) (1007)

Jalandhar (1402)

Ludhiana (1405)

Patiala (1403)

Amritsar (1404)

SSC North Western Sub-Region (NWR)/ Chandigarh, Haryana, Himachal Pradesh, Jammu and Kashmir, and Punjab

Dy. Director (NWR),

Staff Selection Commission,

Block No. 3, Ground Floor, Kendriya Sadan, Sector-9, Chandigarh-160009

Chirala (8011)

Guntur (8001)

Kakinada (8009)

Kurnool (8003)

Nellore (8010)

Rajahmundry (8004)

Tirupati (8006)

Vizianagaram (8012)

Vijayawada (8008)

Visakhapatnam (8007)

Puducherry (8401)

Chennai (8201)

Coimbatore (8202)

Madurai (8204)

Salem (8205)

Tiruchirapalli (8206)

Tirunelveli (8207)

Vellore (8208)

Hyderabad (8601)

Karimnagar (8604)

Warangal (8603)

SSC Southern Region (SR)/ Andhra Pradesh, Puducherry, Tamil Nadu, and Telangana

Regional Director (SR),

Staff Selection Commission,

2nd Floor, EVK Sampath Building, DPI Campus, College Road, Chennai, Tamil Nadu-600006 (www.sscsr.gov.in)

Panaji (7801)

Ahmedabad (7001)

Anand (7011)

Gandhinagar (7012)

Mehsana (7013)

Rajkot (7006)

Surat (7007)

Vadodara (7002)

Amravati (7201)

Aurangabad (7202)

Jalgaon (7214)

Kolhapur (7203)

Mumbai (7204)

Nagpur (7205)

Nanded (7206)

Nashik (7207)

Pune (7208)

Western Region (WR)/ Dadra and Nagar Haveli, Daman and Diu, Goa, Gujarat, and Maharashtra

Regional Director (WR),

Staff Selection Commission,

1st Floor, South Wing, Pratishtha Bhawan,  101, Maharshi Karve Road, Mumbai,  Maharashtra-400020

(www.sscwr.net)
Documents to be carried to the Examination Center
The students MUST CARRY the below-listed documents to the exam center:
Aadhar Card

Driving License

Passport

Voter ID
The following ID proofs are NOT ACCEPTABLE at SSC CGL Exam Centers:
College ID

Post Office ID

Ration Card

Bank Passbook

Any photo-id not issued by the government of India.
Conclusion
The SSC CGL exam centers list for 2023-24 has been released with the official notification. The candidates can select up to three exam centers while filling out the application form. This post mentioned the complete details about the SSC CGL exam centers.
People are also reading: