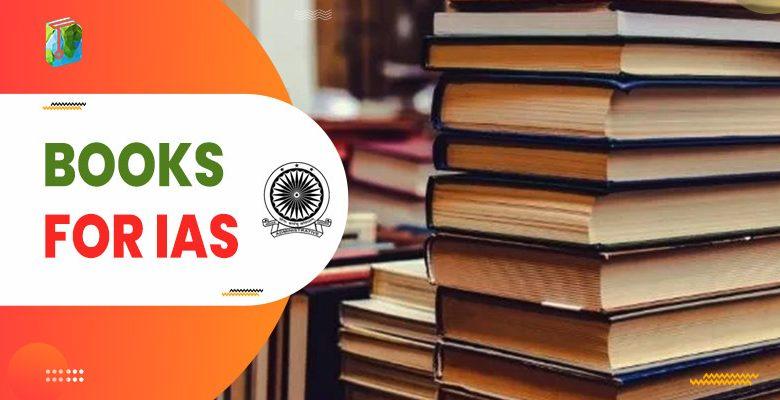 The Civil Services Examination is one of India's most difficult competitive examinations for the selection of the Indian Administrative Service (IAS), formerly known as the Imperial Civil Service (ICS). It is organized by the UPSC (Union Public Service Commission), headquartered in New Delhi, to hire officials for the All India Administrative Civil Services.
Every year, millions of aspirants sit for this exam, placing their dedication and hard work to the test to be considered for one of the prestigious positions. It is important to note that any IAS aspirant can work for the Central Government, State governments, or public-sector organizations. To name a few, he/she can gain valuable experience as a district administration, head of public enterprises, police chief, Secretary-General, and cabinet secretary.
The IAS Exam, also known as the Civil Services Examination, is administered by the UPSC. The UPSC Syllabus is widely regarded as extensive, requiring the reading of numerous books.
We have curated a list of the 10 best books of the UPSC IAS exam, which are a must-have for every civil service aspirant.
Top 10 Best Books for IAS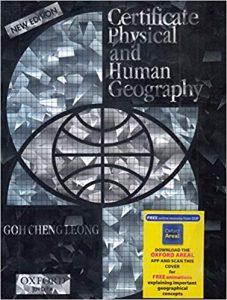 Highlights
Author: Cheng Leong Goh
Publication Year: 1995
Publisher: Oxford University Press
The book discusses climate change, various types of natural vegetation, mountain chains, deserts, climatic variations, glaciers, mineral deposits, and other natural events. This book is heavily used by students preparing for the UPSC. The book is split into two sections.
The first is about geographical location, and it includes detailed information about existing landmasses, waterways, wind types, glaciers, and mountain features. It also contains information on the Earth's crust and the various natural forces that exist in our world. Moreover, there is also a section dedicated to earthquakes and volcanic eruptions.
The second section discusses the world's existing climate zones, which include Savanna, Mediterranean climate, Equatorial climate, and Tropical Monsoon Climate. The book also includes various climatic zones, agricultural practices urban centers, mineral deposits, and advanced industrialized belts.
This book is useful for aspirants taking the prelims exam for the Civil Services and other renowned competitive examinations. It tests basic knowledge, including geographical knowledge.
You can buy this book from here.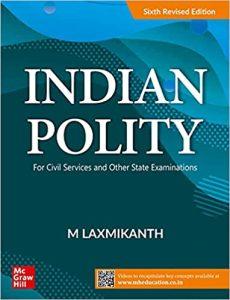 Highlights
Author: M Laxmikanth
Publication Year: 2021
Publisher: McGraw Hill
M Laxmikanth's book, Indian Polity, is a consistent bestseller and the most celebrated title on the subject. The book is required reading for UPSC and other states civil service examination candidates. It is intended to meet the needs of not only competitive exam students, but also postgraduates, research scholars, and academic researchers interested in the nation's political, civil, and constitutional issues.
The chapters have been thoroughly reviewed and amended in light of recent events. The highlights of the book are as follows:
There are 80 chapters that span the entire Indian political, administrative and constitutional spectrum, as well as relevant annexures.
Chapters have been rearranged in accordance with the most recent exam syllabus.
Coverage of recent events in Jammu, Kashmir and Ladakh, as well as constitutional perception, judicial oversight, and judicial advocacy.
Questions from previous years have been updated, and practice questions for both the Prelims and Mains exams have been revised.
A one-stop resource for Civil Service applicants, law students, polity students, and public administration scholars.
You can buy this book from here.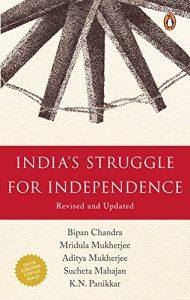 Highlights
Author: Bipan Chandra
Publication Year: 2016
Publisher: Penguin Random House India
India's Struggle for Independence by Bipan Chandra is an excellent book for a comprehensive overview of the Indian freedom struggle. The book contains a detailed account of the struggle that Indians from various parts of the country faced. We rarely hear of national independence from the entire country, rather than just one province in one location. This book perfectly fills in the gaps and provides a narrative of the movement's impact on people's lives. It also provides an accurate account of India's struggle for independence from British rule.
It is among the most precise books, carefully written after extensive research premised on legal and reliable sources. The book also depicts the first war of independence of 1857, which began with Mangal Pandey's revolt and ended with Sri Rani Laxmi Bai's noble endeavor. The maximum part of the book is devoted to Mahatma Gandhi's civil disobedience and non-cooperation movements. It includes a comprehensive synopsis of Subash Chandra Bose's weaponry and personality.
The book meticulously chronicles the evolution of the Indian independence struggle, leaving no detail out. It is recommended for students of Indian modern history, particularly those preparing for the UPSC or Civil Services exams with History as a subject choice.
You can buy this book from here.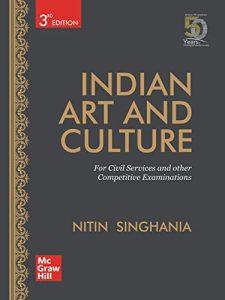 Highlights
Author: Nitin Singhania
Publication Year: 2019
Publisher: McGraw Hill
Nitin Singhania's best-selling book "Indian Art and Culture" is now in its third edition, published by McGraw-Hill. This book provides UPSC Prelims and Main Examination candidates with detailed and up-to-date information on art, history, portraits, music, and architectural style.
Aside from the addition of two new chapters and one annexure, the chapters have been supplemented with details to make them more concentrated and comprehensive. There are questions at the end of each chapter to help students prepare for the exams.
The following are the highlights of the new edition:
Four detailed sections: Visual arts, music education, Indian culture, and annexures
New chapters on Buddhism, Jainism, and India as seen through the eyes of international visitors
A new appendix on current events in Indian art and culture has been added.
QR codes provide access to helps to make sense to the chapters.
Keywords in each chapter are outlined in color.
You can buy this book from here.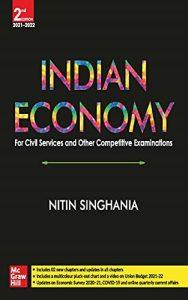 Highlights
Author: Nitin Singhania
Publication Year: 2021
Publisher: McGraw Hill
The Indian market has changed in recent years, affecting the Indian economy. It has ushered in a new era of economic development and evolution. This revised edition of Indian Economy discusses current economic issues and the treatments that are required by stakeholders. The topics are sorted systematically to make it viewer-friendly, with good clarity and understanding.
To aid comprehension, the theories are written clearly and supplemented with flowcharts, tabular presentations, pie charts, examples, and other visual aids. The book, with its distinct style and incorporation of current trends in the specific field, provides a one-stop solution for all Government Jobs and other competitive examination aspirants. The book discusses the various revolts of the Indian Independence struggle, Mahatma Gandhi's civil disobedience and non-cooperation movements, and the partition of India.
The successful models of the Government of India about planning the finances, investment in the agricultural sector is given in detail. The book is important and a must-read for the prelims of UPSC since there has been a significant rise in economics questions asked in the exam over the last few years.
You can buy this book from here.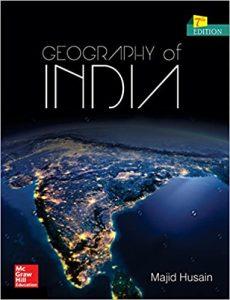 Highlights
Author: Majid Husain
Publication Year: 2017
Publisher: McGraw Hill
The book "Geography of India" is primarily aimed at students preparing for competitive exams. The best-known title is now in its ninth printing. The manual is a well-known and best-selling resource in the field. It's a well-known book that covers a wide range of issues concerning India's geographical landscape in a scientific and comprehensive manner.
The book has been updated to reflect recent events in Jammu and Kashmir, as well as Ladakh. All updates are displayed using maps, data, and statistics.
This edition covers current events such as the Amphan Cyclone, the COVID-19 situation in India, the NRC, CAA, the Vizag gas leak, Indo-China issues, the Locust threat, and much more. Among the topics covered are India's resources, various forms of irrigation, farming patterns in India, transportation and the public distribution system, food security, natural disasters, and government initiatives. Graduates and postgraduates in the subject, as well as academics and researchers, are increasingly referencing it.
You can buy this book from here.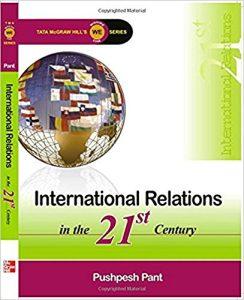 Highlights
Author: Pushpesh Pant
Publication Year: 2010
Publisher: McGraw Hill
This book traces the history of international affairs and rights from the emergence of sovereign states to current international issues. The book, printed with an academic bent from a student's point of view, is a great assistance to students preparing for the civil services examination.
The book features the Cold war era between US and USSR, the tensions, and what was India's stand on these fronts. It speaks about the post cold war era and how International organizations have been utilized to contain World War 3.
This book will clear all your current affairs doubts regarding international relations in UPSC questions.
You can buy this book from here.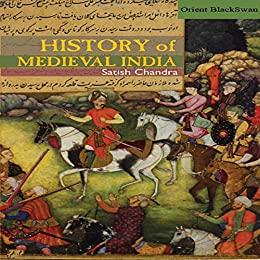 Highlights
Author: Satish Chandra
Publication Year: 2007
Publisher: Orient BlackSwan
A series of historical events have intertwined to bring India to where it is today. Satish Chandra's history book is the culmination of a portion of these events. This book spans a 1000-year period, detailing the events and empires that ruled various areas of the country from the seventh to the eighteenth centuries.
A feudal medieval India is described within the social environment of the time, which is sure to pique the interest of lay readers in addition to history students and those preparing for competitive exams. The book is the result of extensive research into archival documents, coins, monuments, books, travelogues, and other time-tested sources.
You can buy this book from here.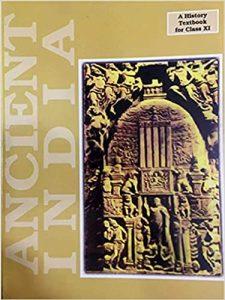 Highlights
Author: R.S. Sharma
Publication Year: 2021
Publisher: Generic Photocopy
Ancient India by RS Sharma is a beautifully written book about India's ancient history. The book takes readers on a journey through time, from the Neolithic to the Chalcolithic to the Harappan settlements.
The book delves into the Vedic era, the rise of the Maurya and Gupta dynasties, and their eventual demise.
It also highlights ancient India's agricultural practices and trading system. It focuses on the architecture of antiquity. The book describes the farmers' ancient farming traditions. It is a good read to prepare for the UPSC mains exam.
You can buy this book from here.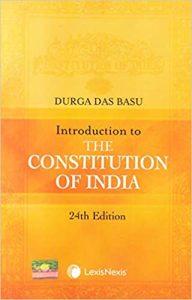 Highlights
Author: DD Basu
Publication Year: 2019
Publisher: Lexis Nexis
DD Basu's Constitution of India contains the total development of Indian politics, the Indian constitution, the struggle to unite the princely states as one nation, and the formulation of the Indian Constitution.
The main focus is on the special Parliamentary Committees formed to indulge with the internal and external issues of India.
The election pattern across India is written in a simple way and easy to understand for every aspirant who has not indulged in political science subjects in higher classes. Overall, this book is a lovely read if you are looking to choose polity as your optional in the UPSC Mains.
You can buy this book from here.
Conclusion
UPSC is one of India's most prestigious exams. Each year, there are hundreds of success stories to tell, as well as millions of untold failure and heartbreak stories. Consistency and an inner desire to pass the exam are the most important factors in the UPSC exam.
There is no stopping you if you choose the right UPSC IAS books and put in the necessary effort and consistency. The books provide enough information for an aspirant to connect with current events and daily newspaper reading, as well as form self-evaluation questions.
We hope we've covered all of the necessary books for UPSC preparation. If we missed any, please let us know in the comments section below.
Good luck!
People are also reading: