Job Board
Learn4Good: How to Find Jobs on learn4good.com?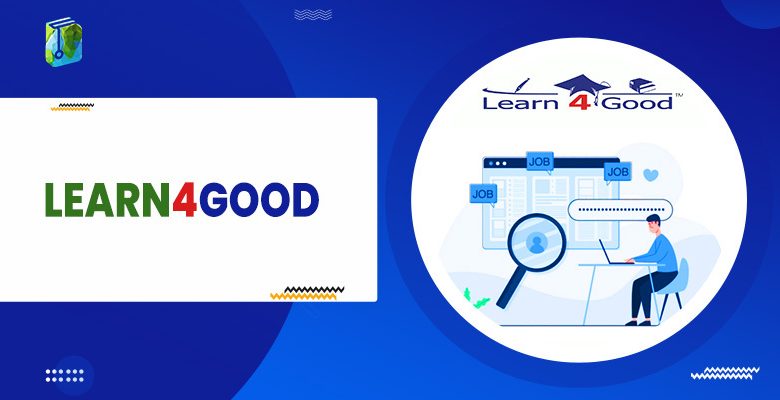 Learn4good is a job resource site that has listed 20 countries on its website to post jobs. An employer can post a job in the section of their interest, and the employer can find jobs accordingly. It is a global website. Here in this post, we have explained everything about the Learn4good job portal including its pricing, and some alternatives for the same.
So let us get started!
What is learn4good?
Learn4good was founded in Ireland in 2001 and since then it has been catering to the needs of national and international job seekers. You can use learn4good to attract candidates globally. Employees can apply to their desired position through their website.
Key Information
| | |
| --- | --- |
| Legal Name | Learn4Good |
| Founder | Patrick Thompson |
| Founding Date | Jan 01, 2003 |
| Address | 23 Cassian Court South, Royal Canal Park, Dublin 15, Ireland |
| Website | https://www.learn4good.com/ |
Pricing
Pricing of learn4good will depend on what features and pan you are opting for:
The basic plan will cost you $59.00
The professional plan will cost you $99.00
Ultra-plan will cost you $199.00
How to Post a Job on learn4good Job Board?
To post a job on learn4good follow these simple easy steps:
Go to +register
Register yourself as an employee
Fill the registration form
Now sign in
Post the job you want
Learn4good vs Other Job Portal
There are many portals available like Learn4good, but the choice has to be made between different options. All of these portals are equally good in terms of their services. Here is a comparison of Learn4good with other job portals.
Learn4good vs SchoolSpring
SchoolSpring is a job site that offers job opportunities in the education industry like teachers, staffing, etc. On the other hand, Learn4good is a resource hub and an international job site that offers a free plan to its users. However, SchoolSpring charges its customers for a job post.
Learn4good vs Teachaway
Learn4good and Teachaway both are quite similar and both of them are equally good. Teach away especially caters to the needs of teachers who are looking for jobs abroad. On the other hand, learn4good has a wider audience reach and also offers a free plan to its customers which teach away doesn't.
Learn4good vs TeachingJobs.com
Both of these job boards are for job seekers who are looking for jobs as teachers in the United States. One benefit of teaching jobs is that it offers a separate section for science, technology, engineering, and math. Teachingjobs.com has some charges while Learn4good is free.
Alternatives Of Learn4good
Google for jobs
Indeed
Monster
Dice
LinkedIn
Snagajob
Next
We work remotely
Zip recruiter
Conclusion
Learn4good is a job site that helps employers post jobs on the website. It can be compared to the other job sites and no board can say it be good or bad it's just different features that they offer. You have chosen what best suits you as per your needs.
People are also reading:
Frequently Asked Questions (FAQs)
Question: What does it cost to post a job on Learn4good?
Answer: It is free for the first 20 jobs you post. Further, the ranges are between $59.00 to $199.00 depending on the posts you make.
Question: Can I edit the job post?
Answer: Yes, you can edit the job post, just log in to your account go to the post you want to make changes to, and click on edit, do the needful and click on save.