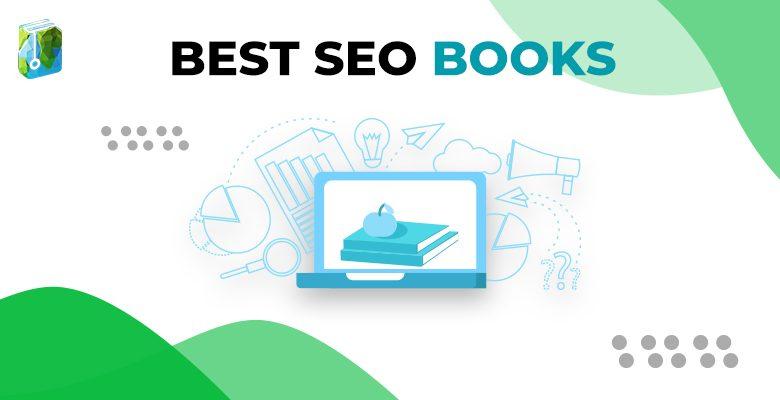 If you want to learn SEO, books could be a great resource. Since there are plenty of excellent SEO books available in the market choosing one of them could be a daunting task.
But why best SEO books?
If you are a marketer, blogger, or small business owner, you might be aware of the magic of ranking your website on the first page of Google. Obtaining a ranking for your website means an increase in organic traffic and possibly an increase in sales. This explains why SEO is an essential skill to learn if you are in any of the discussed professions.
Here in this post, we have mentioned some of the best SEO books.
10 Best SEO Books To Become An SEO Expert
Here we have simplified your job by making the ten best SEO books lists. Read along to find out.
1. SEO 2023 Learn Search Engine Optimization With Smart Internet Marketing Strategies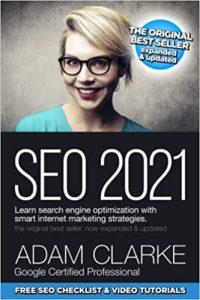 Originally Published-2020
Author- Adam Clarke
Description- If you are a business owner who wants to learn SEO to drive more traffic, "SEO 2023" could be the book for you. It has some old basics of SEO and also the latest on the subject. The chapters on local SEO and link building are outstanding.
The book is written in a conversational tone, which makes it an engaging and easy read. It covers everything from how Google works to the technical aspects of SEO required to run your business. Even if you were an SEO specialist who took a sabbatical and now wants to know everything that has changed in the SEO world, this would be extremely useful. It will be an excellent refresher course for you on the subject.
You can buy this book here.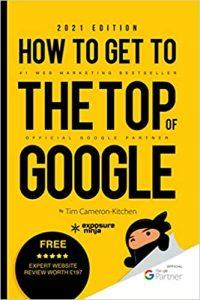 Originally Published- 2021
Author- Tim Cameron-Kitchen, Dale Davies, Andrew Tuxford, Siobhan Morgan
Description – This is one of the best books if you want to learn SEO's A-B-C's. If you have some basic knowledge of WordPress, you're good to go with this book.
If you are a small business owner and low on budget, this is a fast-paced, no-fluff book to get you started with SEO. The book is to the point and easy to read. Unlike other heavy books, it gets straight to the point and gets the job done in just over 200 pages. You can easily read the book over the weekend. The book offers free website audits throughout it. Make use of it.
If you're someone who constantly works with SEO, you must keep this book by your side as it will become your go-to book.
You can buy this book here.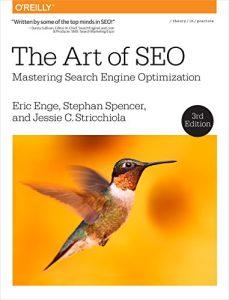 Originally Published- 2015
Author- Eric Enge, Stephan Spencer, Jessie Stricchiola
Description – If you want a textbook-like approach to SEO, "The Art of SEO" is the book for you. It gives the history of a search engine, how search works, and last but not least, SEO.
The book came out in 2015, and in the world of SEO, a lot has changed in five years. So, why is this book relevant? because the core of SEO is still the same. Some information might be a bit outdated, but the basics remain the same no matter the number of updates Google comes up with.
The book is an exhaustive guide, having close to 1000 pages, but if you want a holistic approach to SEO, don't be afraid of the size of the book and just buy it.
You can buy this book here.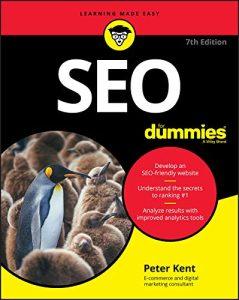 Originally Published- 2019
Author-Peter Kent
Description – If you have some background in HTML and web design and are looking for an SEO book, this might be it. Although touted as a beginner-level book, "SEO for Dummies" is more suitable for someone acquainted with HTML and web design.
With over 450 pages in print, it is not a quick read. However, it is a comprehensive guide to SEO. This book does well to give you both: an overview of SEO and an in-depth approach as well. This appeals to both kinds of readers: serious business owners looking to take their online business to the next level and anyone looking for some passive reading on SEO.
Peter Kent has over three decades of experience in the e-commerce and IT space, and you can learn a lot from his experience by reading this book.
You can buy this book here.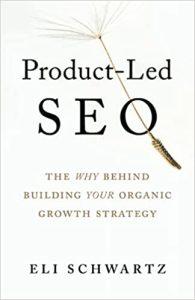 Originally Published-2021
Author- Eli Schwartz
Description- If you have tried reading SEO books and found them a bit too technical for your liking, "Product-led SEO" could be the book for you. It is a no-nonsense approach to SEO to increase your revenue.
Elis shows throughout the book how leveraging SEO could be a game-changer for your online business. Rather than focusing on the search results, the author focuses on the target audience—something he describes as a "blue ocean approach." The book is compelling and easy to read. You won't be left feeling lost, even if you have no prior technical knowledge.
A book is a no-fluff approach to increasing sales. Eli has taken the challenging topic of product-led SEO and turned it into something anyone can consume.
You can buy this book here.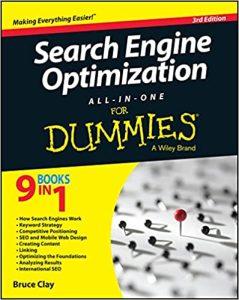 Originally Published- 2015
Author- Bruce Clay
Description- "Search Engine Optimization All-in-One for Dummies" by Bruce Clay is one of the best ways to learn SEO without the technical jargon. Suitable for website owners, marketers, and SEO consultants, this book will teach you how to increase quality traffic fast.
It is a comprehensive book that includes topics like how the search engine works, keyword strategy, competitive positioning, SEO, etc. You can read the book as a beginner, intermediate, or expert and still get something valuable out of it. If you have prior SEO knowledge, you'll probably know that Bruce Clay is a legend in this field. He is a professional SEO consultant and has collaborated with some of the biggest brands.
You can buy this book here.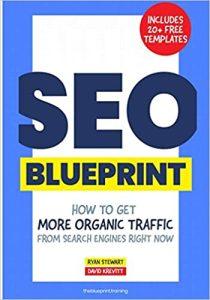 Originally Published-2020
Author- Ryan Stewart, David Krevitt
Description- In the world of SEO, some books provide excellent theoretical knowledge, but as soon as you try to implement them, you get all confused. "The SEO Blueprint" is unlike those books as it gives practical and implementable strategies to upgrade your SEO game.
Unlike many experts in the field, Ryan gives a step-by-step guide to the systematic implementation of SEO. Once you put the system and processes in place, you'll notice a growth in organic traffic. Also, the book was published in February 2020, so it has the latest practices in SEO.
With just 275 pages, this book is a no-fluff, straightforward approach to increasing your website traffic organically.
You can buy this book here.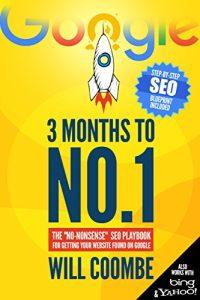 Originally Published- 2017
Author- Will Coombe
Description- This book is for complete SEO beginners who want to play the long-term game. Don't be fooled by the title of the book; you won't be able to rank your website number one in just three months, but you'll be equipped with some excellent strategies that will set you on the path to being numero uno on Google.
Will Coombe provides a step-by-step guide to SEO for your website and external resources (videos and PDFs) to better understand the concepts.
If you're a beginner in the field of SEO, I would highly recommend you read the book cover to cover as Will provides some precious information in this book, and trust me, missing it will mean losing money for your business.
You can buy this book here.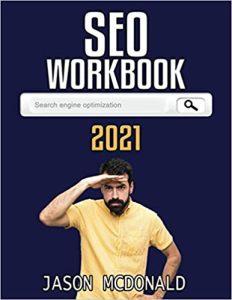 Originally Published- 2021
Author- Jason McDonald
Description- If you are not from a technical background and the whole world of SEO seems a bit too overwhelming for you, then the "SEO Fitness Workbook" is the book for you.
As the name suggests, it is a workbook; you don't just read it from cover to cover; instead, you work with it and learn while you do that. Jason has simplified the SEO world to such an extent that anyone can understand it. It is the perfect book for anyone getting started with SEO. There are links to important sections in the book as well as in the Kindle version. Jason lists out the do's and don'ts and common misconceptions about SEO.
You can buy this book here.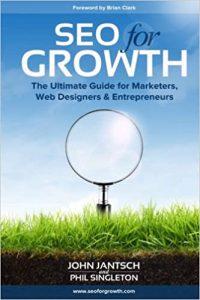 Originally Published-2016
Author- John Jantsch, Phil Singleton
Description- This is an essential reference guide to SEO with actionable tips. It is perfect for a beginner in the field. There are also some advanced topics that are discussed.
The level of detail is just optimum; it doesn't leave you scratching your head, but it also doesn't leave you completely clueless about your queries. The author provides tips at the end of each chapter. The book also offers many social media accounts and websites that you could follow to learn more about SEO. This book is a must for any local business looking to rank higher and bring in organic traffic.
You can buy this book here.
The Bottom Line
There's no magic bullet for SEO. It is not possible for you to rank on the first page of Google overnight. However, SEO is a long-term game, and if you are willing to learn the strategies and implement them for months, it can definitely boost your rating and boost your business. Also, Google's algorithm is continuously changing. So, you need to learn the core concepts of SEO, which seldom change, and then keep on learning the newest addition to the algorithm.
What do you reckon is the best way to learn SEO? Books or video courses? Do let us know in the comments if we missed any of your favorite books.
People are also reading: