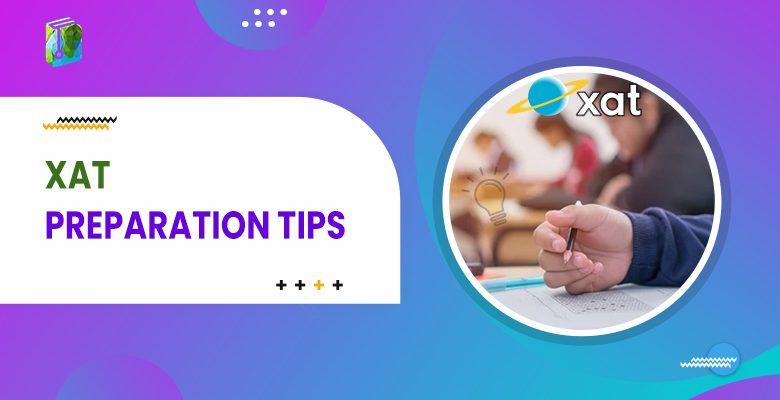 The XAT is a very popular, national-level management aptitude entrance exam. Every year, thousands of students appear in the XAT exam to get the b-school of their dreams. Due to a large number of candidates, the competition level of the exam is very high. The students need to have a very solid preparation in order to crack this exam. Therefore, we have curated the Best XAT Preparation Tips, which will help the students clear this exam.
XAT Preparation Tips 2023
The candidates must follow the below-given tips to prepare for the XAT:
1. Study Plan
Create your timetable for XAT Exam and followed it correctly.
Analyze the subject-wise topics and collect the syllabus.
Collect information about the complete XAT Syllabus and divide them equally as per your time so that every minor topic should get covered in your study plans.
Gather the mock papers and previous question papers and solved it.
Complete all basic concepts.
2. Time Management
Students must give equal weightage to all the subjects and prepare for them as per your prepared timetable.
Include short breaks of 15 minutes between long hours of study.
Maintaining a proper schedule for every task that you do can lead you to success.
Divide the time for all subjects (Verbal and Logical Ability, Quantitative Ability and Data Interpretation, Decision Making and Analytical Reasoning, Essay Writing, and General Knowledge).
3. Maintain Health
It plays a vital role in the preparation for XAT Exam. Before starting preparation, you have to create a timetable that covers all your subjects/topics.
During preparation, never ignore your health, so maintain your health.
Take fresh fruits and vegetables.
Avoid junk food and a heavy diet.
At the time of preparation do yoga and meditation, it will help you to calm your mind, increasing inner peace, confidence, and power of concentration.
Never over-stress yourself and try to get sleep for at least six to eight hours.
4. Revision
Make sure you revise every topic thoroughly and prepare well for every topic by revising time and again.
Try to complete the syllabus in time so that you will get enough time for revision.
Keep a check on your performance; it is compulsory to directly jump upon the previous XAT question on the topic you just finished. You can try to solve some examples in model papers also.
Do not start a new topic in the last stage of preparation.
Allot the last two days of examination for the preparation of important topics.
Prepare a separate revision plan for last-minute preparations.
At last revised all primary topics.
XAT Preparation Tips [Subject-Wise]
XAT Verbal Ability & Logical Reasoning
Preparation tips for Verbal Ability
Try to attempt the Reading Comprehension at the beginning and quickly.
To increase your vocabulary, you should read more and more books and a dictionary.
Read newspapers, magazines, and articles daily.
Candidates should work on improving their grammar part and practice reading a lot.
Collect Mock papers and solve them.
Practice at least 20-30 comprehension passages every day.
Read English newspapers and watch English news channels daily for English Language Preparation.
Vocabulary- Daily search for new words and check the meaning and make the sentences with the antonym. You can also read some of the best vocabulary books.
Vocabulary-based questions like synonyms, antonyms, are knowledge-based questions and can be answered correctly if and only if the meaning of the words are known.
Preparation Tips for Logical Reasoning
It is a logic-based question, and there is no formula to be used.
Give some seconds over a question and read it carefully.
Regular practice is the most important for XAT Exam and improves your speed.
Apply common sense and understand the subjects and logic questions.
The candidate should try to solve 4-50 questions on each topic and more practice for reasoning questions and apply your logic.
The candidate needs to pay special attention to words like ALL, SOME, NONE, OTHER THAN, UNLESS or ONLY. These words can lead to a false assumption.
Quantitative Ability and Data Interpretation
Preparation tips for Quantitative Ability and Data Interpretation
Clearing the basic concepts is the first step when it comes to preparing for the QA & DI section of XAT.
Quantitative aptitude is the most time-consuming section of the exam.
Data Interpretation is an essential part and should be your preference.
Try to learn shortcut tricks to save time in bulky calculations.
Focus on important topics only.
Spend more time with these topics- Simplification, interest, percentages, ratio and proportion, and age problems. These are easy topics and good scoring topics.
Some topics are scoring but take more time to solve; these topics are- Profit and loss, number series, mensuration, number systems, speed, distance, etc.
Learn all the essential formulas and time yourself while practicing.
XAT Decision Making & Analytical Reasoning
Preparation tips for Decision Making and Analytical Reasoning
Decision-making is different from logical ability.
Candidates need to follow a logical approach for solving the questions asked in the decision-making section.
This section can be divided into two parts – single questions passage and multiple questions passage.
Single questions passages are more comfortable to solve and are straightforward.
XAT Easy Writing
Preparation tips for Essay Writing
Structure

Candidates must make sure that the essay has a proper structure.
It should start with an introduction, must have a body and should end with a conclusion.
Try to learn shortcut tricks to save time.
Highlights the main points in the essay writing.

Using the Right Words and Facts:

Read General Awareness Pratiyogita Darpan or any other current affairs magazine like CST, Chronicle or Wizard.
Read the newspaper on a daily basis.
The correct usage of words can leave a positive impression in the mind of the examiner and help the candidate to gain higher marks in the XAT exam.
XAT General Knowledge
Preparation tips for General Knowledge
Read General Awareness Pratiyogita Darpan or any other current affairs magazine like CST, Chronicle or Wizard.
Candidates must follow a national newspaper in order to keep them updated about the happenings of the world because general awareness plays a very important part in the exam.
General Awareness is a very scoring section, and it is less time-consuming.
Candidates should read newspapers or e-paper to by this you can increase their general knowledge.
Concentrate on topics like Current Affairs (National and International), Major Financial/ Economic News, Budget and Five Year Plans, Who is who?, Sports, Book, and Authors, Awards and Honors, Science – Inventions and Discoveries, Abbreviations & Important Days, etc.
Conclusion
If you want to clear the XAT exam, you need to prepare well for the exam. If you have decided to study from home, ensure proper guidance for the XAT Exam. You need to take all the measures you can to clear the exam.
Here in this post, we have explained the best XAT preparation tips to help you clear the exam with good grades.
All the best for your exams!
People are also reading: