Books
Best Vocabulary Books To Improve Your Vocabulary Skills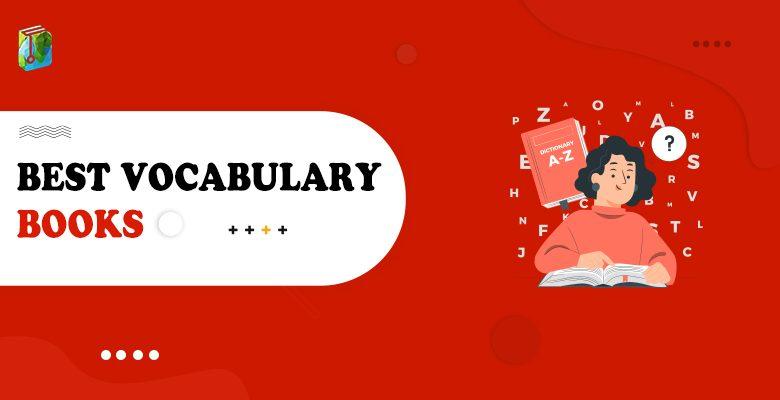 Having the right vocabulary knowledge can help you communicate effectively. Undoubtedly, vocabulary plays an important role in learning to read. Readers will not understand what they read without knowing the right meaning.
Apart from reading, vocabulary also helps to improve your communication skills and communicate professionally with others.
Many resources are available online which will help you improve your vocabulary. If you are an avid reader, then what can be better than using a vocabulary book?
Here in this post, we have enlisted some of the best vocabulary books available online for you.
10 Best Vocabulary Books to Improve Your Skills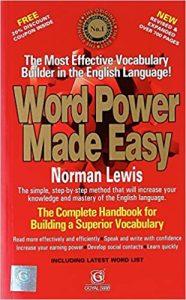 Author: Normal Lewis
Latest Edition: 1 June 2011 (Reprint Edition)
Publisher: Goyal Publishers
Word Power Made Easy is a comprehensive vocabulary-building guide written by legendary grammar specialist Norman Lewis. This book offers a simple and step-by-step guide to improving your knowledge of the English language.
As soon as you complete the exercises mentioned in this book, you will learn the usage of each word and the pronunciation. Moreover, it helps you speak and write without making embarrassing errors.
Each chapter ends with a detailed review, and each section ends with a progressive check. Taking up numerous tests helps to improve the knowledge. It not only adds words to your vocabulary but also teaches ideas and different methods that broadens your knowledge.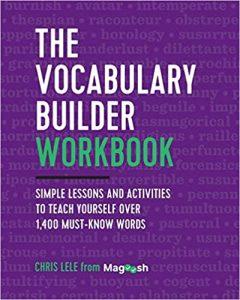 Author: Chris Lele
Latest Edition: 20 March 2018 (Workbook Edition)
Publisher: Zephyros Pr
The Vocabulary Builder Workbook by Chris Lele is the latest and the best approach to improving and boosting your vocabulary and language skills.
Chris Lele understood that building your vocabulary is not easy and is more than using flashcards. He developed new methods for introducing new words into your vocabulary. This book helps you improve and retain your basic knowledge of more than 1,400 essential words.
The Vocabulary Builder Workbook is highly recommended for candidates taking up SAT, ACT, GRE, or anyone who wants to improve their writing and speaking skills.
Some main features of this book are:
Theme-based fun and easy lessons that help you to identify roots and form associations and learn new vocabulary words.
Progressive learning techniques for all levels of vocabulary lessons steadily increase in difficulty for continued advancement.
Retention-focused activities help you remember even after the exam is over.
If you are looking for a vocabulary book to improve your vocabulary with enhanced learning techniques, then this book is the best book for you.
You can buy this book here.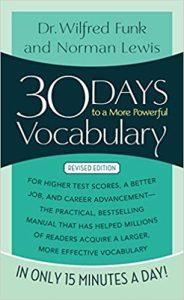 Author: Dr. Wilfred Funk and Norman Lewis
Latest Edition: 1 January 2012
Publisher: Simon & Schuster
30 Days to a More Powerful Vocabulary is the best book on vocabulary that will help you improve your skills in just one month.
The authors have laid down some of the best tried and tested ways that will help you improve your communication skills.
If you are reading this book, all you need to do is spend 15 minutes a day for the next 30 days and look at your improvements in vocabulary. This book also teaches correct usage of verbs, adjectives, prepositions, and articles.
The authors have explained the human traits, phobias, manias, and personality traits as well. This book is recommended to readers who misuse, mispronounce, and do not have basic knowledge of vocabulary.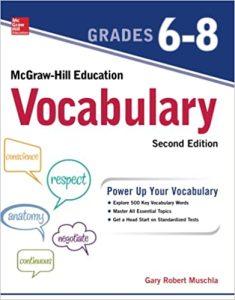 Author: Gary Robert Muschla
Latest Edition: 23 September 2018 (2nd Edition)
Publisher: McGraw Hill Education
If you are a middle school student looking for a vocabulary guide, then McGraw Hill Education Vocabulary for Grade 6-8 is a valuable book.
It offers extensive resources for students to learn vocabulary and has been added in the school curriculums.
After the introduction of new vocabulary words, each lesson includes three worksheets designed to make learning new words easy and fun.
The book offers comprehensive meaning and usage-vocabulary related to math, social Studies, Science, health, and time-a puzzle format that makes practicing vocabulary fun. It also includes some important tools like Synonyms, Antonyms, homophones, and easily confused words-guidance on learning Prefixes, Suffixes, and Compound.
Moreover, the book offers words – an alphabetical word list at the end of the book that makes looking up vocabulary easy. Once you complete the book, you will excel in both classrooms and in tests.
You can buy this book here.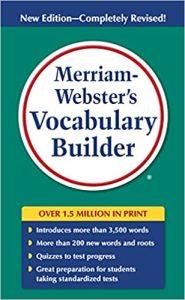 Author: Mary Wood Cornog
Latest Edition: 1 January 2010 (2nd Edition)
Publisher: Merriam-Webster Mass Market
Merriam-Webster's Vocabulary Builder is the best vocabulary book on the list. It is designed to help readers improve their usage and language skills.
The book covers over 1,200 words and 240 roots (Prefix, suffixes, and bases). The book also includes some interesting quizzes after each root discussion to analyze your understanding of a concept.
It is highly recommended for someone who wants to upgrade their arsenal of words: explain root words and divide words based on their origin.
This is one of the best vocabulary books for students who are preparing for competitive exams and want to improve their skills.
You can buy this book here.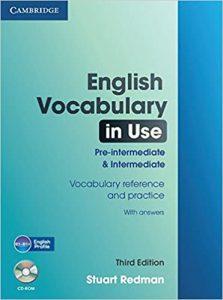 Author: Redman
Latest Edition: 21 December 2012
Publisher: Cambridge University Press
English Vocabulary In Use is a great guide for improving your vocabulary skills. The book includes extensive and comprehensive vocabulary lessons for both pre-intermediate and intermediate levels.
Moreover, the book also includes detailed explanations for each word which makes practicing better.
It is also added in the educational curriculum of students which offers meaningful and relevant guidance to every reader.
Moreover, one of the most unique features of this book is that it includes a CD drive which makes learning more interactive and easy for all the users.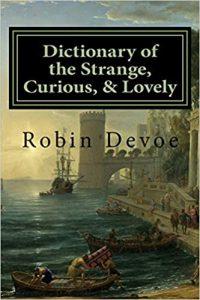 Author: Robin Devoe
Latest Edition: 12 March 2017
Publisher: Createspace Independent Publishing Platform
Dictionary of the Strange, Curious & Lovely is an English dictionary filled with English's 3500 most interesting and beautiful words.
This book defines some useful and lovely English words like circumcrescent, davening, firedrake, limerence, moon glade, squillion, tourbillon, and more.
One unique feature of this book is that it does not overburden the reader with detailed citations. It is a compact, accessible, and easily readable collection of vocabulary words which will interest the readers.
This book can be a great gift for word lovers, college students, writers, and everyone who loves the English language and wants to learn unique words that are not found in all dictionaries. The book includes poetical quotes that show usage and select etymologies.
You can buy this book here.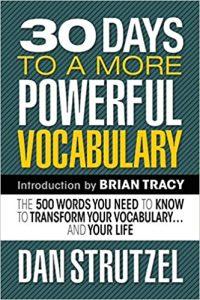 Author: Dan Strutzel
Latest Edition: 25 October 2018
Publisher: G&D Media
30 Days to a More Powerful Vocabulary by Dan Strutzel is a 30-day English learning program that will teach you 500+ words. In this book, you will learn the 10 myths about building a dynamic vocabulary.
The main aim of this book is to maximize the learning of 500+ words. The words included here are related to money, financial issues, parenting, marriage, and other relationships.
If you are looking for a book that will help you learn new words easily without much hassle and quickly, then look no further. This book is for you!
You can buy this book here.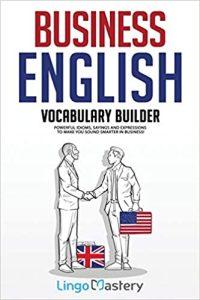 Author: Lingo Mastery
Latest Edition: 6 May 2020
Publisher: Lingo Mastery
Business English Vocabulary Builder is a business-based English vocabulary builder that offers the following:
Explains 300+ various business expressions and idioms that cover different subjects.
Learn the right definition and usage of each expression and idiom.
Examples of using these phrases and idioms in real-life conversations.
The comprehensive introduction and conclusion of the book include some important tips which will help you understand the language better.
If you are looking for a vocabulary book that will improve your business and professional language skills, then this book is for you.
You can buy this book here.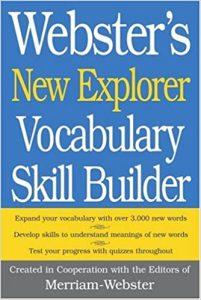 Author: Merriam-Webster
Latest Edition: 15 January 2008
Publisher: Federal Street Press
Webster's New Explorer Vocabulary Skill Builder is another great book for improving vocabulary in the list. It is a comprehensive guide that provides 3000+ words to enhance your vocabulary skills. It also helps to increase your understanding of the new words.
Not only this, but the book also includes detailed quizzes, 200+ root words, and more which will not only improve your speaking skills but also help you enhance your reading comprehension skills. The book teaches vocabulary based on the root words. This further clears your understanding and it becomes easier to retain words for a long time.
This is not a dictionary, it is a vocabulary skill builder. If you want to learn vocabulary from this book, then all you need to do is spend 10 minutes reading this book, and you will have a strong vocabulary in no time.
You can buy this book here.
Overall, it is a great book for students who are preparing for SAT, GRE, AFOQT, and similar competitive exams.
Conclusion
As we all know, vocabulary plays an important role in improving the reading skills of a person. Knowingly or unknowingly, we learn many new words every day while we are reading, listening, or watching something.
To become a better reader and speaker, you need to ensure you use the right word at the right time. One of the best ways to improve your vocabulary skills is by reading some of the best books on vocabulary.
Here we have mentioned the 10 best vocabulary books which will help you improve your skills.
Happy Reading!
People are also reading: