Books
10 Best Hindi Books You Should Read in 2023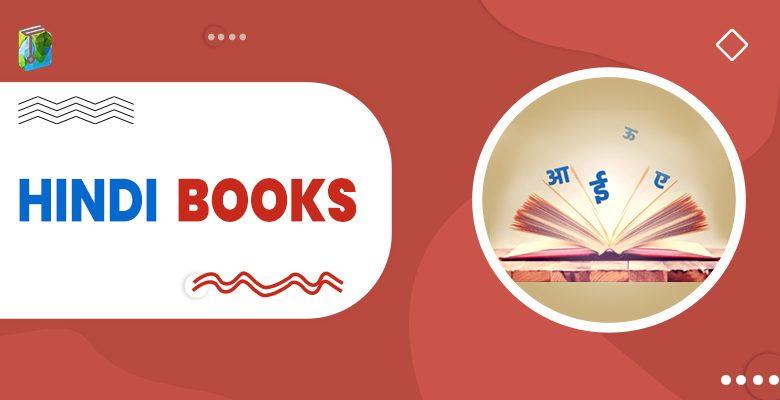 Literature has always managed to astound us and to top it all off, Hindi literature extends far beyond our wildest dreams. There are numerous Hindi novels that you must read. Some of these incredible books have affected the core of Indian cultural values and advancement. These include Munshi Premchand's classic literature work glorifying the classic Indian values and tradition to Dr. Harivansh Rai Bachchan's soul-healing poems.
Below is the list of 10 best Hindi books to read, which will enlighten your love for Hindi literature again!
Best Hindi Books
In our rush to be socially conscious, we frequently overlook the treasures of our own culture and roots. Unfortunately, our exposure to Hindi literature has now become limited to textbooks and academic books. There are many tales and mesmerizing poems that we may have overlooked forever. Let us look at some of the most famous Hindi books written!
Let's begin!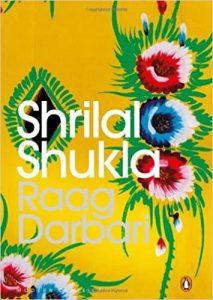 Highlights
Author: Gillian Wright
Publication Year: 2012
Publisher: Penguin India
Raag Darbari is a suspenseful and thrilling drama. It was authored by Sri Lal Sukla, well-known for his work on cultural and political issues. This novel is about the horrors of rulers who obtained money unfairly through corruption. The speaker, Rangnath, tells the story in the first narrative.
Furthermore, the plot revolves around his uncle, a corrupt leader who the people of his administration despise. He defeated everyone who dared to oppose him, but things changed when a group of individuals decided to stand up to the inequality in the area for so long.
It is one of the best Hindi books to read containing both drama and fiction.
You can buy this book from here.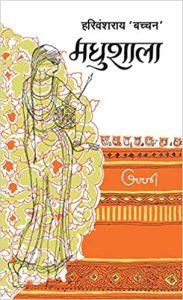 Highlights
Author: Harivansh Rai Bachchan
Publication Year: 1997
Publisher: Rajpal & Sons (Rajpal Publishing)
Dr. Harivansh Rai Bachchan's book Madhushala is a work of art. It is a collection of poems that describe the complexities of life through comparisons to 4 instruments that appear in almost every verse: Madhu (wine), Pyaala (cup), Saaki (server), and Madhushala (bar). It is still relevant today, despite the fact that we are undergoing religious strife.
This book promotes brotherhood, peaceful coexistence, and hopes for those caught up in religious disputes. A well-known novel and one of the best novels to read in Hindi.
You can buy this book here.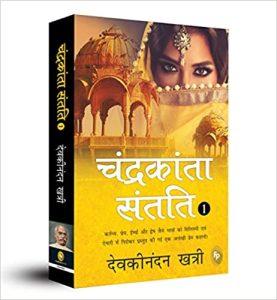 Highlights
Author: Devaki Nandan Khatri
Publication Year: 2020
Publisher: Fingerprint! Publishing
Devaki Nandan Khatri's book is a romance novel that narrates the tale of two young lovers – Princess Chandrakanta of Vijaygarha and the Prince Virendra Singh of Naugarha. In both the kingdoms, wicked ministers with dangerous magicians at their command, enemy kings (eager to fight), masters of disguise (who can fool even the most cunning spies, and magic everywhere) battle it out.
Then Chandrakanta gets caught in a wonderful maze, from which Virendra can only rescue her. Chandrakanta is of marriageable age, but will she marry her love, prince Virendra Singh, or the cunning prime minister's son Krur Singh? Despite all the problems, will they overcome numerous obstacles to be together?
In addition, the book's writing style immerses you in the world of "aiyars" and "tilism." If you enjoy romance with a mix of drama, this fine piece of Hindi literature becomes a must-read for you. This novel has also been transformed into a TV series!
You can buy this book from here.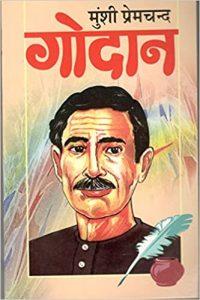 Highlights
Author: Premchand
Publication Year: 2019
Publisher: Fingerprint! Publishing
Godan is regarded as one of the greatest pieces of Hindi literature written by Munshi Premchand. It is written on the oppression of Indian farmers by money-lenders and landlords. The plot revolves around the life of Hori, a poverty-stricken peasant who is a victim of his grieving conditions.
All he desires is a cow like the other farmers, but each time he raises funds, events change, and Hori is forced to use that money to undo the entire situation.
The central theme of this book is strength and hardship. It's a story about his family's sincerity, responsibilities, and an unaccomplished dream. It also depicts how money lenders caused the peasantry to suffer.
To explore more of this remarkable Hindi literature book, purchase your copy now!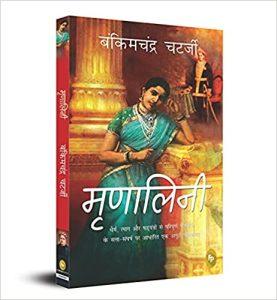 Highlights
Author: Bankimchandra Chatterjee
Publication Year: 2020
Publisher: Fingerprint Publishing
Mrinalini is Bengali novelist Bankimchandra Chatterjee's third book, and it is an iconic true love story with a delicate touch of Indian culture. The story revolves around a girl named Mrinalini who falls in love with the Prince of Magadh, Hemchandra.
After overcoming separation and misunderstanding, they marry. But the agony of Hemchandra and Mrinalini's separation can be seen in various circumstances. Their secret marriage spills out enormous difficulties ahead of them. Ultimately, they have to make some tough decisions.
I believe it is the narrative of two lovers hoping for a union. Hemchandra constantly gets suspicious of Mrinalini, while she always trusts him. When Hemchandra has the opportunity to meet Mrinalini, he cannot do so due to his duty to the country.
Late Bankim Sir tried to do his best to form the best romantic story, and he succeeded! If you're searching for a pure and soul-touching romantic story, then this is the book for you! It is among the finest Hindi novels.
You can buy this book from here.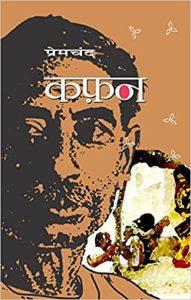 Highlights
Author: Prem Chand
Publication Year: 2018
Publisher: Maple
Munshi Premchand's novel Kafan is set in India and follows a family of lower-class villagers. The father and his son are poor manual workers who find themselves in challenging circumstances. The son's wife dies while trying to give birth to their child, and the poverty-stricken laborers do not have enough money to bury her.
They request the village landlord and other members of elite society for funds to purchase a Kafan or shroud to cover the dead body. Kafan is one of the best Hindi literature books ever written, bringing to light the difficulties faced by poverty and the difficulties that poor people encounter.
You can buy this book from here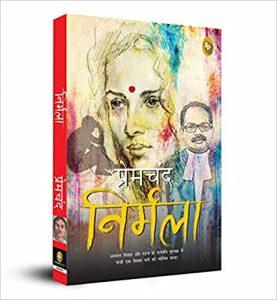 Highlights
Author: Munshi Premchand
Publication Year: 2019
Publisher: Fingerprint
Nirmala is another renowned Hindi novel authored by Munshi Premchand. The character of Nirmala, who was forced into marrying a widower who was her father's age, represents women's molestation. When the widower alleges Nirmala for committing adultery with his eldest son, the story turns for the worse.
A chain of events ultimately leads to the death of his son and the deaths of his other children, leaving only one alive. Nirmala's life is described in detail, including how she battles the patriarchal minds who rule the world.
This story gives a strong message to the readers. To understand this gripping tale in detail, purchase your copy now!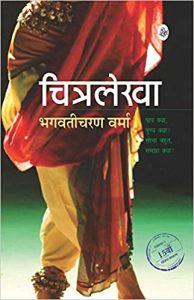 Highlights
Author: Bhagwati Charan Verma
Publication Year: 2018
Publisher: Rajkamal Prakashan
Bhagwati Charan Verma is the author of Chitralekha. In the ancient Magadh Era, the story describes love, guilt, and moral rectitude. It's a work of art that cannot be narrated in any other dialect without dropping its essence and has been adapted into two films as well!
This is a love story of Bijgupta, a young general who lived in wealth while serving under the Mauryan Empire, and King Chandragupta Maurya (340 BCE – 298 BCE) Chitralekha, a charming dancer and young widow.
Kumaragiri, a hermit, is attracted to Chitralekha but falls victim to his surroundings. It's a love story about how society's standards weave together the very meaning of human life. It walks us through the diverse life challenges we face throughout. The story eventually concludes by stating that humans are victims and slaves of their surroundings.
Thus, there is no such thing as sin or virtue. Everyone acts in accordance with the events that occur in their lives.
You can buy this book from here.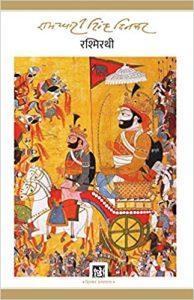 Highlights
Author: Ramdhari Singh Dinkar
Publication Year: 2020
Publisher: Lokbharti Prakashan Pvt Ltd
Ramdhari Singh' Dinkar,' a well-known Hindi novelist, has written this book. This book revolves around Kunti's firstborn child, Karna, as he reaches adulthood to become an aggressive soldier despite being raised in a low-income family. It is among the ten leading Hindi books that one should read.
Duryodhana recognized Karna's merits, made him king, and adopted him as a close friend. After that, he was forced to fight on Duryodhana's side as Karna fighting from Kaurava's side was a major source of concern for the Pandavas. The reason was that he was unconquerable in battle.
Dinkar has depicted Karna's story as a kaleidoscope of human emotions entangled in moral difficulties. Pride, courage, power, and dignity are among the emotions expressed in this book.
It's a lovely poem that delves into various aspects of Karna's life. To explore more, purchase your copy now!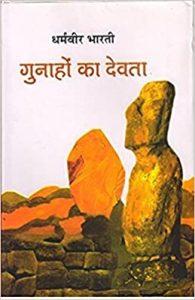 Highlights
Author: Dharamveer Bharti
Publication Year: 2014
Publisher: Bharatiya Jnanpith
Gunahon Ka Devta is another love story by the famous Hindi novelist Dharamveer Bharti. After Kabirdas, he became the most famous writer. His novel is about a man named Chandra who falls in love with Sudha, his teacher's daughter. The two have a deep and strong relationship, and their attraction to each other grows stronger with time.
Chander is of a lower caste than Sudha, so he does not dare ask Sudha's father for her hand in marriage. While Sudha appears to be open-minded in terms of caste and creed, she cannot withstand the social pressure of having to agree to marry the man of her father's choice.
This book expresses various emotions, including pain, sadness, failure, and contentment. It manages to hold the reader's attention throughout the story.
You can buy this book from here.
Conclusion
If you're bored with binge-watching Netflix series and want to read books instead, now is the time to do so. Very few people are interested in Hindi literature. Interestingly, it has a diverse range of stories and a long literary tradition.
In this article, we have highlighted the top Hindi books for you to read. You can pick anyone from the above and start exploring the world of Hindi literature.
Comment below if we have skipped any one of your favorites.
People are also reading: