Books
10 Best Time Management Books To Read In 2023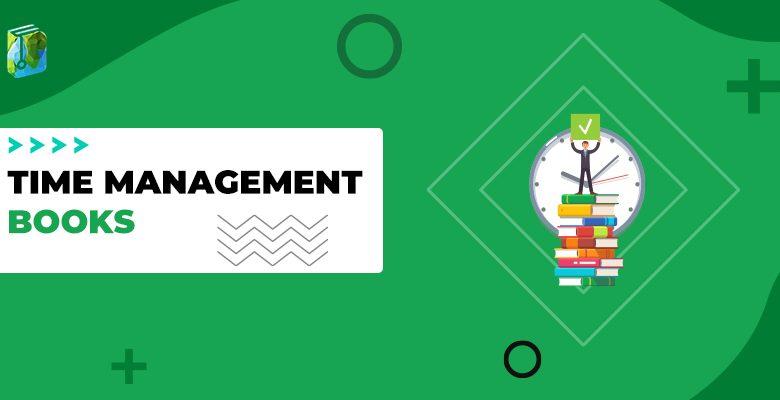 You need to know that the best way to improve your time management and productivity skills is with the help of the best time management books. Of course, it is overwhelming to search for books online or on the bookshelf at a bookstore. To make your work easier, we have mentioned the 10 best books about time and productivity.
Entrepreneurs always want to stay ahead of time. However, since working hard and achieving what you need is a little stressful, you need to enhance your willpower and self-discipline. However, if you do not self-discipline yourself, there are chances that you will get distracted with everything around you instead of completing your task.
So let's get started!
What Is Time Management?
Time Management refers to the process of organizing and managing your time. Managing time properly helps to schedule your time between the most important activities. In the effective time management process, you have control of your time and energy. This in turn helps you to achieve bigger and obtain better results without any stress.
The major objective of time management is to maximize the time spent on a specific activity which will help you achieve better goals. The benefits include reducing time on not so important tasks and helping you to effectively work on the other tasks.
Benefits Of Time Management
Now that you know what time management is, here are some of the major benefits.
1. Less Stress
Effective time management reduces stress levels and increases your confidence. Once you start controlling your time, it will reduce stress and anxiety. Moreover, good time management also means meeting deadlines and planning your work.
2. Build A Balance Between Work Life And Personal Life
Another most important benefit of time management is that it creates a balance between work life and personal life. When you spend long hours at work, you burnout and feel tired all the time, risking your personal life. So once you learn to manage time, you automatically create a balance between your personal life and work life.
3. Increases Productivity
Managing time effectively increases your work focus and at the same time improves your productivity at work. Since you are allocating time to work you are focusing on bigger opportunities. This in turn, helps you to spend more time on projects, goals, and also your personal life.
4. Less Procrastination
We tend to procrastinate when we cannot manage time. When you are not clear about your work and your goals, it is easy to delay the work because we tend to get distracted. The major cause of this is poor time management. When we learn to manage time, we reduce procrastination. Moreover, managing time also ensures we are able to balance our workload.
10 Best Time Management Books For Increased Productivity
Now that you are familiar with the benefits, you know how important it is to manage your time effectively. Here are the 10 best time management books for you.
Author: David Allen
Latest Edition: 22 April, 2015 (2011 Edition)
Publisher: Little, Brown Book Group
Getting Things Done tops the list of books on time management that are easy to read and can be the best gift for your friend. GTD is a personal productivity system that was developed by David Allen and later was published in the form of a book.
This book describes the most effective time management system. In the book, Allen says that, "there is an inverse relationship between things on your mind and those things getting done."
The main aim of this book is to record all the ideas, interests, information, issues, tasks, and projects running in our minds and then break them into actionable tasks within the given time frame. Doing this ensures that your main focus is on the tasks mentioned on the list and not on something else.
The latest edition of this book is updated according to the changes in information technology during the decade.
You can buy this book here.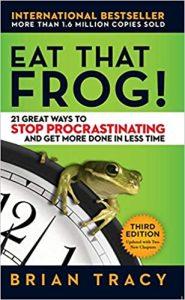 Author: Brian Tracy
Latest Edition: 21 August 2018
Publisher: Penguin Random House
Most of us do not have enough time to complete everything in our to-do list, and you need to know that every successful person does not try to do everything. They first focus on the most important tasks and ensure it is done effectively and efficiently. In Brian's terms, "They eat their frogs."
For Tracy, eating a frog is a metaphor for completing your most challenging task that can positively impact your life. This book explains ways to organize your day in such a way that you can complete all the difficult tasks more effectively and efficiently.
In the latest updated version of the book, the author adds two new chapters. The first one explains the uses of technology that remind you of what is important and the ways to protect yourself from the least important. Additionally, he also advises how to maintain focus in our era of constant distractions and electronic gadgets.
This book will help you complete the most challenging tasks right away effectively and efficiently.
You can buy this book here.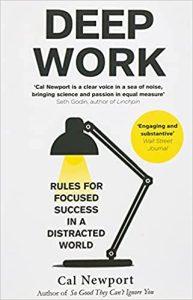 Author: Cal Newport
Latest Edition: 12 February 2016
Publisher: Little, Brown Book Group
Deep Work: Rules for Focused Success in a Distracted World by Cal Newport mainly focuses on how today's professionals value quantity over quality. It also mentions how this strategy has turned these professionals into puppets who multitask and deal with multiple emails and projects.
Since they are multi-tasking, they do not get time to do the "groundwork" which in turn leads to distractions. He also states that people should start setting their priorities.
Cal uses the principles of psychology and neuroscience that validate all the points mentioned in this book. He also mentions the different ways to improve a person's cognitive ability and how employers should encourage their workers to not take shortcuts for completing the tasks.
Moreover, according to him the best way to not get into the corporate competition is to take a break from technology and social media and sit alone to research and analyze.
You can buy this book here.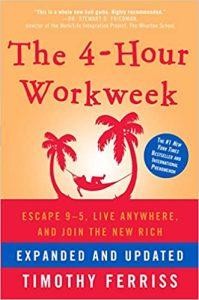 Author: Timothy Ferriss
Last Edition: 15 December 2009 (Updated Edition)
Publisher: Harmony
The 4-hour workweek is a blueprint to forgetting the concepts of retirement and deferred-life plans. This book is a guide to fulfilling your dreams, going on luxurious travels, earning a five-figure income, and much more.
This book for entrepreneurs tells the following:
How the author earned $40,000/month by working only for 4 hours per week.
Ways to outsource your work to virtual assistants online for $5 per hour and enjoy your life.
How to complete 50% of your work in 48 hours with the help of the principles of a forgotten Italian economist.
How to trade a career for short work getaways and holidays.
The new and expanded edition of The 4-Hour Workweek includes:
50+ practical tips and case studies from people who have doubled their income after reading this book.
How lifestyle design principles can be suited to unpredictable economic times.
Different templates to eliminate writing emails, negotiating with boss and clients, and much more.
The different tools and shortcuts for living the life of a diplomat or a millionaire.
You can buy this book here.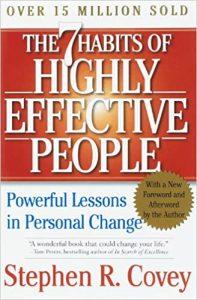 Author: Stephen R. Covey
Last Edition: November 9, 2004 (Revised Edition)
Publisher: Free Press
The 7 habits of highly effective people present a holistic approach for finding solutions to personal and professional issues. The author tried to reveal the path of living a life full of integrity, human dignity, fairness, and more. He also explains the principles that offer security to adapt the change, wisdom, and power to take advantage of the opportunities that can change the way we grow.
When the book was first published, it was a groundbreaker. This book is still a bestseller, and over 10 million copies have been sold. The facts mentioned in this book are usually from family situations and business challenges. Adopting these seven habits will help you in effective time management, develop proactive muscles, positive thinking, and more.
You can buy this book here.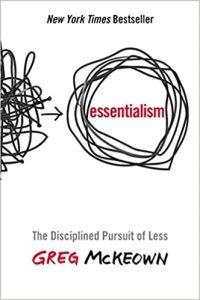 Author: Greg McKeown
Latest Edition: 15 April, 2014
Publisher: Currency
Essentialism: The Disciplined Pursuit of Less is a New York Times Bestseller time management book and has sold more than one million copies. Essentialism is not about getting more work done in less time, but it is about getting only the right thing done. Anyone who feels overcommitted, overloaded, and overworked should read this book.
If you have found yourself stretched too thin, simultaneously feel overworked, busy without any productivity, or feel you are wasting your time on other people's tasks, then this book is for you!
Essentialism is more than just a book that talks about time management skills and techniques. It is a systematic discipline for prioritizing that is most important and eliminating everything that is not. Doing this helps to make the highest possible contribution to the most important tasks.
Essentialism is a whole new concept that focuses on doing less but better in every area of our lives.
You can buy this book here.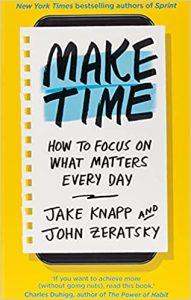 Author: Jake Knapp & John Zeratsky
Latest Edition: 15 October 2018
Publisher: Bantam Press
If you are the one who wants to achieve more without being overwhelmed, then you need to read this book. Make Time is one of the essential readings for those who want to build a happier and more successful life.
The most popular productivity experts Jake Knapp and John Zeratsky have mentioned a four-step framework that can be used by anyone and offers 80+ tactics that help to design your day to complete all the important tasks.
Some of the tactics include- being the boss of your phone, choosing a daily highlight, slowing your inbox, staying out of social media, eating food without using phone, spending time with your loved ones, and more.
With these mentioned tips and tricks you can change your life. Now it is time to stop daydreaming about getting the best project someday and start working today to get it.
You can buy this book here.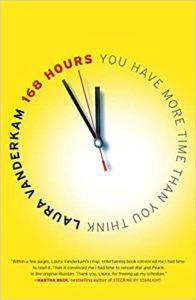 Author: Laura Vanderkam
Latest Edition: 31 May 2011 (Reprint Edition)
Publisher: Penguin USA
168 Hours: You Have More Time Than You Think by Laura Vanderkam is a book written after interviewing dozens of successful, rich, and happy people. In this book, she explains how they allocated their time differently than most of us do.
Moreover, she says instead of letting the daily grind crowd out the important stuff, they started making sure there is enough time for completing the important tasks.
The author says, when you start prioritizing your task, you will find that there is enough time to sleep, exercise five times a week, take your favorite lessons, and read and write a novel, and at the same time spend quality time with your family and friends.
You can buy this book here.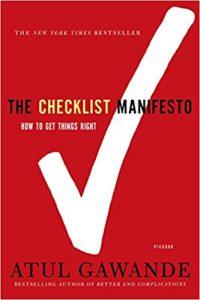 Author: Atul Gawande
Latest Edition: 4 January 2011 (1st edition)
Publisher: Picador
The Checklist Manifesto by Atul Gawande is a New York Times Bestseller and one of the best books on time management that explains how a simple thing like a checklist can help us deal with the complexities of our lives easier.
The author states that we can do better with the simplest thing ever: the checklist. Moreover, he also says what a checklist can do, cannot do, and how it can help us make improvements in almost every field.
Not only is this book loaded with fascinating stories, it has also changed the way we think about the world. This book is a must-read for anyone who is working hard to get things done effortlessly and effectively.
You can buy this book here.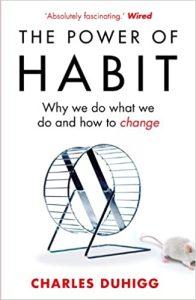 Author: Charles Duhigg
Latest Edition: 7 February 2013
Publisher: RHUK
The power of habit: why we do, what we do, and how to change is the best book that will help you set new habits. This book is written by an award-winning New York Times business reporter Charles Duhigg.
He translates cutting-edge behavioral science into practical self-improvement action, distills advanced neuroscience into the most fascinating narratives of transformation.
From Olympic swimmers to Martin Luther King Jr, from CEO of Starbucks to the locker rooms of the NFL, the author explains the outcomes of the important habits and how these habits can make a difference between billions and millions, failure and success, and even life and death.
You can buy this book here.
Conclusion
Time management is very important, be it students or working professionals. Once you start managing time, you learn how to accomplish tasks on time without procrastinating. To manage time, you need to know the best way to improve your time management and productivity skills.
The best way to learn how to manage your time is by reading time management books. Here in this post, we have mentioned some of the best books which will help you improve your time management skills.
Happy reading!
People are also reading: