Difference
Coursera vs edX – Features, Top Courses, Pricing & More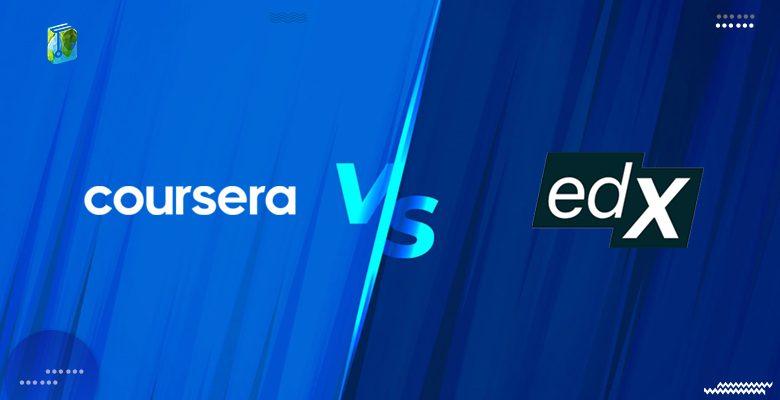 Online e-learning platforms are booming with each passing day. There are various options available for learners. However, choosing the best platform out of the lot is quite tricky. This post helps you obtain detailed information on Coursera vs. edX.
Online platforms contain thousands of courses for individuals seeking to learn a new skill. These courses benefit every kind of learner, be it a beginner, intermediate, or expert. Further, there is also an option of one-to-one doubt-clearing sessions with the instructors that helps students clarify the concepts in case of any doubts. There are other additional features also, such as assignments, practice sessions, discussions, and certifications.
With ample features and advantages, these platforms are here to stay! They provide excellent theoretical knowledge and help the environment by reducing energy consumption by 90%.
These platforms have already gathered billions of learners worldwide. According to statistics, The e-learning industry has grown by over 900% since 2000. These numbers indicate the power of online learning!
Let's now compare the two top education portals, Coursera vs edX.
What is Coursera?
Coursera is one of the top-performing e-learning platforms across the world. There are more than 5200 courses and provision of professional certificates. In addition, Coursera has an excellent collaboration with 275+ leading companies and universities such as Stanford, Google, IBM, Imperial College London, etc.
This platform is highly suitable for professionals. There is a provision of free online courses from the world's top universities. Moreover, the courses range from data science and business to personal development, art and humanities, and many more.
According to the Coursera impact report, 87% of people learning for professional development report career benefits like getting a promotion or starting a new career!
Popular Topics of Coursera
Learn a language
Free courses
Java
Python
Web design
Microsoft Excel
SQL
Cyber security
Human Resources
Content Writing
Features of Coursera
1. Courses
Coursera offers numerous courses for learners. The users get recommendations of the most popular ones with the best reviews. This data helps learners to make an informed decision based on the analytics.
Further, the courses are presented with good-quality content curated by top professionals. These lessons help you excel in both theoretical and real-world problems. With this expertise, you can perform well in the industry.
Additionally, students can analyze their performance with ample assessment and practice tests.
2. Platform Reporting and Analytics
Coursera provides an analytics dashboard to instructors. This dashboard assists them in tracking the progress of the courses on the platform. Further, more insights, such as the number of learners on that course, tell a tutor about the number of students associated with that program.
3. Administration
Coursera allows administrators to assign courses to individuals and track teams' activities. The administrator's access to the analytics dashboard shows insights into the learner's usage and proficiency levels.
4. Compatible with multiple devices
Coursera platform is highly compatible with mobile, laptop, and tablet devices. Therefore, it provides the freedom to use any device you want.
5. Benefits to learners
It recommends courses based on the user's research results and provides a list of the most suitable options.
Furthermore, the courses are specially curated by experts and industry leaders. A learner is also awarded a certificate for successfully completing a course or a learning path.
Coursera Pricing
There are two plans for Coursera subscription:
Team: 5-125 users, $399 per user
Enterprise: 125+ users. Check prices here.
What is edX?
The founder of edX wanted to bring a seismic shift in learning. They rightfully did it by launching this excellent online learning platform. Currently, there are millions of learners associated with it.
According to statistics, edX has successfully passed 110 million global enrolments. 
What makes edX different from the rest of the platforms is that you can learn from the world's top universities. It connects individuals with some of the most reputed instructors of these institutions. This collaboration helps them attain a degree online. Here are some of the most stunning statistics of edX:
3600+ courses
110+ million learners
42 million users
15K instructors
1.4 million verified course certificates issued
Popular Courses on edX
Analytics: Essential Tools and Methods
Agile Project Management
Best edX Project Management Course
Artificial Intelligence (AI)
Data Science Certificate
MicroMasters® Program in Finance
Professional Certificate in Python Data Science
The Science of Happiness
Blockchain Fundamentals
Introduction to Computer Science
Features of edX
1. Benefits to learners
This platform offers ample courses ranging from computer science, Business, and advanced technologies to personal development, humanities, art and culture, and many more. Learners can use filters and choose the course offered by their desired universities, such as Harvard University, MIT, etc.
Moreover, students can apply for professional certificates, master's programs, bachelor's programs, micro master's programs, and more.
2. Benefits for Businesses
Businesses can take several advantage of this platform because of the number of opportunities offered by edX. It is an excellent way to upskill essential skills and train employees with the highest quality courses.
Professionals teach these courses from topmost universities such as the University of Cambridge, MIT, the University of Oxford, Howard University, and more. edX delivers skill-based training and deep training to its learners. Here are the benefits for a company if they choose this platform:
Upskill and reskill
Helps to retain employees
Develops business agility and adaptability
3. Benefits for instructors
edX provides courses for students to gain skills with high-quality learning. The faculty can enjoy more digital resources with the help of edX. It benefits the students in building skills and expertise with 0 infrastructure costs.
4. Experience and Practice
You can learn the courses through data visualizations, dynamic graphics, high-quality video lectures, and more. edX courses and programs provide a space to practice with quizzes, assessments, virtual environments, and more. This way, you can learn new skills and assess your progress. With that, apply for industry jobs as soon as you will confident.
5. Variety of Courses
There are 3000+ courses offered by edX. Take a look at the wide range of the top courses in different fields:
Computer Science
Introduction to Blockchain
Google Cloud Computing foundation
Data Science
Data Science
Introduction to Analytics Modeling
Machine Learning with Python
Introduction to Actuarial Science
Healthcare
Lifestyle medicine
Master's degree in public health
Product design and health
Besides, there are ample courses offered by edX; check them out here.
edX Pricing
Starting at $349 per user annually.
Coursera vs. edX – A Quick Glance
Title
Coursera
edX
Founded In
2012
2012
Courses
7000+
5300+
Best features

High-quality content curated by top universities.
Structured learning environment
Certifications at the end of paid courses

Wiki-based collaborative learning
Online discussion groups
Online degree courses (bachelor and master both)

Certifications
Yes
Yes
Best-suited for
Individuals looking to gain professional skills in computer science, business, data science, humanities, and many more.
Individuals are looking specifically for online degrees from reputed colleges and universities worldwide. (other courses are also included for gaining training in several subjects)
User-Interface
Easy to understand
Slightly complicated for users
Pricing

Team: 5-125 users, $399 per user
Enterprise: 125+ users. Check prices here.

Starting at $349 per user annually.

Official website
Coursera
edX
Conclusion – Coursera vs. edX, Which One Should You Choose?
As you can see, both platforms are up-and-coming and provide many courses. There are ample features that help learners get an edge over their counterparts. Moreover, there are advantages, such as getting a new job and excelling at your current one! Who doesn't want that, right?
In a nutshell, go for Coursera if you are looking for a systematic and professional approach. It is excellent for upskilling and reskilling. If you aim to get an online degree from a reputed institution, then pick edX. However, we assure both Coursera and edX are excellent online learning platforms. It's just a matter of personal preference and the requirements of individuals.
We hope the topic Coursera vs edX holds more clarity than before now. In case of any doubts, do comment below!
Adios!
People are also reading:
Frequently Asked Questions
Ques.1 Which is better: Coursera and edX?
Ans. Both platforms are excellent. However, Coursera provides more courses when compared to edX.
Ques.2 Which is cheaper, Coursera or edX?
Ans. Coursera is comparatively cheaper than edX.
Ques.3 Is the edX certificate valid for jobs?
Ans. An edX certificate is precious in getting jobs with lucrative packages.
Ques.4 Do edX and Coursera certificates matter?
Ans. Yes, they are highly valuable in getting industry jobs.