Difference
Babbel vs Duolingo: Which Language Learning App is Best?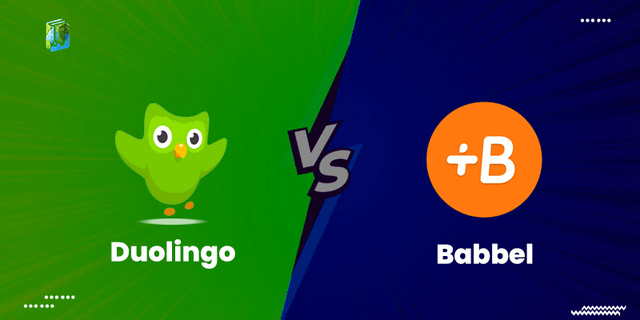 Introduction
Language learning tools benefit many learners who wish to learn a new language. There are plenty of applications that are highly suitable for beginners wishing to learn a foreign language. Further, this industry is growing at a fast pace.
According to statistics, the online language learning market is expected to touch $31.81 billion between 2022-2029.
As these numbers indicate, such platforms are in high demand.
Although, it becomes a challenge to pick the best one for you! If you have already done some research on this topic, you must know that the debate on Babbel vs Duolingo is a hot topic.
This post explains each of these apps in detail, along with their features, pricing, and advantages. Let's explore!
What is Babbel?
This platform is known to be one of the best online language-learning platforms in the world.
Do you know Babbel generated €198 million in revenue in 2021, a 34% year-on-year increase?
Babbel contains intuitive lessons that have garnered a vast community of more than 10 million users.
These lessons aim to provide knowledge of a specific language by presenting real-life conversations.
Further, the learning techniques are curated by curriculum experts. They have created approximately 13,000 hours of content and 50,000+ lessons in 14 languages. Here are the downloading options:
Interestingly, Babbel focuses on taking just 10 minutes out of your daily life to learn. Afterward, learners can listen to podcasts and continue their lessons anytime, anywhere.
Features of Babbel
With abundant features comes great learning. Here are some of the most beneficial features of this language-learning application.
1. Unique Way of Teaching
Babbel teaches you a new language about your native language. This makes the entire learning easier and simpler. They call it 'language pairs'. The language you already know and the one you want to learn.
However, all courses are unique, and no two courses are the same. With the help of podcasts, you can learn hands-free. Therefore, Babbel focuses on providing knowledge in the simplest way possible.
2. Learn like a local
Babbel aims to teach users with the help of local people. It uses audio dialogue examples of native speakers for more accurate learning.
You won't just learn to speak and read a new language but also learn the history, songs, and culture associated with the foreign language.
3. Learn Live
Users can easily reap the benefits of Babbel's new live virtual classes. These classes help learners clear their doubts by asking queries from the instructors. Further, there are hundreds of classes every week that you can take according to your convenience.
Babbel has a team of 750 people from more than 65 nations.
4. 14 Languages
Babbel provides courses in 14 different languages, namely, Spanish, German, Polish, French, Italian, Swedish, Dutch, Turkish, Indonesian, Russian, Danish, English, and Norwegian.
However, this is one of the drawbacks too, as many Asian languages are missing from the list.
5. Unique Curriculum
Babbel free trial is available for everyone. Moreover, learners also get a free first class of every course.
Babbel Videos: interactive videos explain a language's minute details in a fun way.
Babbel Podcasts: these podcasts are a way to understand the local culture by the locals themselves speaking their native language.
Babbel Magazine: provides various language learning tips for different cultures.
Pros and Cons of Babbel
| | |
| --- | --- |
| Pros | Cons |
| Affordable courses for each language | Every language has a different payable amount |
| Clear audios that help users understand the language easily and perfect their accents. | Exercises may get repetitive |
| Well-explained lessons with logical approach | Limited features in some courses |
| Learn directly from videos involving native speakers | Less number of language courses available. (Only 14) |
Pricing
1 month: $13.95 per month
3 months: $9.95 per month
6 months: $8.45 per month
12 months: $6.95 per month
What is Duolingo?
Duolingo is one of the best language apps with ample features. It's a fun and easy way to learn a foreign language and master it within a few days. In addition, there are multiple courses and personalized learning options. This option combines AI and language science to teach users according to their beginner or intermediate levels.
There are more than 500 million users associated with this app. This forms a large community of users benefitting daily from excellent teaching methods. Here are the downloading options:
According to statistics, Duolingo generated $250 million in revenue in 2021, which resulted in a 55% annual increase.
Features of Duolingo
1. Personalized Education
Every learner is different. To fulfill this need, Duolingo is trying to provide private tutors to learners to make education more effective.
This platform follows teaching via bite-sized lessons and a curriculum aligned with an international standard.
2. Fun Learning Methods
The lessons to teach different languages are formed in an interesting way. They are more like games and not just limited to some theoretical boring knowledge. Moreover, the curriculum is based on a methodology proven to last longer in memory. It also provides access to offline learning.
3. Balanced Approach
Duolingo follows implicit learning, ideal for developing foundational knowledge of any language and its rules. This is the same approach a child follows while learning a language for the first time in school.
It's an excellent method taught by a series of explicit instructions to retain the basic concepts of a language for a longer time.
4. Large Number of Language Courses
This platform teaches a total of 48 languages covering vast areas of the world. This is another reason for its growing popularity each passing day. Some of the most popular courses are French, German, Indonesian, English, Hindi, Dutch, British English, US English, Mandarin Chinese, and many more.
5. Multiple Ways to Learn
The learning experiences are provided to the users via many methods. There are in-person events, podcasts, and interactive lessons in the form of stories. These additional formats help polish a user's conversational skills and reading and listening skills.
Pros and Cons of Duolingo
| | |
| --- | --- |
| Pros | Cons |
| It is easily accessible for anyone at any time. | More focus is on English speakers. |
| This platform is absolutely free of charge. Users can access everything. | It is only best suited for beginners, not for advanced users. |
| It does not restrict learners from learning a single language. You can learn multiple languages concurrently. | It aims more at playing games as a learning method. |
| Variety of options (48 languages). | Lacks in providing professional grammatical explanations and rules of a sentence structure. |
Pricing
Duolingo Super (often called Duolingo plus): $6.99 per month (free trial of 14 days).
Which One Should You Choose – Duolingo vs Babbel?
Both Duolingo and Babbel are excellent language-learning platforms. However, there are some striking differences between the two!
Duolingo is completely free, whereas Babbel is chargeable.
If you are a serious learner and are more interested in learning systematically and professionally with clear explanations, then go for Babbel.
Duolingo is most favorable for learners who are not interested in learning in a professional environment and prefer a casual approach.
Users not willing to spend money and wish to learn a language just as a hobby or fun can also pick Duolingo.
Title
Babbel
Duolingo
Pricing
4 different options:

1 month: $13.95 per month
3 months: $9.95 per month
6 months: $8.45 per month
12 months: $6.95 per month

Free and Premium option
Best Feature
Flexibility
Learning via gaming methods
Casual or professional
Professional learning methods
Casual learning methods
Total Courses
14 languages
48 languages
Best-suited for
Beginners and advanced learners
Beginner learners
Official Website
Click Here
Click Here
Conclusion
The Babbel vs Duolingo debate can not be concluded in one sentence. The learners must consider several factors, such as pricing, curriculum, teaching methods, etc. As we have mentioned in this article, different features align with different kinds of learners.
Some are more comfortable in casual learning, whereas some opt for a more professional approach. Some might be ready to invest money in courses, while others want free ones.
Overall, the final choice depends on the requirements of a learner. This post covers the major points of Duolingo vs Babble in detail. We hope that this information helps to make an informed decision.
Good luck!
People are also reading:
Frequently Asked Question
Question: Can I become fluent with Babbel?
Answer: Yes, Babbel is an excellent language-learning platform for beginners. The curriculum and teaching methods help learners grasp concepts quickly.
Question: Which is better, Babbel or Duolingo?
Answer: There are many factors to consider. However, for a more professional approach, Babbel is better than Duolingo.
Question: Can I get Babbel for free?
Answer: Signing up for an account is free of cost on Babbel, along with the first lesson of every course. However, you must pay a monthly subscription after that.
Question: What is the best program to learn English?
Answer: Both Duolingo and Babbel provide excellently curated English courses.
Question: How much does Babbel cost a month?
Answer: The multiple plans of Babbel are as follows:
1 month: $13.95 per month
3 months: $9.95 per month
6 months: $8.45 per month
12 months: $6.95 per month