Books
10 Best Hemingway Books Written By Ernest Hemingway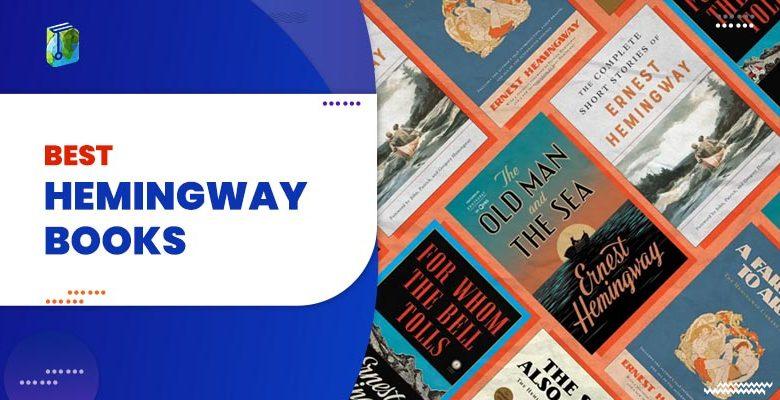 Ernest Hemingway is one of the most renowned and respected authors. He has created thousands of short stories with impactful characters. There are various compositions based on real-life events. Moreover, he got inspired by his personal experiences and observations. Therefore, he Incorporated the same in his stories.
His work reflects adventures and exciting aspects of life. Some remarkable works and contributions add to Hemingway's legacy.
If you are his fan and wish to know some of his best creations, you have landed in the right place. This article presents the ten best Hemingway books available in the market. This list will further narrow down your search and benefit you in making an informed decision.
Let's start!
10 Best Hemingway Books
1. The Old Man and the Sea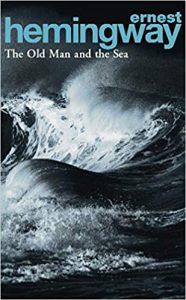 Highlights
Publishing Year: 1994
Publisher: RHUK
Description
This book is a classic book written by Hemingway. It is also the winner of the Pulitzer Prize.
The Old Man and the Sea is a beautiful story that tells the fundamental truth that hope is everything that sustains us. He talks about a Cuban fisherman, a giant fish, and a boy. Moreover, it's a story of heroism and bravery, showing how humans struggle with their thoughts and succeed. It is a very well-crafted story.
The lonely fisherman was considered bad luck when it came to fishing and the ones he lived around. However, The story reflects how it doesn't matter how old you are; you will always need one goal to stick with to succeed. Knowledge and hope are everything!
This book won the Nobel prize for literature due to its stunning and hopeful story. To explore more, read it now!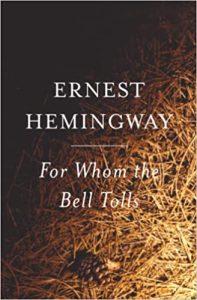 Highlights
Description
This book was published in 1940. Hemingway drew inspiration from the civil war when he traveled to Spain in 1937.
It is a story about Robert Jordan, a young American. He works for an antifascist guerilla unit in Spain. It's a story of loyalty, courage, defeat, and love. Interestingly, it is one of the most understated masterpieces of Hemingway that also showcases a historical document about the failed revolution.
The book can also be read as a crucial anti-war book.
Jordan falls in love with Maria. The author beautifully portrays the story. The young girl survives being captivated by the fascists but gets caught at some point. The band later rescues her. Robert's mission to blast a bridge is considered an under-calculated move that results in a split in the group.
This is one of the longest and, in a manner, autobiographical portrayals of the protagonist Robert Jordan by Hemingway. Read this beautiful masterpiece and purchase your copy now!
3. The Sun Also Rises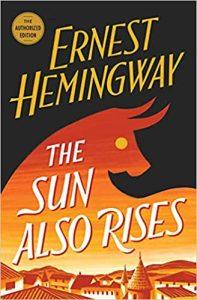 Highlights
Publishing Year: 2006
Publisher: Scribner
Description
This novel depicts the powerful writing style of Hemingway and is considered one of their classic masterpieces written by him. It comprises two impactful characters; Jake Barnes and Lady Brett Ashley. Both of them are unique characters who explore the nightlife of 1920s Paris and, at the same time, experience the bullfighting rings of Spain.
Brett is one of the most tragic figures written by Hemingway. The war disillusioned her and changed her life forever. Post that, she becomes addicted to alcohol and sex and destroys herself. Both characters are vulnerable and wretched.
The story showcases the anger of the post-World War I generation, heartbreaks, and many more things. To explore more, purchase this copy now!
4. A Farewell to Arms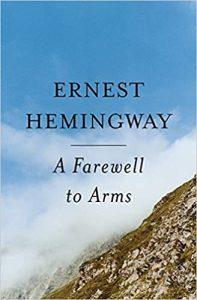 Highlights
Publishing Year: 2004
Publisher: Arrow Books
Description
This is an unforgettable story written by Hemingway. The story revolves around an American ambulance driver madly in love with a beautiful English nurse. She's a thick-skinned person just a few miles away from the battlefront but faces mixed emotions toward him throughout. She is brilliant and an independent woman.
It is a sophisticated relationship depicted by the author.
Moreover, this novel contains the First World War, fighting, displacement of people, cynical soldiers, and much more.
The conversation occurs among the soldiers where everyone is arguing about the war, but no one has any facts or more. This is a brilliant way to highlight some unknown aspects of the war. Moreover, A farewell to arms reflects some dreadful developments of World War I that were fought in the industrial age that caused massive destruction.
To understand more, purchase your copy now!
5. Hills Like White Elephants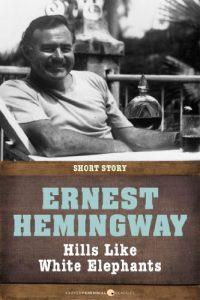 Highlights
Publishing Year: 2013 (Kindle Edition)
Publisher: Harper Perennial Classics
Description
The story is set in Spain. In the early 1920s, an American man and a girl are waiting at a railway station to travel to Madrid. The man discusses 'a simple operation ' with the girl and convinces her to do it. The irony is that he is convincing the girl about the operation while telling her to be a part of it as per her wish.
The girl tries to be brave but is extremely scared of involving herself in this operation. She tries to dodge the conversation and points out the hills that look like white elephants. However, the man doesn't listen to that and focuses on the operation instead. No tension is resolved between the two, and they reach Madrid.
The girl is still frightened about the operation she has to undergo. Overall, the story will leave you puzzled, but it will all get sorted out in the end. To know what the operation is? Why is the man so concerned and the girl unwilling? Purchase your copy now!
6. A Moveable Feast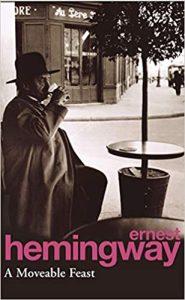 Highlights
Publishing Year: 1994
Publisher: Vintage
Description
This is an exciting read compiled by Hemingway.
The book showcases Hemingway's life in Paris from 1921 to 1926. It's a retrospective memoir of his early writing life. The writing takes you back to the bygone era of Paris, where individuals lived life despite monetary limitations.
Some chapters showcase his relationship with Fitzgerald and F. Scott. Moreover, you will see the description of his struggles while he was in the writing process. Knowing the struggles of such an accomplished writer makes us believe that we all start from scratch and face obstacles.
Overall, the composition includes clear sentences. Therefore, it becomes an easy read for the readers. It's honest and reasonable.
If you wish to glance at the past life of young Hemingway, then this is the book for you!
7. Cat in the Rain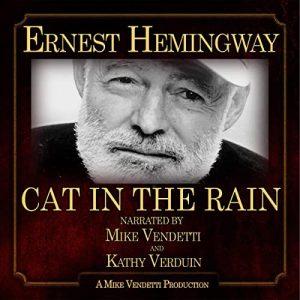 Highlights
Description
The story is about an American couple staying in a hotel in Italy. One day it starts raining heavily, and the wife looks out the window and notices a cat trying to shelter herself from the rain under a table.
She tells the same to her husband. However, when her husband George offers to go, she stops him and goes herself. Her maid follows her and offers an umbrella so she doesn't get wet. But she fails in this process. She narrates the story to her husband, but he is least interested and continues reading his book.
After some time, the maid comes and brings the cat to her. The readers may find themselves perplexed due to the storyline, but it has a much deeper meaning.
The author has beautifully chosen all these characters and related them to real-life desires. The question is, how? For that, you will have to read this masterpiece!
8. The Killers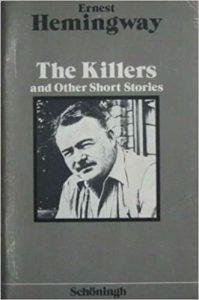 Highlights
Publishing Year: 1982
Publisher: F. Schöningh, Paderborn
Description
It is a short story written by Hemingway. The tale talks about fear, courage, horror, and death.
The story starts with fear dominating every situation. The killers planned to kill three innocent people without any apparent reason. One of them was Ole Anderson. Thereby, it planted a sense of fear. The entire story is full of suspense. However, at the end of the story, nothing happens.
In the end, the killers had to return empty-handed. Anderson becomes the hero as he is not afraid of death or anything else.
Therefore, Hemingway puts two emotions in parallel and depicts them beautifully. One is courage, and the second is fear. It is interesting to read how the story revolves around these two emotions and delivers a sense of learning.
For more details, purchase this copy now!
9. In Our Time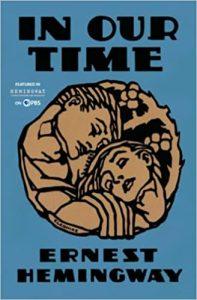 Highlights
Publishing Year: 1996
Publisher: Scribner
Description
This book was first published in 1925. Hemingway uses simple language to portray complex emotions in this novel. This book placed him on the list of the most promising American writers.
The entire writing delivers the message of a clear vision and moral values.
Several famous stories include the Indian camp and the three-day blow. They express the typical Hemingway style with lean and tough prose.
To witness more of this masterpiece, purchase your copy now and enjoy!
10. Islands in the Stream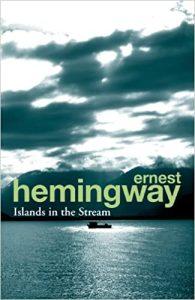 Highlights
Publishing Year: 2013
Publisher: RHUK
Description
This novel was published posthumously in 1970.
Hemingway started working on it in 1950. However, this work was found among 332 others after his death by Mary Hemingway. This novel includes three stories that describe different stages in the life of the protagonist Thomas Hudson.
The different parts were named as follows:
The Sea, when young
The Sea, when absent
The Sea in being
These titles were later transformed into three acts:
Bimini is the introductory part of the character Thomas. Cuba takes place during the Second World War. At Sea is the final act! When you read it, you will understand that he has taken a lot of real-life references in this story.
Be a part of this incredible write-up once in your lifetime. Purchase your copy now!
Conclusion
Hemingway was one of the most incredible writers of his time. He had compiled hundreds of stories and entertained millions of people in his lifetime. His writing style was unique and described complex and superficial aspects of life as a story.
He was also a Nobel prize winner.
We have brought up the ten best Hemingway books in this article if you are his admirer. We hope that the information provided above helps you make an informed decision. Tell us about your favorite novel in the comment section below.
Happy Reading!
People are also reading: