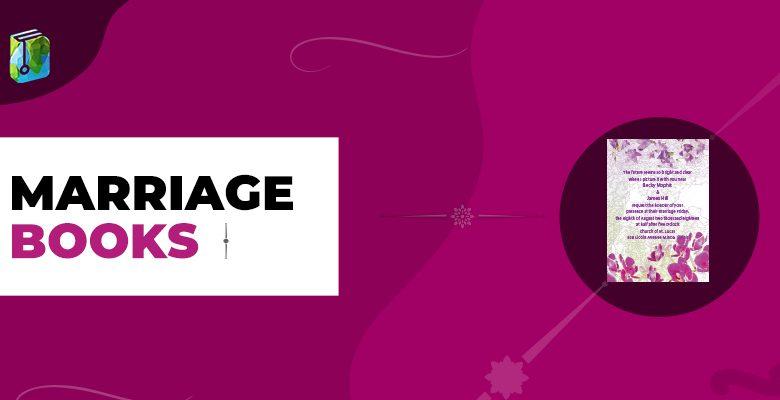 Every relationship takes a lot of work and commitment. Be it friendship with your friends, professional relationships, family bonds, or relationship with your spouse. There are various challenging aspects included in marriage. Both partners should work together to resolve them. Sometimes, it may lead to frustration and irritation. However, you must consider this as teamwork instead of harboring ego issues against each other. Let's explore Best Marriage Books.
There are various ups and downs in every relationship. In the end, it's the effort that matters the most. If you are facing any hardship in your marriage life, there are various options. Talk with each other, opt for a good marriage counselor, take couple therapy, or read books written on this subject to gain a broader perspective.
At times, the narrow perspective regarding solving any issue can come in between a healthy relationship. This must not be the case. Instead, one should consider keeping a broad mind and practical approaches to maintain the sanctity of marriage.
As Henry D. Taylor stated, 'It is not only marrying the right partner, it is being the right partner'.
Therefore, it takes a combined effort to develop a concrete foundation in your marriage.
If you think that books are a good option for you to explore, then you have landed in the right place. In this article, we have presented the 10 best books on marriage.
Let's begin!
10 Best Marriage Books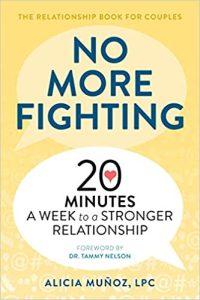 Highlights
Author: Dr. Nelson, Tammy, Alicia Munoz
Last Published: 2018
Publisher: Zephyros Pr
Description
There are many incidents where a point of difference occurs in a marriage. Sometimes, it takes no time to resolve but other times, it can cause an ugly fight. Many couples work hard to sort out such issues. This book provides some highly effective strategies to overcome frequent problems and build a strong bond.
As the title of the book says, 20 minutes a week to a stronger relationship, the content abides by the statement.
There are different ways mentioned in the book that teach the couples to talk, listen, and speak to each other while in a fuss. The book entails skills that help you to fight less and love more. Some of the major key points depicted by the writers are mentioned below:
20-minute exercises: there are a set of dialogues, experiences, and prompts that help you to tackle a situation effectively
52 relationship challenges: this section talks about real case studies and mentions several topics such as gender roles, responsibilities, communication blocks, and much more
Support guidance: there are various steps and advice that helps you to quickly resolve the fight and maintain a cordial relationship
No more fighting is one of the most incredible self-help books that has helped a lot of couples across the globe. The chapters of the book respect the complexity of such relationships and mention practical approaches to resolve them. The writing style is humorous, intelligent, and down-to-earth.
You can buy this book here.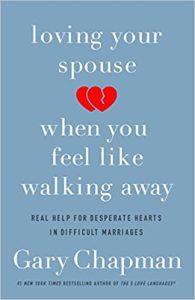 Highlights
Author: Gary D. Chapman
Last Published: 2018
Publisher: Moody Publishers
Description
Many incidents provoke a couple to give up and end the relationship. But if two hearts are willing to work together and maintain their marriage, there are various ways. After all, no one wants to be in a miserable married life. There are an infinite number of people struggling each day to save their marriages.
Loving your spouse when you feel like walking away, is a remarkable compilation that helps you in this subject.
The major tips and strategies of this book are stated as below:
Understand the behavior of your spouse
Try to forget the myths that you hold
Make practical and optimistic choices
Own your mistakes, feelings, and actions
Gary Chapman, the writer of this incredible book, is a family and marriage counselor. He handles the cases of those couples where a partner is involved in any of the following. He/ She is:
Irresponsible
Disloyal
Liar
Controlling
Workaholic
Uncommunicative and verbally abusive
Physically or sexually abusive
Drug or alcohol addict
Depressed
This book helps you to deal with such partners with understanding and support. You can shift the scenario in your favor by reading this book.
You can buy this book here.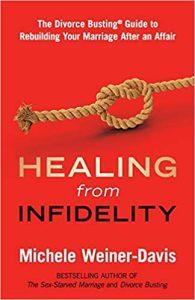 Highlights
Author: Michele Weiner-Davis
Last Published: 2017
Publisher: Michele Weiner-Davis Training Corp
Description
It is a devastating feeling when you understand that your spouse is unfaithful and disloyal. There are various emotions involved such as anger, emotional pain, mistrust, overwhelmed resentment, and much more. It requires abundant patience to digest the whole situation and take further decisions.
The author of this book is a TEDx speaker. He has some interesting and intriguing revelations regarding the subject. The mention of some powerful ways to rebuild trust and resolve the issues has helped millions of couples. He has experience of over three decades. Michele has helped people to overcome the traumatic feelings of a spouse and helped them to regain trust.
He mentions an impressive step by step program in the book mentioned below:
Talking about emotions with zero arguments
Apologies with sincerity
Healing process
Forgetting the painful memories
Rebuilding accountability
Forgiveness
Reconnecting sexually
His intense research and experience have helped millions to move on from the pain of infidelity. Many have successfully restored their faith in love and moved on.
If you are interested to understand more, purchase your copy now!
You can buy this book here.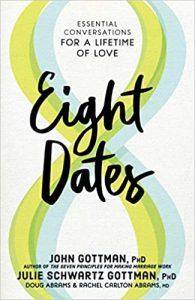 Highlights
Author: John Gottman
Last Published: 2019
Publisher: Workman Publishing
Description
This book comprises several interesting topics that are often left unturned. Many people often struggle with communication conflicts. To overcome that, this book has some highly helpful chapters. It helps you gain a new perception while you argue or communicate in a relationship.
There are some excellent examples that depict communication issues that resonate with most people. Mostly, the book is for the people who are already together. However, most of the content can be applied to every kind of relationship. Some important learnings include conflict management and communication. It has helped a lot of people to maintain a healthy relationship with their spouses.
The writer takes a well-researched approach and gives tips for successful long-term relationships. He also discusses the vitality of love language and compatibility in searching for a suitable match.
Overall, this is a great self-help book that will help you to grow your relationship in a positive direction.
You can buy this book here.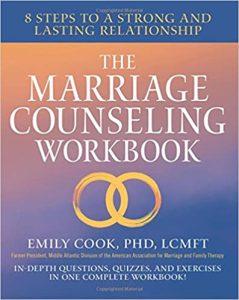 Highlights
Author: Emily Cook
Last Published: 2018
Publisher: Althea Pr
Description
The marriage counseling workbook will help you to reconstruct your thinking structure with respect to your spouse. The writer of this book has done meticulous research and come up with points that help the couples. There are various ways through which a couple can revive a lovable and long-lasting connection.
The writer depicts the tools that help in a healthier marriage. Take a look at the major points:
Eight step structure with exercises that helps me to understand the problems and work towards a healthy solution
Questions and evaluations of the real world that escalate the understanding towards one another
The most frequent marital challenges such as anger, communication, money, intimacy, and much more. The book mentions various solutions regarding the same
The book mentions the complexities of marriage while highlighting the various aspects that require maximum attention. The writer has picked a gentle tone to narrate the challenges and encourage readers to nurture their relationship.
It is undoubtedly a therapeutic book that you must purchase now!
You can buy this book here.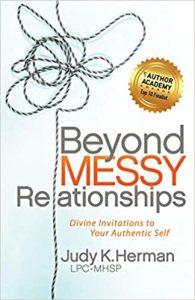 Highlights
Author: Judy K. Herman LPC-MHSP
Last Published: 2019
Publisher: Morgan James Publishing
Description
The major focus of this book is to discover your true self and opt the way of optimism and hope. The writer of this book is a mental health therapist herself. She depicts the details of marriage and its complexities in detail. Her marriage ended with a divorce after 29 years after experiencing some toxic patterns.
After this experience, she faced some bitter realities.
Beyond messy relationships is a book that contains teachings on both spiritual inspiration and psychological wisdom. It assists the readers to know the meaning of the feelings. The major takeaways of this book are mentioned below:
Understand the patterns of their past and link them with the present
Learn the formula of AIR to free themselves from the mess
Overpower shame to experience the freedom they seek
All these points are mentioned in detail in the book. There are various learnings by which the readers can pave their path with hope towards overcoming a messy relationship.
The entire book helps you to find yourself and give your best in the relationship.
You can buy this book here.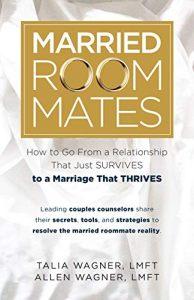 Highlights
Author: Talia Wagner, Allen Wagner
Last Published: 2019
Publisher: Newman Miller House
Description
There are various incidents where a couple loses interest or charm in each other. The feeling of being lonely or bored haunts both the partners or in some cases, only one!
If the marriage doesn't feel like marriage but a forceful arrangement of being mere roommates, then you need to read this book.
Both the writers are relationship experts and marriage counselors who provide help to couples in distress. Through their knowledge and skills, they help couples to rejuvenate their love and harbor a nurturing relationship. The mention of some simple strategies and tools helps in better communication between a couple.
Some of the most impressive tips are stated below:
Do not be aggressive while resolving a conflict
Refrain from disrespecting or passing low blows to your partner
Improve intimacy and focus on having a better sex life
Revisit the negative parts of your relationship
Enhance your communication with zero misinterpretations or assumptions
Focus on prioritizing the needs of your partner
This way you encounter a lot of tips and strategies and grow your relationship in a healthy way. Purchase your copy now to learn more!
You can buy this book here.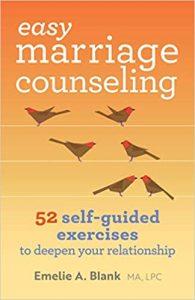 Highlights
Author: Emelie A. Blank
Last Published: 2020
Publisher: Rockridge Pr
Description
Any relationship requires a lot of work and effort to grow. When we talk about marriage, both the partners must be willing to work with each other to make their relationship progress. Sometimes, it's easy, sometimes it's tough. This book helps you with some proven strategies and tips to improve your relationship with your spouse.
There are a total of 52 engaging activities that help to empower your bonds with your partners.
The mention of various case studies, personal anecdotes, as well as research helps you to carry a meaningful conversation with your partners and avoid any argument. This is one of the best marriage counseling books that you will come across that discusses important topics. Some of them are mentioned below:
Quick counseling with specific things such as decision-making, intimacy, sexuality, and much more
It contains several non-judgmental exercises relevant to couples
There are various readings based on meticulous research
With dozens of exercises, it helps you to reconnect with your spouse and work together as a team.
To explore more, purchase your copy now!
You can buy this book here.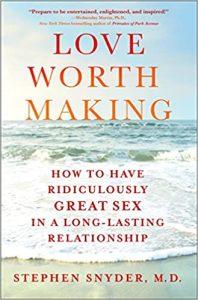 Highlights
Author: Stephen Synder M.D.
Last Published: 2018
Publisher: St. Martin's Press
Description
It is not such a traditional book yet quite an impressive one. It is a highly acclaimed paradigm-shifting self-help guide followed by millions of people across the globe. Dr. Stephen has thirty years of experience as a sex therapist. He has worked with over 1500 people and couples on this matter.
The writer talks about how sex therapy can reveal some hidden secrets for great sex. This in return helps to bring back the charm and closeness in a relationship. There are various theories, tips, and strategies mentioned in the book that helps you to elevate your sexual experience with your partners.
Many times, various couples experience a stale sexual life that overall affects their relationship adversely. To avoid this you need an understanding and deep connection in the sexual relationship as well.
Undoubtedly, it is one of the finest books available on this subject. The style of writing is plain, unpretentious, and jargon-free.
To explore more on the subject, you need to purchase your copy now!
You can buy this book here.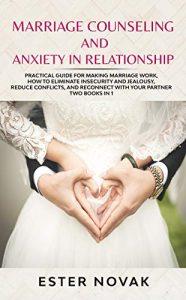 Highlights
Author: Ester Novak
Last Published: 2020
Description
Franz Schubert said, " Happy is the man who finds a true friend and far happier is he who finds that true friend in his wife".
Maintaining a healthy and happy relationship is a tough task that requires constant effort and understanding. Relationships are one of the most fulfilling experiences in life yet can be a subject of anxiety and emotional turmoil at times. There are various people who panic by even thinking about marriage or any sort of companionship.
Anxiety in a relationship is an extremely well-written book by the writer who jotted down some important points to win over anxiety. In this book, you will understand:
Ways to overcome anxiety in a relationship
Concept of a good and healthy relationship or marriage
How to refrain from negative thinking in a relationship
Ways to eliminate insecurity and fear in a relationship
Vitality of good communication between partners
As you can see, there is a detailed description of such important topics in the book. To understand more, you must buy your copy now!
You can buy this book here.
Conclusion
Every kind of relationship asks for understanding, teamwork, and effort. Millions of couples thrive on positive progress in their relationships. It is undoubtedly a give-and-take relationship. You have to face hardships as well. But if two individuals are willing to make their relationship work, nothing is impossible.
There are several methods through which you can achieve the same. Do not be reluctant to consult a therapist or a marriage counselor. It is only for your benefit. Perhaps, it is a smart choice.
In this article, we mentioned the 10 best marriage books available for you to read. All the writers have meticulously researched the topic and poured out their expertise in their books.
If you wish to explore more on the subject, then pick any of the above-mentioned books and you won't regret it.
We hope that the information provided in this article helps you in the best way possible.
Keep reading, keep learning!
People are also reading:
Frequently Asked Questions
Question: What is the essential aspect for a marriage to last? 
Answer: The essential aspects for any marriage to last are open communication and trust. These are above everything else. In addition, it needs respect, commitment, patience, and love. Both partners need a strong understanding and the ability to compromise. 
Question: Can I read marriage books even if I'm not married? 
Answer: You can read marriage books even if you have not embarked on your married life. They provide actionable advice and effective tips to strengthen your relationship. Rather than reading a book after marriage, it is better to read it before and gain insights into maintaining a healthy relationship. 
Question: What is the 3×3 rule to keep your marriage strong? 
Answer: The 3×3 rule states that every week, you and your partner should spare 3 hours of time for each other to spend alone and the other 3 hours to spend entirely by yourself. 
Question: What are the 5 pillars of marriage? 
Answer: The 5 pillars of marriage are honesty, team, contentment, spirituality, and unselfishness.
Question: What do happily married couples do? 
Answer: Happily married couples have positive conversations, show affection, consider each other as their stress buster, date frequently, are humble to each other, reduce anger, and forgive each other.