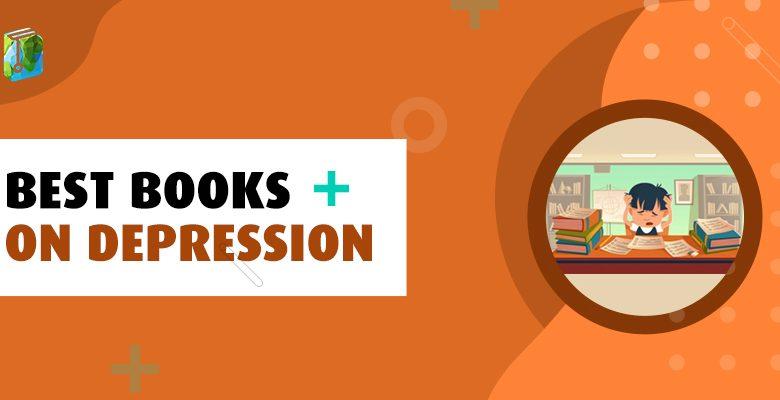 Here in this article we have explained some of the best books for depression for everyone who wish to take help.
Depression causes an adverse effect on the mind as well as the body. It's not just a random feeling where you are sad. It's much more than that. Depression simply kills the motivation and inspiration for everything. The person feels trapped. Sometimes, no matter how much effort is put in, nothing helps! The hopelessness and anxiety do not leave. It is a tough state to be in.
The irony is, depression constantly tells you something is wrong but doesn't tell you what is wrong! Every person has their own experience. Therefore, you can not judge or assess the intensity of depression from person to person. There are various scientific methods and research that give methods to tackle it. Several treatment options are available too such as medication and therapy. One should never refrain from being a part of these sessions.
In addition, various self-help books can assist you to understand depression and handle it.
After all, your efforts matter the most. It requires a certain sense of self-motivation.
There are ample resources available if you wish to take help. In this article, we have entailed a list of the 10 best books for depression along with their detailed description.
Let's begin!
10 Best Books for Depression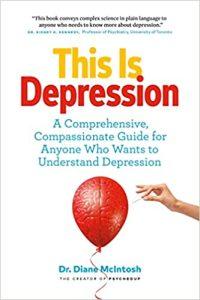 Highlights
Author: Dr. Diane McIntosh
Last Published: 2019
Publisher: Page Two
Description
Depression is a debilitating illness that puts an adverse effect on both the mind and the body. Ample people suffer from it and fight to tackle it bravely. This is one of the books for depression that can be enlightening in many ways. The writer of this book is a renowned psychiatrist, Dr. Diane McIntosh. She has presented vast information regarding depression.
The style of writing is easy to understand as well as humor-based. She has taken an evidence-based approach that helps to understand the causes and impact of depression along with its treatment. There are a lot of points that provide encouragement to an individual. After all, it's necessary too!
Some key topics expressed in the book are mentioned below:
How depression impacts all the areas of life
How several factors such as hormones, genetics, life experience, can be a cause of depression
Important information about the treatment of depression
How and when to consider brain stimulation treatments or psychotherapy
Understanding a therapeutic relationship between the counselor and an individual
Undoubtedly, depression is a highly consuming and lonely journey but there is always a solution and a path forward.
To explore more, purchase your copy now!
You can buy this book here.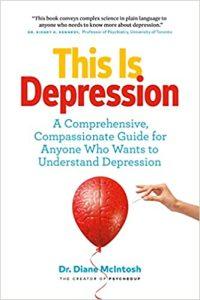 Highlights
Author: Dan Tomasulo
Last Published: 2020
Publisher: New Harbinger
Description
This is one among the books for depression that is an incredible example of how you can perform strength-based practices to cultivate hope. There are various categories of depression. If you are suffering from low mood or subclinical depression, you may have faced a lot of days where it feels negative and hopeless. But fret not, you are not alone!
There is always a solution to come out of the darkness.
In this book, you will find some powerful and impressive exercises depicting evidence-based positive psychology. There are various methods to help you overcome self-limiting beliefs and boost motivation and wellness. Very often, we are also stuck in rumination. This book helps you to shift your perspective to the present moment and think about your future with positivity.
Overall, it's a life-affirming book with compassionate and unique lessons that helps to break free from the cycle of pessimistic thoughts.
For a detailed explanation, you must purchase this book now!
You can buy this book here.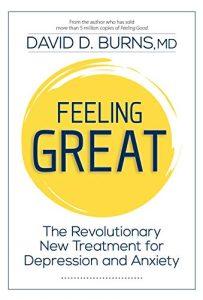 Highlights
Author: M.D Bums, David D.
Last Published: 2020
Publisher: Pepsi Inc
Description
A common perception of depression and anxiety is that these are just personality defects or mental disorders. However, this is entirely wrong. Great psychiatrists and therapists have revealed that you have nothing to be ashamed of. This is very natural and a part of life. In this remarkable book, the writer has mentioned some high-speed treatments for anxiety and depression based on analytical research.
The writer has meticulously researched for 40 years and treated several individuals with severe problems.
Basically, the therapists do not focus on completely eliminating the negative feelings instead they work on slow and gradual progress. There are several inspiring and incredible case studies that help you to understand depression better. He also mentioned 50 amazing tools to discard negative thoughts that hamper your day-to-day life.
In a nutshell, various tips and strategies assist you to transform the way you feel. It gives a certain sense of boost and inspiration to you. Naturally, feeling low disrupts the normal routine of life and needs a valuable guide. With the help of this book, you will be able to rejuvenate your life and feel better in the course of time.
If you wish to understand more about depression and learn about the tips, then you must purchase this copy now!
You can buy this book here.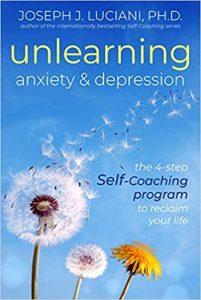 Highlights
Author: Joseph J. Luciani
Last Published: 2020
Publisher: Goodman Beck Publishing
Description
As you understand, habits are learned and broken from time to time. So is the case with anxiety and depression. These are simply habits. It can be surprising for you to understand this but both things are not that complicated. This is a spectacular book that will assist you to unlearn the habits of anxiety and depression. It also helps you with several strategies and tips that form the basis of this unlearning process.
The writer has adopted his self-coaching approach that has benefited a lot of individuals in a positive way.
He has implemented an incredible four-step mind-talk strategy that helps you to overcome depression. The mention of self-coaching that combines cognitive-behavioral psychology with the science of neuroplasticity brings you back to life. The book explains how self-coaching is a matter of action and insight. You will magically start seeing the changes in your life by controlling them, refraining from worries, and anticipation.
It helps you to start living in the present and build awareness. In addition, it is important to believe in mindfulness and savor the present moment. This book helps you to achieve the same.
To understand more, purchase your copy now!
You can buy this book here.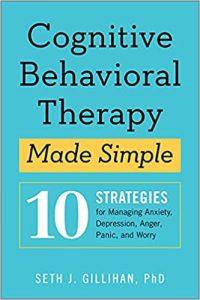 Highlights
Author: Seth J Gillihan
Last Published: 2018
Publisher: Althea Pr
Description
Cognitive behavior therapy made simple is an extremely empowering book. The writer gathers ample knowledge about CBT that helps to resolve common issues. He is a remarkable writer and this is one of his best compilations.
This book is an easy-to-read manual that helps individuals to live a happy and healthy life. There are various research-based strategies in the book with some powerful tips. It is a highly inspiring, entertaining, and informative book.
This book is a wonderful resource for people who are facing anxiety and mood issues. The writer has worked with several clinicians who have mentioned incorporating mindfulness with traditional CBT strategies. This further helps the individuals to examine their own thoughts and actions and be fully present.
Overall this book is a gem for both the patient and the doctors. If you are facing any mental health-related problems.
You can buy this book here.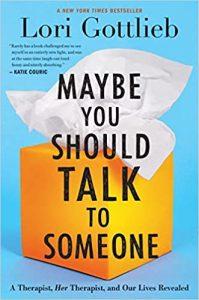 Highlights
Author: Lori Gottlieb
Last Published: 2019
Publisher: Houghton Mifflin Harcourt
Description
This book is an instant New York Times bestseller. It is now being compiled as a television series. Maybe you should talk to someone, is one of the best psychotherapist books available. This book will help you to change your perception regarding psychotherapy completely. It is undoubtedly a therapeutic journey.
It helps you to feel lighter and relaxed. The well-researched content helps you to gain clarity over situations and things in real life. There are various stories of people depicting their own experiences that resonate with you.
The writer tells how mental health is affected by various factors such as suffering, grief, loss, past experiences, betrayals, etc. Most people neglect how important mental health is. They still think of it as taboo. The fear of being judged haunts us sometimes.
Overall, this book is like an offline therapy session for you. If you hold interested to explore more about this book.
You can buy this book here.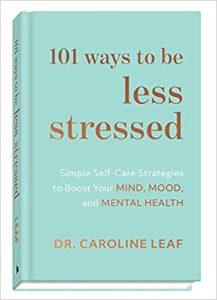 Highlights
Author: Dr. Caroline Leaf
Last Published: 2020
Publisher: Baker Books, a division of Baker Publishing Group
Description
There are times when we forget to take care of our mental health and prioritize physical health more. However, both are equally important and essential for healthy living. Pampering our mind is more than important as it is the source of all the actions and our thoughts.
Unhealthy thoughts lead to an unhealthy life, as simple as that. We need to understand this approach and bring changes in our lifestyle. At present, we must concentrate on mental self-care and minimizing daily stress. Mental strength will help you to sail through tough times and achieve success. With the help of powerful minds, we can grow and resist the challenges of life.
The author depicts 101 simple ways to diminish day-to-day stress. He also entails strategies and tips for self-care. It further helps to transform the way we think and the way we live our lives.
The simple depiction of the strategies mentioned in the book helps you to understand stress and anxiety in a much better way. Overall, it is an exceptionally crafted powerful self-help book. There are various easy-to-follow advice and in-depth teachings.
You can buy this book here.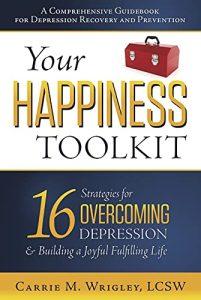 Highlights
Author: Carrie Wrigley
Last Published: 2019
Description
If you are hunting for some practical and powerful strategies while struggling with depression, then this is the perfect pick for you. It is a spectacular book rich in resources and techniques to allow you live your life in the best way possible. This book helps you to heal from depression and lead a happy life.
Depression can be a really dark place where it feels impossible to come out from the trap. However, correct guidance can help you to overcome this time and lead a healthy life. This book helps you to understand depression and rewards you with highly customizable techniques to build your toolbox of strategies. These strategies help you to heal and boost your emotional wellness.
This manual contains some impressive key points such as:
Five QuickStart transformational tools
16 powerful self-help tools
A four-point assessment model
Insight about why depression is so common nowadays
Factors that aggravate depression and what fights it
Some of the best healing strategies mentioned by the author are given below:
How to relieve anxiety
Steps to improve self-esteem and confidence
How to escalate your physical and emotional wellness
Steps to heal from trauma or abuse
As you can see, there are plenty of important topics that might help you and take you out of the dark phase.
You can buy this book here.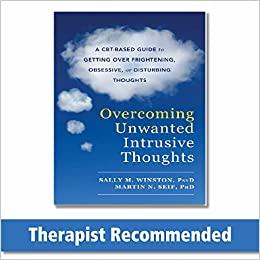 Highlights
Author: Sally M. Winston, Martin N. Seif
Last Published: 2017
Publisher: New Harbinger
Description
This is one among the most powerful books on depression that is well composed by two anxiety experts. Both of them have carried out meticulous research about cognitive behavioral therapy skills to uproot your negative thoughts and overcome anxiety. Most individuals fight with the negative thoughts that may disturb their day-to-day life. It is a tough task but some guidance can always prove beneficial.
This guide talks about different kinds of negative thoughts and myths related to such thoughts.
There is a detailed mention of several techniques to shed off this negative thoughts pattern. This way you can lead the life you want. You still may have intrusive thoughts but you will gain strength and determination without feeling any shame or guilt.
The book beautifully depicts how to overcome your thoughts and rejuvenate your life. If you wish to understand more.
You can buy this book here.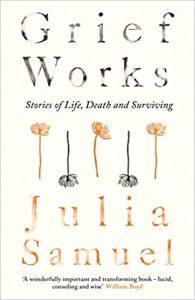 Highlights
Author: Julia Samuel
Last Published: 2017
Publisher: Penguin UK
Description
This is one of the books on depression listed in the Sunday Times top 10 best seller. Unfortunately, grief is still misunderstood by most people. The book has various stories that talk about plenty of experiences. These stories help us to face our fears and reveal our true selves. The writer of this book is a brief psychotherapist and has devoted 25 years of her work life to this subject.
With the help of some touching stories, she explains how we shall not shy away from talking to our close ones about how we feel.
This is an extraordinary book that depicts how to learn from major losses in life. It is certainly one of the best books of all time. This book will move you deeply and pass on the courage to deal with the hardships of life.
If you wish to witness this remarkable book full of understanding and insights.
You can buy this book here.
Conclusion
Depression and anxiety can be haunting experiences. It pushes you into a shell and one feels trapped. Undoubtedly, no one wants to face such a phase in their life. But this is nothing that one wishes for instead it just happens due to several life incidents. There can be various reasons for depression and anxiety. One must not have refrained from consulting a professional or taking therapy for the same.
Remember, there is always light at the end of a tunnel.
You will also find your light! All you need is the determination and willpower to get up and bounce back in life. It is not an instant process. It takes a good amount of time and changes will occur gradually. You need to be patient and consistent. One of the best mediums to gain knowledge about the same is through books.
In this article, we presented to you the 10 best books on depression. We hope that the information provided above helps you in the best way possible.
Never lose hope, you got this!
People are also reading: