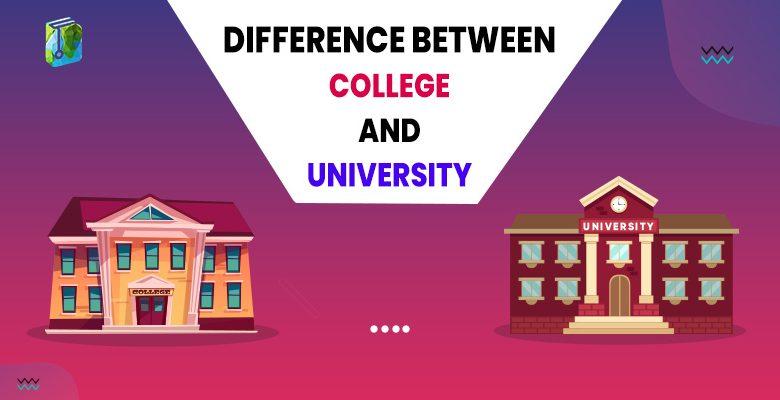 After completing school, many students explore various postsecondary education options and come across the two most commonly used words- "college" and "university." To avoid confusion among all the students and parents, here is a comprehensive article that will help you understand the difference between college and university.
Since the meaning of college and university is different for every Regio Although College and university are educational institutes, they differ in size, courses offered, etc. Here is the difference between college and university and language.
It is very important to understand the difference between these terms. Not understanding the meaning of these two words may result in students overlooking institutions with the "college" label and considering them as universities.
Although both these institutions offer undergraduate and postgraduate education, students need to be aware of the major difference between the two.
An Overview: Difference Between College And University
Many students and parents in the United States misinterpreted the term "college" and university."
The major difference between colleges and universities is the programs and degrees they offer.
Universities are large in size and offer extensive UG and PG Programs.
Some of the popular types of colleges are community colleges, technical colleges, and liberal arts colleges.
What is a University?
Universities are large institutions that offer both undergraduate and postgraduate degrees. They are known for their size, and diverse environment. Moreover, a university offers a variety of programs in different fields.
Universities are both private and public. Public universities offer admissions to tens of thousands of students, while private universities are small and offer selective admissions.
Examples of the best private and public universities are Texas A & M University and Princeton University (an Ivy League school). Texas A & M University is a large public university that admits over 70,000 students annually.
On the other hand, Princeton University offers admission to only 8,000 students.
Universities mainly focus on research and provide premium facilities and labs to all students. The various degrees offered are Associate, Bachelors, Masters, and Doctorate.
Universities have large and lively campuses with various departments from various streams like Management, Science, Arts, Commerce, and more.
The universities are divided into the following categories based on their formation:
Central University
State University
Private University
Deemed University
Pros Of Going To A University
Here are some of the advantages of getting into a university:
Universities provide various course options to all the candidates in various arrays like Medicine, teaching, engineering, accounting, law, and more. Studying at a university allows the students to choose a career of their choice.
Students who graduate from a university gain professional and recognized qualifications.
University graduates are offered higher pay and have financial stability.
Universities expose their students to new research opportunities.
Students studying at a university can meet students from various cultures and backgrounds.
Students meet lecturers from various departments leading experts in the given subject.
Cons Of Going To A University
Here are some of the disadvantages of getting into a university:
University education can be a little expensive. The other expenses you need to consider are accommodation costs and living expenses.
Since the class size is large, the lecturers focus mainly on research more than teaching.
Although university life can be lively and diverse, some students might feel lonely and overwhelmed.
What is a College?
The word college was derived from the Roman word "Collegium," meaning people residing jointly under a similar set of rules for common purposes.
Colleges are a part of universities. They are intimate campuses, have a small student population, and offer only a few courses. Since most colleges are private and receive less or no funding, these institutions focus very less on research and more on teaching. Moreover, students get personal attention from the teaching faculties.
Colleges are of three types: liberal arts, vocational and technical, and community colleges.
Did you know that colleges are "secondary schools" in many countries?
What is a Liberal Arts College?
A liberal arts college is a higher learning educational institute that focuses on challenging students' beliefs, helping them become critical thinkers and global citizens.
Here are some of the features of a liberal arts college:
Liberal arts colleges are small and have only 15-20 students in each class.
The faculty is more accessible at liberal arts colleges and has fewer or no teaching assistants.
Liberal arts colleges emphasize more on undergraduate education than postgraduate degrees.
What is a Community College?
Community colleges or junior colleges play an important role in training students to become working professionals. More than thousands of community colleges in the USA provide various degrees and certifications. These colleges provide students with first entry-level jobs.
It is an educational institute that provides education to the surrounding community. The community colleges provide traditional academic classes like maths that will transfer to a 4-year college or university and offer community programs like resume building classes for all the job seekers or swimming classes to the children.
What is a Technical or Vocational College?
Vocational and technical colleges provide focused and professional specialization on a specific subject. These colleges are only for small and selected students interested in a specific field.
They are two-year colleges that provide special training to students in specific fields. These institutions have an intensive program, small campuses, and fewer fees.
Pros Of Going To A College
Here are the advantages of going to a college:
Colleges focus more on teaching and less on research.
The fees of community college are less when compared to the four-year university fees, making college an affordable option for students.
Since the class size is small, the lecturers provide more attention to the students.
Cons Of Going To A College
Here are the disadvantages of going to a college:
The two-year college covers only a limited curriculum and does not provide a variety of courses and programs like universities.
Colleges are small, and there is less or no diversity, resulting in less student engagement and networking inside and outside class.
Liberal arts colleges offer less financial support to students, resulting in expensive college fees.
College vs University: Head to Head Comparison
| | | |
| --- | --- | --- |
| Basis | College | University |
| Definition | College is an educational institution that provides diploma and undergraduate courses to all the students. | Universities are large institutions offering Undergraduate and graduate degrees. They focus mainly on research. |
| Affiliation | Colleges are affiliated with a university or independent educational Body. | Universities do not need any affiliation from other universities. |
| Research Programs | Colleges do not provide research programs. | Universities provide various research programs in different areas. |
| Scope | Narrow | Wide |
| Number of courses offered | Limited | Extensive |
| No. of students enrolled | Less, due to the size and number of seats. | Comparatively higher |
| Campus | Small | Large and lively |
Conclusion
Apart from the differences, there are a few similarities between college and university. They are owned, operated, and controlled by government or private individuals. Both these institutions provide courses for higher education.
Moreover, both these institutions also ask for a good percentage of students. Colleges and universities provide high-quality education to all the students and might differ only in the size, courses, and method of teaching.
Here in this post, we explained the major difference between college and university.
We hope the information provided above helps you to gain clarity about the topic.
People are also reading