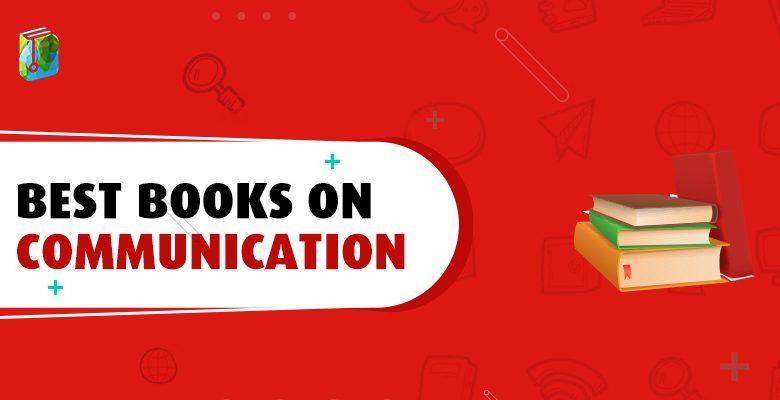 If you wish to improve your communication skills, then you have landed in the right place. Books are the richest source of information. In this article, we will present the 10 communication books to hone your skills.
Let's begin!
Communication is an extremely vital aspect of everyone's life. While some people are quite comfortable with it, on the other hand, some find it extremely difficult to communicate with others. There are five most important communication skills that you can't ignore:
Listening
Non-verbal communication
Straight talking
Emotion control
Stress management
It is necessary to adhere to these skills in order to polish your communication. When it comes to a career, it is important to develop strong communication skills. Be it business or private life communication is extremely essential. Good communication helps us to understand the demands and needs of people and different situations. It also assists to share creative ideas and solve problems.
Every leader possesses enchanting communication skills. This is how they communicate with the people and leave an impact.
In the present times, everyone sends, receives, and processes large amounts of messages on a daily basis. But it is not just about sharing information rather understanding the emotions behind the messages. A productive and successful communication helps to understand people better and strengthen relationships.
When we talk about the business world, good internal communications help to escalate the productivity of employees. That further increases the productivity of the entire organization.
By inheriting good communication skills, all these factors improve:
Teamwork
Engagement
Decision- making
Interdepartmental communication
10 Best Communication Books To Improve Your Skills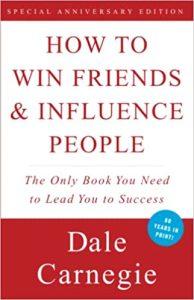 Highlights
Author: Dale Carnegie
Last Published: 1998
Publisher: Pocket Books
Description
This book is time-tested advice performed on millions of people to boost their personal as well as professional lives. It is one of the most timeless and groundbreaking bestsellers of all time. There are various lessons in the book that help to hone your communication skills. Some of the most important chapters in the book are mentioned below:
12 methods to attract people to your way of thinking
Six ways to convince people to like you
Nine methods to change the thinking of people without any resentment
The book is full of interesting approaches that help to change your approach to better communication. The content helps you to reach your maximum potential.
Millions of people have seen changes in their day-to-day life after reading this book. Various strategies and tips help you to apply them in real life. Many people who were socially awkward or timid earlier, seem to be more confident and collected after applying the lessons in their practical lives.
Several sections of the book also help you to understand the basic tenets of leadership in a work ecosystem. It further helps you to attain brilliance and intellect.
If you wish to learn about the basics of communication, then you must purchase this copy now!
You can buy this book here.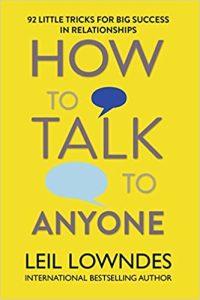 Highlights
Author: Leil Lowndes
Last Published: 2014
Publisher: Harper Element
Description
This book is extremely informative and witty. There are a total of 92 tricks that help to create successful personal and professional relationships. The author of this book is an internationally renowned and popular life coach who underlines the secret behind good communication. These are some of the most practical and usable techniques to include in your daily routine.
The key learnings are stated below:
Include phrases and keywords to guide any conversation
Use body language to make connections
Try being an insider in a crowd
If you are an introvert and wish to carry out communication with others with no hesitation, then this is the book for you. The book mentions the basic factors of communication such as eye contact, body language, etc. The author of the research and experience helps you to change for the good. The book helps you to change your behavior and personality tremendously.
It has already changed the lives of millions of people. This can be your self-help book with some commendable content. There are a lot of pragmatic approaches to nurturing your personal and business relationships. All the techniques are relatable. Each of the 92 techniques has a quirky name that is easily recallable.
If you wish to read this masterpiece, then you must purchase this copy now!
You can buy this book here.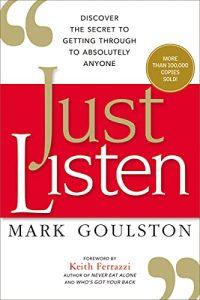 Highlights
Author: Mark Goulston
Last Published: 2015
Publisher: AMACOM
Description
This book is one of the greatest self-help books available. It gives you plenty of techniques and tips to tackle business or personal relationships. Mark is an experienced psychiatrist coach and business consultant. He shares his experience and some of the most powerful techniques in the book that helps the readers immensely.
This book helps you to learn some tricks to leave an impactful first impression.
The author backs his content with the latest scientific research to form good communication skills. The content is highly engaging and thoroughly enjoyable. There are nine core rules to reach anyone along with some easy-to-use tools. Altogether, they help to create an everlasting impression on others with your communication power.
It is a wonderful guide that helps you to break down your barriers and be out in the world. When we talk about professional lives, all the applicable strategies and techniques help you to work together with the team. It improves productivity and communication with other people.
The author teaches that with the help of the right knowledge, everyone can be a better communicator.
If you wish to unravel more on this topic, you must purchase your copy now!
You can buy this book here.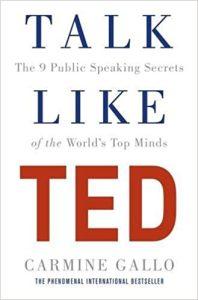 Highlights
Author: Carmine Gallo
Last Published: 2016
Publisher: Pan
Description
TED talks have become a symbol of successful people who present on the world stage and share their personal experiences. It has undoubtedly become the gold standard for public speaking all across the globe. The author of this book is a communications coach who has curated his own experiences in the book. There are ample learnings and techniques that help you to learn key points regarding communication.
Carmean has interviewed the most famous TED presenters to unravel the nine secrets of successful presentations. With the help of a step-by-step approach, anyone can give an engaging and persuasive presentation in front of an audience.
All the ideas, techniques, and tips are highly enchanting and useful for the readers. The book not only focuses on the public speakers but also helps common individuals, teachers or presenters who want to hold an engaging communication. It is highly helpful for people on various levels. The mention of various pictures, videos, and humor makes it an engaging text.
After reading the interviews of various leaders, you will understand what to do and what not to do while presenting something. The book focuses on the art of communication and helps you to learn it thoroughly.
To explore more, you must purchase your copy now!
You can buy this book here.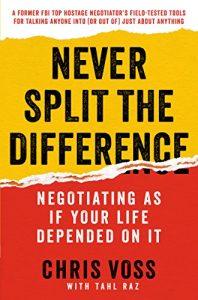 Highlights
Author: Chris Voss
Last Published: 2016
Publisher: Harper Business
Description
The author of this book is a former international hostage negotiator for the FBI. It is a remarkable book that teaches you how to negotiate in simple steps. Voss is highly qualified and experienced to write such a book. The fundamental message by the author is that human beings are irrational and emotional.
He has mentioned some important approaches to take while negotiating. The key points are mentioned below:
It is important to listen to the other person carefully in a conversation
Importance of collaborative questions
Tips to anchor proposals to get the desired output
Understanding the resistance of the opposite person
All the concepts are described in a simple and powerful manner. It is a highly recommended book to understand the thought process of the person you are interrogating.
If you wish to explore more, purchase your copy now!
You can buy this book here.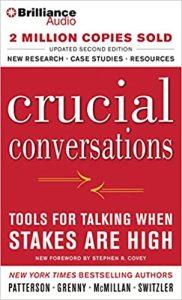 Highlights
Author: Kerry Patterson
Last Published: 2013
Publisher: Brilliance Audio
Description
This book is a New York Times and Washington Post bestseller. It is millions of people's ways to communicate and provide their relationships, both personal and professional. Undoubtedly, this book is one of the key thought leadership contributors of all time.
In short, the quality of your life reflects in your conversations and dialogues. There are various strategies and tips to uplift crucial conversations.
It also brings some highly positive changes in millions of people to improve their communication skills. The key factors inclusive in the book are:
Preparation for high stake situations
How to make it safe to initiate a conversation about anything
Methods to not be abrasive but persuasive
All these points help to build a good and meaningful conversation that leaves an impact on the other person. Every chapter is extremely informative and dense. This would highly help you in personal development and improve interpersonal skills.
There are various research tools adopted by the author. That further helps to incorporate in personal life.
To understand and explore more on the topic, you must purchase your copy now.
You can buy this book here.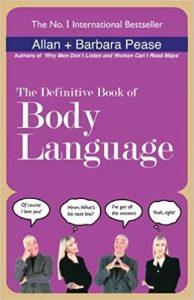 Highlights
Author: Allan Pease, Barbara
Last Published: 2004
Publisher: Manjul Publishing House Pvt. Ltd
Description
It is one of the most remarkable guides on the subject of a person's body language. Ultimately, that helps in conducting a good conversation. The content will make you feel positive and teaches you how to react in a particular situation. It also cites examples of some of the most famous personalities.
It is an extremely easy-to-understand book with engaging content. There is a detailed description of how body language makes better communication. Talking about the office point of view, there are chapters on office power dynamics with instructions on office seating as well. It helps to conduct better relationships with your colleagues and employees via honing communication skills.
It also mentions a way out in different real-life situations that are hard to escape. The book gives you a sense of confidence and positivity. You will feel better while communicating with others.
There are plenty of learnings and techniques that can be incorporated into real-life situations.
To understand more about communication and body language, you must purchase your copy now!
You can buy this book here.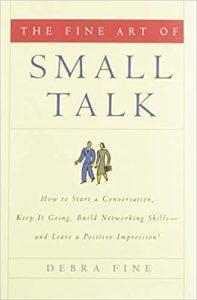 Highlights
Author: Debra Fine
Last Published: 2005
Publisher: Hyperion
Description
Debra Fine is a nationally recognized communication expert. She mentions tons of strategies and techniques to make small talk in several situations. A lot of people tend to be socially awkward and resist being a part of outings. There is always a way out for such a group of masses. The Fine Art of Small Talk helps you to overcome this awkwardness with some practical advice.
The book helps you to learn comfort in different types of social situations. You can master communicating with people anywhere, be it any personal or professional event even if you do not know anyone presents there. Plenty of practical tips helps to initiate conversation and keep them alive. It further assists you to build confidence and bring comfort in professional or personal interactions.
The beginning of the book is light-hearted and gradually it becomes an interesting and helpful read. You can incorporate various techniques and methods in real life with the help of this book.
If you feel that you need to curb your social awkwardness, then you must take steps towards it. This book gives you the boost that you need. Purchase your copy now!
You can buy this book here.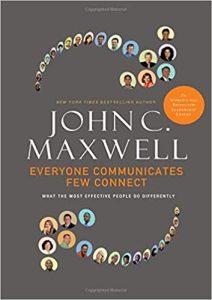 Highlights
Author: John C. Maxwell
Last Published: 2010
Publisher: Harper Collins Leadership
Description
Maxwell is a world-renowned leadership expert and bestselling author of all time. There are some highly influential topics and learnings stated by him in the book. He says that to be an effective leader, it is important to learn how to connect with others.
There are some people who are born with a strong and commanding presence. Whereas, others struggle to build powerful connections. The author mentions five practices and five principles to learn this essential skill of connecting with people.
The five important skills are:
Keeping communication simple
Understanding the interest of people
How to inspire people
Maintaining authenticity in your relationships
Searching a common ground between you and the communicator
If you wish to achieve anything in life, you must have leadership skills. The most important aspect of leadership is communication. However, if you do not have a good hold on it, then it is easy to learn the skill.
With the help of this book, you can learn a lot about communication and how it is your personal as well as professional relationships. To know more, purchase your copy now!
You can buy this book here.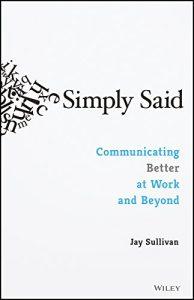 Highlights
Author: Jay Sullivan
Last Published: 2016
Publisher: Wiley
Description
Simply Said is an incredible handbook to improvise business communication. The author helps you to master the art of communication and bring the outcome in your favor. In any kind of business, it is important to communicate. Everyone knows how to talk but very few know how to excel at it. No matter how tough the scenario is, everything improves with the help of better communication skills.
The book teaches you methods to deliver spectacular presentations. It also guides you to handle difficult conversations and effectively lead the management.
Communication is an important aspect of day-to-day life. This book is a comprehensive guide to work on this area and get the best results. A few impressive pieces of advice in the book are:
Be a good listener
Be an inspiration and a positive influence on others
Work on your writing as well as oral communication to leave a great impact
Effective communication in social and business situations
In short, this book teaches you the essential and critical skills that make you better at business and in real life.
You can buy this book here.
Conclusion
Everyone wishes to have good communication skills. There are ample benefits of communicating well in both personal and professional lives. A person who is not expressive or lacks the art of good communication does not excel in any field.
On the contrary, a person who holds a powerful grip over communication is more impressive and enchanting.
In this article, we presented to you the 10 best books on communication available. You can purchase any of the above-mentioned books and reap the benefits.
We hope that the information in this article helps you in finding what you were looking for!
Keep reading, keep learning! 
People are also reading: