How to
How to become a Lawyer: Career Guide, Courses, Job, Salary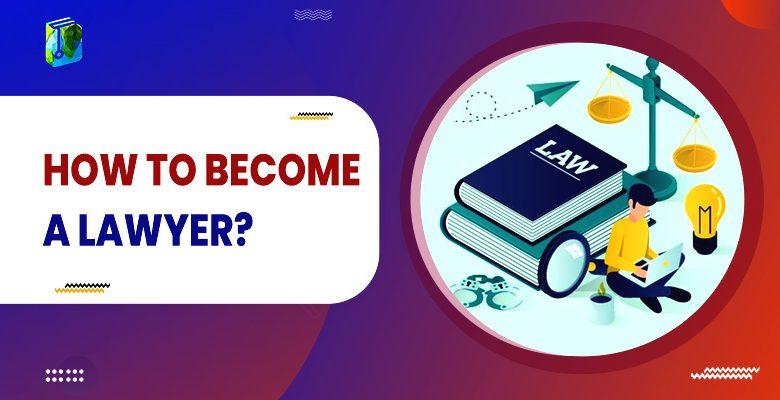 If you want to defend the public by advocating for their rights, if you believe that truth always wins, and if you're going to work for the nation's welfare, a legal career may be the solution.
This career necessitates good communication abilities, strong analytical and logical skills, attention to detail, and courage. So, if you've already decided to pursue law, you may start working on improving your skills.
How to Become a Lawyer?
There are several options accessible for a law graduate, ranging from working in courts to dealing with business enterprises, government organizations, and agencies, becoming a magistrate, prosecuting attorney, etc.
Duties and responsibilities of a lawyer
The duties and responsibilities of a lawyer are as follows:
A lawyer defends his client and assists them on legal issues. From personal cases to entire corporations, from court hearings to petty conflicts behind locked doors, it is the lawyer's responsibility to operate in the client's best interests.
A lawyer must always have his client's interests in mind, which may involve refunds, discussions, and anything lawful that will not jeopardize your client's stakes.
A lawyer isn't only stuck in a courtroom; they may work on civil or criminal disputes, so a range of occupations might arise and fulfill your professional objectives, whether it's just one or several. Someday, you're in the courtroom defending a client. The next thing you know, you may be settling a divorce, drafting a will, or simply counseling on minor legal matters.
As a lawyer, you might be managing and fighting against a false rape allegation one moment and be charged with perjury if you take one incorrect step.
How to Become Lawyer?
We all know how difficult it is to become an influential lawyer. Consequently, one should think carefully before pursuing a profession as a lawyer. To be a competent lawyer, you must be a dedicated and diligent worker.
Legislation, papers, justice served, and more are all part of the legal industry. Lawyers are among the forerunners of this system, and they have numerous interests and objectives.
A lawyer is an essential component of the system, and their dedication and perseverance have improved countless lives and served justice.
Making a Decision
To become a lawyer, you must pick between two choices: a Law course after high school or a Law course after graduation.
The following are the specifics of the alternatives available to students:
Pursuing law after 12th: If a student is serious about becoming an attorney, he or she can prepare for any bachelor's law degree following the 12th grade.
Any Indian student can enroll for a bachelor's law degree, known as LLB (Bachelor of Law). The Bar Council of India has acknowledged these degrees. There is an option to prepare for the examinations to attain admission into the top legal schools.
Pursuing law after graduation: If a student wants to pursue a legal profession in a particular subject, he or she must first obtain a degree.
Many law schools allow several bachelor's degrees; however, individuals interested in becoming business attorneys may need an undergrad program in a business discipline.
In addition, most law schools in India favored CLAT/LSAT-India entry scores.
In the USA, however, a bachelor's degree is the minimum academic requirement for law admission. At this stage, the American Bar Association( ABA) does not require a specific field of study. In fact, the ABA observes that they receive law applications from almost every field of study- Political Science, English, Communications, History, and even Science background.
Qualification
After deciding on one of the options above, learn about the entrance tests for becoming a lawyer and prepare for them.
To get into top-ranked law schools, candidates must have a high GPA and pass the entrance tests. If one wishes to practice law in India, it is necessary to meet the Bar Council of India's qualifying marks. Furthermore, the Law School Admission Test is taken into account by select top law schools (LSAT-India).
Entrance Tests
Following are the top law exams conducted in India.
CLAT exam
LSAT India test
LSAT USA test
CLAT Exam – The test is only for Indian citizens and NRIs. The examination's topics include.
The CLAT test schedule includes General Knowledge, English Comprehension, Current Affairs, Legal Aptitude, Elementary Mathematics, and Logical Reasoning.
To qualify for a legal course, you must have a minimum of 45 percent on your 12th test.
A bachelor's degree in an appropriate discipline with at least 50 percent aggregate from an accredited university is required for admission to a postgraduate program.
LSAT India Test– The Law School Admission Council in India, administers the LSAT examinations. LSAT in India varies from other LSATs across the world as you can sit for the exams 3-5 times a year while in India it happens only once a year.
After deciding on an entrance test, you must register for the exam in advance and study for it. CLAT is India's highest standard law school admission exam. As a result, it offers significant value to an application. CLAT assesses students' logical thinking, analytical and aptitude abilities, and reading proficiency.
In addition, the CLAT score sheet has a one-year validity period. If you are dissatisfied with your exam results, you may retake them.
After passing the exam, you can look for universities based on your results and apply to them.
Let us now look at some of the best law schools in India.
LSAT USA Test- The Law School Admissions Test (LSAT) in the USA is a streamlined 1/2 day exam. The LSAT assesses your comprehension skills and verbal reasoning abilities. This exam is needed for admission to all law colleges and schools accredited by the ABA. It can be given three times a year, in June, October, and December.
After you've received your LSAT results, you can apply to the Law School Admissions Council(LSAC). This institution assembles and disburses your exam results, applications, and letters of recommendation to law schools as your representative. You will not be able to apply to law schools in the USA unless you go through this organization.
Top Law Colleges
Here is a list of the top 5 law colleges in India.
| | | | |
| --- | --- | --- | --- |
| Sr. No. | College | Est. Year | Location |
| 1. | NLU | 1986 | Bengaluru |
| 2. | National Law University | 2008 | Delhi |
| 3. | NALSAR University of Law | 1998 | Hyderabad |
| 4. | Rajiv Gandhi School of Intellectual Property Law, IIT-Kharagpur | 2006 | Kharagpur |
| 5. | Dr. Ram Manohar Lohia National Law University | 2005 | Lucknow |
Here is a list of the top 5 law colleges in the US.
| | | | |
| --- | --- | --- | --- |
| Sr. No. | College | Est. Year | Location |
| 1. | Harvard Law School | 1817 | Massachusetts |
| 2. | Florida State University College of Law | 1966 | Tallahassee |
| 3. | University of Minnesota Law School | 1888 | Minneapolis |
| 4. | Vermont Law School | 1972 | South Royalton, Vermont |
| 5. | Stanford University | 1885 | Stanford, California |
Life at Law School
Applicants must be cautious about several areas of law school and their academics after being accepted to law school. It requires a lot of hard work. You must demonstrate your complete dedication to becoming a lawyer.
Make sure you enroll in a full-time course and focus on your studies.
Working full-time will help you stay focused on your goal of becoming a lawyer.
Students can join a study group which is an excellent opportunity to meet people and prepare for exams. Take your exams seriously because the grades are essential for placements.
Clearing BAR Exam
Law Graduates in India and the US might choose a specific state to practice following graduation. This is significant since the test determines the topic of law you will specialize in and, as a result, will influence your future. The following are some aspects of the BAR exhibition:
The State Bar Council administers the bar test in each state. To serve in a certain state, students must pass the bar exam.
They can also register for the Bar Council of India's All India Bar Council Exam.
Enroll for the bar test, get the necessary resources, then study for the exam.
Graduates must undergo an integrity and health evaluation after qualifying for the bar test.
Job Opportunities after Becoming a Lawyer
The following list provides you with information about the job opportunities:
Mergers and Acquisition Lawyer
Immigration Lawyer
Criminal Lawyer
Digital media and Internet Lawyer
Medical and Malpractice Lawyer
Family Lawyer
Employment Lawyer
Personal Injury Lawyer
Bankruptcy Lawyer
Intellectual Property Lawyer
Salary of a Lawyer
In India, a lawyer earns between INR 3 and 7 Lakhs per year. However, the compensation varies based on expertise and experience.
We have updated this page with the most recent information on the different sorts of attorneys and their pay in India.
| | | |
| --- | --- | --- |
| Types of Lawyers | Corporate Lawyer (Per Annum) | Attorney/Lawyer (Per Annum) |
| Average Salary | INR 6.95 Lakh | INR 4.45 Lakh |
| Minimum Salary | INR 1.45 Lakh | INR 1.77 Lakh |
| Maximum Salary | INR 20 Lakh | INR 30 Lakh |
The USA offers a good payslip to their lawyers. Below is the updated page with the recent information on payments of lawyers in the USA.
| | | |
| --- | --- | --- |
| Types of Lawyers | Corporate Lawyer (Per Annum) | Attorney/Lawyer (Per Annum) |
| Average Salary | $126,930 | $120,540 |
| Minimum Salary | $84,450 | $85,200 |
| Maximum Salary | $189,520 | $185,680 |
Conclusion
That's all for this article. Hopefully, the information mentioned in this article will help you become a competent lawyer. Remember, no career path is easy, and each takes perseverance, patience, and a ton of hard work.
This article contains all the updated information associated with the profession of a lawyer. We hope the data from this article adds value to your knowledge. However, if you still have any doubts, let us know in the comment section below.
Good luck!
People are also reading: