Full Form
HSC Full Form | What is the Full Form of HSC?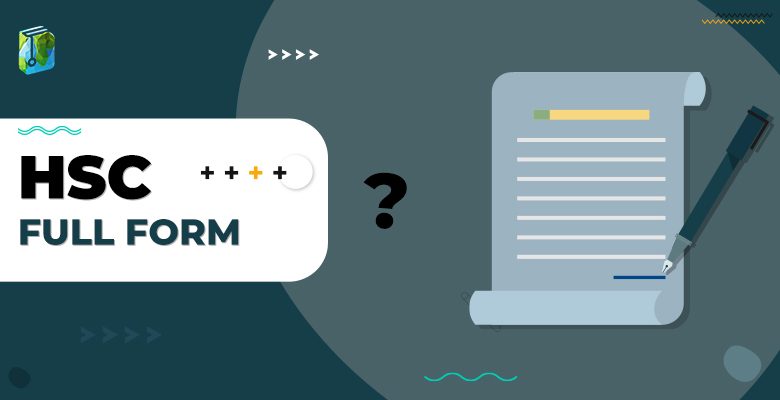 The HSC full form is Higher Secondary Certificate and is also known as Higher Secondary School Certificate (HSSC). Here we have mentioned the full form of HSC in detail and everything you need to know about HSC.
Introduction
HSC is a term related to the Indian Education System. It is also known as HSSC (Higher Secondary School Certificate), Intermediate, 10+2, etc. To get this education certificate, students write an exam that is conducted at the State level by the state boards of education and at the National level by the Central Board of Secondary Education (CBSE), Council for the Indian School Certificate Examinations (CISCE), and National Institute of Open Schooling (NIOS).
What is HSC?
It refers to a certification awarded to a candidate on successful completion of two years of senior secondary school. The examination is held at centers that are decided by the State and Central examination committees from time to time. There are also examinations at the end of class XI administered internally by individual secondary schools.
HSC Full Form
Higher Secondary education is pursued after completing elementary and secondary education. A high school or 10+2 or intermediate exam is a very crucial one, and a student needs to prepare for the same very sincerely as it would enable the student either to take up higher-level academic or to enroll for any vocational course.
Written tests conduct during the examination, practical tests, and/or internal assessment shall be according to the courses of studies as prescribed and instructed by the Examination Committee from time to time.
There are 47 state examination boards and three national boards in India. Each board has a specific course pattern.
The 3 National Boards are: 
Council for Indian School Certificate Examination (CISCE)
National Institute of Open Schooling Board (NIOS)
Higher Secondary Certificates may also be known as:
Pre-University Certificate (some state boards)
Intermediate Exam (some state boards)
All India Senior School Certificate (CBSE)
Indian School Certificate (CISCE)
Certificate of Vocational Education (CISCE)
Senior Secondary Examination (All-India) (NIOS).
Subjects in HSC Exams
The subjects in HSC exam are grouped majorly into three streams like:
The Science stream includes subjects such as Physics Chemistry Mathematics, and Biology. The Commerce stream includes Accounts, Economics, Statistics, Business Studies, and Organizational Behavior. Humanities cover subjects such as History, Geography, Philosophy, Sociology, and Home Science.
State examinations generally require students to be examined in four or five subjects.
CBSE generally requires students to take five subjects, which are externally assessed in Year XII, plus some internally assessed subjects (General Studies, Work Experience, and Physical and Health Education).
CISCE students require to take four (or five) subjects (which must include English) and pass the internal assessment.
The Grading System
The most common grading scale used by most state secondary boards is based on the percentile method:
First division – 60+%
Second division – 45-59%
Third division / Pass – 33-44%
Fail – 0-32%
Minimum Pass Mark – 30-40%
A special distinction is given for grades higher than 75%.
Conclusion – Scope after HSC
HSC full form is Higher Secondary Certificate. After receiving the HSC certificate, the students become eligible for university admissions for higher education. However, some selective colleges or universities require the students to qualify for separate entrance examinations for admissions.
Admission to professional courses (engineering, architecture, medicine, C.A, etc.) is done through the various state- or national-level competitive entrance examinations that include the Joint Entrance Examination (JEE for admissions in Indian Institutes of Technology), the National Eligibility-cum-Entrance Test (NEET), the National Entrance Screening Test (NEST), the All India Law Entrance Test (AILET), and many others.
For a bright future, students have the option to appear in multiple government competitive exams after getting their HSC. One can start preparing for the competition just after writing their HSC exams.
People are also reading: