NEET
NEET Exam Pattern 2023: Marking Scheme, Number of Questions, Total Marks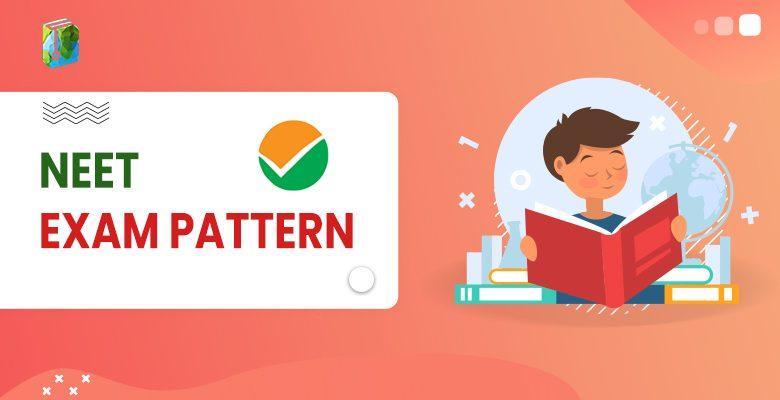 Introduction
The conducting authority of NEET, the National Testing Agency, has released the NEET 2023 Exam Pattern. The conducting authority is responsible for deciding the NEET Exam Pattern 2023. The exam pattern consists of information such as the number of questions, marking scheme, weightage, difficulty level, duration, etc.
This article will give you complete information regarding the NEET Exam Pattern 2023.
NEET Exam Pattern 2023
Get the latest news & updates about NEET 2023 via SMS and e-mail by entering your details below:
[ninja_form id=9]
To ace the prestigious NEET examination, the candidates must be aware of the paper pattern. Knowing the exam pattern beforehand helps the students in many ways. It prepares them for the kind of questions they are going to face in the examination. Moreover, it gives them an idea about the weightage and duration of each segment so that they know how much do they need to prepare for a certain segment. It also helps to understand how much time they can dedicate to a particular section.
The NEET exam pattern 2023 is given below:
Mode of the examination
Offline
Medium/ Language

English
Hindi
Marathi
Bengali
Gujarati
Tamil
Telugu
Kannada
Oriya
Assamese
Urdu

Duration of the examination
3 hours (180 minutes)
Type of questions
Multiple Choice Questions (MCQs)
Total number of Questions
180
Total Marks
720
Negative marking
Yes
Marking Scheme
+4 for correct answer| -1 for an incorrect answer
Total Sections
3
Sections|Number of Questions
Physics
45
Chemistry
45
Biology (Zoology-45 Botany-45)
90
Subject-wise Weightage
Subject
Number of Questions
Maximum Marks
Physics
45
180
Chemistry
45
180
Biology
Botany
45
180
Zoology
45
180
Total
180
720
Marking Scheme
Total Marks: The maximum marks will be 720
Marking Scheme: For each correct answer, you will be awarded four marks
Negative Marking: For each incorrect answer, one mark will be deducted
Question Paper Medium
Exam Centers
English and Hindi Medium
All Examination Centers
English, Hindi & Assamese
Examination Centers in Assam
English, Hindi & Bengali
Examination Centers in West Bengal
English, Hindi & Gujarati
Examination Centers in Gujarat, Daman, Dadra &
Nagar Haveli
English, Hindi & Marathi
Examination Centers in Maharashtra
English, Hindi & Tamil
Examination Centers in Tamil Nadu
English, Hindi & Telugu
Examination Centers in Andhra Pradesh &
Telangana
English, Hindi & Oriya
Examination Centers in Odisha
English, Hindi & Kannada
Examination Centers in Karnataka
NEET 2023 Eligibility Criteria
Aspirants preparing for NEET 2023, are advised to go through the eligibility criteria. The eligibility criteria are inclusive of minimum and maximum age requirements, educational requirements, categories, and nationality. Candidates must understand the mandatory requirements to be eligible for NEET.
Minimum age requirement: Candidates who want to appear for NEET 2023 must have completed a minimum of 17 years of age at the time of admission as of December 2023.

Nationality: Aspirants have to be Indian Nationals, Non-Resident Indians (NRIs), Overseas Citizens of India (OCI), Persons with Indian Origin (PIO), or Foreign Nationals.

Subjects studied: To apply for NEET 2023 exam, aspirants will have to study physics, chemistry, Biology/Biotechnology, and English as core subjects from a recognized board.

Educational qualifications: Candidates who have either completed or are appearing in 10+2 or equivalent are eligible to appear in NEET-UG 2023.
Minimum marks required in qualifying exam: Candidates must secure at least 50% marks in physics, chemistry, and biology combined in the 10+2 qualifying exam. For SC, ST, OBC-NCL category candidates the minimum marks required are 40%.
Points to Ponder
The candidates must choose the medium of question paper in the application form itself.
Once chosen, the language cannot be changed.
Candidates who have opted for English will be provided with a test booklet in English only.
The candidates who have opted for any other language will be provided with a Bilingual Test Booklet (with the language of their choice and English).
The English version of the NEET question paper will be treated as final in case of any discrepancies.
Conclusion
NEET is one of the most challenging and prestigious exams in the country. Lakhs of students prepare every year for this exam.
The candidates are advised to prepare all the topics subject-wise, analyze the syllabus, and concentrate on their studies. Candidates appearing in NEET 2023 are advised to go through this NEET chapter-wise weightage mandatorily and prepare accordingly for the exam. You must have knowledge of all the concepts and topics in the syllabus in detail.
Once you cover the syllabus, you can work on mastering the chapters along with working on your weak areas.
Good luck with your preparations!