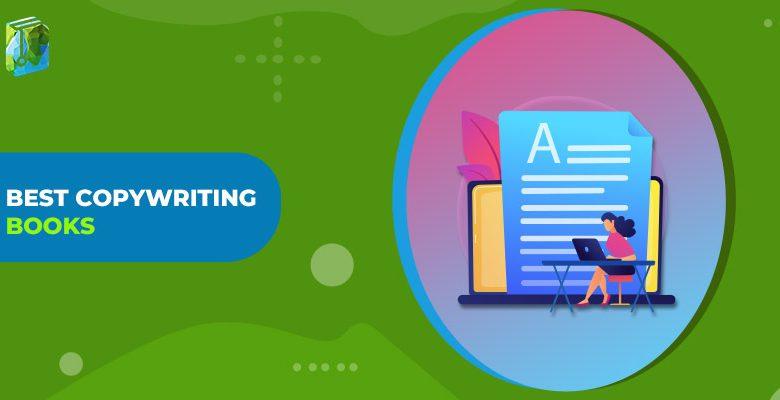 If your profession is to write promotional content, then your main aim and responsibility are to use words that will create an impact on your employers, clients, and your client's customers. To become an expert copywriter, you need to learn the fundamentals of writing, grammar and also master the art of writing creative content that creates a psychological appeal and has impressive storytelling. Copywriting books will help you in the learning process.
Margaret Atwood, a famous writer, poet, and entrepreneur, said, "A word after a word after a word is power."
If you want to become a professional writer or learn to write out of passion, here are the best creative writing books!
So let's get started!
What Does A Copywriter Do?
The main role of a copywriter is to create a clear and compelling creative copy with the main aim to sell products, educate, and engage with customers. These professionals write persuasive content for websites, blogs, product descriptions, email copies, white papers, social media posts, and other marketing communication vehicles.
The other roles and responsibilities include brainstorming concepts, creating storyboards, working closely with the marketing team, developing communication strategies, maintaining brand messages, etc.
Importance Of Books For Copywriters
Before getting into the list of best books for copywriting, here we have mentioned some points to entail the importance of reading copywriting books.
Helps to improve your writing skills and makes your content look more mesmerizing
Copywriting books help you get a good command of English in terms of grammar
Books help the writers to think from the reader's perspective, which in turn boosts thinking capability
Reading copywriting books helps to assist in creating better content copies
Best Copywriting Books For Creative Writers In 2022
Now that you know what a copywriter does and the importance of reading copywriting books. Here are some of the best copywriting books that you should read at least once in a lifetime.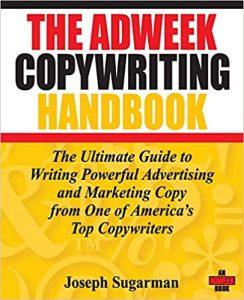 Author: Joseph Sugarman
Latest Edition: 2 January 2007 (1st edition)
Publisher: Wiley
Writing a great ad copy is the heart and soul of advertising a product or service. The Adweek copywriting handbook is an ultimate copywriting guide by the most famous copywriter Joe Sugarman.
This copywriting handbook includes some of the most proven guidelines and advice on how to write a copy that will entice, motivate, and persuade customers to buy.
It is the best pick for advertising agencies dealing with print, tv, radio, and other digital ad mediums. The author walks us through the entire process of copywriting- from researching to penning down the ideas on paper and coming up with a clever and engaging ad copy. Sugarman also includes all the tools and tricks required to write a compelling sales copy.
This book can be a great option for anyone who wants to start a successful advertising business or use ads for advertising your business. If you are one of them, then get this book right away!
You can buy this book here.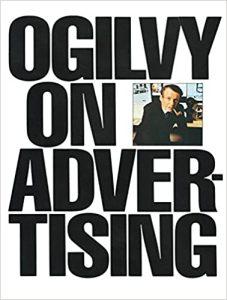 Author: David Ogilvy
Latest Edition: 12 March, 1985 (1st vintage books ed edition)
Publisher: RHUS
Ogilvy On Advertising, the vintage version, is the most popular business management book covering various aspects of advertising.
It is a comprehensive guide covering all the different advertising concepts. The book starts with an introductory chapter named Overture. The later chapters explain the major concepts like client acquisition, how to come up with engaging advertising, and more.
Then the book also mentions in detail the advertising job market and how to get into the industry. Moreover, it also includes an open letter for the clients searching for advertising agencies and how to start and manage an advertising agency.
Ogilvy talks about his experience of creating TV commercials and advertising corporations. The book also explains 18 miracles of research, how to advertise the foreign travel industry, and how email can be an effective marketing campaign.
You can buy this book here.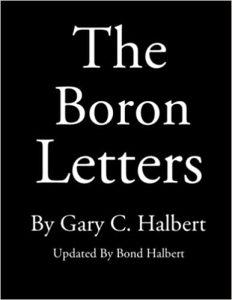 Author: Gary C. Halbert and Bond Halbert
Latest Edition: February 27, 2013
Publisher: Not available
The Boron Letter by Gary C. Halbert is a book that consists of a series of letters that explains the secret of effective marketing. He dedicated this book to his youngest child while he was doing time in prison. His son Bond Halbert was around 16 years old when Gary wrote these letters for him.
The major takeaway of this book is that the tips and tricks used to write an ad copy can also teach a 16-year-old the importance of an effective creative ad.
This book is recommended for those starting out to understand the importance of writing a good copy. Apart from talking about copywriting, the author also talks about a few precious and priceless life lessons.
You can buy this book here.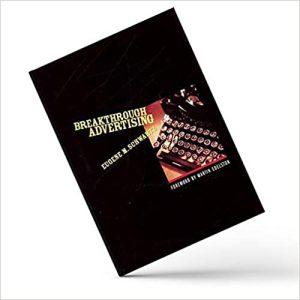 Author: Schwartz M. Eugene
Latest Edition: 1 January, 2014
Publisher: Bottom Line Books
Breakthrough Advertising by Eugene Schwarts is not just a book for copywriters and other marketing experts but for every business owner and marketing expert who wants to increase their sales. Moreover, this book addresses the problems people face while copywriting, like how to write an engaging headline and a clickable ad copy.
It is a phenomenal guide that breaks down every element of copywriting. This book is also known as the classic book on copywriting. At the end, you will be able to communicate your ideas and thoughts creatively.
You can buy this book here.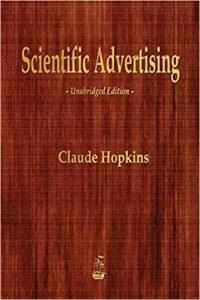 Author: Claude Hopkins
Latest Edition: 12 February, 2014 (Illustrated Version)
Publisher: Merchant Books
Scientific Advertising is one of Claude's most important works that focus on advertising in the 20th century. It is still one of the most recommended copywriting textbooks for learning basic and advanced advertising.
The author Claude C. Hopkins is also known as the father of modern advertising techniques and is famous among the students learning advertising and copywriting.
The concepts mentioned in this book include how advertising laws are created, offering services, mail order advertising, writing headlines, the art of advertising and storytelling, strategies, running test campaigns, negative advertising, and much more.
The book also focuses on the facts and experiential truths in marketing and is highly informative.
You can buy this book here.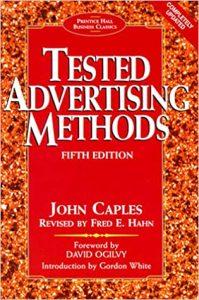 Author: John Caples
Latest Edition: 15 June, 1998 (5th edition)
Publisher: Prentice Hall
Tested Advertising Methods by John Caples is a complete guide that offers 100% proven techniques to remove the guesswork in advertising and offers you a complete guide to creating effective copies.
It contains everything from writing a headline to creating an ad copy to market offers. From selling layouts to conducting affordable testing, Caples offers a step-by-step guide to make your advertising successful.
It also teaches you why some ads work and others don't. Apart from these, the fifth edition of the book also includes steps to create an ad that will increase your brand recognition. Tested Advertising Methods are highly recommended for small business owners.
You can buy this book here.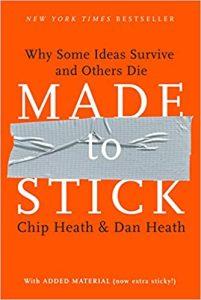 Author: Chip Heath and Dan Heath
Latest Edition: 2 January, 2007
Publisher: Random House
Made to Stick: Why Some Ideas Survive, and Others Die by Chip Heath, and Dan Heath is a New York bestseller. It is an instant classic that talks about why some ideas thrive, why some ideas die, and how to make your ideas stick.
It is a highly recommended book for anyone interested in influencing others to buy, learn, vote, diet, or start a campaign. The authors reveal the anatomy of ideas that stick and explain ways to make them stick in heads for long. Moreover, they also help us discover various sticky messages that assist to draw the attention of the readers.
Reading this book will transform the way you communicate with your customers. It also includes some motivating and interesting success stories and failure stories, including the Nobel prize-winning scientist who drank a glass of bacteria to prove his theory about stomach ulcers.
If you are looking for a book that will help ideas stick and influence others to buy your product or try your service, then you should read this book.
You can buy this book here.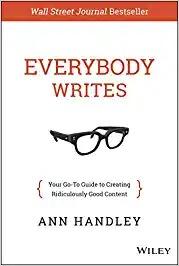 Author: Ann Handley
Latest Edition: 4 November, 2014 (1st Edition)
Publisher: Wiley
Everybody writes by Ann Handley is a go-to guide which helps to create and publish the kind of content which will make your business thrive. Once you start writing content by following this book, then it will become easier to attract and retain customers.
In the book, the writer gives expert guidance and insights explaining the process and the strategy of content creation, publishing, and a few pieces of advice which will help you get results.
Everybody writes includes the following:
Ways to write better
Easy grammar and usage rules that create an impact
How to write a true story in an impressive and inspiring way
Practices to create trustworthy content that speaks directly to the customers
List of content tools you need to write exclusive creative content
If you are looking for ways to grow your business with content, then Everybody writes by Ann Handley has got you covered!
You can buy this book here.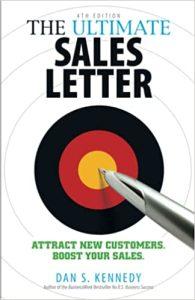 Author: Dan S. Kennedy
Latest Edition: 14 February, 2011 (4th edition)
Publisher: Adams Media
The main slogan of The Ultimate Sale Letter is "Write Well to Sell Big." In the age of e-mails and instantly communicating, creating sales copy is very important. But too many sales letters end up in the bin.
In the fourth edition of this bestselling book, the author explains the importance of sales letters and why some letters work and some don't. He also explains how to write a copy that business can use.
Moreover, he provides great headline formulas, new exercises that increase creativity, excellent ways to use graphics, etc.
Since Kennedy is the most successful and highly paid copywriter in the country, do not miss out on any point! He mentions a step-by-step method to write ad copies for everyone.
You can buy this book here.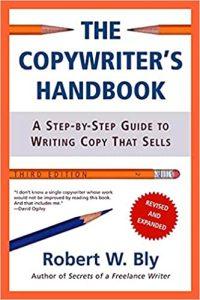 Author: Robert W. Bly
Latest Edition: 4 April, 2006 (Revised 3rd Edition)
Publisher: Holt Paperbacks
The third edition of The Copywriter's Handbook is an updated classic guide to copywriting. This book is recommended for everyone who wants to write and approve ad copies, including copywriters, creative directors, freelance writers, brand managers, and entrepreneurs.
The author also explains dozens of copywriting techniques that help them to write creative and persuasive ads, commercials, and email campaigns.
Some of the contents of the book include:
8 best headlines that work
15 ways to start a sales letter
11 ways to write a readable sales copy
How to become a successful freelance copywriter?
15 techniques to make sure your email marketing is successful
You can buy this book here.
Conclusion
Creating an effective and creative ad copy plays an important role in marketing your product or service. To grab the attention of your target audience, you need to know copywriting. To become an expert copywriter, you need to learn the fundamentals of writing, grammar and also master the art of writing creative content.
Many copywriting books will help you learn how to write ad copies. You need to make the right choice. To make your work easier and help you learn copywriting effectively, here we listed some of the best copywriting books for you!
People are also reading