Books
10 Best Inbound Marketing Books To Read In 2023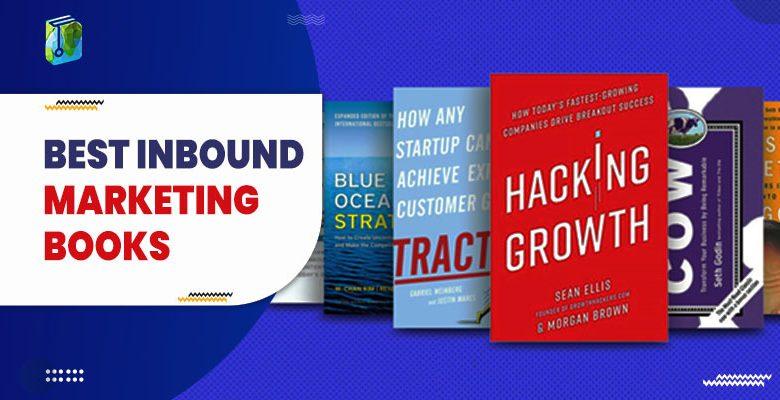 Smash Your InBound Marketing Strategies with these 10 Books On Inbound Marketing!
Running a business is not a child's play. It's not enough to just have an idea, work on it and start a business. It has to be regulated continuously. In order to keep the business growing, it is necessary to get new customers. This is where marketing and advertising come in. Both play an integral role in business growth.
What is inbound marketing?
Inbound marketing is a unique way that combines content marketing and social media marketing together. With the combination of these individual processes, it is easier to get a massive audience reach. The main focus is to create valuable content which will attract the target audience who are in need of the product and services provided by the organization. In this case, the person has to be searching for the product or service, to maximize this chance and push your products to the needed customer, it requires using content and social media marketing.
Furthermore, it is a great substitute for cold calling and emails where the reference is extremely small. With inbound, the possible leads will come to you, and have to strategize for converting those leads.
Best Inbound Marketing Books
Here are some books on Inbound marketing that will help you to understand the topic thoroughly.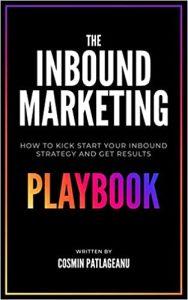 Author Name: Cosmin Patlageanu
Publishing Date: March 29, 2020
Publisher: Independently published
This is a great book for people trying to understand the basics of inbound marketing. It acts as a straight and easy-to-read introduction to this concept.
The book is small and has only 130 pages which makes it easier to read for non-frequent readers. It is well written from the perspective of the practitioner as a result it is easy to understand.
Moreover, this compilation also has several practical examples with useful tips and tricks to grow the marketing of the company. Overall, it's highly beneficial for people who want to understand everything related to inbound marketing.
You can buy this book from here.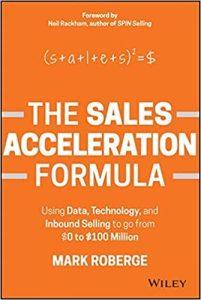 Author Name: Mark Roberge
Publishing Date: February 24, 2015
Publisher: Wiley; 1st edition
The Sales acceleration formula is a book that involves the use of three key things to boost the lead conversion and sales cycle. These three key things include data, technology, and Inbound Marketing.
The author Mark Roberge is currently a senior lecturer with massive experience as a sales professional and has compiled all his knowledge in this book.
Roberge provides efficient and modern practices related to hiring, training, creating, and organizing successful sales professionals. Readers also get an insight into how to frequently convert better quality please into potential customers with the use of new technology.
You can buy this book from here.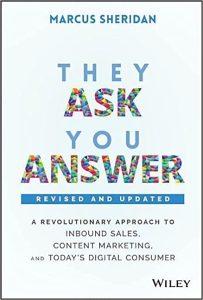 Author name: Marcus Sheridan
Publishing Date: July 19, 2019
Publisher: Wiley; 2nd edition
They Ask, You Answer written by Marcus Sheridan is a revolutionary book that has changed the way businesses operate around the globe. It challenged the organizations to differ from their conventional approach of selling to buyers and start providing answers to their queries.
The new revised version of the book also addresses technology, marketing trends, regular evolution in business, consumer behaviors, etc. The book discovers the inefficiency of traditional sales funnels in the current digital world.
The author introduces readers to the concept, benefits as well as uses of inbound marketing and modern selling strategies. It is an impressive book to read and understand about new buyers and how to serve their requirements.
You can buy this book from here.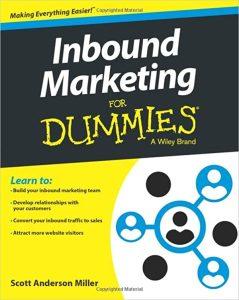 Author Name: Scott Anderson Miller
Publishing Date: September 15, 2015
Publisher: For Dummies; 1st edition
Inbound Marketing For Dummies written by Scott Anderson Miller is a beginner-level book that elaborates on the concept of inbound marketing. It helps in understanding other important things such as brand awareness, target audience engagement, and putting effort into customer loyalty.
The book focuses on avoiding the use of traditional outdated sales tactics which don't work efficiently, instead of using an inbound marketing strategy to focus on the targeted customers.
After reading this book, readers can easily get the fundamental ideas of creating, launching, promoting, and measuring the efficiency of inbound marketing strategies.
You can buy this book from here.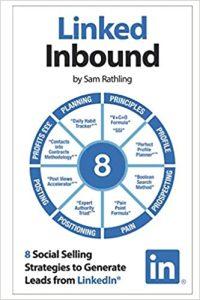 Author Name: Sam Rathling
Publishing Date: October 29, 2019
Publisher: Independently published
LinkedIn is a huge platform when it comes to doing business, getting leads, and applying overall marketing strategies.
This book is extremely helpful for people who have an idea about the potential of LinkedIn but don't know how to utilize it. In this book, the author Sam Rathling gives an idea of how to use LinkedIn for prospecting, pipeline building, lead generation, and social media sales.
Throughout the book, there are several important topics related to LinkedIn marketing such as LinkedIn Sales Navigator, LinkedIn Premium social selling best practices, LinkedIn content marketing strategy, etc.
You can buy this book from here.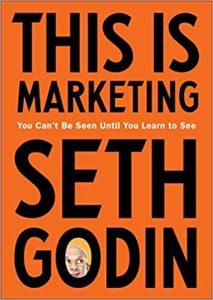 Author name: Seth Godin
Publishing Date: November 13, 2018
Publisher: Portfolio; Illustrated edition
This is marketing is a #1 Wall Street Journal Bestseller and Instant New York Times Bestseller. The book is considered a game-changer when it comes to conventional marketing, sales, and advertising.
Seth Godin is a popular figure when it comes to business authors around the world and This is Marketing is his most famous one. The book is often considered the marketing bible and a must-read. In the book, the author discusses the shift of marketing trends from traditional to modern ones.
Furthermore, it is beginner-friendly and engaging to read. This makes the learning process way better than others. The book is written in a way that it would feel like reading stories rather than a textbook.
You can buy this book from here.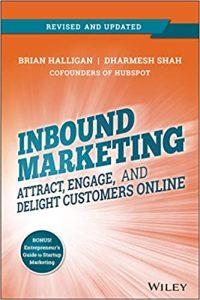 Author Name: Brian Halligan
Publishing Date: September 2, 2014
Publisher: John Wiley & Sons; 2nd edition
The book is written by Brian Halligan and Dharmesh Shah who are the co-founders of HubSpot. Inbound Marketing, Revised and Updated is one most read books and it is recommended by many readers as well as successful businessmen.
It is a well-written book about inbound marketing and its methodology and how to use it effectively for gathering more leads and overall growth of the organization. In the book, the authors discuss important topics such as utilizing SEO tactics, solid social media following, converting maximum visitors to potential customers, viral marketing, entrepreneurial marketing, etc.
The ratings of this book and its content make it an amazing read for the readers.
You can buy this book from here.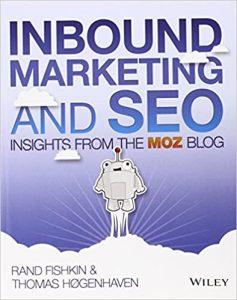 Author name: Rand Fishkin and Thomas Høgenhaven
Publishing Date: June 17, 2013
Publisher: Wiley; 1st edition
With the ever-changing world of the SEO industry and continuous changes in Google algorithms, SEO users can take the help of the book to increase their knowledge. The book cleverly includes all the important articles and news updates regarding inbound marketing.
The information given by the authors and the practical solutions can be utilized in the rear world easily. Moreover, this book gives an extensive outlook on modern marketing channels and how to use them efficiently.
You can buy this book from here.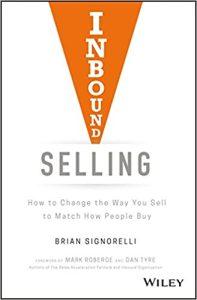 Author Name: Brian Signorelli
Publishing Date: April 24, 2018
Publisher: Wiley; 1st edition
The book is a great choice to read and understand the massive importance of inbound marketing methodology in modern marketing trends.
It is good for beginners who are just starting to get into inbound marketing and want to learn about it.
In addition, the book includes important points such as identifying potential buyers, answering their queries effectively, making sales, and maintaining a great buying experience for the buyers.
You can buy this book from here.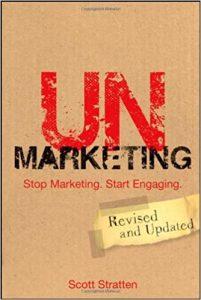 Author Name: Scott Stratten
Publishing Date: February 21, 2012
Publisher: Wiley; 1st edition
In this book, the author talks about people disliking conventional marketing strategies such as cold calls, frequent emails, or advertisements in the middle of any content.
This makes the customers more ignorant rather than making them interested in the product or service. The author, Scott Stratten is an expert himself in viral and social marketing and he has written about his experience and has emphasized the term ' Unmarketing'.
In the book, Scott talks about modern strategies such as Pull and Stay, inbound marketing, efficient content generation for potential customers, etc.
You can buy this book from here.
Conclusion
There you have it, these are our top picks on inbound marketing which allow you to have a deeper understanding of how Inbound marketing works. These books will set you out in the right direction for your inbound marketing strategies.
Once you have done enough research on these books, you will be confident enough to level up your strategies and gain immense success out of them.
So why wait? Give them a try and let us know in the comment section your thoughts on these books.
Happy Reading!
People are also reading: