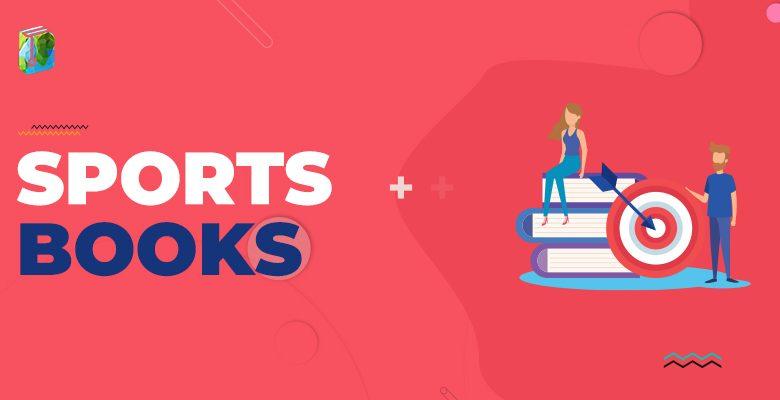 In this article, we will present the 10 best sports books available. You can get a detailed insight into the world of sports and understand its dynamics.
Physical activities are extremely important for an individual. They help us to shape better in various aspects of life. Not just physically but mentally too. Sports play a major role in focusing both your body and mind. For our all-around development, Sports is the answer!
It helps you to learn some essential teachings of life such as discipline, time management, sportsmanship, humility, passion, dedication, hard work, and much more. Some of the greatest players opted for their favorite sport and poured out everything in it. Their game helped them to gain name and fame.
Everyone knows about the Olympics. This sports tournament takes place every 4 years and welcomes athletes from across the globe. Thousands of sportspersons try their best to reach there and achieve accolades for their countries. It's a great learning platform.
Besides taking sports as a career, there are several benefits associated with it. It results in the overall development of your personality. If you have yet not participated in any sport, we recommend you to choose one and see how it changes your life for the best!
Let's get started!
Best Sports Books For Sports Enthusiasts In 2022
Here is the list of the 10 best sports books you should read right away.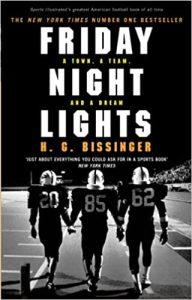 Highlights
Author: H. G. Bissinger
Last Published: 2005
Publisher: Yellow Jersey
Description
In Texas, football is like a religion. Every Friday night, many small kids play this game for the honor of their high school in front of thousands of people. In the year 1988, the writer spent some time in Odessa where he realized how the town expects those 11 boys to win on that football field.
The writer spends a good time with the team, students, coaches, and the local people. He tries to understand their emotions, life journeys, pains, disappointments, injuries, wins, and much more. The hopes from the boys are so high that they lose a lot of fun in general.
Friday Night Lights is one of the most incredible compilations on the subject of sports ever. It is a remarkable depiction of the collision of dreams and reality. The story is both astounding and sad.
This is one of the sports books that teaches you a lot. Not just about sports, but about life too. You won't regret reading it. It is a masterpiece. To explore more, purchase this copy now!
You can buy this book here.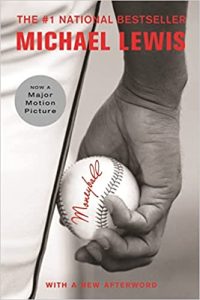 Highlights
Author: Michael Lewis
Last Published: 2004
Description
Forbes has stated that it is a delightful book that deserves a place in the Baseball Hall of Fame. This book is incredibly compiled defining the sports of baseball. The story contains several impressive characters. The author follows the general manager Billy, Oakland A's, and some amateur baseball theorists.
The Oakland Athletics have been reaching the postseason playoffs for three years consecutively. The team's pillar is their General manager Billy. He concentrates on the statistics that showcase how runs are scored.
The book tells you about the basics of baseball terms and also gives an insight into the analytics of this game. Most of the time we neglect the statistics but the author pays attention to them and it does wonders to his team. It also gives you a life lesson about how talent is not an innate quality of individuals. Rather it is built.
It is one of the best sportsbooks written especially for baseball hours. Filled with plenty of life lessons and teachings it is an entertaining read.
You can buy this book here.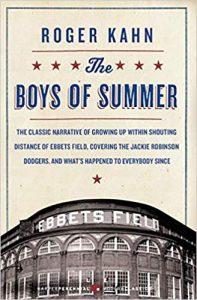 Highlights
Author: Roger Kahn
Last Published: 2006
Description
This tale takes you back to the time period of the 1930s and 40s where young men are learning to play baseball. It is a classic narrative of childhood growing up with shouting distance of Ebbets field. They all are preparing for major league ball clubs. It is a book about America, prejudice and courage, humor, warmth, candor, love, and wit.
It tells you about the great Brooklyn Dodgers baseball team and their achievements. All the stories are highly inspiring, moving, funny, as well as sad. It tells you a lot about the nobility of the sportsmen and their professionalism for the game.
Even if you are not a big baseball fan, you will find this book very interesting and learn a lot. To unravel more about this interesting compilation.
You can buy this book here.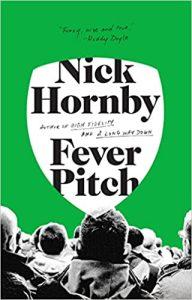 Highlights
Author: Nick Hornby
Last Published: 1998
Publisher: Riverhead Books
Description
This is one of those sports books written by the bestselling authors of all time. Football is one of the most popular games all across the world. In America, it is known as soccer but in Great Britain, it is played differently. In clear words, it is known as the real football there, with no safety gears, kits, or pads.
The writer of this book is a big football fan. Fever pitch is his tribute to the love and obsession for football. He was always fascinated by this game. There are a lot of special entry cases of British football in the book that will be astonishing for some readers. The author has also made the content humorous as well as honest.
The author is a maestro in storytelling. Overall this book highlights the sports ecosystem as well as contains several teachings about life.
It is packed with abundant emotions. You will cry, laugh, smile, and wonder! To unravel more about this remarkable football writer.
You can buy this book here.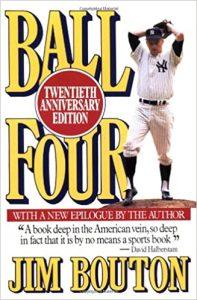 Highlights
Author: Jim Bouton
Last Published: 1990
Publisher: John Wiley & Sons
Description
This is an all-time baseball classic and was first published in 1970. It's an epilogue written by Jim Bouton. This book was a stunning release and shook the sports world back in the time. Many people repelled this compilation including the Commissioner, executives, and a lot of people. Many sportswriters even termed the author a traitor.
Things got pretty serious and the baseball Commissioner forced him to proclaim his book as untrue. However, fans hugely supported the writer and his book. Some reputed critics termed this book as an important social document.
There are a lot of revelations in this book including the lives of players off the field or in the locker room. The book neatly defines the human side of these players and their insecurities. A beautiful depiction of what lies beneath the jersey helps us to understand the mentality of players. It is a big challenge and players go through a lot of pressure. Every emotion is explained thoroughly.
The style of writing is intriguing and easy to understand. Overall, it is an excellent and funny book that educates people about baseball and some important life lessons.
You can buy this book here.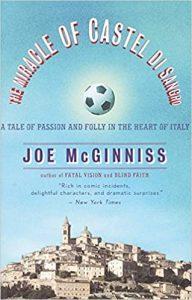 Highlights
Author: Joe McGinniss
Last Published: 2000
Publisher: Crown
Description
Ju is a master storyteller and this book is based on his real-life experiences. He travels to Italy to witness the game of a minor league soccer team. Somehow, this becomes an unforgettable and brilliant story of an Italian village.
As soon as Joe steps out from his home to this village, he has no intention to spend a whole season with the village's soccer team. Interestingly, the soccer team just grabbed the second-highest-ranking professional league in the area. Very soon the writer forms of precious bond with the team, the people, as well as their country. The story is funny, inspiring, desolating, as well as sad.
Explaining the beauty of the soccer team, he also discusses the tranquil mountainous region where this small village is located. The serene views are explained in the book like never before. You wish to visit the place at least once in life by the wonderful description.
You can buy this book here.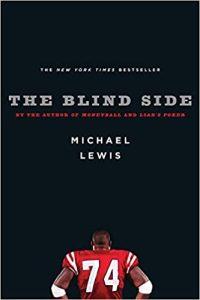 Highlights
Author: Michael M Lewis
Last Published: 2006
Publisher: W. W. Norton & Company
Description
This is an extraordinary and highly moving story about a young man who is soon to be listed as one of the most highly paid athletes in the National Football League. He has a rough childhood where his mother is a drug addict and he has no idea about his real name, birthday, or his father. He does not get his initial education and knows nothing about football.
After some time, a rich republican family adopts him. From there, he gets to know about football and goes to school.
Slowly and gradually this young boy turns out to be a phenomenal combination of agility, speed, size, and good values. He has definite athletic talent. The dialogues of the book are sharp with well-chosen anecdotes.
Overall, the story is a tale of the determination and hard work of a boy who rises to be a football superstar. This is one of those sports books that offer a marvel experience.
You can buy this book here.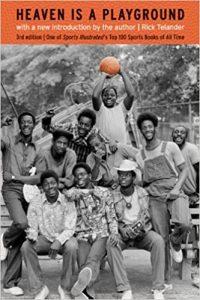 Highlights
Author: Rick Telander
Last Published: 2009
Publisher: Bison Books
Description
Heaven is a playground is a unique take on American urban basketball. Ricky is a former high school basketball player and a young photojournalist. He has been through some hard life experiences. In 1974 he used to sleep on floors of a regular apartment along with traveling, observing, and coaching a local group of teenagers.
The story was written before the invention of cameras, cell phones, and cable TV. It is a highly inspiring book about America and its love for sports. The book also showcases some sociological hurdles with African-American males delicately.
It is a beautiful amalgamation of different emotions such as humor, sadness, and fun. Overall, it is a well-written book that involves a passion for sports and entertains you with an inspiring story.
To experience this rollercoaster journey.
You can buy this book here.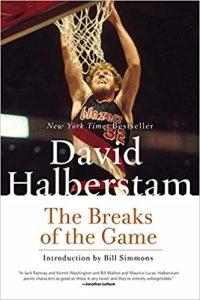 Highlights
Author: David Halberstam
Last Published: 2009
Publisher: Hachette Books
Description
This book is one of the New York Times bestselling sports books. The story takes place in the year 1979-80. He pours into the life of Bill Walton-led Portland Trailblazers. It's a team that has been a part of the NBA for three years before becoming a champion.
David is one of the most respected journalists of the country and a reputed authoritarian of America. He is also a Pulitzer prize winner for his remarkable reporting of the incidents in the Vietnam war. However, this book is an exceptional compilation due to his knowledge about the basketball world. It is one of the most classic sportsbooks available today.
This story talks about how both greed and national obsession are exposed in front of the people. It also talks about the dark side of the modern sports world including drugs, conflicts on the basis of race and class, unreal salaries, and much more.
The writer mentions all these aspects in detail and presents them in an engaging way. All and all, it is a masterpiece and you must read it.
You can buy this book here.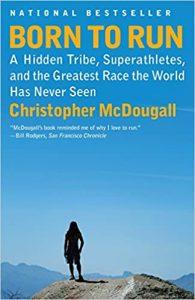 Highlights
Author: Christopher Mcdougall
Last Published: 2011
Description
This book is a national bestseller with a highly entertaining as well as astonishing story. It changes the way we run and begins with a simple question, why does my foot hurt? It is an epic adventure written remarkably by Christopher.
In this highly engaging narrative, Christopher McDougall reveals the secrets of athletes. He talks about sun-baked valleys, frozen peaks, and even science labs at Harvard. Along with that he also describes the ever-increasing numbers of ultra-runners who are trying their best and pushing their bodies to the limit. Moreover, you also get to know about the climactic race in the Copper Canyons that clearly challenges America's top ultra-runners against the tribe. This is an incredible story that engages your mind but motivates your body and inspires you to run.
Overall, the style of writing is easy to understand and intriguing. This is a highly motivating book and provokes you to take running seriously as it has ample benefits.
If you wish to explore more about this masterpiece.
You can buy this book here.
Conclusion
Sports shall be an integral part of everyone's life. However, some people do not pay much attention to it. It is sad. Sports hone the overall personality of an individual. It provides you with an all-around development. There are ample benefits. You get to learn so much when you play a sport.
If you are not active in any game, then you must opt for one. It will surely bring about some enormous positive changes.
To explore more about sports and read some highly motivating stories, you can refer to books. In this article, we curated a list of the 10 best sports books available. Pick any of the above-mentioned books and gain some insight.
We hope that this information helps you in the best way possible.
Keep reading, keep learning!
People are also reading: