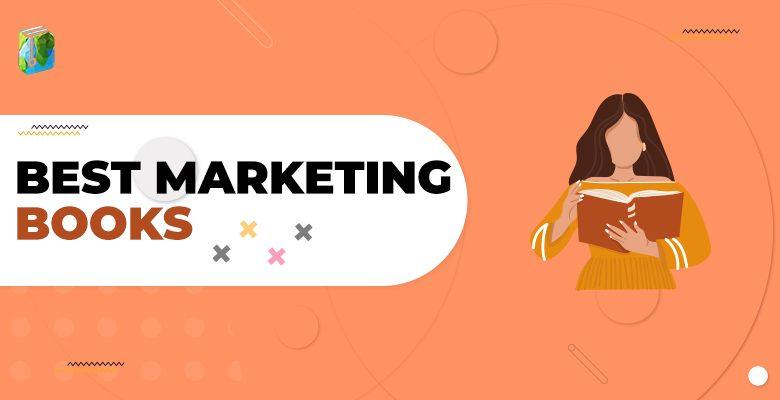 Marketing is a vast subject and there are many books which will help you understand the subject well. Here are some of the best marketing books to succeed in your business with the help of marketing.
What Is Marketing?
Marketing is the promotion activities taken by a company to advertise its product or service. It is a vast concept and includes selling, advertising, and delivering products to the target audience.
The main aim of marketing is to choose a product or service, identify the target audience, and perform activities that will attract the customer's attention. The "Marketing Mix" or the 4 P's of marketing: Product, Price, Place, and Promotion.
Product: Product refers to an item or items that a company decides to sell to its target audience. The product you offer to your target audience should cater to the needs and demands of the customers and at the same time, should fulfill an absence in the market.
Price: Price is the cost at which the product will be sold. While fixing the price of the product, companies need to consider the unit cost price, marketing costs, and the cost of distribution involved.
Place: Place refers to the distribution of the product. Before you start distributing your product, you need to choose whether you want to sell the product at a physical store or through online platforms, or both.
Promotion: Promotion is the last and the most important P of marketing. It involves activities like selling, advertising, sales promotion, PR, sponsorship, direct marketing, etc.
Many companies can make use of data to create relevant and personalized customer experiences. For example, using social media can help you bring a strong connection with your audience.
Best Marketing Books In 2023
Here are some of the best books on marketing which will help you expertise in the field of study!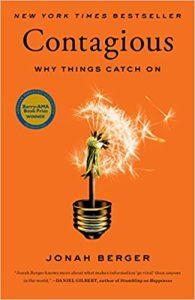 Author: Jonah Berger
Latest Edition: 5 March 2013
Publisher: Simon & Schuster
Contagious: Why things catch on by Jonah Berger is a New York Times bestseller that talks about why a few products and ideas become famous.
Before this book was published, the author spent almost a decade finding answers to "why people talk about a specific product or idea more when compared to others?", "Why and how do some stories get viral and others don't?"
This is one of those marketing books, in which the author explains the secret behind the success of word-of-mouth. It also includes the six basic principles that drive things contagious/viral including consumers, products, workplace rumors, YT videos, and more.
This book offers specific and actionable techniques that help to spread information- from designing messages, content, ads that people will like and share with others.
If you are a manager at a large company, a small business owner, or an individual who wants to spread brand awareness about their product or service, then this book is a must-read.
You can buy this book here.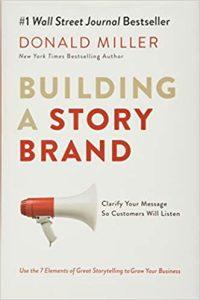 Author: Donald Miller
Latest Edition: 10 October 2017 (Illustrated Edition)
Publisher: Harpercollins Leadership
Building a Story Brand by Donald Miller is a #1 Wall Street Journal Bestseller. Here in this book, he teaches the listeners different ways to improve the way we connect with our customers. He does this with the help of seven universal elements of powerful stories.
The strategies listed by Donald Miller are well-tested and proven solutions for the business leaders who talk about their business.
These revolutionary strategies include connecting with customers that offer listeners an extreme competitive advantage. He also reveals the secrets that help the customers understand the benefits of using a specific product, idea, or service.
The author does all of this by:
Teaching the seven universal story points we as humans respond to.
The main reason why customers purchase.
Ways to simplify brand messages people will understand.
How to create effective brand messages for business websites, brochures, and social media.
This book is for everyone: the founder of a million-dollar business, an owner of a small company, a politician, or a lead singer of a rock band. This branding guide will help you transform your business in the most unique way possible.
You can buy this book here.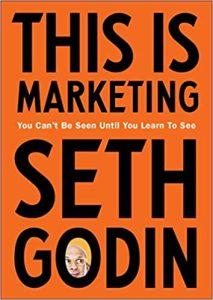 Author: Seth Godin
Latest Edition: 27 November 2018
Publisher: Portfolio Penguin
This is marketing by Seth Godin is a #1 Wall Street Journal Bestseller and Instant New York Times Bestseller.
It is the first book in which the most popular marketer offers his core marketing wisdom that is easily accessible to everyone. This marketing book shows how to do work that will make you proud. It is a must-read book on marketing for everyone.
After reading this book you will be able to understand the world of marketing better. Here is the highlight of few things that you will learn here:
How to build trust among your target audience.
The art of positioning- analyzing your relevant users.
Importance of achieving business goals.
Why old marketing approaches are outdated and do not work, and more.
You can buy this book here.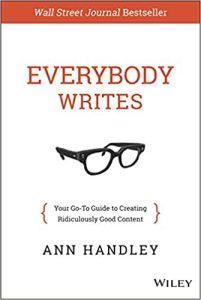 Author: Ann Handley
Latest Edition: 4 November 2014 (1st Edition)
Publisher: Wiley
Everybody Writes by Ann Handley is a guide to creating unique and quality content which will keep the customer engaged with your product or service.
After completing this book, you will be able to create and publish content that will help your business grow. Once you start following the tips and tricks mentioned in this book, it will become easier to retain customers.
Everybody Writes is a complete guide for creating content, publishing, and a few pieces of advice which will help you get more results.
If you are the one trying to grow your business with content, then Everybody writes by Ann Handley has got you covered!
You can buy this book here.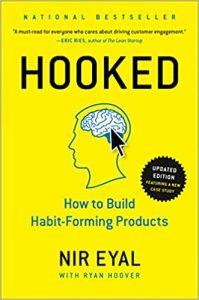 Author: Nir Eyal
Latest Edition: 4 November 2014
Publisher: Portfolio
Hooked: How to Build Habit-Forming Products latest edition includes some of the best real-time case studies. Nir Eyal answers questions related to what keeps the target audience engaged to a brand/product/service and how does technology hooks us?
He explains this by elaborating the Hook Model. This model is a four-step process used in products created by big brands which helps them engage more customers.
By continuously following the hook cycle these products reach their goals by bringing in customers again and again without increasing the advertising cost. The author offers the following:
Ways to create long-lasting user habits.
Steps to build products people love.
Real-life examples of brands like iPhone, Twitter, Bible App, Pinterest, and others.
You can buy this book here.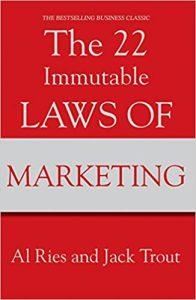 Author: Al Ries and Jack Trout
Latest Edition: 24 October 1994
Publisher: Profile Books Ltd
Al Ries and Jack Trout are the two most popular and successful marketing strategists who have been in this field for over 40 years.
The 22 immutable laws of marketing is one of the best marketing books that talk about the 22 best tools and techniques that have become very successful. They also talk about why some good ideas did not live up to exceptions and how some ideas would work better. This book also includes some of the real-life case studies which will help you make better brand choices.
The authors reveal many secrets of using the right marketing strategy. Moreover, it requires a lot of courage to apply these laws in real life. It is a must-read book for all the marketing specialists and entrepreneurs who want to build a successful business.
You can buy this book here.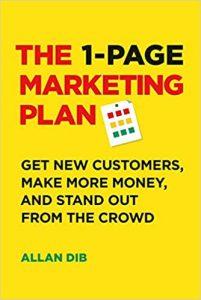 Author: Allan Dib
Latest Edition: 1 January 2019
Publisher: Two Rivers Distribution
The 1-Page Marketing Plan by Allan Dib talks about a few marketing strategies that will help you create an effective marketing plan faster.
It is a single page, divided into nine squares. This will help you plan and map your own marketing plan and grow faster.
This one-page marketing book is for everyone from a beginner to an expert marketing specialist. In this guide, you will learn:
Ways to get new customers and how to get more revenue from the existing clients.
Why marketing strategies used by large companies will kill your business.
How to sell products without being pushy and needy.
A step-by-step guide to creating your own marketing plan.
How to go ahead of your competitors and make your product stand ahead of everyone.
How to get results in a very small budget with the help of direct response marketing.
How to charge high prices for your product and service
You can buy this book here.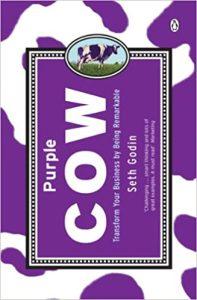 Author: Seth Godin
Last Edition: 27 January 2005
Publisher: Penguin UK
Purple Cow: Transform your business by being remarkable is written by Seth Godin. It is a guide for entrepreneurs to develop a unique business strategy. In this book, the author says that old TV commercials and banner advertisements are no longer effective. Moreover, people are becoming tech-savvy and successful in everything they do and all the marketing campaigns they create.
In this book, the author uses the example of "Purple Cow." Purple cow draws the attention of the audience because it is an unusual phrase. Moreover, Seth Godin talks about the importance of effective modern marketing campaigns.
He also talks about finding the early adopters of products who will create an impact on other target audiences. The Purple Cow includes many tips for building a successful brand and is the most useful guide for marketers and entrepreneurs.
This book is an international bestseller and has sold over 150,000 copies in more than 23 print runs. It was listed in the list of New York Times, Wall Street Journal, and Businessweek.
You can buy this book here.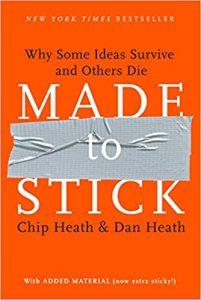 Author: Chip Heath and Dan Heath
Latest Edition: 2 January 2007
Publisher: Random House
Made to Stick: Why Some Ideas Survive, and Others Die by Chip Heath, and Dan Heath is a New York bestseller. It is an instant classic that talks about why some ideas thrive, why some ideas die, and how to make your ideas stick.
It is a highly recommended book for anyone interested in influencing others to buy, learn, vote, diet, or start a campaign. The authors reveal the anatomy of ideas that stay in our minds and explain ways to make them stick in our heads for long. Moreover, they also help us discover various sticky messages that assist to draw the attention of the readers.
Reading this book will transform the way you communicate with your customers. It also includes some motivating and interesting success stories and failure stories, including the Nobel prize-winning scientist who drank a glass of bacteria to prove his theory about stomach ulcers.
If you are looking for a book that will help ideas stick and influence others to buy your product or try your service, then you should read this book.
You can buy this book here.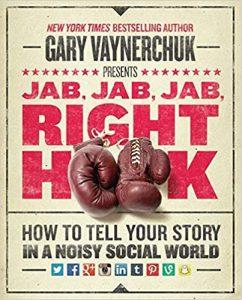 Author: Gary Vaynerchuk
Latest Edition: 26 November 2013
Publisher: Harper Business
Jab, Jab, Jab, Right Hook is one of the best digital marketing books written by the New York Times bestselling author and well-known social media expert Gary Vaynerchuk.
In this book, the author shares his point of view on the different ways to connect with customers and get ahead of the competition. It is a complete guide for learning social media marketing strategies that work.
The author shows in this book that although communication is still the key, context is more important. He also states that digital marketing is not about creating high-quality content but it is about building content that will work perfectly for each social media platform and mobile.
He explains the importance of creating tailored content for each social media platform including Facebook, Instagram, LinkedIn, YouTube, Tumblr, and Pinterest.
You can buy this book here.
Conclusion
Marketing refers to the process of promoting your brand which will help to increase brand visibility and at the same time upscale business profits. Marketing is a vast concept and everyone has their own point of view on the subject.
If you are a beginner, it might be difficult for you to understand the subject well. Although there are many marketing resources available online, books cannot be replaced. Here in this post, we mentioned some of the best marketing books which help you expertise in the subject and grow your business.
Happy reading!
People are also reading: