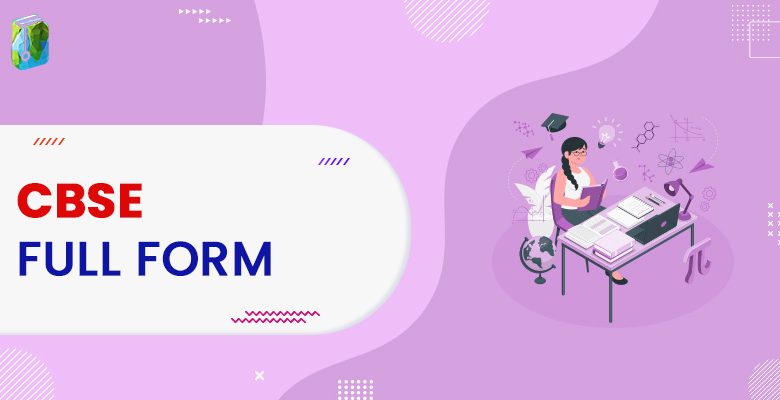 What is the full form of CBSE?
The full form of CBSE is the Central Board of Secondary Education. It is one of India's most popular education boards. All the prestigious schools are affiliated with CBSE, and the NCERT provides the books. CBSE is considered to be the National Education Board. Here in this post, we have mentioned CBSE full form and in-depth detail about CBSE.
CBSE Overview
| | |
| --- | --- |
| CBSE Full Form | Central Board Of Secondary Education |
| Found In | 2.07.1929 |
| Official Language | English and Hindi |
| Head Office | Delhi, India |
| Official Website | https://www.cbse.gov.in |
| Chairman | IAS Manoj Ahuja |
History of CBSE
In 1921, the Uttar Pradesh Board of High School and Intermediate Education was the first educational board set up in India. This board was run by the Rajputana, Central India, and Gwalior.
In 1929, the Government of India formed a joint board named Rajputana Board Of High School and Intermediate Education.
Then in 1952, the GOI named this board the Central Board of Secondary Education, which is now popularly known as CBSE.
Eligibility Criteria To Attend CBSE Examination
The CBSE conducts the AISSE examination for class 10 and the AISSCE examination for class 12. Every year CBSE also conducts National Eligibility Test (NET) for hiring teachers.
Anyone studying in CBSE-affiliated schools can appear for the 10th and 12th board exams.
Students from any caste, religion, economic status, gender, race, and tribe can attend the exam.
As per the guidelines laid down by CBSE, students of the age 14 years as of 31st December of the year of the exam can appear for the class 10 examination.
Although there is no specific age limit to appear for the CBSE class 12 exam, the minimum age limit is 17 years.
For the NET examination, the candidates who have graduated with a Master's degree with an aggregate of 55% from any UGC-recognized college or university specializing in social sciences, humanities, etc., can appear.
Objectives of CBSE
The major objective of CBSE is:
To draft the regulations for the exam and conduct the exam at the end of Classes 10 and 12 every year.
To offer certificates to the candidates who have cleared the examination from the CBSE-affiliated school.
To regularly prescribe and update the examination instructions, if any.
To uplift and improve the educational standards of the country.
Bring new innovations in the teaching methodologies that are student-friendly.
Improve the examination and evaluation schemes.
Teaching extra skills that are job-oriented.
Regularly update the teachers with the latest information and inputs by conducting teacher training workshops and programs.
CBSE Regional Office
At present, CBSE has ten regional offices in India. They are:
Delhi, including NCT of New Delhi and Foreign Schools.
Patna, including Jharkhand and Bihar.
Guwahati, including Assam, Arunachal Pradesh, Manipur, Mizoram, Meghalaya, Nagaland, Tripura, and Sikkim.
Dehradun, including Uttar Pradesh and Uttarakhand.
Ajmer includes Gujarat, Dadra and Nagar Haveli, Rajasthan, and Madhya Pradesh.
Allahabad, including UP and Uttarakhand.
Panchkula, including Haryana, Chandigarh, Punjab, Himachal Pradesh, Jammu, and Kashmir.
Chennai, including Andhra Pradesh, Andaman and Nicobar Islands Daman, Diu, Karnataka, Goa, Maharashtra, Tamil Nadu, Puducherry, and Telangana.
Bhubaneswar, including West Bengal, Chhattisgarh, and Odisha.
Thiruvananthapuram, including Lakshadweep and Kerala.
Examinations Conducted by CBSE
CBSE conducts board exams for Class 10 and 12 students.
CBSE conducts the JEE Main examination for undergraduates to get admission into courses like Architecture and Engineering globally.
CBSE conducts NEET entrance examinations for students who want to get into medical colleges all over India.
It conducts CTET examination for hiring teachers to teach in CBSE-affiliated schools.
Is CBSE Better Than Other Boards?
CBSE is considered the central board, and the certificate issued by CBSE is accepted worldwide. So it is considered to be better than other educational boards.
The CBSE syllabus is based on NCERT and is considered to be easier than other educational boards. Moreover, if you plan to get into engineering or medical colleges, the NEET and JEE examination syllabus is similar to that of CBSE.
Conclusion
CBSE or Central Board of Secondary Education is known as India's most popular education board across the globe. Here in this post, we mentioned everything you need to know about the CBSE education board.
People are also reading: