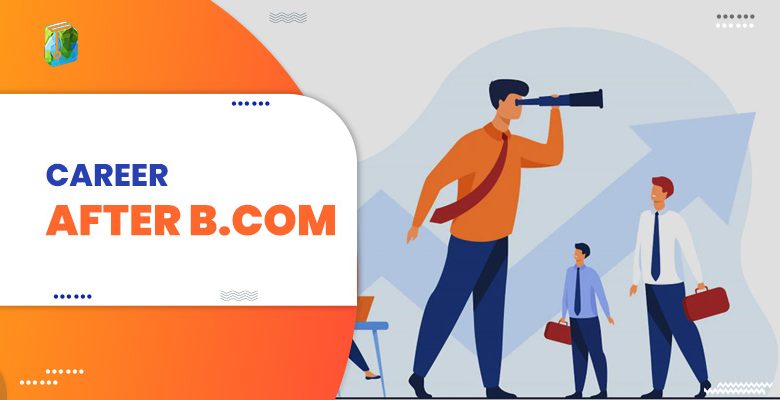 B.Com is one of the most opted courses by students belonging to the commerce background. There are various subjects covered in this course that help students to gain expertise and skills in business, accounting, etc. Subsequently, this knowledge is applicable in different career paths and sectors such as finance, banking, insurance, and so on. However, a very common question pertains. What are the best career options after BCom?
In this post, we will be covering this topic and the career options after BCom in detail.
Let's begin!
Best Career Options After BCom
B.Com Full Form
The full form of B. Com is Bachelor of Commerce.
What is B.Com?
B. Com or Bachelor of Commerce is a three-year undergraduate degree course. It is recognized by the UGC (University Grants Commission).
It is a highly popular degree. Hence, most commerce students pursue this course after completing their 12th grade. Furthermore, B.Com provides in-depth knowledge and understanding of subjects such as Accounting, Business Law, Economics, Taxation, and much more. It helps aspirants who aim to become Chartered Accountants, Company Secretaries, or work in the Banking or Insurance sectors.
In addition, the duration of this semester-based program is 3 years. The mode of admission for B. Com is either entrance or merit-based, depending on different institutions. Furthermore, the average course fee is approximately Rs. 10,000 to 50,000 annually.
Types of B.Com
We have enlisted different types of B.Com courses below:
B.Com (General)
B.Com Hons
B.Com Computer Applications
B.Com Professional Accounting
B.Com Banking and Insurance
B.Com General: This is an undergraduate degree that imparts knowledge of various areas of business such as banking laws, financial accounting, corporate accounting, and more. All the basic principles and theories in commerce and accounting are a part of this curriculum. Overall, this course provides a strong foundation for students to pursue career opportunities in finance or related sectors.
B.Com Hons.: It is a bachelor's degree with a time duration of 3 years. The main difference between B.Com and B.Com Honours is the course curriculum. The latter is a more detailed and descriptive course that's why students who wish to pursue certification exams like CA opt for this.
B.Com Computer Applications: This course is a 3-year undergraduate course. It is specially designed for students to impart knowledge of commerce where the key disciplines involve the use of software technology and innovations.
B.Com Professional Accounting: It is a full-time undergraduate degree course that imparts an understanding of the principles of Professional Accounting with alignment to business ethics.
B.Com Banking and Insurance: This is a 3-year program designed to produce professionals with in-depth knowledge of the Banking and Insurance sectors. It polishes the management and analytical skills of students to work with several financial tools.
Why should you pursue B.Com?
B.Com is one of the most popular and sought-after undergraduate courses for students from commerce backgrounds. The Commerce sector is an essential sector as it has a direct impact on the economy of the country. Therefore, a Bachelor of Commerce degree helps you to gain excellent career opportunities and build a successful career.
Here we are enlisting numerous benefits of holding a B.Com degree for undergraduates:
Great employment scope
Higher education opportunities
Public and private job options
Jobs and entrepreneurship opportunities
1. Great employment scope
Having an understanding of core subjects such as Accounting, Marketing, Economics, Management, etc. is a direct way to gain a wide range of employment opportunities.
The sectors that hire graduate candidates from commerce backgrounds are:
Budget planning
Investment banking
Business consultancies
Accounting firms
Stockbroking
Agricultural economics, and many more
In addition, the salary of a B.Com graduate is finalized based on various factors like years of experience, level of qualification, area of specialization, etc. As there are multiple job roles offered for eligible candidates, some of the most popular and well-paying jobs, such as Accountant, Investment Analyst, Portfolio Manager, Tax Consultant, and Finance Analyst.
2. Higher education opportunities
After obtaining a B.Com graduate degree, many students opt for higher education. However, some students also prepare for government exams. Nonetheless, there are various postgraduate programs available such as:
M.Com
CA (Chartered Accountancy)
CS (Company Secretary)
CFA (Chartered Financial Analyst)
Now, a question may arise: which course is the best? Well, M.Com and MBA are the two most popular and most pursued courses by undergraduates. Both these programs provide excellent career opportunities as well.
3. Public and Private Job Options
B.Com graduates have the option to choose between public and private sector opportunities. Here we are enlisting the most sought-after jobs for both sectors:
Public sector: You can apply in the Finance and Accounts departments at various public organizations like NTPC, BHEL, SAIL, etc. Furthermore, banks, agriculture, defense, and railways, also provide job offers for students who strictly are B.Com degree holders.
Private sector: Almost every firm requires candidates with expertise in the Commerce background. Therefore, they recruit B.Com undergraduates offering impressive salaries.
4. Jobs and entrepreneurship opportunities
A B.Com degree holder has the opportunity to join a company/firm or invest in their own startup. It is crucial for an individual to have a thorough understanding of the market-related aspects of the business. Moreover, while starting the venture, it is also recommended to take assistance from marketing and accounting experts.
Best Career Options after BCom
There are various courses individuals prefer to pursue after graduation. Here we are enlisting the 7 best career options after BCom to establish a good career after B.Com.
M.Com
MBA
CA (Chartered Accountancy)
CFA (Chartered Financial Analyst)
FRM (Financial Risk Manager)
BAT (Business Accounting and Taxation)
CS (Company Secretary)
1. M.Com
This is a postgraduate course, and the most popular one opted for by B.Com graduates. The time duration is two years. If any individual wishes to polish their knowledge and skills more and gain a better understanding of theoretical skills, then M.Com is a great option.
This program covers major subjects such as finance, banking, business management, taxation, etc. All the students willing to work for BFSI (Banking Financial Service and Insurance) can pursue this higher education program. As mentioned above, job opportunities are available in the private and public sectors.
The top recruiting MNCs for M.Com passouts are:
TCS
Infosys
Accenture
Google, and many more.
2. MBA
Master of Business Administration is a 2-year post-graduation course.
To take admission in this course, students must clear the entrance exam, CAT. It is an aptitude test that determines the college the candidate will attend. MBA pass-outs have excellent job opportunities in front of them. They have the option to work in managerial posts such as Marketing Manager, Operations Manager, etc.
3. CA
CA is known to be one of the most reputed career options after BCom. It is also a challenging field and sometimes can be hectic.
Every company needs a CA to handle finance and accounts. Thereby, there is an opportunity to work for big firms both in the public and private sectors.
4. CFA
This course is for 2.5 years. After completion of this program, the students can expect high-paying jobs. Moreover, there are various subjects included in the course, such as:
Portfolio management
Economics
Investment analysis
Statistics, etc.
To become a CFA, it is mandatory to clear the entrance exam that consists of 3 levels. Here again, big firms offer high-paying salaries for this post.
5. FRM
Financial Risk Management is a nine-month course that helps polish knowledge of risk management. If you are interested in becoming a risk manager in the future, this program will give you an edge.
The core role and responsibility of a financial risk manager is to locate and analyze potential threats in the market.
6. Business Accounting and Taxation
This program helps students understand accounting and taxation in-depth and prepares them for industrial work. The most important topics covered in this course are:
Goods and service tax
ESIC
Direct taxation
Payroll components, etc.
After completing this course, students can easily apply for the below-mentioned jobs:
Law Assistant
Tax consultant
Corporate legal assistant
Company Law Assistant
7. CS
Company Secretary or CS involves management. If you think you are professional in managing, this is a good option for you. You must obtain a corporate law degree, to be employed in this field.
In addition, a CS is responsible for handling the legal requirements of a company and taking care of the taxes.
Highest Paying Jobs after B.Com
There are some excellent opportunities for B.Com graduates with well-paying offers. We are presenting some of the highest paying jobs after B.Com with their salaries according to AmbitionBox.
Here is a list:
| | | |
| --- | --- | --- |
| Job Profile | Average Annual Salary (Starts from) | Average Annual Salary (Reaches upto) |
| Chartered Accountant | 7 LPA | 15 LPA |
| Investment Banker | 4.7 LPA | 28.2 LPA |
| Professional Accountant | 5.5 LPA | 7.6 LPA |
| Financial Analyst | 4 LPA | 10 LPA |
| Actuarial Analyst | 6 LPA | 12 LPA |
| Cost Accountant | 5.1 LPA | 12.5 LPA |
Top B.Com Colleges in India
There are various reputed institutions for students seeking admission in B.Com in India. The admission process varies from college to college. Therefore, it is advised to check the admission criteria thoroughly before applying.
In this table, we are providing the list of top B.Com colleges in India according to the NIRF Rankings 2022.
What is NIRF?
NIRF, or National Institutional Ranking Framework, is a government body specially designed to rank India's top colleges and universities.
Various factors are covered while finalizing the rank by NIRF, such as; teaching, learning and resources, research and professional practices, graduation outcomes, outreach and inclusivity, and perception.
Therefore, high rankings show an excellent learning environment for the students.
Here is the latest data of NIRF Rankings 2022 for the top B.Com colleges in India:
College
Course Fee
Eligibility
NIRF Ranking
Hindu College
INR 54.78K

3 Years

Entrance Exam: CUET
2
Lady Shri Ram College for Women
INR 61.11K

3 Years

Entrance Exam:

CUET

5
Loyola College
INR 37.95K

3 Years

4
Presidency College
INR 3Lakhs

3 Years

3
PSGR Krishnammal College for Women
INR 1411 (First Year)
+2
6
Atma Ram Sanatan Dharm College
INR 32.35 K – 36.55K

3 Years

Entrance Exam:

CUET

7
St. Xavier`s College
INR 2.35 Lakhs

3 Years

+2
8
Kirori Mal College
INR 12,345

(First Year)

+2
10
Top B.Com Colleges in the World
Many students aspire to get their undergraduate degrees from abroad. For that, meticulous research is required. We have prepared a list for you presenting the top B.Com colleges around the world. Take a look:
| | |
| --- | --- |
| College Name | Location |
| Columbia University | United States of America |
| University of Oxford | United Kingdom |
| California Institute of Technology | United States of America |
| Harvard University | United States of America |
| University of Western Australia | Australia |
| University of Sydney | Australia |
| University of Aukland | New Zealand |
| London School of Economics | United Kingdom |
| University of Canterbury | New Zealand |
| The University of British Columbia | Canada |
Best Competitive Exams for B.Com Graduates
Undergraduates have the option to take some competitive exams and either take admission into colleges for higher studies or land a job such as CA, Banking, Finance, etc. Here is a list of the top 5 exams taken by B.Com graduates:
CAT (Common Admission Test): This is one of the most popular exams taken by undergraduates after completing a B.Com. A good score can land you in a prestigious firm with a lucrative package. In addition, this exam tests your analytical and calculative skills as well as speed. Cat helps you get admissions into IIMs or other top management universities.
Bank Exam (PO/Clerk): Students also have the option to prepare for banking exams held annually for different positions such as Probation Officers, Clerks, etc. The competition is tough, and so is the exam. However, with good strategy, guidance, and practice, an individual can crack the exam.
CSE (Civil Services Examination): UPSC CSE is the toughest and the most challenging exam in the country. Every year lakhs of students apply for the exam to get Grade 1 jobs in various sectors where the positions of IAS, IPS, IRS, and IFS, stay the top choice. The exam is held annually. It has 3 levels: Prelims, Mains, and Interview.
GMAT/GRE: If you are willing to go abroad and study, then start preparing for these exams. Both these tests help you get good opportunities internationally.
SSC (Staff Selection Commission): Through SSC, you can get jobs as Finance officers, audit officers, sub-inspector, income tax assistants, and other respectable high-paying jobs. The competition is raising every year. Therefore, prepare meticulously.
Conclusion
As you can see, there are abundant opportunities for B.Com graduates in various fields. If you are confused about making a decision about what career options after BCom, then we have provided tons of options in this article.
Go through all the information carefully and analyze which field aligns with your interests the best! We hope this post helps you to make an informed decision.
Wishing you the best!
People are also reading:
Frequently Asked Questions (FAQs)
Question: Which job is best after B.com?
Answer: There are various fields offering multiple high-paying jobs to B.Com graduates. Some of them are; CA, Financial Accountants, Cost Accountants, Investment Bankers, etc. Kindly go through the article for complete information.
Question: Is B.Com good for the future?
Answer: Yes, B.Com is a great career path to follow. There are various options for a B.Com graduate. You can go for higher studies or opt for working in the firms/companies.
Question: What are the advantages of doing B.Com?
Answer: As mentioned above, there are multiple job opportunities that provide financial stability, job security, and a good standard of living.
Question: Which is better BBA or BCOM?
Answer: Both degrees have their own benefits. However, BBA is best suited for students who wish to specifically opt for managerial posts in the future. Otherwise, you can go for B.Com which offers a variety of jobs.
Question: Can I do MBA After B.Com?
Answer: Yes, it is one of the most preferred courses by B.Com graduates.
Question: How long is B.Com Course?
Answer: B.Com is a 3-year long course.
Question: Which course is best after the 12th?
Answer: It depends on your specialization and areas of interest. All 4 streams, Non-medical, Medical, Arts, and Commerce offer multiple courses. Therefore, you must analyze which courses and subjects match your career goals.