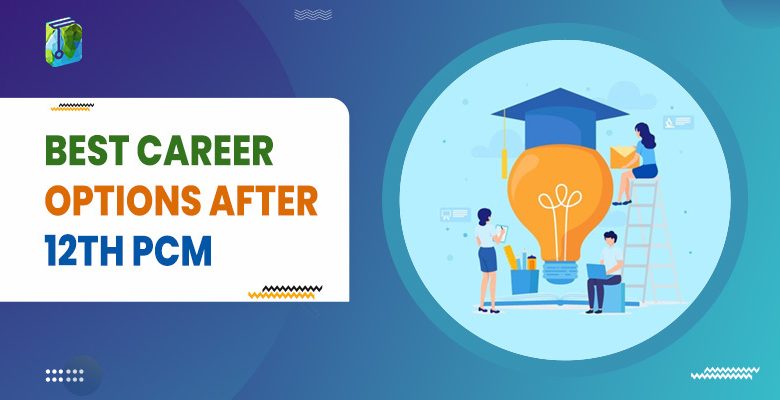 For all students, the 12th grade represents a watershed moment. It brings an end to wonderful life cherishing moments and is also thought to be a determining element in your future. After completing 12th, the majority of students need a clear idea about which profession they want to pursue. Most PCM students opt for Engineering as it is the most hyped course in India. But apart from Engineering, there are many other PCM career options after completing the 12th.
Best Career Options After 12th PCM
We will highlight the Best 10 career options for you after completing the 12th.
How To Choose The Right Career Option After 12th PCM?
This article's goal is to offer advice to students who have opted for PCM as their 12th-grade subject. You should be familiar with the various programs available to you before making a decision on a career path. Knowing about these possibilities will help you narrow down the subjects you want to explore.
Moreover, developing the skills required will help you achieve your goals and land the best job possible.
Consider the following factors when selecting a course:
Identify your passions and select a course that reflects them.
Review the course's syllabus and topics.
Examine the top courses accessible based on the opportunities they provide, their eligibility criteria, course length, and pricing, among other factors.
Career Options after 12th PCM
1. Engineering- B.Tech
Engineering is among the most popular careers. Some individuals hope to achieve a high score in order to pursue a career as an engineer. To proceed with engineering, a student can pursue a Bachelor of Technology( B.Tech) or a Bachelor of Engineering (B.E).
After completing their various engineering degrees, aspirants can look for opportunities in larger organizations such as Software Engineer, Data Analyst, Automotive Expert, Builder, Database Designer, and so on. Engineering branches are available to students in the following fields:
Eligibility Criteria
12th pass with PCM with a minimum of 50-60% of aggregate marks.
Job Opportunities After B. Tech
Mechanical Engineer
Product Manager
Civil Engineer
Production Engineer
Computer Science Engineer
Mining Engineer
Ceramic Engineer
Automobile Engineer
Construction Engineer
Robotics Engineer
Aerospace Engineer
Electronics & Communication Engineer
Lecturer/Professor
Electronics Engineer
Electrical Engineer
Software Developer
Aeronautical Engineer
Telecommunication Engineer
Marine Engineer
Chemical Engineer
Some Top Colleges
| | | | |
| --- | --- | --- | --- |
| Sr. No. | College | Est. Year | Location |
| 1. | IIT Delhi | 1961 | Delhi |
| 2. | IIT Mumbai | 1958 | Mumbai |
| 3. | IIT Chennai | 1959 | Chennai |
| 4. | BITS Pilani | 1964 | Pilani |
| 5. | IIT Roorkee | 2001 | Roorkee |
2. Architecture- B.Arch
The art and science of planning and engineering big structures and buildings is known as architecture. Architecture is a dynamic and ever-changing career. The architecture market in India has recently exploded. Students attend the best Architecture Colleges in India to pursue the best Architecture Courses. An architect's employment entails not just designing homes and offices, but also contributing to a variety of sectors such as designing exhibition sites, sporting events, producing distinctive lighting systems and effects, and so on.
Those who want to study architecture will be interested in both the sciences and the arts, and architecture admissions often take both artistic talent and quantitative proficiency into account. The development of abilities that are necessary for becoming an architect is a major focus of architecture education.
Moreover, architectural courses cover issues and topics such as the construction of buildings, airport terminals, highways, malls, complexes, and other civil structures employing a variety of inventive ideas and analytical skills.
Eligibility Criteria
50% marks in class 12 or Class 10 + Diploma from a recognized college
Job Opportunities After B.Arch
Urban planner (M. Arch UD)
Artist
Town Planner (M. Plan)
Interior designer
Structural engineer
Restoration architect
Research architect
Landscape architect
Building surveyor
Some Top Colleges for B.Arch
| | | | |
| --- | --- | --- | --- |
| Sr. No. | College | Est. Year | Location |
| 1. | IIT Kharagpur | 1951 | Kharagpur |
| 2. | Nitte School of Architecture | 2015 | Mangalore |
| 3. | Chandigarh College of Architecture | 1961 | Chandigarh |
| 4. | Jamia Millia Islamia University | 1920 | New Delhi |
| 5. | Birla Institute of Technology | 1955 | Ranchi |
3. Pilot
A pilot is a skilled driver who controls and flies planes, fighter jets, helicopters, and other aircrafts. They handle the flight controls while guaranteeing the crew and passengers' security. As an aviator, you can carry people or goods from one place to another, or you can work in an industry that offers commercial flights, aerial photos, or humanitarian missions.
There are 2 methods to become a pilot in India.
One choice is to use civil aviation, while the other is to use the Indian Defense Forces. The first pathway leads to a profession as a commercial pilot, whereas the second leads to a career as a military pilot.
Eligibility Criteria
12th pass with PCM with a minimum of 50-60% of aggregate marks.
Job Opportunities
Co-Pilot.
Chief Pilot.
Commercial Pilot.
Airline Pilot.
Captain.
Commuter Pilot.
First Officer.
Experimental Test Pilot
Some Top Colleges
| | | | |
| --- | --- | --- | --- |
| Sr. No. | College | Est. Year | Location |
| 1. | Indira Gandhi Rashtriya Uran Akademi (IGRUA) | 1985 | Raebareli, UP |
| 2. | National Flying Training Institute (NFTI) | 2007 | Gondia |
| 3. | Rajiv Gandhi Aviation Academy | 1959 | Thiruvananthapuram |
| 4. | OFAA – Orient Flights Aviation Academy. | 2015 | Pondicherry |
| 5. | Madhya Pradesh Flying Club (MPFC) | 1951 | Bhopal |
4. Merchant Navy
A merchant navy officer explores the world, examining and operating ships, managing cargo, maintaining ships, and so on. The number of vacant posts for Merchant Navy Officers is believed to be far less than the number of applicants. This raises the possibility of more competition in this industry.
However, between 2019 and 2029, employment possibilities for Merchant Navy Officers are predicted to expand by 7%.
Ahead of completing the tenth standard, you can join the Merchant Navy as a seafarer by undergoing pre-sea training, or after 12th grade, you can join as an officer after completing various degree or diploma courses in primarily two specialized fields: Nautical (Deck) and Marine engineering.
Eligibility Criteria
To enter the merchant navy, you must have completed class 12 with Physics, Chemistry, and Mathematics.
Candidates must be Indian citizens who are not married (male or female).
Normal eyesight is required, but glasses of up to 2.5 diopters may be permitted.
Job Opportunities After Merchant Navy
G P Rating
Trainee Cadet
Deck Cadet
3rd Officer/ 2ndOfficer
Chief Officer
Captain
Some Top Colleges for Merchant Navy
| | | | |
| --- | --- | --- | --- |
| Sr. No. | College | Est. Year | Location |
| 1. | IMU Campus Mumbai. | 1949 | Mumbai |
| 2. | International Maritime Institute | 1991 | Greater Noida |
| 3. | IMU Campus Cochin. | 2011 | Cochin |
| 4. | Applied Research International, Delhi. | 2005 | Delhi |
| 5. | Samundra Institute Maritime Studies, Mumbai. | 2005 | Mumbai |
5. National Defence Services
For thousands of youngsters, the National Defence Academy (NDA) is a dream come true. After completing higher education, you can seek various career opportunities such as NDA, IAS, Banking, and so on.
These career options appeal to the younger generation because they provide a variety of perks, a challenging lifestyle, and other relevant amenities. The courageous lifestyle of the armed forces has always been admired by Indian youths, and inhabitants in most parts of the country respect this profession.
The NDA Exam is the most renowned among candidates who aspire to join the Indian Defense Forces. The UPSC is the authority of this exam (Union Public Service Commission). It serves as a platform for students willing to join the Indian Army, Air Force, or Navy. It is a countrywide examination that takes place twice a year.
Eligibility Criteria
For the NDA exam, you should be between the ages of 16 and 19.
Students who have completed or are waiting to take the class 12th exam are able to qualify for the NDA form 2022.
Job Opportunities After NDA
Air Force- Flying Officer,
Flight Lieutenant,
Group Captain,
Air Vice-Marshal,
Air Chief Marshal
Marshal of the Air Force.
Air Marshal,
squadron leader,
Wing Commander,
Air Commodore
Some Top Coaching Centres for National Defence Services
| | | | |
| --- | --- | --- | --- |
| Sr. No. | College | Est. Year | Location |
| 1. | Tara institute | 2007 | Noida |
| 2. | Baalnoi academy | 1997 | Delhi |
| 3. | The Lakshya Academy | 2009 | Delhi |
| 4. | Eagle Academy | 2006 | Jamnagar |
| 5. | S S Mentors | 2012 | Gurgaon |
6. Industrial Design
Industrial design is a field that incorporates Engineering and Design to produce things that are both functional and attractive. Industrial designers have a keen eye for detail, accuracy, a sense of elegance, and problem-solving capability.
Hands-on education is focused on Industrial Design programs. While engaging in various projects and programs assigned by academics, you will learn the most of what you need to know. The schematic design, resources and how they are picked, electronics, and digital media are also discussed in class.
Engineering principles and 3D printing are included in the course as well. To put it differently, you'll learn how to design and deliver high-quality items while also adding your own special touch and originality.
Eligibility Criteria
Candidates must have attended 10th and +2 with a basic aggregate grade of 50 percent and core courses of physics, chemistry, and maths.
Candidates with a 3-year diploma and a basic grade of 50% are also eligible.
Job Opportunities After Industrial Design
Industrial Designer
Interior Designer
Automotive Designer
TV/Movie/Theatre Set Designer
Package Designer
Automotive Designer
Industrial Design Researcher
Some Top Colleges for Industrial Design
| | | | |
| --- | --- | --- | --- |
| Sr. No. | College | Est. Year | Location |
| 1. | National Institute of Design | 1961 | Ahmedabad |
| 2. | IDDC, IIT-Delhi | 1961 | Delhi |
| 3. | Department of Design- IIT Guwahati | 1994 | Guwahati |
| 4. | Industrial Design Center (IDC) — IIT Bombay | 1958 | Mumbai |
| 5. | UID — Unitedworld Institute of Design | 2011 | Gandhinagar |
7. Forensic Science
Forensic science is the application of physical and natural methodologies to civil and criminal law cases. It can be used not only in the investigation and trial of sexual crimes, murder, and drug smuggling but also in cases where a crime has not been committed but a civil wrong (see tort) has been involved, such as willful pollution of air or water or causing industrial harm.
A scientist becomes a forensic scientist when his or her expertise is used to benefit lawyers, juries, and judges in analyzing the result of scientific tests. Because a forensic scientist's work will be employed in court and scientific proof can be quite convincing, the forensic scientist must be exact, systematic, detailed, and above all, fair.
Eligibility Criteria
Class 12th Board exams with 50% aggregate mark in science stream.
Job Opportunities After Forensic Science
Pathologist
Private investigator
Police officer
Forensic analyst
Forensic scientist
Criminal lawyer
Forensic investigator
Forensic science technician
Some Top Colleges for Forensic Science
| | | | |
| --- | --- | --- | --- |
| Sr. No. | College | Est. Year | Location |
| 1. | IFS Education Department, | 2001 | Pune |
| 2. | Bundelkhand University, | 1975 | Jhansi |
| 3. | Garden City University | 1992 | Karnataka |
| 4. | Institute of Forensic Sciences, (IFSC) | 2009 | Mumbai |
| 5. | University of Madras | 1857 | Chennai |
8. Fashion Designing
Fashion design programs are a popular vocational specialization in India and across the world. Although Fashion and Textile Design are strongly linked, there are important differences between the two. Textile design is described as the method of creating frameworks in knitting, spinning, printing fabrics, and surface ornamentation of fabrics, while Fashion Designing Courses After 12th is concerned with the creation of lifestyle accessories and clothing.
Eligibility Criteria
Students intending to engage in Fashion Designing courses at the undergraduate level must have cleared their class 12th test with a point average of at least 50% from a certified board in India.
Job Opportunities After Degree in Fashion Designing
Retail manager
Retail buyer
Fashion designer
Textile designer
Retail merchandiser
Stylist
Visual merchandiser
Some Top Colleges to Pursue Fashion Designing
| | | | |
| --- | --- | --- | --- |
| Sr. No. | College | Est. Year | Location |
| 1. | NIFT | 1995 | Mumbai |
| 2. | Chandigarh University | 2012 | Chandigarh |
| 3. | NIFT | 1995 | Chennai |
| 4. | IIFT | 2001 | Bangalore |
| 5. | Manipal University | 1953 | Manipal |
9. Animation & Graphics
The process of filming consecutive drawings or positions of characters or figures to create the appearance of mobility when the film is exhibited as a sequence is referred to as animations and graphics.
There are three main types of animation courses: bachelor's degree courses, diploma courses, and certificate programs. The course lasts three years. Animation has developed as a popular professional option among Indian youngsters. Previously, the general public was mostly unaware of this area. However, in recent years, this sector has attracted a lot of attention, and software has grown at a quick pace. The success of animated films and comics has significantly aided the development of the sector in India.
Eligibility Criteria
The candidate has to pass 10+2 in any stream from a well-recognized board. – He/she has to have 50% aggregate
Job Opportunities After A Degree in Animation and Graphics
Designer artist
Graphic artist
Animator
3D modeller
3D artist
Lighting technician
3D creative
3D animator
Some Top Colleges for Degree in Animation and Graphics
| | | | |
| --- | --- | --- | --- |
| Sr. No. | College | Est. Year | Location |
| 1. | Maya Institute Of Advanced Cinematic (MAAC) | 2001 | Lucknow |
| 2. | Picasso Animation College | 2005 | karnataka |
| 3. | Mayabious Academy | 2002 | Kolkata |
| 4. | Arena Animation | 1996 | Delhi |
| 5. | F X School | 2008 | Mumbai |
10. B.Sc. Statistics
Statistics is another field that appeals to folks who enjoy data and statistics. While a maths course focuses on ideas and principles, statistics tries to put those theories and principles into practice in order to analyze patterns and develop forecasts.
Statisticians combine their understanding of statistics and mathematics to create data models that may be used to solve problems. The graduates are quite good at adapting their talents to nearly any field that requires data analysis for this reason. You can succeed in this career if you have good analytical skills, solid quantitative logic, are self-motivated, and don't mind spending your days analyzing numbers.
Statistics degrees are in high demand in a variety of fields, including finance, insurance, computer sciences, investment, medical, pharmaceuticals, manufacturing, and data science.
Eligibility Criteria
Students should have completed 10 + 2 with Maths as a core subject.
Job Opportunities After B.Sc. Statistics
Civil Service fast streamer
Data analyst
Actuary
Actuarial analyst
Data scientist
Operational researcher
Statistician
Financial risk analyst
Market researcher
Investment analyst
Some Top Colleges for B.Sc. Statistics
| | | | |
| --- | --- | --- | --- |
| Sr. No. | College | Est. Year | Location |
| 1. | Farook College | 1948 | Kozhikode |
| 2. | St Xavier's College | 1955 | Ahmedabad |
| 3. | Presidency College | 1840 | Chennai |
| 4. | PSG College of Arts and Science | 1947 | Coimbatore |
| 5. | Mar Ivanios College | 1949 | Thiruvananthapuram |
Conclusion
Choosing the best career options after 12th science can be difficult and confusing at the same time. We suggest you take your time while deciding on your career ahead as it is one of the most important decisions of your life. No matter how much pressure you have from your loved ones to choose a career of their choice, always remember, that you have to live with the career you will choose. So decide wisely.
In this article, we presented you with the list of the best career options after the 12th PCM. We hope the listed outcome reduces your confusion about your career decision.
Good luck!
FAQs
Ques. 1 Which job has the highest salary in PCM?
Ans. There are many job opportunities for PCM students:
Software Engineer
Web Developer
Web Designer
Business Analyst
Product Manager
Ques. 2 Can PCM students give NEET?
Ans. No, PCM students are not eligible to give NEET.
Ques. 3 What is the scope of PCM?
Ans. There are plenty of job opportunities and options for higher education for PCM students.
Ques. 4 Can PCM students do an MBA?
Ans. Yes, a PCM student can enroll in the MBA course.
Ques. 5 Is PCM better or PCB?
Ans. Both fields are different. If you want to go in the engineering, designing, and architecture field, then choose PCM. If you wish to enter the medical field, you must choose PCB.
People are also reading: