Books
10 Best Gardening Books For Beginners To Expert Gardeners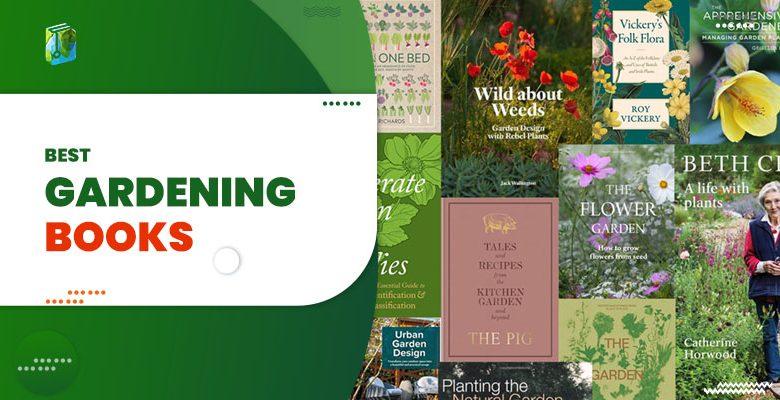 Gardening may look beautiful but overwhelming for many since most people do not understand where to start! Well, it's a learning process, and you get better with experience. Reading a gardening book is the surefire way to start your journey. You can create that beautiful lush green backyard or lawn you have always wished for with proper patience and knowledge.
Do you know, during the Covid pandemic, 18.3 million millennials started gardening? 
This is not just a hobby, it has various health benefits too. Here are a few points:
Increases mindfulness.
It helps you stay fit and healthy.
Reduces stress and anxiety levels.
Burns calories.
Strengthen bones and overall physique.
However, there are so many books on gardening available, things may seem pretty confusing, not all books offer the particular knowledge you lack or the experience you want to have while reading. We have created a list of the ten best gardening books to read.
So, before you create the strikingly captivating garden in your home, let's see.
10 Best Gardening Books To Start Creating Mesmerising Gardens
1. How Not To Kill Your Houseplants
Highlights
Author: Trisha Bora
Published in: 2021
Publisher: Ebury Press
Trisha Bora's 'How Not To Kill Your Houseplants' was recently released in 2021. This is a detailed guidebook for taking care of your house plants. Mainly, if you are trying to grow some indoor plants in the Indian environment, you may find this book helpful.
With its comprehensive details on house plant gardening, the book will help new plant parents with the right techniques on the plantation, watering, light sourcing, and other important stuff. Reading this book can be an excellent way to headstart if you are building your house garden from scratch.
You will get everything mentioned in minute detail, from which plant to pick based on space and lifestyle to the light, temperature, and water requirements of these plants.
2. Home Ground: Sanctuary in the City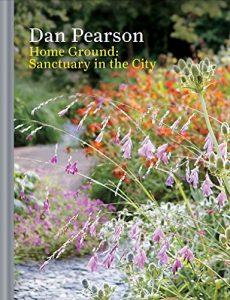 Highlights
Author: Dan Pearson
Published in: 2011
Publisher: Octopus Publishing Group
Have you previously read anything from designer Dan Pearson's writing on gardening? If yes, you already know how he reflects his deeply rooted love and empathy for plants, the soil, and landscapes. This magnificent book describes his urban garden in Peckham, south London.
The book depicts the story of his early days in gardening. Also, it tells us about the struggles and tribulations, victories, and failures that Mr. Pearson has gone through while changing an overgrown, unappealing location. He transformed it into a lush green grass-layered haven. With real-time photographs and stunning urban garden designs, this book can be a great collection for your coffee table.
3. The Flower Gardener's Bible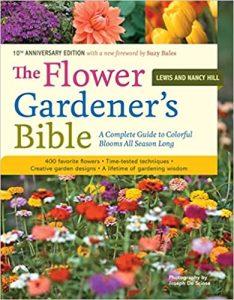 Highlights
Author: Lewis Hill (Author), Nancy Hill (Author), Joseph De Sciose (Photographer)
Published in: Storey Books
Publisher: 2003
If you want to adorn your back or front yard with gorgeous flowers, you will find The Flower Gardener's Bible very useful. This book can help you plant your gardens with vibrant flowers with some excellent references and tricks.
The book is filled with professional advice, from choosing the finest growing place to maximizing your plants' longevity.
Moreover, there are some fantastic photographs and practical guidance on improving soil, combating pests, and arranging your gardens. Find how to make 400 different flower species blossom with vibrant colors, which can be crucial knowledge for any dedicated gardener.
4. The Well-Tempered Garden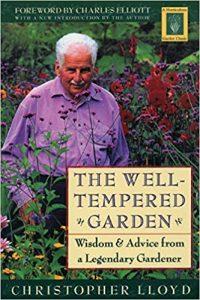 Highlights
Author: Christopher Lloyd
Published in: 1997
Publisher: The Lyons Press
You must not skip reading this if you have to read one gardening book. Authored by Christopher Lloyd, most known for his mesmerizing garden designs, this is one of the most popular books on gardening. Born in 1921, the prolific writer penned his fantastic experience while creating his garden at Great Dixter. The Well-Tempered Garden, first published in 1970, brings together his enormous knowledge and expertise.
The book has all the gardening nitty-gritty that you could want to hear, and it's also a lot of fun to read. Lloyd's distinctive writing style combines detailed information with his usually sarcastic asides. It's a fantastic bedtime book to dip in and out of.
5. All New Square Foot Gardening II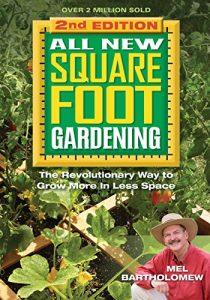 Highlights
Author: Mel Bartholomew
Published in: 2013
Publisher: Cool Springs Press
Not everyone has a large backyard to call their own, but that doesn't mean you should quit your gardening dreams! All New Square Foot Gardening II is one of the best gardening books. It will teach you how to produce an excellent garden within a small space of a few square feet. The book comprises gardening methods that have been useful since the 1980s and are used today.
In addition, the new tutorial demonstrates how to cultivate attractive, healthy plants in a tiny plot near your house using vertical gardening techniques. The techniques in this book are distinct in that it does not ask you to use any dedicated instruments or components. Following this guide, you only need to ensure the basics while creating a vertical garden.
This makes reading this book an excellent choice before you start gardening.
6. Roots, Shoots, Buckets & Boots: Gardening Together with Children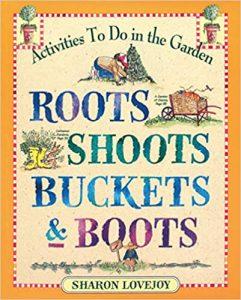 Highlights
Author:
Published in: 2007
Publisher: Workman Publishing
Trying to get your kids involved in gardening to keep them away from smartphones or TV? Well, that's a great idea! Gardening together with the family will surely help to form stronger bonds with each other. But when it comes to taking your kids into gardening, you ought to make it interesting for them.
This book is all about that last part. It helps you make your gardening activities more fun.
Roots, Shoots, Buckets & Boots offers 12 easy to start with project ideas exclusively designed for kids. It also includes some beautiful illustrations that kids also can enjoy.
7. The Education of a Gardener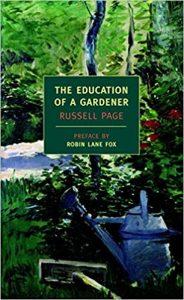 Highlights
Author: Russell Page (Author), Robin Lane Fox (Preface)
Published in: 2007
Publisher: NYRB Classics
Russell Page is a well-known landscape gardener in Europe. The Education of a Gardener is his famous work, describing his training and the creation of his various renowned gardens. The book details how to design a garden that draws on the energy of the surrounding area.
With minute descriptions and images of spellbinding gardening work that Page has done, the book will make you feel like you are wandering happily in the gardens. Not only that, but the author also describes which saplings to consider for the plantation to make it look aesthetically sound.
You will also understand more about season plantation, handling color, and combining trees and water features to have a rich and long-lasting effect.
8. Royal Horticultural Society: Gardening Through the Year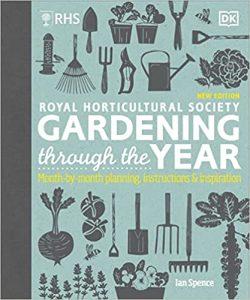 Highlights
Author: Ian Spence
Published in: DK
Publisher: 2018
If you want to start your gardening mastery with some seasonal plants and have a greener backyard throughout the year, then RHS Gardening Through the Year can be an excellent handbook. The book will help you to understand when it will be best to prune the rose bushes or when exactly is the time to harvest the potatoes.
This is an excellent handbook for beginner gardeners with its month-by-month series, go-ahead tips, and last-chance remainders. It also has a thoroughly illustrated plant directory that contains 350 different plant varieties.
9. The Garden Primer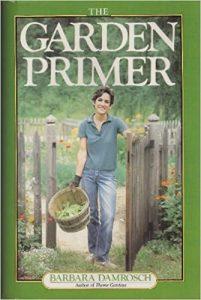 Highlights
Author: Barbara Damrosch
Published in: Workman Publishing
Publisher: 2008
"The Garden Primer" by Barbara Damrosch assists new gardeners in learning the fundamentals without becoming overwhelmed. It's a great handbook that teaches the essentials of gardening. Also, it serves as a reference book, allowing you to check things up even after you've started your garden.
At the start, the book explains "What Plants Need,". It then gradually covers everything from what type of tools you may need when getting started to how to buy plants and how to maintain the fertility of the soil year after year. Also, you will find chapters on each primary type of plant, such as vegetables, ground cover, bulbs, houseplants, and so on.
The book is so detailed that even expert gardeners may find it intriguing while swiping through the pages. It's an excellent method to learn how to garden. Moreover, the way the author has represented the information makes reading it fun rather than following just instructions.
10. Ultimate Encyclopedia of Organic Gardening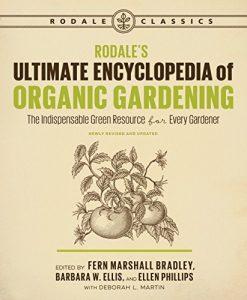 Highlights
Author: Fern Marshall Bradley
Published in: Rodale Books
Publisher: 2018
Authored by Fern Marshall Bradley, Rodale's Ultimate Encyclopedia of Organic Gardening is a comprehensive and valuable reference for gardeners with stunning photographs.
Rodale has been a pioneering publisher in the field of organic gardening for more than 50 years.
The book includes a brand-new section on "earth-friendly practices for gardening in a changing climate. It teaches you about intelligent water management, invasive plant and pest management, backyard habitat creation, lowering energy consumption, and recycling.
With its outstanding collection of full-color, glossy photos, there are sections on fruit trees, vegetables, and botanical oddities. Also, you get information on community gardening and wildlife that your garden may attract. Thanks to the encyclopedic structure of the book, both expert gardeners and new growers will find it helpful as a shelf reference or as a how-to read-through manual for gardening.
Conclusion
That's all. Here we have mentioned the top 10 books you can read to start gardening in any season. Depending on the type of garden you want to create, pick the book that suits your purpose. Also, don't forget to mention which gardening book you find the most worthy of reading in the comment section below.
Happy Reading!
People are also reading: