Bank
How To Become A Bank Manager?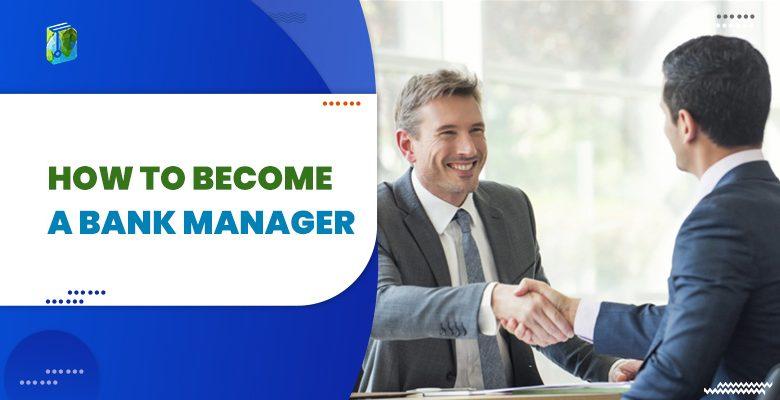 If you are interested in finance, accounts, business studies, etc., becoming a bank manager can be one of your most fulfilling careers! This post introduces you to the answer to how to become a bank manager in detail. Let's quickly dive in!
Banking is one of the most secure and sought-after industries in India. Every year, lakhs of candidates appear for the banking exams to secure vacancies.
Moreover, the competition is rising every passing year, making this exam one of the most challenging exams recently. There are many different positions in the banking sector, but one of the most likable and prestigious jobs is that of a bank manager.
Bank managers have strong communication skills and expertise in day-to-day banking operations.
Who is a Bank Manager?
There is a bank manager at every bank branch in the country. They look after daily operations and handle the banking team ensuring incredible customer service. In addition, bank managers are responsible for hiring and training employees, analyzing their performance, and then hiring them permanently.
Bank managers can work for private banks, public sector banks, insurance companies, consultancies, and firms.
How to Become a Bank Manager?
This section solves your question; how to become a bank manager? Candidates must fulfill the below-mentioned criteria:
1. Get Basic Education
The minimum eligibility criteria for the post of a bank manager is to hold a bachelor's degree in finance or other related subjects.
The most popular bachelor's degrees are bachelor of commerce or BCom and BBA, Bachelor of business administration. A student must clear the 12th standard in any background (science, commerce, arts) with at least 50% aggregate to get admission into colleges and institutions providing this degree.
In addition, there are different types of B.Com courses:
B.Com (General)
B.Com Hons
B.Com Computer Applications
B.Com Professional Accounting
B.Com Banking and Insurance
Based on your preference, you can choose the relevant course.
Top B.Com Colleges in India (Based on NIRF Ranking 2022)
Gain Experience in Banking Field
After graduation, students must gain appropriate experience to know more about the banking industry. You can opt for internships in both private and public sector banks. This experience teaches you how to handle day-to-day banking operations. It also polishes communication skills.
Furthermore, most companies expect you to clear the exams conducted by the IBPS. For instance, IBPS PO, IBPS Clerk, IBPS SO, SBI PO, SBI Clerk, etc.
What is IBPS?
IBPS, or Institute of Banking Personnel Selection, is a central recruitment agency conducting various exams yearly and providing vacancies in public sector banks.
Every year lakhs of candidates appear in this exam to get prestigious jobs. You can visit the official website for the upcoming exam schedule.
The only way to become a bank manager is through gaining experience and these posts of PO, Clerk, SO, etc. After an experience of 2-3 years, an individual gets promoted to the position of bank manager.
Learn more about the SBI PO exam, SBI PO exam pattern, SBI PO eligibility criteria, and SBI Clerk eligibility criteria here!
Get a Master's Degree
After completing the bachelor's degree; an individual can go for a master's degree, such as M.Com, MBA, etc. Postgraduates are highly preferred for the post of bank manager.
Most students opt M.Com or MBA for their PG course. Here is a brief explanation of both these courses.
What is M.Com?
M.Com is a 2-year postgraduate course to inherit managerial expertise and banking knowledge. You can be admitted to this course after completing the bachelor's degree.
The eligibility criteria are different for colleges/universities. Some prefer merit-based admissions; others go for entrance-based admission (such as PUCET( Punjab University Common Entrance Test), AUCET(Andhra University Common Entrance Test), etc.)
Another commonly opted option for higher study is MBA.
What is an MBA?
MBA or Master of Business Administration, is a 2-year postgraduate course that helps students gain expertise in business ethics and management.
Admissions by colleges and universities are given by an entrance examination conducted internally or through the marks obtained in the CAT exam.
What is CAT?
CAT exam, or the Common Admission Test, is conducted by one of the IIMs based on rotation.
It is conducted annually for students to get admission into colleges for post-graduation courses. The main sections in the exam are:
VARC (Verbal Ability and Reading Comprehension)
DILR (Data Interpretation and Logical Reasoning)
QA(Quantitative Ability).
The time duration for this exam is 3 hours, with one hour for each section. For exam preparation, check out the best CAT books here.
There are various other postgraduate programs available such as:
CA (Chartered Accountancy)
CS (Company Secretary)
CFA (Chartered Financial Analyst).
In addition, if you get admission into a reputed college, there are high chances of getting direct placements for bank manager positions. Check out the top colleges for M.Com and MBA in the tables below.
Top Colleges for M.Com in India
College
Location
Top Recruiters
Sri Ram College of Commerce (SRCC)
Delhi
Citibank, Wipro, Samsung, KPMG, EY, Deutsche Bank
Christ College
Bengaluru
Deloitte, TCS, Deutsche Bank
Stella Maris College
Chennai
ICICI Bank, HDFC Bank, Kotak Mahindra Bank, World Bank, Axis Bank
Loyola College
Chennai
TCS, Dell, IBM, Axis Bank, HDFC Bank
Mount Carmel College
Bengaluru
Yes Bank, HDFC Bank, Deloitte, ICICI Bank
Symbiosis College of Arts and Commerce
Pune
ICICI Bank, Deutsche Bank

HDFC Bank, Axis Bank
Top Colleges for MBA in India
Different Types of Bank Managers
Bank managers at different posts handle different jobs based on their qualifications and work experience.
Branch Manager
Branch manager is the executive head of the branch. They must conclude all the daily operations smoothly and ensure customer satisfaction. Moreover, they are responsible for hiring new employees, checking loan approval applications, etc.
Service Manager
The responsibility of a service manager is to handle customer services. It is their prime duty to provide solutions to the customers. Moreover, they also monitor ongoing projects and manage their teams to achieve sales goals.
Senior Bank Manager
Senior bank managers are expected to drive the day-to-day banking operations; the overall services. They have to train the bank personnel and maintain a healthy decorum of the banking staff. They give the final nod to all the operations related to loan approval and service tasks. Moreover, they also address customers' complaints and solve them as quickly as possible.
Junior Bank Manager
They work as a supervisor to the senior manager of a bank. Their responsibility is to give a hand in managerial activities and building client relationships. They also help in maintaining strategies for sales to reach their designated targets. Overall, it's a starting position and provides exposure and expertise to individuals about banking.
Roles and responsibilities of a bank manager
There are plenty of responsibilities for a bank manager to perform daily. We are enlisting some of the most important ones below:
Make targets and build strategies to accomplish sales goals.
Hire new employees and frame them regarding the banking operations accordingly.
Establish excellent relationships with existing and new customers.
Preparation of expenditure budgets.
Understand the customer's concerns and solve their problems or queries.
Boost teamwork among the team members for better conduction of work.
Handle administrative tasks such as banking databases.
Must take care of the statistical analysis of the data.
Should handle customer grievances with patience and pursue gentle communication.
Take a report of the daily banking operations and sort out anomalies, if any.
Skills Required by a Bank Manager
A bank manager must possess specific skills to conclude daily operations well. Some essential skills are mentioned below:
Leadership qualities
Communication skills
Teamwork capabilities
Business management skills
Patience and cooperation
Good analytical skills
Resilient
Salary of a Bank Manager in India
A bank manager enjoys various perks, allowances, and a good paying salary.
The average annual salary of a bank manager is 7.3 Lakhs. It ranges up to 15 Lakhs. Therefore, approximately a bank manager earns 60,000 per month.
Furthermore, bank managers get annual appraisals where every year increment is provided based on their performances.
Here are the salary details of a bank manager with different specializations.
Salary of Bank Managers for Different Specializations
Benefits of the Post of Bank Manager
It is undoubtedly a highly prestigious profession with various advantages. Here is a list:
Job Stability
The job of a bank manager is highly secure and stable, specifically in public sector banks. A series of increments is also given to the employees. In addition, no one can remove you from this post. However, the scenario is a bit different in private banks. Compared to government banks, job in private is less secure.
Salary
The salary of a bank manager is impressive. The average annual salary is approximately 7 lakhs, which goes up to 15 Lakhs per Annum.
Fixed Working Hours
There are no extra working hours for bank managers. Therefore, you can maintain an outstanding work-life balance.
Updated with the Latest Technologies in Financial Market
You will have an excellent knowledge of the ongoing trends in finance and banking. After retirement, you can also become a personal consultant to private firms.
Inherit New Skills
As a bank manager; you can develop new skills such as being more patient, better communication skills, etc.
Top Recruiting Banks for Bank Manager
Here are the major recruiting companies for the post of bank manager:
State Bank of India
HDFC Bank
ICICI Bank
IDBI Bank
Kotak Mahindra Bank
YES Bank
IndusInd Bank
Axis Bank
Canara Bank
Conclusion
As you can see, there are many benefits associated with the post of a bank manager. The road is a bit long but very rewarding! Moreover, life as a bank manager is exceptionally comfortable and provides a high-paying salary with other perks and allowances such as a house, HRA, DA, etc.
We hope that the information above answers your question; how to become a bank manager? If you have any queries, comment below, and we will get back to you!
Good luck!
Frequently Asked Questions
Ques.1 What is the monthly salary of a bank manager?
Ans. The monthly salary of a bank manager is approximately 60-80K. The pay goes up to 15LPA as per experience.
Ques. 2 What do we have to do to become a bank manager?
Ans. You must have a bachelor's or master's degree in finance (or relevant fields) with an experience of 5 years. You can either clear IBPS exams and wait for a promotion or get an M.Com or MBA and get directly placed in various private sector banks.
Ques. 3 What is the maximum salary of a bank manager?
Ans. The maximum salary goes up to 15-17LPA. However, it depends on your expertise and bank policies.
Ques. 4 Is the job of a bank manager stable?
Ans. Yes, the government sector banks provide good job security. However, the job security is lesser in private sector banks.
Ques. 5 Are the working hours flexible?
Ans. No, the working hours are not flexible. You have to work at a designated time allocated. However, you can enjoy the best work-life balance due to the fixed working hours.
People are also reading: