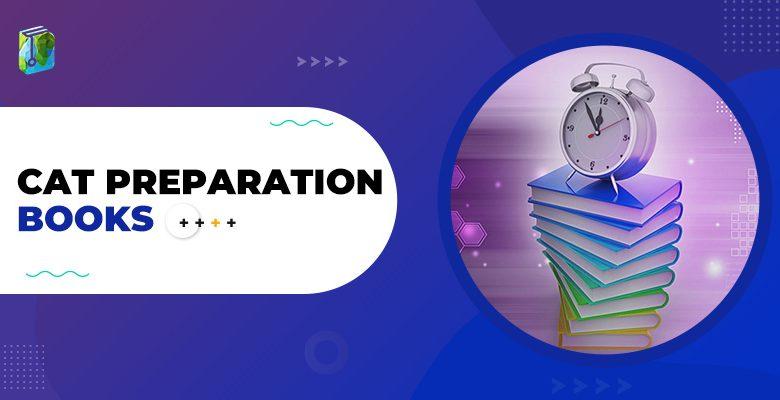 Reading comprehension is an important subject in every competitive exam. This subject involves understanding sentences and finding out the answers to questions based on the passages. Most of us think that we need to have good command of English to answer all the questions correctly.
However, the actual truth is that you need more logical reasoning skills than word power. Moreover, you also need to have good knowledge of the vocabulary which will help you understand the sentences better.
If you are preparing for the CAT, you will know that Verbal Ability and Reading Comprehension is the most important section if you want to clear the exam. Choosing the right and best VARC books for CAT is important for exam preparation. Since the CAT examination is one of the most competitive examinations, you need to sincerely prepare for the exam and score well.
As we all know, more than lakhs of students appear for the CAT examination, and finding the right CAT study material is very important to kickstart your exam preparation.
Here we have mentioned the best Verbal Ability and Reading Comprehension books (VARC) books for you.
So let's get started!
VARC Section In CAT Exam
The VARC section holds maximum weightage in the CAT examination. This section has a total of 24 questions and it is very important to clear the section with good marks. Out of the 24 questions, 19 are MCQs while the other 5 are non-MCQs.
Each question carries 3 marks and -1 is deducted for every wrong answer. Just like other sections, you need to complete the VARC section in 40 minutes.
Here is a complete CAT Exam Pattern for you.
Best CAT Preparation Books For Verbal Ability And Reading Comprehension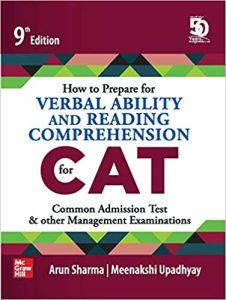 Author: Arun Sharma & Meenakshi Upadhyay
Latest Edition: 15 July 2020 (9th Edition)
Publisher: McGraw Hill
How To Prepare For Verbal Ability And Reading Comprehension For CAT is a best-selling book for aspirants preparing for the VARC section for CAT and other MBA entrance exams.
This book also gives a clear idea on how to attempt different types of questions and some of the time-saving tips and tricks which will help you clear the examination.
Here are some of the features of this book:
Revamped reading comprehension section with detailed solutions.
Newly updated questions in the summary of passage questions that are based on the latest CAT exam pattern.
The book also includes a new TITA question type without options in the para jumbles and odd man out the chapter.
It includes tips and tricks for solving grammar-related questions.
How to Prepare for Verbal Ability and Reading Comprehension for CAT includes previous years' question paper for CAT 2018 and 2019 with solutions.
You can buy this book here.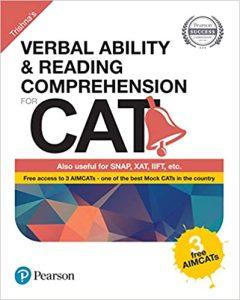 Author: Trishna Knowledge Systems
Latest Edition: 17 August 2017 (1st Edition)
Publisher: Pearson Education
To build a successful career in management, you need to stand out from others and possess good skills, perform well in the examination, and start being proficient in the English language.
This book offers various questions that will be asked in the VARC section of the CAT question paper. The content is mentioned in a way that it makes it easy for the readers to gain clarity in each concept.
Moreover, it offers detailed inputs and practical exercises in topics like grammar and sentence correction, vocabulary and usage, general verbal ability and reading comprehension, etc.
This book also comes with three free AIMCATs which allow the students to analyze their learning and prepare for the actual CAT exam.
You can buy this book here.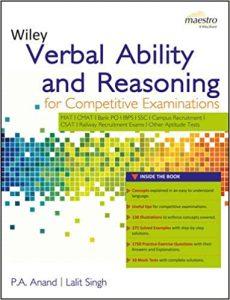 Author: P.A Anand & Lalit Singh
Latest Edition: 1 January, 2016
Publisher: Wiley
Wiley's Verbal Ability And Reasoning for Competitive Examinations helps to test the aptitude and logical skills of the aspirants. The main aim of this book is to guide the students to understand and master verbal ability and reading. The book is designed in a way that helps to develop both verbal and non-verbal skills effectively.
It is one of the most useful books that cover almost all the reasoning topics. The contents of the book include- important tips that help to clear such competitive examinations, 138+ detailed illustrations, 275+ solved practical examples with well-explained solutions, 1700+ practice questions with solutions, and over 10 mock tests with completed solutions.
You can buy this book here.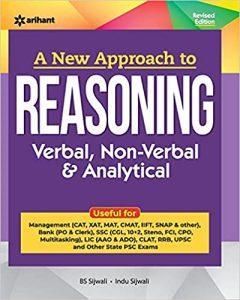 Author: BS Sijwali & Indu Sijwali
Latest Edition: 1 June, 2021 (3rd Edition)
Publisher: Arihant Publication
A New Approach to Reasoning is the best reference book for reasoning and is divided into three sections namely verbal, non-verbal, and analytical.
Every chapter in the book begins with an introduction and covers every concept. Each concept is supported with detailed examples and practical exercises with examples. This book includes many solved previous year question papers.
It is suitable for every management exam like XAT, CAT, MAT, CMAT, SNAP, IIFT, and others. It is also recommended for banking examinations like PO & Clerk, SSC exams like CGL, 10+2, FCI, CPO, LIC exams like ADO & AAO, and other state PSC exams.
You can buy this book here.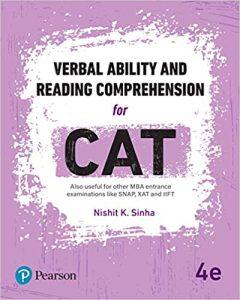 Author: Nishit K. Sinha
Latest Edition: 12 June 2020 (4th Edition)
Publisher: Pearson
Verbal Ability and Reading Comprehension for CAT 4th edition offers a detailed guide to the verbal ability, verbal reasoning, and reading comprehension. It is written based on the latest CAT exam pattern and other competitive exams like SNAP, XAT, IIFT, etc. The book has been presented in the clearest and comprehensive manner that helps the students to understand each and every concept easily.
The latest edition of this book also includes "odd one out" and "the best summary of the passage" and some of the new exercises in the VARC section. Moreover, some of the passages have also been replaced in the comprehension section that is updated according to the latest exam trends.
You can buy this book here.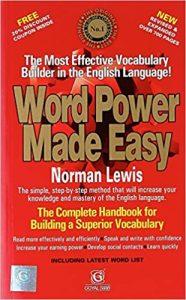 Author: Normal Lewis
Latest Edition: 1 June 2011 (Reprint Edition)
Publisher: Goyal Publishers
Word Power Made Easy is a comprehensive vocabulary-building guide written by legendary grammar specialist Norman Lewis. This book offers a simple and step-by-step guide to improving your English language knowledge and mastery.
Word Power Made Easy is the best and the quickest way to improve your vocabulary in the English language. As soon as you complete the exercises mentioned in this book, you will learn the usage of each word and the pronunciation. Moreover, the book teaches you to speak grammatically and write without making embarrassing errors.
Each chapter ends with a detailed review, and each section ends with a progressive check. Taking up numerous tests helps to improve the knowledge. It not only adds words to your vocabulary but also teaches ideas and different methods that will broaden your knowledge.
You can buy this book here.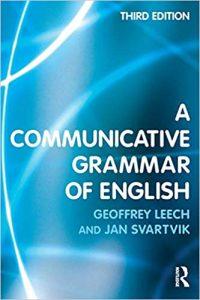 Author: Geoffrey Leech And Jan Svartvik
Latest Edition: 6 January, 2003 (3rd Edition)
Publisher: Longman
A Communicative Grammar Of English by Geoffrey Leech and Prof Jan Svartvik is an English grammar book that uses an innovative and clear approach to explain different concepts. Instead of using the boring structural approach, this book uses a communicative approach to teach English Grammar.
The contents of this book are divided into three parts:
Part 1: The author guides CAT aspirants on how to use the book and how grammar varies with different types of English: formal, informal, spoken, and written.
Part 2: The various grammar concepts in a very communicative manner.
Part 3: A-Z of English grammar.
A Communicative Grammar Of English includes real-life examples and data in the most simple way. This book also emphasizes improving spoken-language grammar while maintaining a balance between written and spoken English.
The main features of this book include:
This book is an up-to-date CAT preparation book for Verbal Ability and Reading Comprehension
This edition of the book includes a workbook co-authored by ELS specialists. The book helps students internalize the grammar contents.
You can buy this book here.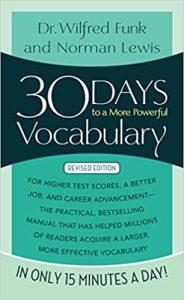 Author: Dr. Wilfred Funk and Norman Lewis
Latest Edition: 1 January, 2012
Publisher: Simon & Schuster
30 Days to a More Powerful Vocabulary is a very popular verbal ability and reading comprehension guide that helps to improve your vocabulary skills in just one month.
This book is written by Norman Lewis who is the best known English Grammarian explaining the simplest ways to improve your communication skills.
This book is for everyone who tends to misuse, mispronounce, or wants to improve their basic vocabulary knowledge. Since it is one of the oldest vocabulary books, it is used by millions of people who want to improve their reading, speaking, and writing skills in just 30 days.
This book guides the readers on how to use words and tenses correctly while writing and speaking. In the book, you will also learn about the etymology of words, usage of verbs, prepositions, adjectives, and articles. Moreover, this book also teaches old/new words to improve your language.
You can buy this book here.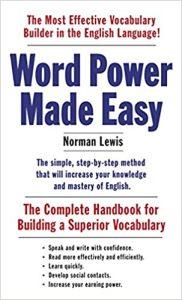 Author: Norman Lewis
Latest Edition: 4 November 2014
Publisher: Anchor
Word Power Made Easy: The Complete Handbook for Building a Superior Vocabulary is another best book for CAT preparation that helps to improve your English vocabulary. This book has helped over a million people master the language.
It is divided into thematic sections- based on how to flatter your friends, insult enemies, and how to talk clearly about science and medicine. This book is very easy to understand, informative, and full of humor. The author also explains the different ways to present and broaden your knowledge of vocabulary.
The author explains the following in this book:
Decode unfamiliar words
Offer phonetic pronunciations
Tips on how to avoid common spelling mistakes
A section explaining some old-fashioned grammar rules that are outdated and can be ignored safely
Helpful reviews, progress checks, and quizzes will enhance your skills.
You can buy this book here.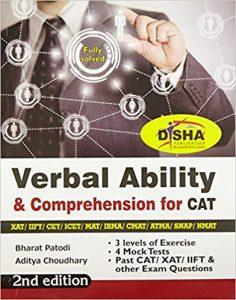 Author: Bharat Patodi and Aditya Choudhary
Latest Edition: 31 March 2015 (2nd Edition)
Publisher: Disha Publications
Disha's Verbal Ability and Comprehension for CAT/ GMAT/ XAT/ IIFT/ CMAT/ MAT/ Bank PO/ SSC is the most important book that teaches the techniques to crack competitive examinations. The book teaches everything from the basic to the expert level.
It is divided into three different sections: Verbal ability, Verbal reasoning, and reading comprehension. Some features of the book are:
Theory with examples
Basic level exercise
Standard level exercise
Expert level exercise
Answers to all the practical questions
The Verbal Ability section focuses on English Grammar basics, vocabulary, some of the most common errors.
The Verbal Reasoning section focuses on Parajumbles, Critical Reasoning, Fact/ Inference/ Judgement, and Passage Completion.
The Reading Comprehension section focuses on comprehension of passages of different genres based on the latest patterns.
You can buy this book here.
Conclusion
If you are the one who wants to clear the CAT or any other competitive examination, then you need to have good English knowledge. One of the most important sections in the CAT examination is Verbal Ability and Reading Comprehension.
To clear this section with good marks, you need to have the right study material. Here in this post, we mentioned the 10 best Verbal Ability And Reading Comprehension books that will make your CAT exam preparation easy.
We hope that this information helps you in the best way possible.
People are also reading: