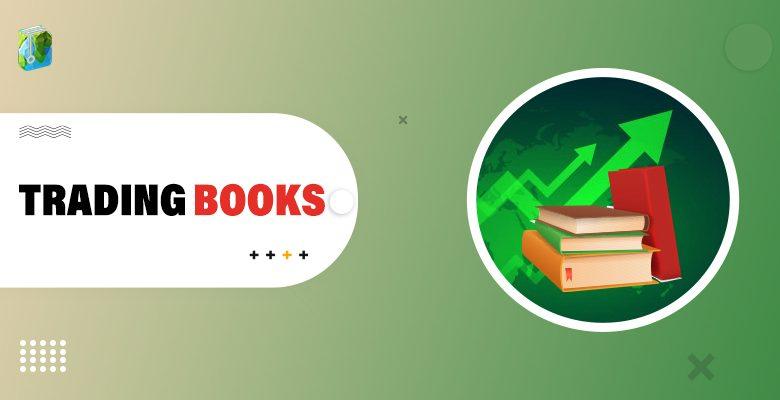 Most of us want to become successful traders by trading stock, commodities, options, forex and more. Unfortunately, training is not taught at school or in college. You need to equip yourself with resources that will help you to learn to trade and become an expert.
Agree or not, it is difficult to become an expert trader because the market is huge and there will be ups and downs along the way. You also need to know that there is no right way to become an expert. However, once you start reading how others have done it, it will help you find the right path and learn the right trading style.
Fortunately, there are many best trading books available in the market which will help you become a good trader. Not only these books on trading will help to update your existing knowledge on how to trade but will also teach you to trade from the scratch.
To help you choose better, here are some of the best trading books which will help you out!
10 Best Trading Books To Read In 2022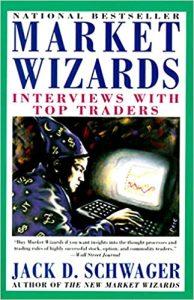 Author: Jack D. Schwager
Latest Edition: 1 January 1900
Publisher: Harper Business
Market Wizards is one of the unique stock market books that compiles the interviews of the most famous stock market investors, including Bruce Kovner, Richard Dennis, Marty Schwartz, Tudor Jones, Ed Seykota, Tom Baldwin, and more.
This book is a classic interview-style stock market book that is a must-read for every trader, professional financial expert, and anyone trying to learn about the stock market.
It includes the market experiences of all of the investing experts. If you are looking for an insightful book and a bestselling investment book of all time, then this book is for you.
Moreover, the book explains the stocks and investments in currencies and commodities.
You can buy this book here.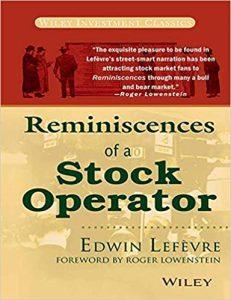 Author: Edwin Lafevre
Latest Edition: 1 January 2008 (1st Edition)
Publisher: Wiley
Reminiscences of a Stock Operator is adapted from the series of Saturday Evening Post articles that were written by Edwin Lefevre in the 1920s. This trading book is a classic and is based on the real-life incidents of Jesse Livermore.
Although the book is more about Livermore's experience, the major aim of the book is to provide trading wisdom and rules that Livermore tries to explain through Lefevre.
This book is interesting and insightful for people who want to become full-time professional traders and for someone who has just started their journey as a trader. Each chapter is filled with insightful knowledge on trading.
You can buy this book here.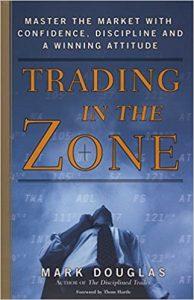 Author: Mark Douglas
Latest Edition: 1 January 2001
Publisher: Penguin USA
Trading in the Zone by Mark Douglas is one of the best books on trading. It reveals all the reasons for lack of consistency and helps the traders to overcome the mental habits that cost them their money.
The author exposes the myths of the stock market and teaches the traders to look beyond the random outcomes, understand the realities of risk involved, and to get comfortable with the changes in the market movements that result in market speculation.
It is considered to be the best book on trading psychology. The author starts off the book by explaining the typical journey of a trader and how most of the traders wipe out their capital in less time.
The book also reveals the characteristics of the beliefs of a trader which might be a hindrance in their trading journey. He also offers deep insights on the importance of molding the mental mindset of the trader with that of the market offerings.
Moreover, Mark has also written down the 5 fundamental truths every trader needs to know and the 7 major principles of creating consistency in winning.
You can buy this book here.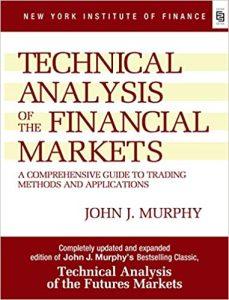 Author: John J. Murphy
Latest Edition: 1 October 2020
Publisher: Penguin Random House
Technical Analysis of the Futures Markets by John J. Murphy is a complete guide for all the financial markets. This trading reference book has already helped over thousands of traders and has taught them the various concepts of technical analysis and the usage of futures and stock markets.
The latest edition of the book covers the latest trends in computer technology, technical tools, indicators, Intermarket relationships, stocks and stocks rotation, and much more.
The author also explains the easiest ways to read charts, understand indicators, and the importance of technical analysis. Moreover, the book focuses mainly on the futures markets.
Technical Analysis of the financial markets is the best read for anyone who wants to learn how to track and analyze market behavior.
You can buy this book here.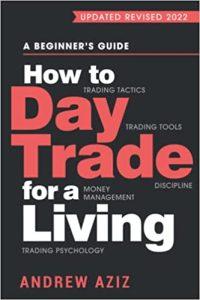 Author: Andrew Aziz
Latest Edition: 28 July, 2016 (3rd Edition)
Publisher: Createspace Independent Publishing Platform
How to Day Trade for a Living is one of the best trading books for beginners written by Andrew Aziz. Andrew is a Canadian trader, official Forbes Business Council member, investor, and proprietary fund manager. He is ranked as one of the top 100 authors in the "business and finance" genre.
This book destroys the notion of the fact that day traders are gamblers. All the trading strategies mentioned here are very simple and effective. It also includes some real-time examples. The author also offers clarity of do's and don'ts in trading, the need for taking trading seriously, staying mentally and physically fit, stock picking, and much more.
The book also focuses on low brokerage charges, high internet speed, and using hotkeys that allow trading faster. Moreover, Andrew has also explained the difference between stocks that are traded during the day and the stocks that are swing traded.
You can buy this book here.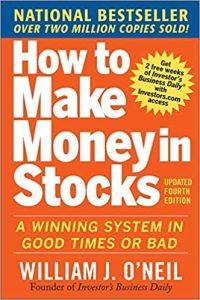 Author: William J. O'Neil
Latest Edition: 16 July, 2009 (4th Edition)
Publisher: McGraw Hill Education
How to make money in stocks is written by William, a highly successful entrepreneur. This book on the stock market explains everything one needs to know about the stock market. The author explains everything one needs to know about investing in stock markets in detail.
The book begins with the price of winning stocks and notes to help you make the right choice. The author is famous for his CAN SLIM method. It is his widely popular trademark method of investing. This method contains 7 steps which help to increase your profits. After analyzing the stock market trends over the last 100 years, he came up with this method.
There is plenty of information about various incidents, like when one needs to invest and make a profit or cut off loss situations. The book also includes information on mutual funds and exchange-traded funds. He also explains some essential tips to work with both while investing.
You can buy this book here.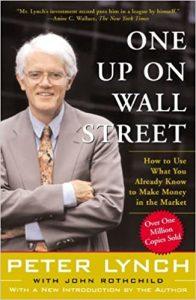 Author: Peter Lynch
Latest Edition: 3 April 2000
Publisher: Simon & Schuster
One Up On Wall Street by Peter Lynch, a famous mutual fund manager. He helps the readers understand the basics of investment and how it can help you grow.
This book includes various chapters that help learn more about the advantages of investing in stocks. In addition, the information becomes more credible and reliable as the writer is America's most triumph money manager.
Lynch believes and states that you will find goods and services everywhere you look around. He also explains the list of organizations where investors can invest and reap benefits. With ample important information, this book is a treasure for readers.
There are many tips on increasing and investing in the money business. The writer also discusses the ebb and flow of the investment market.
You can buy this book here.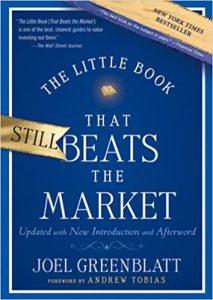 Author: Joel Greenblatt
Latest Edition: 24 September 2010 (1st Edition)
Publisher: Wiley
The Little Book That Beats The Market by Joel is one of the New York Best Sellers that has sold over 300,000 copies.
The author explains how investors can outperform the most popular market averages in this book. He applies the simple formula that seeks out good businesses when they are available at bargaining prices.
It is the finest book that explains investing principles in the best way ever. This stock market book is written in an easy-to-understand tone with occasional humour and is highly recommended for every novice investor.
The author starts off the book by explaining the examples for beginners to help them understand how the stock market works and then moves to some of the best ways to find the right stock to invest money in.
You can buy this book here.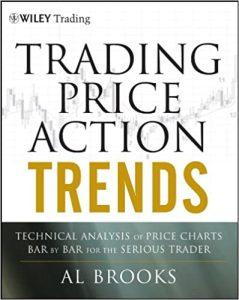 Author: Al Brooks
Latest Edition: 30 December 2011 (1st Edition)
Publisher: Wiley Trading
Trading price action trends are a practical guide for profiting from institutional trading trends. In this book, he has explained his simplified trading systems which help to create price charts in 5 minutes regardless of the economic changes.
In this book, the author opens up about his experiences both as a learner and as an experienced trader. However, you need to know that this book is not for beginners.
Reading this book along with part two and part three will definitely help you become a better trader and read charts easily. If you are looking for a book that offers trading insights on today's market Then this book will help you achieve your goals.
You can buy this book here.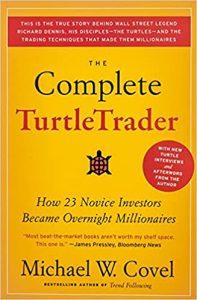 Author: Michael W Covel
Latest Edition: 24 February 2009
Publisher: Harper Business
Complete turtle trainer is a true story behind the Wall Street legend Richard Dennis, Please discipline the turtle and the trading techniques that made them a millionaire.
In this book, Michael explains how Dennis interviewed and selected students, details their education, and experiences while working for him. Moreover, he breaks down the total system and the rules in full.
This book is written in chronological order. It starts with the story of how a group of novice investors was taught to trade by Dennis and how they became successful with the help of his technical analysis.
Overall this book is an interesting one that supports the ideas of active trends in investing. Another major key takeaway of this book is that anyone can start reading if they have the proper knowledge.
You can buy this book here.
Conclusion
Trading the different types of stock is a complex concept. You need to be very careful when you start trading. Before you trade, you need to know everything because you are investing your hard-earned money and time in it.
Learning plays an important role and one of the best ways to upgrade your knowledge on trading and to learn it from scratch is with the help of books!
There are many books on trading that will help you learn, make the right buying decisions, and at the same time, help you earn a lot of profits from buying and selling your stocks.
Here in this post, we explained the 10 best trading books which will help you learn and understand trading better.
Happy reading !
People are also reading: