Job
Career After M.Tech: Entrance Exams, Jobs, Courses & More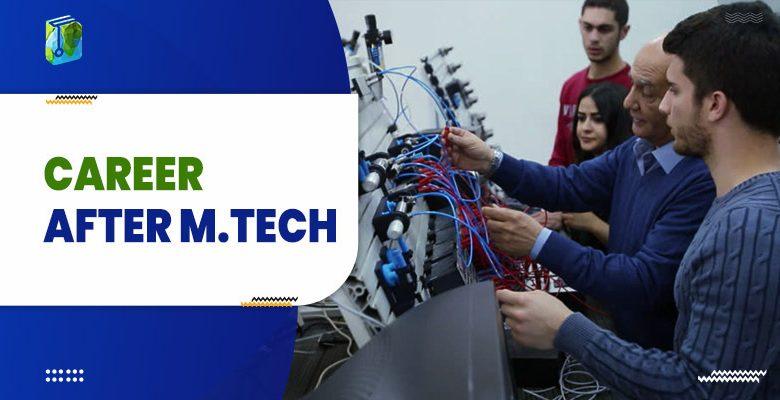 What is M.Tech?
M.Tech is a postgraduate engineering course for the students. The time period of this degree is 2 years. Students have the opportunity to opt for a specific branch as this discipline of engineering offers various streams.
Here is a list of some branches:
The full form of M.Tech is Master of Technology.
Entrance Exam for M.Tech
GATE or General Aptitude Test in Engineering is organized for the students who seek admissions in M.Tech into various colleges/universities. In addition, it is one of the most challenging exams in the country.
It is a national-level engineering entrance examination conducted annually. Every year lakhs of students appear to take the exam. The Indian Institute of Science (IISc) and seven Indian Institutes of Technology (IITs) jointly conduct the GATE exam.
Career Options After M.Tech
1. Pursue the teaching profession
Becoming a teacher is a widely opted option by postgraduate students. This profession provides you with job satisfaction. Moreover, it also keeps you updated regarding the course you choose to teach. It is a great medium to connect with the younger generation and contribute to society by teaching them. Nurturing others is a blessing for you in this profession. In addition, there are several openings for M.Tech postgraduates to apply to various colleges or universities to impart their knowledge.
Things to remember:
Always keep your resume updated for the interviews.
Revise the main topics or the probable interview questions diligently.
Prepare answers to some basic questions such as; Introduce yourself? What are your areas of interest? Your strengths and weaknesses, etc.
Be confident in the interview.
2. Go For P.hD
Opting for a P.hD is another viable option for the M.Tech postgraduates. Moreover, you get to gain expertise and hone your skills in your field.
The time duration of P.hD in India is 3-5 years depending on the specialization you choose. If you wish to take admitted into IITs or NITs, then it's mandatory to have a valid GATE score.
You can opt for a P.hD in India or even plan to pursue it from abroad. Both are good options and have their own perks. Studying at a foreign university provides you with great exposure. Additionally, there are scholarships available for meritorious students that will ease up your burden finances.
Best P.hD colleges in India
IIT, Bombay
IISc, Bengaluru
IIT, Madras
IIT, New Delhi
AIIMS, New Delhi
IGNOU, New Delhi
Christ University, Bengaluru
Best P.hD colleges abroad
Germany
Technical University of Munich
Ludwig-Maximilians-Universität München
Ruprecht-Karls-Universität Heidelberg
Canada
University of Toronto
University of British Columbia
McGill University
USA
Massachusetts Institute of Technology
Purdue University
California Institute of Technology
Australia
University of Melbourne
Australian National University
The University of Queensland
Things to remember: Candidates must be careful when choosing the institution abroad. It is recommended to check their credibility and accreditation carefully. As there are plenty of fraud universities that can steal your money.
The way AICTE runs in India is the same way ABET is an organization in America. Therefore, you must check whether the universities are under accreditation or not!
3. Start your business
Starting your own business is a great option for postgraduates. You have an opportunity to impart your knowledge and expertise and build something of your own. It is a great way to contribute to society and generate employment for needy people.
Moreover, various successful entrepreneurs are engineers such as Sundar Pichai, Satya Nadella, Narayan Murthy, and many others. They are incredible examples of how you can incorporate your skills learned in engineering into your business and excel at it.
Furthermore, there are several government schemes that provide loans for start-ups. This can be additional help for you.
Interestingly, It's a great time to turn your hobby into your business. There are various other options to do something of your own such as:
Blogging
Vlogging
Freelancing
Holding workshops
Teaching online courses
4. Enter the private sector
The private sector is full of opportunities and jobs. It is a great way to kickstart your career. In addition, these companies provide good packages for postgraduates. There are various ports for different streams in most organizations and you can apply accordingly.
If you are looking for job security, then jobs in the corporate sector are the best fit for you.
Some of the reputed companies that hire M.Tech students are listed below:
Infosys
TCS
Wipro
Dell
HP
Accenture
Deloitte
Cognizant
Cisco
Facebook
Google
Besides the big names, every organization welcomes M.Tech pass-outs with impressive salary packages.
Job Opportunities After M.Tech
There are various streams in M.Tech degree. Every stream has different job opportunities. Here, we are entailing various posts available after post-graduation.
Jobs After M.Tech in Computer Science Engineering
Web developer
Database administrator
Software tester
Design engineer
System engineer
Technology analyst
Team lead
Domain consultant
Industries officer
Network administrator
Jobs After M.Tech in Electronics and Communication Engineering
Product manager
Service engineer
Network planning engineer
Technical directors
Senior software analyst
Jobs After M.Tech in Mechanical Engineering
Maintenance engineer
Automotive engineer
Marine engineer
Design engineer
CAD Technician
Control and instrumentation engineer
Jobs After M.Tech in Information Technology
System administrator
Network administrator
Data security administrator
Computer support specialist
Computer technician
Information system manager
Database administrator
Conclusion
The future for MTech postgraduates is bright and fruitful as there are various career paths waiting in the specialized field.
As there are several options for MTech postgraduates, it is essential to understand your requirements first. Take a break and make an informed decision. Opt for the field you are truly interested in. It can be pursuing further studies or investing in your own business.
We hope that the information listed above helps you in deciding what suits you the best.
In case of any queries, please feel free to drop your questions in the comment section below. We will reach back to you!
Good luck!
People are also reading: