PGDM
PGDM in International Business: Course, Admission, Colleges, Jobs, and Salary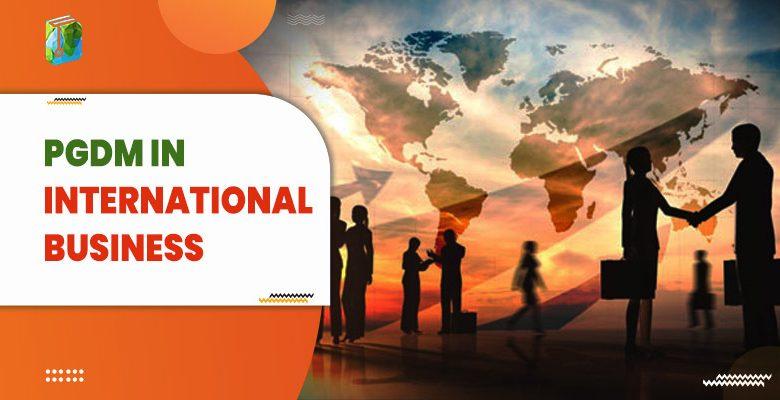 The international business environment is rapidly changing in the modern era. As a result, new markets are emerging at a faster rate than ever before. As a result, in order to succeed as a business manager in an unforgiving global business environment, students must learn to use flexible models of thinking and practice.
The PGDM in International Business program appears to be a success enabler for anyone interested in learning strategies for establishing, managing and developing international business enterprises. This one-year diploma program guides students through export-import practices and policies, international finance, and documentation required for the proper operation of various financial institutions and banking.
PGDM in International Business
This program provides you with entrepreneurial, conceptual, and analytical skills essential to handle cross-border business operations. The curriculum focuses on applied aspects, helping you get the gist of concepts for practical implementation. The course features modern issues that include the business environment and international commercial law. When it comes to admission in this course, it is based on performance on an entrance test, which is institution-specific.
The PGDM in International Business course aims to provide current and potential managers with the required competency for forming strategies in the rapidly developing global business situation. International Business explores the relationships between countries in the context of business. All students are trained in strategizing and managing companies that already have an international footing or wish to go international. The course is designed to build managerial skills and knowledge of corporate leadership, global economics, and cultural, political, and legal realities.
There are three major focus areas of this course:
Finance
Operations
Marketing.
PGDM in International Business Highlight
| | |
| --- | --- |
| Course Level | Post Graduate |
| Examination Type | Semester based |
| Duration | 1 year or 2 years |
| Eligibility | Graduate in any discipline from a recognized university |
| Admission Process | Based on counseling after clearing Entrance Tests |
| Course Fee (Annual) | INR 2 to 18 Lacs p.a. |
| Average Annual salary | 4 Lacs to 20 Lacs (In INR) |
| Top recruiting companies | Deloitte, Cognizant, Goldman Sachs, PricewaterhouseCoopers, Amazon, etc. |
Also Check:
Syllabus and course structure of PGDM in International Business Course
Semester I
Principles and Practices of Management
Organizational Behaviour
Management Accounting
Managerial Economics
Business Communication
Semester II
International Economics
International Business Management
Economic Environment and Business
Management Information Systems
Research Methodology and Statistical Quantitative Methods
Semester III
International Commercial Law
International Trade Logistics
Financial Institutions and Banking
Strategic Management
Foreign Exchange Management
Semester IV
International Marketing
Marketing Research
Exim Policies and Procedures
International Finance
Corporate Governance
Career Prospects for PGDM in International Business
The PGDM in International Business program has the potential to open the floodgates of success for diploma holders. Upon completing the program, you can find employment opportunities in the private and public sectors alike. On completion of your diploma, you can be hired in managerial positions in various industries, such as, but not limited to:
Global Logistics
Import and Export
Shipping & Airlines
International Consultancies
International Courier Companies
Banks & Financial Institutions
Government Agencies
Securities Firms
Healthcare Sector
Retail chains
Travel and Tourism
Investment Companies
Hospitality Chains
Marketing & Brand Management
Roles available for the PGDM in International Business Diploma Holders:
As a PGDM in International Business diploma holder, you will be donning any of the following roles:
International Marketing Manager
Business Development Manager
International Financial Analyst
Procurement Manager in an Import-Export field
International Product Manager
Key Account Management
Multinational Corporations
Finance/forex Management
Compliance Management
Logistics Management
As previously stated, the course integrates various segments such as marketing, shipping, packaging, documentation, pricing, sourcing, distribution, export finance, costing, foreign exchange, and market research.
| | |
| --- | --- |
| Job Position | Average Annual Salary |
| Export Managers | INR 6 to 7 Lacs |
| Marketing Analysts | INR 4 to 6 Lacs |
| International Finance Manager | INR 15 to 16.5 Lacs |
| International Business Consultant | INR 9 to 11 Lacs |
| International Marketing Manager | INR 5 to 6 lacs |
| International trader | INR 7.7 to 9 lacs |
| Investment Banking Managers | INR 9 to 10 lacs |
Eligibility and Admission process of PGDM in International Business
Like any other diploma program, the PGDM in International Business comes with specific eligibility criteria and an enrolment process. Mind you, these specifications are subject to the institute you opt for.
Eligibility Criteria
Typically, candidates must hold a Bachelor's degree in any field from an accredited institution. Students with a Bachelor's degree in International Business, on the other hand, are preferred.
In addition, final-year bachelor's degree students are eligible to apply, but they must complete their bachelor's degree within a certain time frame.
After graduation, candidates may be required to have a minimum of 5 years of work experience.
Admission Process
Typically, the institutes divide seats according to the SC/ST/PH/OBC candidates in line with the guidelines of the Indian Government.
The enrolment for the PGDM in International Business course is based on the candidate's performance in the entrance exam conducted by the particular university. The general process includes a pre-screening of candidates based on their entrance test, academic profile, and personal interview.
The question paper is based on the QMR format, which tests the logical reasoning and aptitude of a student. All examinations are usually conducted in April. The online tests have the following components:
Verbal Ability
Quantitative aptitude
Data Interpretation and Logical reasoning
General Knowledge of Financial Markets
Apart from that, some colleges in India provide the entry to the course based on graduation completed with a satisfactory aggregate score.
Top Institutes for PGDM in International Business
| | | | | |
| --- | --- | --- | --- | --- |
| Name of Institute | City | Duration | Eligibility | Average Fees |
| Symbiosis Centre for Distance Learning | Pune | 2 years | Graduation | INR.45,000 |
| NIIT | Delhi | 1 year | Graduation | INR 3.2 Lacs |
| IGNOU | Delhi | 1 Year | Graduation | INR 9,000 |
| AIMA | Delhi | 2 years | Graduation | INR 26,000 |
| MDI | Gurgaon | 2 years | Graduation | INR 18 Lacs |
| Loyola Institute of Business Administration | Chennai | 1 Year | Graduation | INR 470,000 |
| IMS | Jhansi | 2 years | Graduation | INR 15,000 |
| BIMTECH | Noida | 2 Years | Graduation | INR 11 Lacs |
Top Companies Hiring PGDM in International Business Postgraduates
McKinsey
Deloitte Consulting LLP
Lehman Brothers
Johnson & Johnson
Credit Suisse
Bain & Company
Merrill Lynch & Co
Circle K
Marks & Spencer
Standard Chartered Bank
Citigroup
JP Morgan Chase & Co
Goldman, Sachs & Co
Accenture
Wells Fargo
Morgan Stanley
UBS
Microsoft Corporation
Prada, Landmark
Deutsche Bank
Walmart
Boston Consulting Group
Conclusion
We have compiled all of the necessary information about the Post Graduate Diploma in International Business (PGDIB) course available in India in this article. So, as we all know, the program was designed to teach you everything you need to know to succeed in today's intensely competitive international business environment. This program prepares you to work effectively and lead organizations involved in cross-border business transactions.
Through its curriculum, the Post Graduate Diploma in International Business (PGDIB) Studies assists students in gaining a vast amount of knowledge. It teaches students about business operations both textually and practically.
Students with practical knowledge are more valuable to corporations and employers because it shows that a specific candidate has the necessary knowledge to function in various business settings.
People are also reading: