PGDM
PGDM in Biotechnology Management: Course, Admission, Colleges, Jobs, and Salary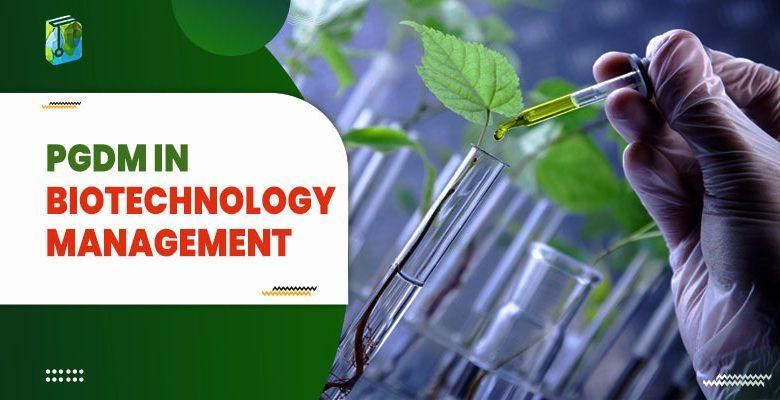 Introduction
PGDM in Biotechnology Management is a productive way of opportunities for a candidate having all the managerial skills. Many educational institutes in India offer the Post Graduate Diploma in Biotech Business Management for training eligible candidates to take finance, marketing, fundamental concepts of the biotechnology (life science), and pharmaceutical industries.
Getting a PG Diploma in Biotechnology helps bioscience students build a productive career in the life-science field. Graduates from the bioscience stream are suitable to register for the course. The average tuition fee charged for a course ranges between INR 90,000 to INR 2 lacs per annum in India, and it depends upon the institute offering the course.
After completing this course, candidates will be hired in biotech firms or pharmaceuticals companies, chemical/ agricultural/ allied industries, life-science industries, food manufacturing, and different biotechnology-based R&D companies. Biotech management professionals may earn an annual salary ranging from INR 4.5 Lacs to INR 9 Lacs depending on the job profile and industry.
PGDM in Biotechnology is a combination of both management and science. Graduate candidates who have already pursued biosystems such as genetics, biochemistry, embryology, molecular biology, and cell biology are best befitted for pursuing this course and later begin their career in the bio-industry. The course includes studying fundamental principles of management, ethical and environmental standards, core biotechnology management-based skill sets, laws and regulations in biotechnology, and research projects for the optimized and practical application of these concepts.
The course examines the nature of business based on bio-scientific knowledge. It includes significant interaction with the bio industries' latest tools and techniques, management, and leveraging them through the best ways.
Highlights of PGDM in Biotechnology Management
| | |
| --- | --- |
| Course Level | Post Graduate |
| Duration | Two Years (Full-Time or Distance) |
| Examination scheme | Semester-based |
| Eligibility | Bachelor's or Master's degree in Microbiology, Biotechnology, Biochemistry, or Life Sciences |
| Admission Process | Entrance Exam or Direct Admission in some cases |
| Course Fee | INR 90,000 to INR 5,00,000 |
| Average salary | INR 4,50,000 to INR 9,00,000 |
| Job Positions | Biotech Project Manager |
Eligibility Criteria for PGDM in Biotechnology Management
This course is suitable for candidates with a bachelor's degree in bio-related courses and marketing domain matters. Professionals in administration, marketing, research and development (R&D), production, and marketing management courses can take this course if they are from a bioscience background and are looking for a career in the biotech field. So candidates are required to have the below skills:
Research: Great scientific and analytical research skills are needed for climbing higher in the biotech management world.
Production: Knowledge of biological concepts, production processes, and measurement tools.
Communication and Quality Analysis: An excellent attention to detail and a good command of spoken and written English.
Apart from it, teamwork skills and adaptability to changes are added advantages for a successful career in Biotechnology Management.
Admission Process for PGDM in Biotechnology Management
For admission in this course, graduates have to qualify for the proper management entrance examination with a minimum cut-off score as per the eligibility of institute conditions. Here is the process of selection:
Group Discussion (GD): Qualifying students need to go through a GD round based on their performance in MH-CET, CMAT, ATMA, MAT, CAT, or XAT.
Personal Interview (PI): Applicants on clearing the Group Discussion round are called for the PI round.
Technical Interview: Various institutes conduct additional technical interviews to assess the candidates' basic biotech education and overall knowledge.
Duration of PGDM in Biotechnology Management Course
It is a two-year program approved by AICTE. This semester-based course has four semesters each of six months duration. This course involves an internship training program of one or two months, depending on the institute allowing the course.
Syllabus of PGDM in Biotechnology Management Course
Semester I
Legal Aspects of Business
Business Communication
Managerial Economics
Information Systems Management
Decision Science
Financial and Cost Accounting
Fundamentals of Marketing
Principles of Management
Biochemistry and Physiology
Physical Techniques and Bio-nanotechnology
Medical Biotechnology, Pharmacology and Pharmacognosy
Semester II
Financial Management
Business Communication II
Human Resource Management
Logistics & Supply Chain
Sales and Distribution
Intellectual Property Rights
Marketing Management
Strategic Management
Applied Biotechnology
Semester III
Product and Brand Management
Taxation
Rural Marketing
Hospital and Health Care Management
OTC Marketing
International Business
Marketing Strategy
Integrated Marketing Communications
Consumer and Industrial Buyer Behavior
Clinical Research
Regulatory Affairs
Bioinformatics and Drug Designing
Semester IV
Project Management
Quantitative Models in Marketing
Capstone Project
List of Top Institutes Offering PGDM in Biotechnology
Here is a list of the top institutes in India that offer this course along with their eligibility conditions, respective locations, admission processes, and fees charged by each institute.
| | | |
| --- | --- | --- |
| Name of Institute | City | Average Annual Course Fees |
| SIES College of Management-Studies | Mumbai | INR 4-5 Lacs |
| MITCON Institute of Management | Pune | INR 2-3 Lacs |
| PIMSR | Mumbai | INR 1-2 Lacs |
| Nicco Institute of Biotechnology (NIB) | Kolkata | INR 19,000 – 20,000 |
| Government-Polytechnic | Firozabad | INR 13,000 – 15,000 |
| D.N. Polytechnic | Meerut | INR 36,000 – 38,000 |
Career Opportunities
The rise of the bio-industry market in India and worldwide offers countless career opportunities for ambitious management professionals. Biotechnology postgraduates can begin their career in various bio-industry departments based on their individual interests and skillsets. Various companies hire freshers as Managers/ Assistant Managers to manage the functioning of various units in an organization. As per the job profile, a postgraduate in this course can expect an average annual salary ranging from INR 4.5 to INR 9 lacs.
Conclusion
This article has provided complete information regarding the PGDM in biotechnology management course in India. So now you know that many educational institutes in India offer the Post Graduate Diploma in Biotech Business Management to train eligible candidates in the finance, marketing, general concepts of the biotechnology (life science), and pharmaceutical industries.
Also Check:
People are also reading: