Courses
Best Courses After 10th in 2023: [Admission, Fees & Colleges]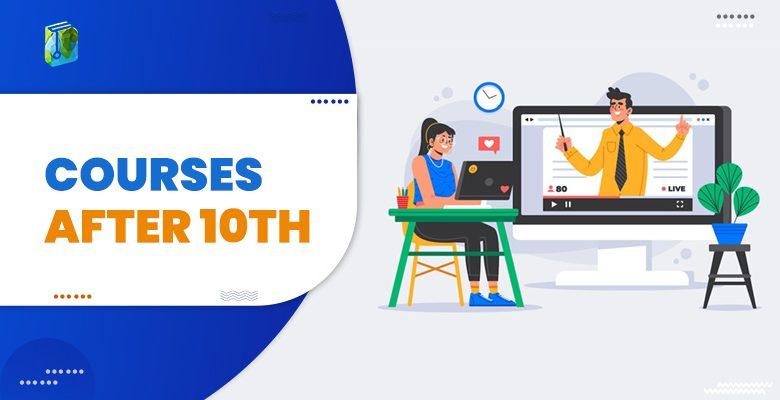 As soon as students are near the completion of the 10th standard, many questions hover in their minds. What are the courses after the 10th? Which course is best after the 10th? What is the future scope of the course I opt for? And so on!
Well, if you are also confused and looking for some answers, this post is for you. We will present a detailed outlook on the best courses after the 10th, how to choose courses after the 10th, and other important information that will help you!
Let's begin!
Courses After 10th
Students often worry about 'what after the 10th'? Well, there are ample options for students to pursue after the 10th grade. Some wish to continue their higher secondary education in the 11th and 12th, whereas some opt directly for courses after the 10th. Both ways, there are tons of career opportunities for the students.
In addition, a few of the courses are highly popular and recommended. We will talk about them in detail in this article.
But first, do you know, it is always beneficial to take counseling to understand the courses, subjects, future scope, etc.? Let's understand!
Why is Career Counselling Important after the 10th?
As evident, there are a lot of questions in the minds of students and parents regarding the best courses after the 10th class. Every steam has enormous opportunities in the respective fields. However, it is essential to analyze your area of interest first! To help in that, career counseling plays a vital role. Here are some advantages that make career counseling important and answer the hot question, 'what to do after 10th'?
1. Help to overcome fears
Most students are often worried about what to choose and doubt whether they will be able to do well in a specific course. Well, the counselors will help you with their practical knowledge and information on each course that will give you detailed insight and lessen your uncertainty. After all, we only fear the things that are not under control, right? These sessions will bring things under your radar, and you'll know how each course will pan out!
2. Counseling experts
The experts in various fields help you to know your strengths and weaknesses related to each stream/ subject. At many institutions, several tests are conducted to analyze your skills and advise you on which stream suits you best. This helps the students to understand the list of courses after 10th and opt for the best courses after 10th per their caliber.
3. Current best career options
The expert counselors provide you with the ongoing trends and current best available career options. Every year, the trends change with upcoming technologies or demands in the industry for every stream. Therefore, the broad information by the counselors helps individuals to choose a stream and understand the future scope!
4. Future Scope
Such counseling sessions assist students to know the career options after the 10th associated with each stream. Hence, it becomes easy to plan your future career path and understand what lies ahead!
Diploma Courses After 10th
Diploma courses after the 10th are opted for by many students who do not wish to pursue +1 and +2. There are many after 10th courses that you can opt for as per your interest. We are providing a list of courses after the 10th in various fields below with details.
Note: To become an engineer, you have to spend a total of 6 years. After getting a diploma in engineering, you get direct entry in the second year of BE./B.Tech.
Diploma: 3 Years
Degree: 3 Years
Top 15 Diploma courses after 10th in Engineering
Metallurgical Engineering
Mining Engineering
Information Technology
Automobile Engineering
Fabrication Engineering
Marine Engineering
Water Technology
Chemical Technology
| | | | |
| --- | --- | --- | --- |
| Eligibility Criteria | Time Duration | Fee Structure | Top Institutions |
| Class 10th with a minimum of 50% marks | 3 Years | INR 6,000 to 1 Lac (Depends on the nature of the course and institute) | IIT Delhi, IIT Roorkee, NIT Rourkela, ICT Mumbai, NIT Warangal, IIT Gandhinagar, College of Engineering Pune, LPU Jalandhar, University of Mumbai, Jamai Millia Islamia, IGNOU Delhi |
Other Popular Diploma Courses After 10th
Here is the list of courses after the 10th widely opted by thousands of students every year.
Diploma Course
Eligibility
Time Duration
Top Institutions
Job Opportunities
Diploma in Agriculture
Class 10th
2 Years
Singhania University- Jhunjhunu,

Punjab Agricultural University- Ludhiana,

BHU Varanasi, IGNOU Delhi

Agriculturist.

Agri Marketing Associate.

Farm Manager.

Diploma in Big Data Analytics
Class 10th
1 Year
Indian School of Business Management
Diploma in Photography
Class 10th
2-3 Years
Morph Academy- Chandigarh

MIT-WPU- Pune

AAFT- Delhi

Le Mark School of Art- Mumbai

Photography studio, photography agency
Diploma in Digital Marketing
Class 10th
1 Year
Vidya Jyoti University Chandigarh,

AAFT University

Various posts in marketing and sales in digital marketing such as, digital marketing sales executive, business executive, etc.
Diploma in Rural Health Care (DRHC)
1 Year
Semester-Wise
Ayush and Health Sciences University of Chhattisgarh

Sri Venkateswara Institute of Medical Sciences

The Indira Gandhi Technological & Medical Sciences University

AURO University of Hospitality and Management

Emergency Nurses

Nurses-In Charge

Community health nurse

Work for State Governments or NGOs

Diploma in Nursing Care Assistant
2 Years
Semester -Type
Sri Venkateswara Institute of Medical Sciences

The Indira Gandhi Technological & Medical Sciences University

King George's Medical University

Emergency Nurse

Nurse in NGO or Government Hospitals

On-Call nurse

Diploma in Pathology Lab Assistant
Diploma/Part-time
3-4 Months
Lord Shiva College of Pharmacy- Sirsa

JIPMER- Puducherry,

SRM- Chennai

GGSIPU- New Delhi

Lab Technician
Vocational Courses
Vocational courses have been in demand in recent years. These courses train the students who have just completed their 10th in various fields such as fashion designing, health, beauty, hospitality and hotel management, etc.
Vocational courses give practical training to perform well in the respective industries and are considered one of the best after the 10th course.
In addition, students may also go for a 3-year D.Voc. or Diploma in Vocation course under the NSQF (National Skill Qualification Framework) training program. This degree in vocational training is one of the best courses after the 10th.
These courses can be termed as a bit unconventional. Here are the eligibility criteria and duration for this course.
| | | |
| --- | --- | --- |
| Eligibility | Time Duration | Certification |
| Class 10th with a minimum of 45% aggregate | 1-Year Course | After completion of the course |
Students who wish to make their career in digital marketing, animation, designing, etc. can check out the list of courses after the 10th below:
Vocational Course in Food Production
Vocational Course in Health and Beauty
Vocational Course in Fashion Design and Garment Technology
Diploma in Insurance and Marketing
Certification in Animation
Hotel Operations Course
Certificate course in PC Hardware and Networking
Software Development
Graphics & Multimedia
BFSI
Medical Imaging
Top Vocational Courses Colleges in India
| | |
| --- | --- |
| College | Location |
| Banaras Hindu University | Varanasi |
| Punjab University | Chandigarh |
| Loyola College | Chennai |
| Fergusson College | Pune |
| St. Xavier's College | Mumbai |
Travel & Tourism Courses
The travel and tourism sector has a great scope. Opting for a course in this field can uplift your chances of gaining a better understanding and even starting your own business in the future. This course is known to be one of the best after the 10th course.
Top Travel and Tourism Courses Colleges in India
| | |
| --- | --- |
| College | Location |
| University Institue of Hotel Management and Tourism | Chandigarh |
| IGNOU | Delhi |
| EduGlobe School of Learning | Mumbai |
| Jamia Millia Islamia | Delhi |
| SRM University | Sonepat |
Best Skill Training Programs after Class 10th
Students also have the option to join a skill training program.
You can take admission to either an NSDC-approved training center or a community college. Take a look at the best courses after the 10th in skill training programs.
Animation, 3D
Food processing
Sales Executive
Software Development
Solar Photovoltaic System Installer
Healthcare
Mobile Phone Technician
Fashion Design
Gems & Jewellery
Beautician
Agriculture – Organic Grower
Streams After 10th
If you are not interested to pursue the above-mentioned diploma courses, polytechnic courses, vocational courses, or certifications, then the ideal option is to complete your +2 in one of the following streams:
Science: Non-Medical and Medical
Commerce
Arts/Humanities
In addition, the science stream is divided into 2 categories:
Non-medical: With Physics, Chemistry, and Mathematics
Medical: With Physics, Chemistry, and Biology
Now, if you are confused about making a decision amongst the 3 streams after the 10th, here are some crisp insights for you related to each stream. Let's see which one shall suit you:
1. Non-Medical: Best for students who wish to pursue engineering after the 12th class. However, there are plenty of other options than engineering such as:
Merchant Navy
B.A. L.L.B
Bachelor of Architecture
Bachelor of designing
2. Medical: Excellent for students who want to enter the medical field and become doctors, nurses, etc.
3. Commerce: The best option for all those who wish to become CA, Accountants, Company secretaries, or enter the field of taxation, business, cost accountancy, etc.
4. Arts: Most favorable stream for students who wish to take the civil services exam or become professors, writers, directors, and much more.
How to choose the best courses after the 10th?
It's always challenging for students to choose a career after the 10th as it's a big decision.
However, we recommend taking this process step-by-step and not overwhelm yourselves. Here are a few key points that you must remember while deciding:
Your area of interest
Ask your queries and clear your doubts
Do not blindly follow others
Future scope of the stream you choose
Career opportunities
Job stability & financial stability
Career counseling
Conclusion
Although the students have plenty of options after the 10th, making a decision can be quite difficult. Therefore, it is advised for you to follow the tips and points mentioned in the article to ease down the process.
We hope that the information in this article mentioning details of courses after 10th helps you to make an informed decision and get an answer to 'what after 10th'. In case of any doubts or queries, leave a comment below, and we will get back to you.
You got this!
People are also reading:
Frequently Asked Questions (FAQs)
Question: Which courses are best after the 10th with a high salary?
Answer. Kindly go through the article for an in-depth understanding.
Question: Which diploma is best for the future after 10th?
Answer: Many options are available in various fields, such as computer science, electrical and electronics, design, animation, and many more. Kindly go through the article to explore more options.
Question: Which stream is best for government jobs?
Answer: Most government jobs do not ask for a specific stream in a graduate degree. However, with the science stream, many doors open for different fields.
Question: Can we do BA after 10th?
Answer: No, this is not possible. Candidates must complete their 12th and then apply for the BA degree.
Question: How do I choose a career after 10th?
Answer: There are various points to remember, such as areas of interest, career opportunities, future scope, etc. However, we have mentioned detailed information regarding this, please go through the article.